A day before she's due back in court, Natalie Siow Yu Zhen, 22 years old and facing murder charges, was seen again in Orchard Towers, wearing distinct prison garb. She was being lead through the scene of the crime, along with other Investigative Officers involved in the case.
Who is Natalie Siow Yu Zhen? Read about her here.
Photos of Natalie surfaced online online showing her in a pair of nondescript black sandals, a bright red shirt and navy blue shorts while walking outside Orchard Towers. She was flanked by police and investigators as she returned to the scene of the horrific crime she's been charged with.
Could a karambit knife be part of the Orchard Towers murder case?
Natalie Siow Yu Zhen finally revealed
While speculation was rife over the weekend who the real Natalie involved in case was, visual confirmation now points to the same girl being vilified and celebrated online by different sectors of Singaporean society. Take a look at the photos below:
Here is Natalie with the other officers outside Orchard Towers, with her hair unbound.
Here is a closer look at her in her prison garb, that shows her hands and feet restrained.
Before she was shackled and walked through a crime scene like this, she was an ordinary Singaporean girl. Read about her daily life before Orchard Towers here.
With the way her hair has not been tied and her height, she could very well be the same girl in a previous GIF that shows her rearing back to kick the victim in the crime. Noel Satheesh Gobidass, 31-years-old, died in a hospital roughly an hour after the fight. He had been ganged up on by eight people then he tried to escape up an escalator, where they continued to beat him senseless. A knife was also allegedly involved in the altercation.
Here is the animated GIF showing a woman allegedly bearing resemblance to Natalie (now being called Nutella by her online fans) rearing back to join the fight with the victim.
Natalie didn't have a lawyer last week, but this fake one had the gall to offer his "services" to her.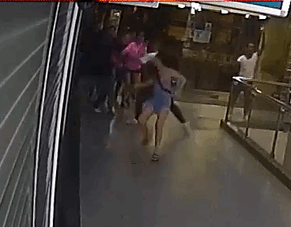 Aside from Natalie, one of the other accused was also spotted at the scene of the crime.  Joel Tan Yun Sheng, 26; Chan Jia Xing, 26; and Ang Da Yuan, 26, were charged with one count each of murder with common intent. The charges were declared on July 4.
This man was also being walked through Orchard Towers to aid the investigation and in preparation for the case hearing on July 11, Thursday.
What did Natalie Siow Yu Zhen do?
According to reports, she and her co-accused are charged with murder with intention, after Gobidass had died in the hospital from the wounds he sustained in Orchard Towers. Video evidence that has leaked and gone viral allegedly showed that the victim approached to group to speak with one of them, which apparently triggered the violence. The animated GIF above showed a part of what happened.
She has since gained an online following after her name was released as one of the accused. Singaporean netizens sussed out her profile and had quickly set up the Natalie Siow Yu Zhen fan club to show support but to also say that she should pay for her crimes.
Read about the men who set up the Natalie Siow Yu Zhen fan club here.
Since the charges leveled against her are quite grave, she and other suspects could face long terms in prison and even the death penalty for their involvement.
Header image from Hardware Zone.