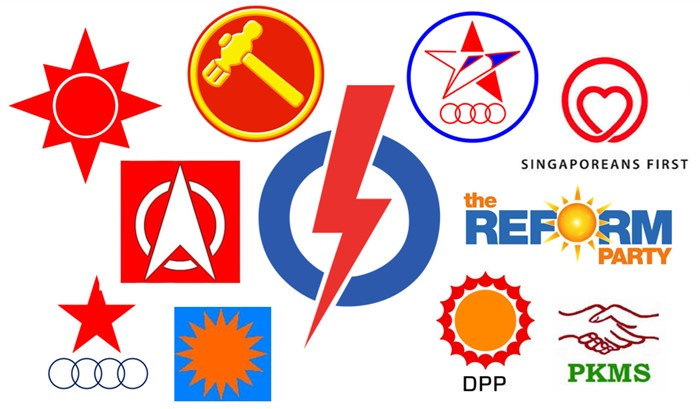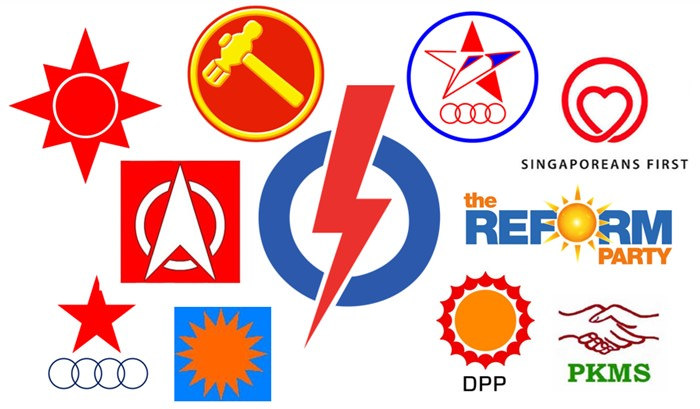 It is election season in Singapore. GE2015 is finally here and it is the most keenly contested election since 1965, with 181 candidates from 9 political parties and 2 independents going for all 89 seats in Parliament. No more walkovers and "instant MPs" whom we didn't vote for!
There will a total of 13 Single-Member Constituencies (SMCs) and 16 GRCs in GE2015, up from the current 12 SMCs and 15 GRCs. That's a total of 29 contests to watch. Which will be the most keenly contested or interesting ones to watch? Get ready your popcorn. Here is list of the top 10 battles, adjusted from my previous list, after taking into account the development on Nomination Day where all the contesting candidates in each wards are disclosed.
First off, I believe the National Solidarity Party (NSP), will no longer be a serious contender after all the flip-flopping and "pattern more than badminton" moves that the party has been up to over a span of just a few weeks leading up to Nomination Day. They also lost most of their strongest candidates from GE2011 like Hazel Poa and Nicole Seah.
Oh, and most of the election trolls like that Uber driver, the "Parrot Man", the crying tuition teacher and even the supposed candidate backed by the king of online troll, SMRT Ltd (Feedback) – all did not make it. 
Surprisingly, Han Hui Hui made it, resulting in a three-cornered fight in Radin Mas SMC. Nonetheless, Radin Mas is still not in the revised top ten as it is likely the incumbent PAP will win by a wide margin, given the two much weaker opposition candidates are going to split votes from each other.
Here's the revised top ten list:
1.
East Coast GRC
Incumbents: PAP's Lim Swee Say, Senior Lee Yi Shyan, Mohamad Maliki Osman and Jessica Tan
Challengers: WP's Gerald Giam, Daniel Goh, Leon Perera and Mohamed Fairoz Shariff
Without a doubt, this will be the hottest contest to watch for GE2015. The strongest opposition party, with 7 MPs and 1 Non-Constituency MP (NCMP) in parliament, is set for a rematch in East Coast GRC where they narrowly lost to the People's Action Party (PAP). It was the narrowest win for a GRC for the ruling party, with just 54.8% of valid votes. For the WP, Gerald Giam from the losing team in East Coast GRC managed to snatch a seat in parliament as a NCMP for being one of the best-performing losers.
Giam is leading the WP team for this second showdown. Will he be second time lucky? The incumbents seem pretty confident of defending their turf as much has been done by the team on the ground in recent years.
"Someone was joking to me that because we have undergone so many changes in Bedok Town Centre, some of (the Opposition candidates) who come here once every five years might get lost, so we might need to provide free tour guide services to show them around," shared Lee Yi Shyan in a media interview.
2.
Aljunied GRC
Incumbents: WP's Low Thia Khiang, Sylvia Lim, Chen Show Mao, Pritam Singh and Muhamad Faisal Abdul Manap
Challengers: PAP's Yeo Guat Kwang, Victor Lye, Chua Eng Leong, K. Muralidharan Pillai and Shamsul Kamar
This is the only GRC currently helmed by an opposition party. The WP's top guns are all in this GRC, including WP's secretary-general, Low Thia Khiang, and WP's chairman, Slyvia Lim.
The PAP is unwilling to send any current bigwigs to contest in Aljunied GRC.Instead, they chose to field a 'suicide squad' of political unknowns, led by four-term labour MP Yeo Guat Kwang, mentored by former PAP chairman and Cabinet Minister Lim Boon Heng.
WP's Achilles heel are the controversies over town council funds and the way the WP is running the town council. By fielding a team of grassroot leaders, the PAP may be capitalising on this issue to bring down the WP. Do not dismiss the 'suicide squad' just yet as they may be the underdogs necessary to win over the hearts of Aljunied voters. Not too sure how Lim Boon Heng will be of help though.
3.
Potong Pasir SMC
Incumbent: PAP's Sitoh Yih Pin
Challenger: SPP's Lina Chiam
This was the longest held opposition ward in Singapore for 27 years, helmed by popular opposition figure, Chiam See Tong, 80, Secretary-General of the Singapore People's Party (SPP), until the PAP won back the SMC in 2011.
In GE2011, the wife of Chiam See Tong, Lina Chiam, lost the SMC to twice-unsuccessful challenger Sitoh Yih Pin of the PAP by a mere 114 votes in a close 7973-7859 vote count. Since then, Sitoh has been hard at work, slowly winning the ground with his sincerity.
Lina Chiam has also been shoring up her experience in parliament, speaking on a wide variety of issues, fielding the most questions among all the MPs, NMPs and NCMPs.
Both take their jobs very seriously. The two are now set for a rematch.
A third independent candidate, lawyer Tan Lam Siong had expressed interest to contest in the SMC but had pulled out at the last minute, choosing instead to lend his support to Mrs Chiam.
This will be a very close fight. It really could swing either way.
4. 
Tanjong Pagar GRC
Incumbent: PAP's Chan Chun Sing, Chia Shi-Lu, Indranee Rajah, Joan Pereira, Melvin Yong
Challenger: SingFirst's Tan Jee Say, Ang Yong Guan, Chirag Desai, Fahmi Rais, Melvyn Chiu
The voters in Tanjong Pagar GRC has never voted before since the GRC was first set up as it was helmed by Singapore's founding prime minister, Lee Kuan Yew, who passed away earlier this year.
It would be extremely foolhardy to go against Lee, who has a god-like status in the hearts and minds of most Singaporeans, regardless if they are supportive of him or not.
Nonetheless, the GRC is now helmed by newbie minister, Chan Chun Sing, Minister in Prime Minister's Office and the Secretary-General of the National Trade Union Congress.
A new political party, Singaporeans First (SingFirst), helmed by Tan Jee Say, will be contesting the GRC. Tan is an investment adviser and former civil servant. He was a principal private secretary to former Prime Minister Goh Chok Tong.
The electoral at Tanjong Pagar GRC is largely untested as they have not voted for ages. As such, it will be interesting to observe how they vote.
5. 
Holland-Bukit Timah GRC
Incumbent: PAP's Vivian Balakrishnan, Christopher de Souza, Liang Eng Hwa, Sim Ann
Challenger: SDP's Chee Soon Juan, Chong Wai Fung, Paul Tambyah, Sidek Mallek
The Singapore Democratic Party (SDP) fielded their best team in this GRC. Dr Paul Ananth Tambyah, 50, Professor of the National University Hospital at the Department of Medicine is a strong candidate to watch from the SDP. Another interesting figure to watch will be Dr Chee Soon Juan, the controversial secretary-general of the party who was recently discharged from bankruptcy and is contesting in together with Dr Tambyah in the same GRC.
Holland-Bukit Timah GRC is led by Minister for the Environment and Water Resources Dr Vivian Balakrishnan.
The SDP garnered a respectable 39.9% of valid votes, their best result for GE2011. Would they be able to up their vote shares this election? Or will the PAP be able to garner a wider vote share and win with an even bigger margin, given all the policy changes since 2011?
 6.
Bishan-Toa Payoh GRC
Incumbent: PAP's Ng Eng Hen, Josephine Teo, Chong Kee Hiong, Chee Hong Tat, Saktiandi Supaat
Challenger: SPP's Benjamin Pwee, Hamim Aliyas, Law Kim Hwee, Abdillah Zamzuri, Bryan Long
The Democratic Progressive Party (DPP), led by Benjamin Pwee, fielded a joint team together with Chiam See Tong's SPP, with two of their members quitting DPP to join SPP. Pwee contested in the GRC in 2011 together with Chiam under the SPP before he splintered off to join the DPP. They have since reunited.
The PAP is fielding a strong team at the GRC, helmed by Defence Minister, Dr Ng Eng Hen and Senior Minister of State for Transport and Finance, Josephine Teo.
They will be joined by three new faces – Chee Hong Tat, former Second Permanent Secretary, Ministry of Trade and Industry; Chong Kee Hiong, CEO, OUE Hospitality Trust; and Saktiandi Supaat, Head of Foreign Exchange Research, Maybank.
The PAP won with 56.93% of valid votes in GE2011. Would they be able to improve their winning margin? Or will the SPP be able to make further inroads to capture the GRC?
7.
Macpherson SMC
Incumbent: PAP's Ms Tin Pei Ling
Challengers: WP's Mr Bernard Chen and NSP's Mr Cheo Chai Chen
This is a new SMC carved out from Marine Parade GRC and will see a three-cornered fight between the incumbent PAP's candidate and a candidate each from WP and NSP.
Tin was extremely unpopular in 2011 and almost cost PAP to lose Marine Parade GRC which was helmed by former Prime Minister Goh Chok Tong. She has since worked hard on the ground and in parliament. Her public image has improved and she seems to enjoy strong support in her constituency.
Bernard Chen is a long-time WP supporter and party member. He slowly rise through the ranks with his hard work and determination.
Cheo Chai Chen is a has-been, one-term MP when he contested and won a seat under the then-SDP led by Chiam See Tong. Many see him as a vote-spoiler for the opposition. It is unlikely he will draw much vote and I am of the opinion that he will get less than 1% of valid votes, losing his deposit.
Taking Cheo out of the equation, the battle is mainly between PAP and WP; Tin Pei Ling and Bernard Chen. For Tin, it will be sweet validation to all her critics if she can win this on her own, showing that her hard work paid off.
8. 
Marine Parade GRC
Incumbent: PAP's Goh Chok Tong, Edwin Tong, Fatimah Lateef, Seah Kian Peng, Tan Chuan-Jin
Challenger: WP's Yee Jenn Jong, Dylan Ng, Terence Tan, Firuz Khan, He Ting Tu
Versus a weak opposition party, the NSP, who had just one strong candidate in their team, fresh face, Nicole Seah, then 23, the much stronger PAP team was only able to win with a small margin of 56.65% of valid votes in 2011.
For the coming election, the PAP team will see competition from a stronger opposition party, the WP. Plus Yee Jenn Jong nearly won in Joo Chiat SMC which has since been absorbed into Marine Parade. He is leading the WP team.
With Goh Chok Tong stepping down from the cabinet, the anchor minister for Marine Parade GRC is now Minister for Social and Family Development, Tan Chuan-Jin.
Would Tan be able to win back vote shares? Or would WP claw away more votes?
9.
Fengshan SMC
Candidates: PAP's Ms Cheryl Chan and WP's Mr Dennis Tan
This is a new SMC carved out from East Coast GRC, which many speculated as a move to protect East Coast GRC as Fengshan had allegedly polled poorly for the ruling party in GE2011. The anchor minister for East Coast GRC, Lim Swee Say, however, has dismissed this as untrue.
In any case, expect a keen contest between PAP and WP with a small winning margin.
Long-time grassroots volunteer Cheryl Chan is the first new PAP candidate to be fielded in a new SMC in nearly three decades, since the GRC system was introduced in 1988.
10.
Ang Mo Kio GRC
Incumbent: Lee Hsien Loong, Ang Hin Kee, Darryl David, Gan Thiam Poh, Intan Azura Mokhtar, Koh Poh Koon
Challenger: Reform Party's M. Ravi, Gilbert Goh, Jesse Loo, Osman Sulaiman, Roy Ngerng, Siva Chandran
This GRC is helmed by none other than the current Prime Minister of Singapore, Lee Hsien Loong. It is interesting how this GRC has consistently been contested since GE2006 when the WP fielded a young, untested 'suicide squad' led by Yaw Shin Leong, then the leader of the WP's Youth Wing.
The PAP won with 66.14% of valid votes, lower than than the national average.
In GE2011, the PAP won with a wider margin of 69.33% of valid votes, against a motley crue of candidates, assembled last minute by the Reform Party.
The Reform Party is back again. This time with lawyer, M Ravi leading the team, featuring a roster of Hong Lim Park regulars like activist and blogger, Roy Ngerng as well as frequent rally organiser, Gilbert Goh.
Ngerng started his sociopolitical blog, The Heart Truths, in 2012. He was found guilty in October 2014 of defaming Lee Hsien Loong in a blog post. Goh is famous for the multiple 'Say No to 6.9 million' protests which he organised in Hong Lim Park.
All of them seem to have an axe to grind with Lee Hsien Loong.
While it is highly unlikely for the Reform Party to capture Ang Mo Kio GRC, it will still be extremely interesting to watch the group go about harassing Lee Hsien Loong at political rallies, cornering him with tough questions.
Get your popcorn ready!