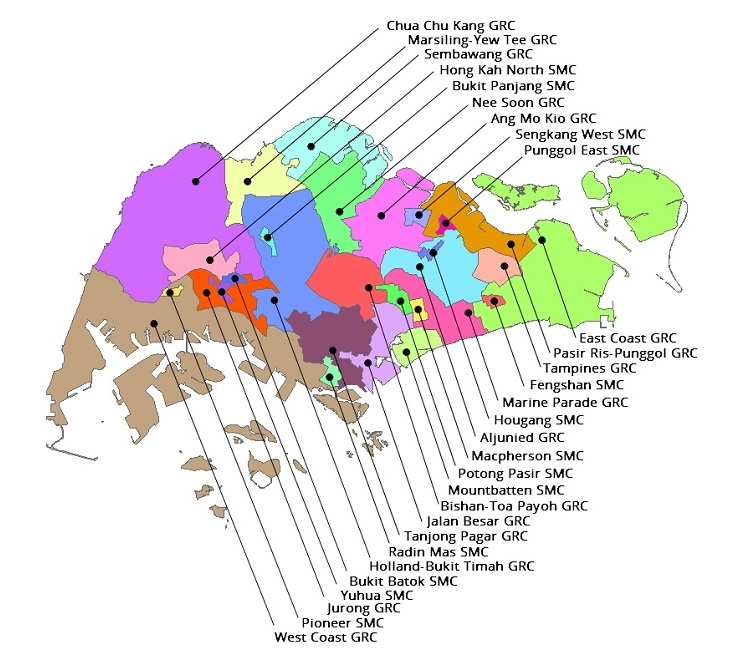 With the opposition parties stepping up, the coming Singapore General Election (GE2015), is likely to be the first fully contested general election in Singapore since independence. All eligible voters will get to vote as all constituencies will be contested. Gone are the days of walkovers and "instant MPs" whom we did not vote for.
This is a step forward for democracy, although it would be even better if we do away with the Group Representation Constituencies (GRC) system which allows untested or unpopular candidates to enter parliament, riding on the coat tails of stronger ones.
There will a total of 13 Single-Member Constituencies (SMCs) and 16 GRCs in GE2015, up from the current 12 SMCs and 15 GRCs.
That's a total of 29 contests to watch. Which will be the most keenly contested or interesting ones to watch? Get ready your popcorn. Here is list of the top 10 battles:
1.
East Coast GRC
Without a doubt, this will be the hottest contest to watch for GE2015. The strongest opposition party, with 7 MPs and 1 Non-Constituency MP (NCMP) in parliament, is set for a rematch in East Coast GRC where they narrowly lost to the People's Action Party (PAP). It was the narrowest win for a GRC for the ruling party, with just 54.8% of valid votes. For the WP, Gerald Giam from the losing team in East Coast GRC managed to snatch a seat in parliament as a NCMP for being one of the best-performing losers.
Giam is likely to be leading the WP team for this second showdown. His potential WP team mates include National University of Singapore associate professor and sociologist Daniel Goh, 42; law firm partner Dennis Tan, 44; research and consultancy firm chief executive Leon Perera, 44; and librarian Mohamed Fairoz Shariff, 36.
On the PAP's end, the anchor minister in East Coast GRC, Minister for Manpower, Lim Swee Say, 61, wants to stay put. It is likely his team will stay very much the same. His running mates are likely to be Lee Yi Shyan, 53, Senior Minister of State in the ministries of Trade and Industry and National Development; Dr Maliki Osman, 50, Mayor of the South East District of Singapore, and a Senior Parliamentary Secretary at the ministries of Defence and National Development; and  Jessica Tan, 49, Managing Director, Microsoft Singapore.
2.
Aljunied GRC
This is the only GRC currently helmed by an opposition party. The WP's top guns are all in this GRC, including WP's secretary-general, Low Thia Khiang, 58; WP's chairman, Slyvia Lim, 50; lawyer Chen Show Mao, 54; lawyer Pritam Singh, 39 and Muhamad Faisal Manap, 40.
The PAP seems unlikely and unwilling to send any bigwigs to contest in Aljunied GRC. It seems more apparent that they will be fielding a 'suicide squad' of political unknowns, comprising Victor Lye, PAP's branch chairman at Bedok Reservoir-Punggol; Chua Eng Leong, 42, PAP's branch chairman for Eunos; Chan Hui Yeh; K Muralidharan Pillai, 44, head of commercial litigation at Rajah and Tann; and Shamsul Kamar, 43, former head of department for student management at Spectra Secondary School.
WP's Achilles heel are the controversies over town council funds and the way the WP is running the town council. By fielding a team of grassroot leaders, the PAP may be capitalising on this issue to bring down the WP. Do not dismiss the 'suicide squad' just yet as they may be the underdogs necessary to win over the hearts of Aljunied voters.
3.
Potong Pasir SMC
This was the longest held opposition ward in Singapore for 27 years, helmed by popular opposition figure, Chiam See Tong, 80, Secretary-General of the Singapore People's Party (SPP), until the PAP won back the SMC in 2011.
In GE2011, the wife of Chiam See Tong, Lina Chiam, lost the SMC to twice-unsuccessful challenger Sitoh Yih Pin of the PAP by a mere 114 votes in a close 7973-7859 vote count. Since then, Sitoh has been hard at work, slowly winning the ground with his sincerity.
The two are set for a rematch. A third independent candidate, lawyer Tan Lam Siong has expressed interest to contest in the SMC. This means Potong Pasir SMC may be the only constituency to see a multi-corner fight in the coming election.
Lam will likely draw opposition votes away from Lina Chiam and likely give Sitoh another narrow win. If so, he will become public enemy number one for opposition supporters.
4. 
Tanjong Pagar GRC
The voters in Tanjong Pagar GRC has never voted before since the GRC was first set up as it was helmed by Singapore's founding prime minister, Lee Kuan Yew, who passed away earlier this year.
It would be extremely foolhardy to go against Lee, who has a god-like status in the hearts and minds of most Singaporeans, regardless if they are supportive of him or not.
Nonetheless, the GRC is now helmed by newbie minister, Chan Chun Sing, 45, Minister in Prime Minister's Office and the Secretary-General of the National Trade Union Congress.
A new political party, Singaporeans First (SingFirst), helmed by Tan Jee Say, 61, will be contesting the GRC. Tan is an investment adviser and former civil servant. He was a principal private secretary to former Prime Minister Goh Chok Tong.
The electoral at Tanjong Pagar GRC is largely untested as they have not voted for ages. As such, it will be interesting to observe how they vote.
5. 
Holland-Bukit Timah GRC
The Singapore Democratic Party (SDP) is likely to field their best team in this GRC. Dr Paul Ananth Tambyah, 50, Professor of the National University Hospital at the Department of Medicine is a strong candidate to watch from the SDP. Another interesting figure to watch will be Dr Chee Soon Juan, the controversial secretary-general of the party who was recently discharged from bankruptcy and will be able to contest the coming election.
Holland-Bukit Timah GRC is led by Minister for the Environment and Water Resources Dr Vivian Balakrishnan. His team mates for this election are likely to include the incumbent MPs, Christopher De Souza, Sim Ann and Liang Eng Hwa.
The SDP garnered a respectable 39.9% of valid votes, their best result for GE2011. Would they be able to up their vote shares this election? Or will the PAP be able to garner a wider vote share and win with an even bigger margin, given all the policy changes since 2011?
 6.
Bishan-Toa Payoh GRC
The Democratic Progressive Party (DPP), led by Benjamin Pwee, 47, will be fielding a joint team together with Chiam See Tong's SPP. Pwee contested in the GRC in 2011 together with Chiam under the SPP before he splintered off to join the DPP. They have since reunited.
The PAP is fielding a strong team at the GRC, helmed by Defence Minister, Dr Ng Eng Hen, 56; and Senior Minister of State for Transport and Finance, Josephine Teo, 47.
They will be joined by three new faces – Chee Hong Tat, 41, former Second Permanent Secretary, Ministry of Trade and Industry; Chong Kee Hiong, 49, CEO, OUE Hospitality Trust; and Saktiandi Supaat, 41, Head of Foreign Exchange Research, Maybank.
The PAP won with 56.93% of valid votes in GE2011. Would they be able to improve their winning margin? Or will the joint team from DPP and SPP be able to make further inroads to capture the GRC?
7.
Macpherson SMC
This is a new SMC carved out from Marine Parade GRC. The PAP is likely to field the incumbent MP, Tin Pei Ling, 31, to defend the ward.
Tin was extremely unpopular in 2011 and almost cost PAP to lose Marine Parade GRC which was helmed by former Prime Minister Goh Chok Tong. She has since worked hard on the ground and in parliament. Her public image has improved and she seems to enjoy strong support in her constituency.
It will be interesting to watch who the WP will field to contest against her. Will it be Cambridge-educated lawyer He Ting Ru, 31?
Would we see a sequel to the Nicole Seah-Tin Pei Ling rivalry in 2011?
8. 
Marine Parade GRC
Versus a weak opposition party, the National Solidarity Party (NSP), who had just one strong candidate in their team, fresh face, Nicole Seah, then 23, the much stronger PAP team was only able to win with a small margin of 56.65% of valid votes in 2011.
For the coming election, the PAP team will see competition from a stronger opposition party, the WP.
With Goh Chok Tong stepping down from the cabinet, the anchor minister for Marine Parade GRC is now Minister for Social and Family Development, Tan Chuan-Jin, 46.
Would Tan be able to win back vote shares? Or would WP claw away more votes?
9.
Tampines GRC
The National Solidarity Party (NSP) is likely to be fielding their top team and all their resources in Tampines GRC.
On the PAP's end, it will be helmed by anchor minister, Education Minister, Heng Swee Kiat, 54, taking over from Mah Bow Tan who will be retiring from politics.
While NSP is not as strong as the WP in brand recognition, they did reasonably well in 2011, especially in Marine Parade GRC and Tampines GRC. Instead of spreading themselves too thinly like in 2011, the NSP is now concentrating their firepower in selected constituencies, with Tampines GRC being one of the key battle grounds.
10.
Ang Mo Kio GRC
This GRC is helmed by none other than the current Prime Minister of Singapore, Lee Hsien Loong. It is interesting how this GRC has consistently been contested since GE2006 when the WP fielded a young, untested 'suicide squad' led by Yaw Shin Leong, then the leader of the WP's Youth Wing.
The PAP won with 66.14% of valid votes, lower than than the national average.
In GE2011, the PAP won with a wider margin of 69.33% of valid votes, against a motley crue of candidates, assembled last minute by the Reform Party.
The Reform Party will be back again. This time, a potential candidate may be Roy Ngerng, 34, an activist and blogger. Ngerng started his sociopolitical blog, The Heart Truths, in 2012. He was found guilty in October 2014 of defaming Lee Hsien Loong in a blog post.
While it is highly unlikely for the Reform Party to capture Ang Mo Kio GRC, it will still be extremely fun to watch Ngerng go about harassing Lee Hsien Loong at political rallies, upgrading from the online arena.
Get your popcorn ready!