German-style roast pork, Newton Roast @ Newton Food Centre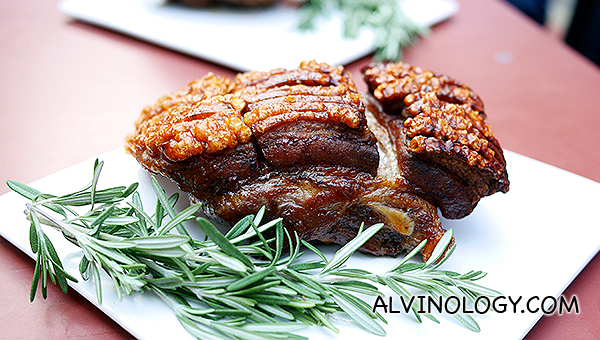 I like sio bak and I cannot lie.
I like how the meat is extra juicy and I like how crispy and salty the skin is at the belly.
But I don't like the fatty layers. When the fat is not completely rendered, I will scrape it off the skin and meat before eating. To which purists would exclaim, I am missing the point entirely. Really? People enjoy eating bland, rubbery fatty tissue? I don't think so. I like the juices from the fat, not the fat itself.
Thankfully, a modern sio bak seller sees my point. Casey, gastronome and fledgling F&B entrepreneur, went to the trouble of purchasing a $21,000 combi multi-functional oven to make flavourful German-style roast pork belly the way he likes it: Slightly charred over a crackly caramel finish on the outside and tender meat inside, without disgusting layers of clearly-defined fat.
He also serves a kickass pork knuckle. For now, he only sells two products: Pork belly and pork knuckle. You know how serious people are when they sell only one kind of meat. He even makes his own belacan chili dip to go with the meat. If you don't like the heat, there's Djion mustard.
Casey buys top quality pork from Australia and Indonesia and hands it to Chef Gideon, who scores the choice cuts and massages them with a top-secret seasoning.  While inside the oven, the meat seems to undergo some sort of intense fat-burning workout. What goes in as belly comes out as abs.
So, quite aptly, Casey sells his pork belly by the six-pack. You can order it at his stall in Newton Food Centre, but even better, you can order it in advance online here. Allow three hours for the pork knuckle and two for the pork belly. A programme designed by software development firm Originally.US, of which Alvin is a partner of, ensures that Chef Gideon will prepare your order such that it is piping hot from the oven when you collect it.
This is Casey's first foray into the F&B industry. The veteran IT professional, who pan-fries foie gras and bakes macarons at home with his food-loving family, said that he came up with the roast-meat concept when he realised that there weren't many good quality food items at food centres that went well with beer. Newton Food Centre became a natural choice due to its accessibility and popularity among locals and tourists alike.  You can get an ice-cold bottle of Heineken or even Kopparberg elderflower and lime cider from the nearby drinks stall, to go with your roast pork.
The "6-pack", approximately 500g, is now available online at the promotional price of $33.90.
The K.O. German knuckle is at $39.90.
If you drop by the stall, you can pick up some loose pieces at $8 (S) or $15 (L) to eat on the spot.
Newton Roast is at #01-51, Newton Food Centre, 500 Clemenceau Avenue, Singapore 229495.
Opening hours for pre-order Collection: Monday – Saturday, 2pm to 11.30pm; Sunday 2pm to 9pm