Recently, Old Chang Kee has been adding on to their list of unique and innovative pastry puffs such as their previous Salted Egg Taro Puff. To add to the festivities, this Chinese New Year, Old Chang Kee has launched their new Bak Kwa Chicken'Os ($2.60/puff).
These pods of goodness are filled with halal-certified premium BBQ chicken meat that is marinated with spices giving it that classic bak kwa taste we all know and love. Despite the texture of the meat being softer than the usual bak kwa, the taste is pretty spot on, having that classic sweet and salty barbeque taste. And with all the vegetables inside, as well as the addictive hand crimped pastry, it definitely is a wholesome snack.
The flavours of these, however, certainly isn't for everyone as the vegetables used all have a strong herby and pungent flavour to them which I, personally, found especially scrumptious, adding a differnt crunch and texture to this puff. I would definitely recommend to try this at least once. Curry Puff or Bak Kwa Puff? Bak Kwa Puff, I choose you!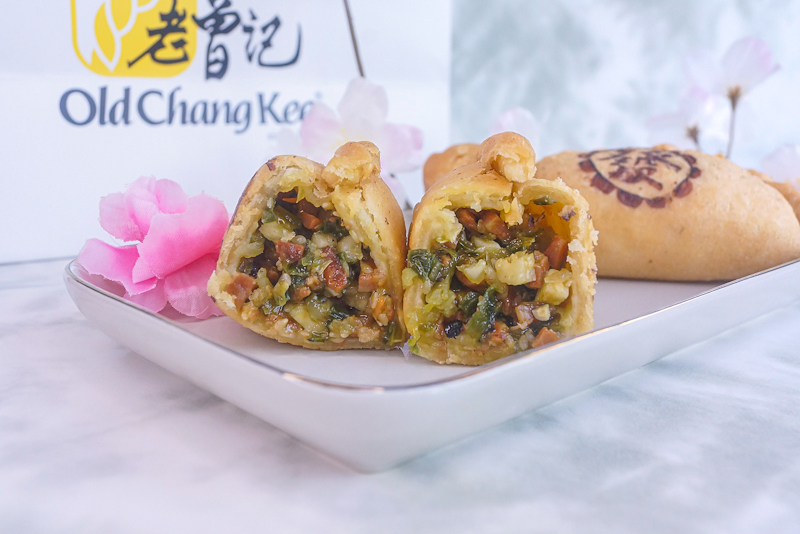 To add to the Chinese New Year mood, each puff is stamped with an auspicious chinese characters like 發 (fa) and 财 (cai), together makes 發财 (fa cai) meaning incoming wealth and luck. The two not featured here are 旺 (wang) and 興 (xing) which translates to flourish and properity respectively. Why not try to get all 4 of them?
Other than the puffs, Old Chang Kee is introducing HaHa Tiger Prawn OnStik ($1.90/stik) and Heng Heng Pineapple Pie ($1.60/puff), of which I have tried the former. Like any ngoh hiang, the golden fried beancurd skin is filled with seasoned minced tiger prawn and fish meat, spring onions and water chestnut for that refreshing crunch. This is definitely a more classic treat as opposed to the special bak kwa chicken'O and is definitely catered to a wider audience.
The Pineapple Pie, which I have yet to try, contains sweet and tangy pineapple in a flaky, crisp epok-epok pastry puff, perfect for pineapple lovers. Pineapple is actually a symbol of bountiful luck and fortune so why not enjoy one this happy Chinese New Year!
From sweet to savoury options, the Chinese New Year specials are sure to satisfy your cravings and add to the atmosphere of this festive season. They are available till 13 February 2022 at all Old Chang Kee outlets and delivery platforms while stocks last for each day. Refer to https://www.oldchangkee.com/images/OCK-Ops-Hours.pdf for more details.