40-year-old Benjamin Glynne appeared in court without a lawyer and was sentenced to six weeks in jail for all four of his charges related to COVID-19 temporary measures violations on Wednesday, August 18. He previously appeared in a viral video that was the reason for his arrest, telling other people on the MRT that they should not wear masks and that COVID-19 was a 'hoax'.
He was seen in the video without a mask, speaking to an elderly Singaporean man and coaxing him to stop masking. What's more, he went on to say that "I will never wear a mask," when the people on the train rejected his statements.
He has been stuck in Singapore pending his legal troubles, while his family had flown back to Britain. An alleged fundraising effort was put up for him, as reported by Alvinology. He said that he just wanted to leave, as he had already lost an employment opportunity since he was not allowed to leave.
Used 'sovereign' as his defense
Perhaps taking a leaf out of 'Sovereign woman' Paramjeet Kaur's book, he used the 'sovereign' defense in a previous trial. He said that the rules did not apply to him because of his status, but he was told to pay $5,000 in bail and was in remand before his latest court date on Wednesday, said a Straits Times report.
Benjamin did not dispute that he violated COVID-19 rules. Instead, he insisted they did not apply to him.
Unrepresented, the British man's defense was that he did not undergo a 'contract' with any Singaporean authority, so the rules they imposed on people did not apply to him. The man also boasted that he was very knowledgeable of the law to the presiding judge, who then refuted the latter as being 'misguided'.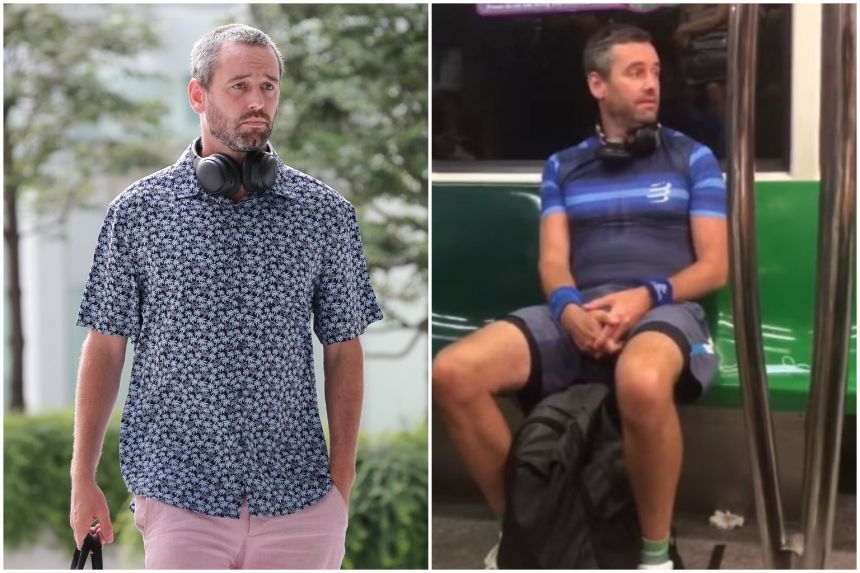 Resisted arrest, refused to wear a mask in court
Alvinology previously reported on how Benjamin was reprimanded several times by court security officers for not wearing his mask properly within the courthouse premises. He was reportedly very resistant to the reminders to put on his mask, and even appeared before the judge in his case without one.
This resulted to two additional charges of not wearing a mask in accordance with COVID-19 rules.
Benjamin Glynne resisted arrest
According to the same report, police said that when they confronted the accused at his home, he resisted arrest, and said that he could 'take them'.
When they were about to handcuff him, he adopted a boxer's stance. The officers called for backup, and used the baton to hit the accused's thigh to finally arrest. During the hearing, he also said that, "There was "a total disregard for common law in Singapore", and added: "You are not my master and I am not your slave." to the judge.
Woman causes commotion at Benjamin Glynne hearing
A woman who attended the Glynne court hearing allegedly caused a commotion when she was fiddling with her mask, which was allegedly worn improperly, said a different report.
The judge called her out, and the woman became visibly angry, and began a tirade which included calling the court a 'kangaroo court'.
"She was also heard calling herself a "living woman" and saying that she had no contract with the police, making reference to the same sovereign citizen movement as Glynn had made." said the same report.
Security officers attempted to remove her from the courtroom since she was disruptive, but she resisted and even told the judge that, "I do not respect the judge."
The hearing resumed when the woman was escorted out, where she continued her tirade. When she tried to return, she was barred, and she exclaimed, "Why can't I go back inside? Is he (the judge) afraid I'll call him a kangaroo again?"
She tried to leave 15 minutes later, but was detained. She recited her NRIC number and said she was a Singaporean citizen. She was released later.
Header image from The Straits Times