Friends and supporters of 39-year-old British anti-masker dad Benjamin Glynne have reportedly raised US$50,000 to help the COVID-19 health protocol violator with his challenges in Singapore.
Glynne was charged on July 2 for failing to wear a mask without reasonable excuse, being a public nuisance, and using threatening words towards a public servant.
"I'm going to f***ing drop you."
An photo of an unconfirmed Facebook post from a user named Jonathan Pollock has circulated, which showed that Glynne supporters from Britain have allegedly raised money for the anti-masker. Pollock accused Singaporeans of starting a witch hunt for Glynne, and that the 'legal oppressive regime' the Asian people live under is out to curtail the British man's freedom.
The post also alleged that Glynne has received insults and harassment, and he was afraid to go out.
Court records, on the other hand, showed that Glynne had actually tried to confront the police officers who arrived at his condominium in relation to the case, saying, "I'm gonna f***ing drop you", while adopting a boxing stance.
Who is Benjamin Glynne?
While he was certainly only one person in a long line of famous, unrepentant anti-maskers and COVID-19 health protocol violators in Singapore, what set his story apart was that he has been forced to remain in Singapore while his wife and children have returned to Britain.
What's more, he seemed to be exceptionally resistant to any face mask rules, even in the face of Singaporean court of law. Reports on his trial that occurred on July 2, he only put on a mask when he was outside the court house and only at the repeated prompting of court officials.
He also did not have the TraceTogether token or app.
He supposedly removed his mask just a few moments after putting it on, or wore the mask improperly.
Even during the trial, the judge had to remind Glynne to wear his face mask properly.
Face mask and fact-resistant
Alvinology had previously reported on two similar cases of mask and knowledge-resistant people in Singapore. Paramjeet Kaur used the same justification as a US domestic terrorist group, saying that as a 'Sovereign', she would not be governed by laws. The infamous 'Badge Lady' Phoon Chiu Yuke, on the other hand, cited her service in the Singapore naval force as a reason to be "immune."
Glynne, on the other hand, cited his complete disbelief and rejection of masks as protection against COVID-19. He said that, "I never normally wear a mask but this is the first time it has been an issue.
"I had no idea anyone had even been filming until the police were at the door – I've never even seen the video because it was removed before I had chance."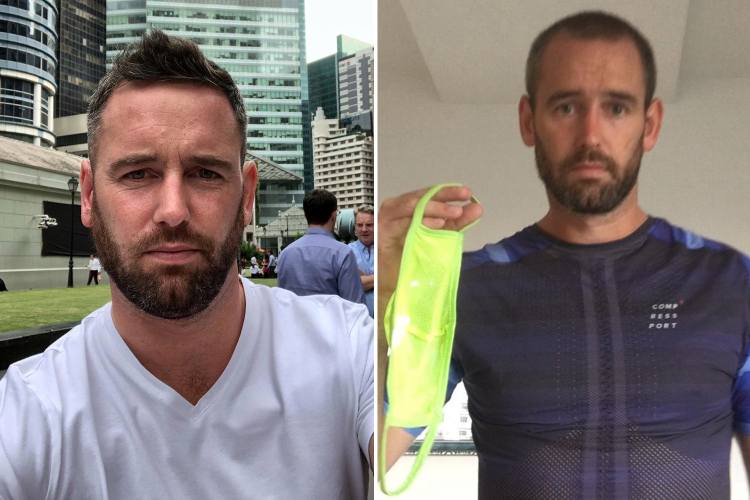 He also went on to say, "I don't believe there is any evidence that masks protect you from COVID-19," Glynn said. "Normally I would just tell people I'm exempt and it had never posed any issues before".
Complaining about how he was slated to appear in court over a video of him not wearing a face mask, he said, "I honestly believe it's a hoax – I don't feel there is any evidence to show mask-wearing is effective in any way." he said.
"From a scientific basis, I think it's nonsense."