Singapore's annual mean temperature has risen through the years (2020 was the eighth warmest year on record), and signals a worrying trend for the low-lying islands. Rising sea levels, coupled with more extreme weather, signals an urgent need to re-evaluate our carbon footprint. Even though Singapore may only account for 0.11% of global emissions, in terms of carbon emissions per capita, it comes in 27th out of 142 countries, producing almost double the global average.
As the government and industries work to transition into a more sustainable future through the Singapore Green Plan 2030, Temasek Shophouse hopes Singaporeans will join in to take responsibility for climate change.
Singapore staycation deals, including a really fishy one
This is why Temasek Shophouse launches a social media movement named the "Carbon Copy Challenge", in hopes of inspiring a public movement to collectively reduce carbon footprint.
While creating an impact on climate change can be overwhelming, Carbon Copy Challenge asks the public to take small steps to reduce carbon emissions, by copying one simple act at a time. This is in line with Temasek Shophouse's focus on the topic of sustainability for April, to generate conversations on building a sustainable community.
The social media campaign will kick-off with the 'Carbon Offset Starter Pack', which illustrates the steps one can take to reduce the carbon footprint in the fields of "Food, Fashion, Lifestyle and Home".
The chain will then commence with various kickstarters sharing their action taken to reduce their carbon footprint on Instagram. They will then challenge their followers to do the same and tag 3 friends to "carbon copy" them. Individuals and organisations can then continue the chain by repeating the same steps.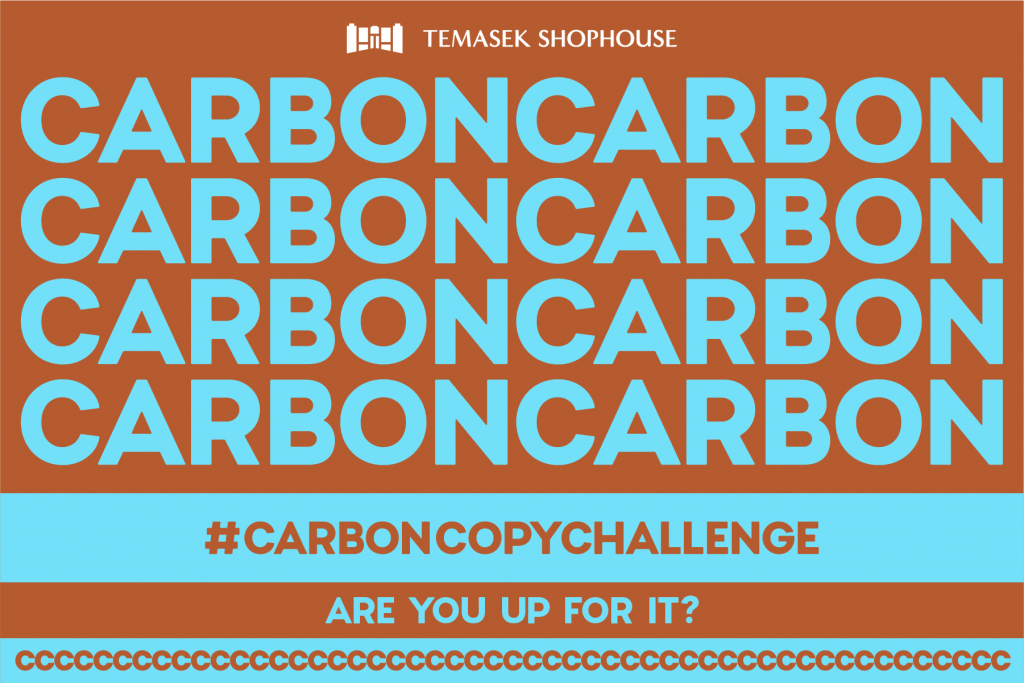 These efforts to reduce carbon footprint can come in many forms, such as dining sustainably, buying pre-loved goods or unplugging your unused appliances.
Participants of the challenge also stand a chance to vouchers from the participating kickstarters.
One of the kickstarters who will be participating is the team from Foodscape Collective, a group of like-minded individuals whose aims are to create a fair and circular food system for all.  
Join this movement by hashtagging: #CarbonCopyChallenge, #CarbonCopyTSH, #TemasekShophouse