Keisuke Group, the F&B group behind the super popular Ramen Keisuke chain of ramen restaurants in Singapore (snaking queues at all outlets islandwide) has launched its newest, independent F&B concept – Chicken Yakiniku Tori Yaro.
What is most interesting is the choice of venue for the first store location – at a coffeeshop in the red-light district of Geylang. You really can't get more heartland than this and I have to go check it out myself.
This outlet is the first ever standalone chicken specialty concept by the Keisuke Group in Singapore, offering an extensive variety of yakiniku options and customisable sauces for guests to choose from, all at hawker prices that are extremely wallet-friendly.
Check out the menu below and the pricing:
Chicken Yakiniku Tori Yaro is a new concept by the Keisuke Group that is unlike the rest – in honour of the Singapore hawker culture's recent recognition on UNESCO's Representative List of the Intangible Cultural Heritage of Humanity, Chicken Yakiniku Tori Yaro blends itself into the local food culture by situating itself within a coffeeshop along Lorong 29 in Geylang.
When we say it is in a Geylang coffeeshop, it is literally a store inside a Geylang coffeeshop and not those hipster cafe and restaurant type that takeover a venue and target it to hipsters at marked-up prices. There are other regular stores in the cofeeshop and thre is no special table or chairs, sans for a flame-grill at some of the tables. Prices are also kept low at hawker range.
When you think Yakiniku, the Japanese term for grilled meat, you usually think beef, pork and vegetables. Chicken Yakiniku Tori Yaro specialises in chicken, with a wide selection of cuts to allow diners to taste different textures such as the tender Chicken Thigh, firm-fatty cut of the Chicken Tail, soft-juicy Tsukune meatballs, or more uncommon cuts such as chewy Chicken Gizzard, crunchy Chicken Soft Bone or tender-chewy Chicken Heart.
Select from two choices of marination; Original – a classic blend of aromatic garlic, sesame oil, salt with a crack of pepper, and for those who prefer a bit of a kick on their palette, Spicy.
I ordered the Assorted Chicken ($12) and Assorted Chicken Intestines ($12) platters to have a try of everything, opting for Original marinate for the former and Spicy marinate for the latter. I also ordered individual servings of thier Chicken Thigh, Chicken Tail, Tsukune meatballs and Chicken Calvi.
I would highly recommend the Calvi, the tender part of the chicken wing, served without bones. The Chicken Thigh is good for those who like succulent, thick cuts and the Chicken Tail offers an interesting texture.
I don't usually eat chicken intestines, but decided to give it a try for the experience. The Spicy marinate is the right chocie for the intestines as it will get rid of any gamey flavours. The texture of each of the different innards are vastly different, with the soft and melty liver versus the chewy heart. This is a good option to order for the more adventurous diners.
When eating Yakiniku, the dipping sauce is key. Chicken Yakiniku Tori Yaro provides more than 16 types of sauces and condiments to allow diners to customise them to your preference. We strongly recommended to perfect that blend with a half-boiled Onsen Egg.
Additionally, you can also order dipping cups at $2.90 each such as the Cheese Fondue, Butter Corn Cup, Garlic Cup and Mentaiko Mayo.
Finish off with the Keisuke famed Tori Yaro Ramen ($9.90) with a twist – grill the Chicken Chashu to get that smoky-char flavour going and savour it with the ramen for that umami-rich punch. Alternatively, you can go for the Rice and Soup Set ($2.50) for a more wallet-friendly option.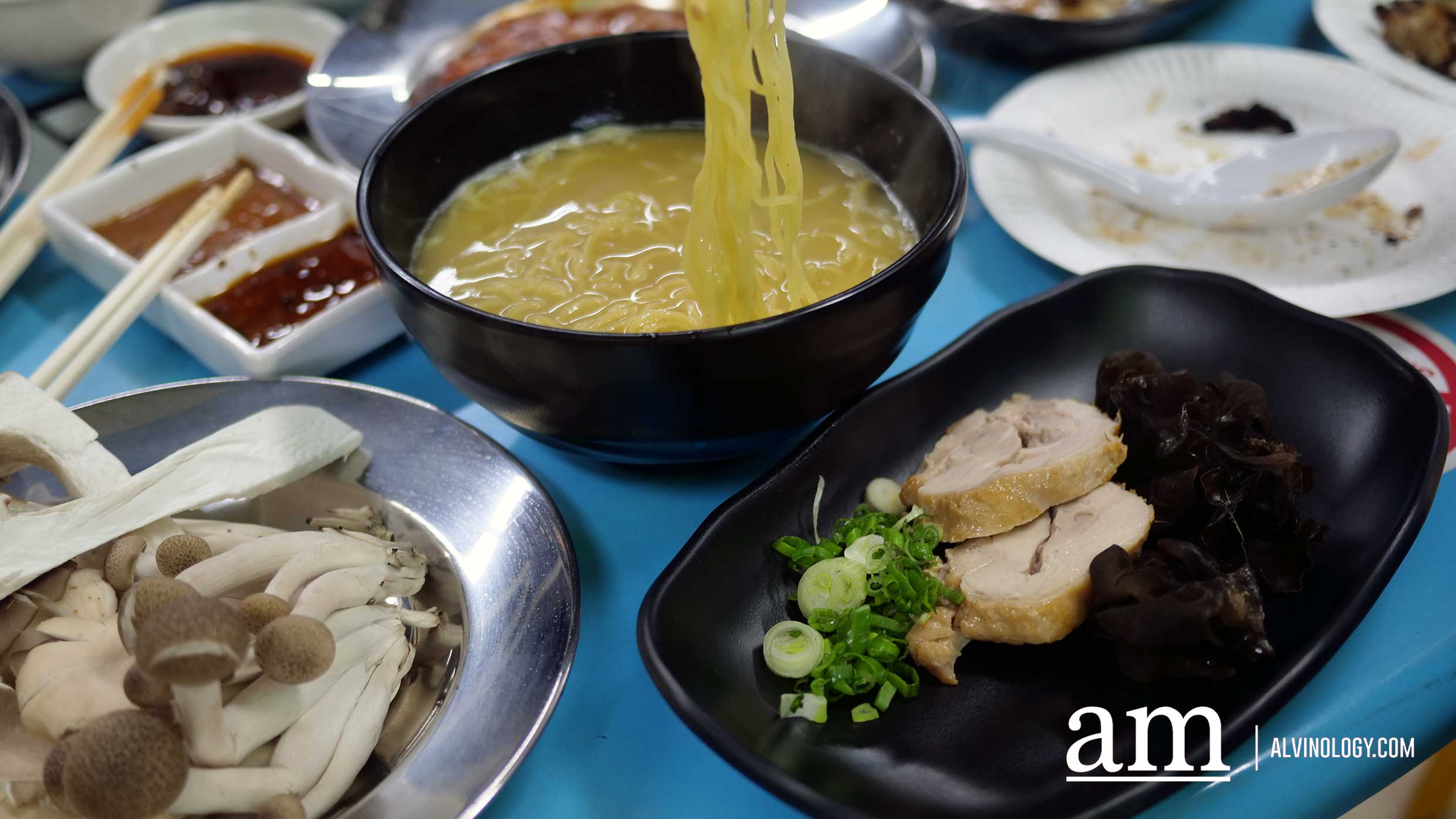 An value-for-money side dish to try is their Tantan Tofu ($3.90) which tastes like a Japanese verison of the Chiense Mapo Tofu:
Just for the experience of enjoying a Japanese Yakiniku meal in a Geylang coffeeshop, Chicken Yakiniku Tori Yaro is definitely worth a visit.
Our advice is to head there now while is still newly launched before it gets crowded with snaking queues as with all other Keisuke Group's F&B outlets.
Chicken Yakiniku Tori Yaro
Address: 2 Lorong 29 Geylang, Yinchuan Building (Stall No. 3), Singapore 388058
Telephone: +65 9720 3997
Operating Hours: 5pm to 10.30pm Daily, Walk-in ONLY
Payment: Cash or NETS