---
Maximize your SingapoRediscovers Vouchers; Step-by-step guide here
Combine coupons for more savings and get rewards worth up to $310 on Traveloka
Exclusive $10 coupon code (no minimum spending needed) to use on top of your SingapoRediscovers Vouchers
Once in a while, money drops from the sky, like the S$100 SingapoRediscovers Vouchers given to all Singapore Citizens (18 years and above) to support the local tourism industry.
That said, our Singaporean DNA means we definitely still want to find the best bang for our buck.
#MoneyHack your SingapoRediscovers Vouchers
While we cannot combine our SingapoRediscovers vouchers with someone else's (see official FAQ here), nothing is stopping us from combining them with other coupons to get more savings!
There are many coupons we can combine on Traveloka, authorized booking platform for SingapoRediscovers Vouchers.
See my example here. I booked a staycation at a 5-star hotel using my SingapoRediscovers vouchers, and saved an extra $25 because I added two other coupons.
---
And did I already mention that upon successful booking, you will receive more coupons and perks worth up to $310?
Some highlights include hotel discount of up to S$100, many shopping vouchers and an 8' x 8" Canvas from Photobook Singapore- just perfect to immortalize our best holiday snaps.
Coupon codes
Combine these coupon codes with your SingapoRediscovers vouchers for instant discounts. These coupon codes can be used on all hotels, activities and tours with the SingapoRediscovers Vouchers icon on Traveloka.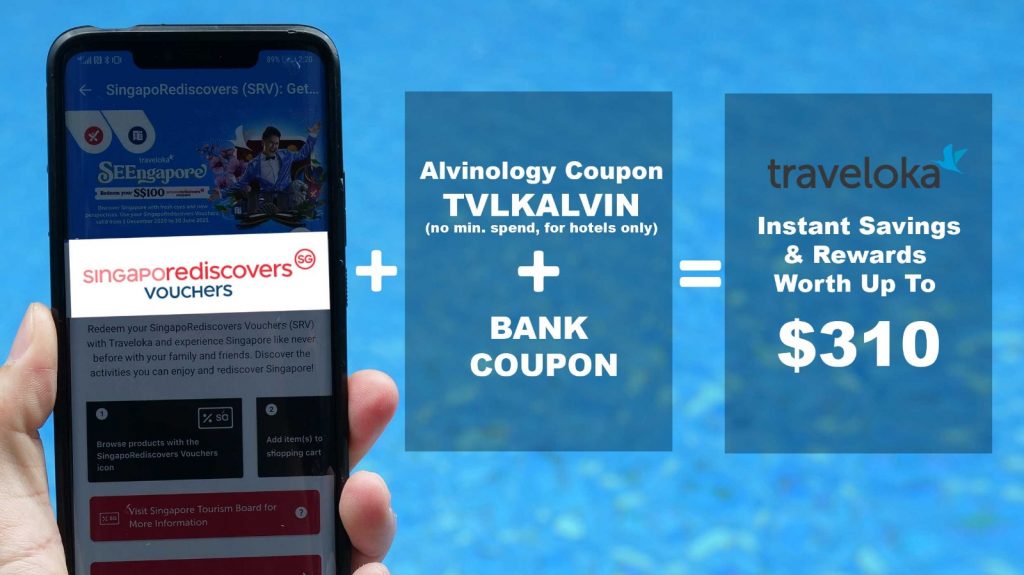 Alvinology coupon code
TVLKALVIN– $10 off for hotel bookings, no minimum spending!
Redemptions are based on a first-come, first-served basis, while stocks last!
Bank coupon codes
DBS (DBS/POSB Debit & Credit Cards)
For hotels, use DBSSRVH and get 15% off capped at $15, min spend $50.
For Xperience (attractions/ tours), use DBSSRVX and get 10% off capped at $10, min spend $30.
Get your DBS coupons here.
Get your coupons for Citibank, OCBC, and Standard Chartered here.
Step-by-step guide: Using SingapoRediscovers Vouchers and Combining Coupons
Using the Traveloka app is simple and intuitive.
On the Traveloka app, click on SingapoRediscovers banner to arrive at this landing page where you can browse all the hotels/attractions/ tours eligible for the SingapoRediscovers Vouchers.

After adding your product to cart, arrive at the payment page where you will see the "Click here to Use SingapoRediscovers Vouchers" link. Click on it.

You will see this pop-up. Click Continue.

You will be re-directed to the SingPass website. Click on "Redeem Vouchers".

Choose the amount you want to redeem (in denominations of 10), and get your voucher code.

Here, my unique SingapoRediscovers voucher code has been generated. Copy your code, and return to the Traveloka app.

Back at the Traveloka app's payment page, click on "Add" at the coupon field to paste in your newly-generated SingapoRediscovers voucher code.

Continue to add other coupons. Here I have added in the DBS coupon and Alvinology coupon. That's three coupons in total for combined savings of $125!
Step 1: Browse products with the SingapoRediscovers Vouchers icon
Step 2: Add item(s) to cart
Step 3: When ready to pay, click 'Use SingapoRediscovers Vouchers' at the checkout page
Step 4: Login using SingPass to choose amount of SingapoRediscovers Vouchers to redeem
Step 5: Copy the generated voucher code and paste it at the checkout page
Step 6: Click "Add Coupon" to stack on other coupons on top of the SingapoRediscovers Voucher
Step 7: Checkout and enjoy your SingapoRediscovers experience!
Why book on Traveloka? Three Reasons
1. Attractive Deals for Staycations, attractions, and tours
There's bound to be something to catch your fancy. Staycations deals range from hippie to high-end hotels. There is also a smorgasbord of activities to choose from, whether you want to visit attractions such as the Singapore Zoo, Universal Studios Singapore or do cooking, kayaking, and heritage tours. There's something for everyone, every couple, and every family.
2. Instant Savings
Combine up to 2 other coupons on top of the SingapoRediscovers Vouchers for more discounts.
3. Return Coupons + retail coupons worth up to $310
Upon successful booking, you will be rewarded with more coupons for use on your next purchase on Traveloka. They will definitely come in handy because there are so many tempting staycations and activities to choose from on Traveloka.
Not only that, you will also get coupons from Traveloka's partners such as Shopee, Foodpanda, NTUC Fairprice Online and many more. All these coupons added up are worth $310!
Find the coupons and rewards easily on your Traveloka app – My account> My Rewards
Start your adventure
Inspired to use your SingaporeRediscovers Vouchers to plan something fun for the Chinese new year break and Valentine's day?
Hotel stays, attractions or curated tours? Browse the tempting range of experiences available.
Don't forget to combine your coupons! And upon successful booking, look out for your in-app notification and email for goodies worth up to $310 coming your way.
Tip: Use the app- we noticed that prices are cheaper there!
If you don't have the Traveloka app yet-
Android: Download here.  
iOS: Download here
Three Staycay ideas, including a very FISHY one: