What's better than catching up over grilled skewers and drinks?
Catching up over sizzling spicy Szechuan skewers and cocktails made with premium Chinese liquor Moutai!
If you love spicy food, especially the mala of Szechuan cuisine, grab your buddies and satiate your cravings at Hutong, a modern and tastefully-decorated Chinese restaurant along Clarke Quay.
The restaurant is also running a promotion for various Japanese alcohol. Read on to find out.
New Menu- Szechuan BBQ Skewers From $1!
The restaurant's new menu comprises over 40 varieties of Szechuan appetisers and BBQ skewers, from meat to seafood and vegetables.
Hutong's skewers are kept warm throughout the meal, as they are served over a griller instead of on plates. The non-stop sizzling from the griller at the table really adds to the atmosphere and tastiness of the food.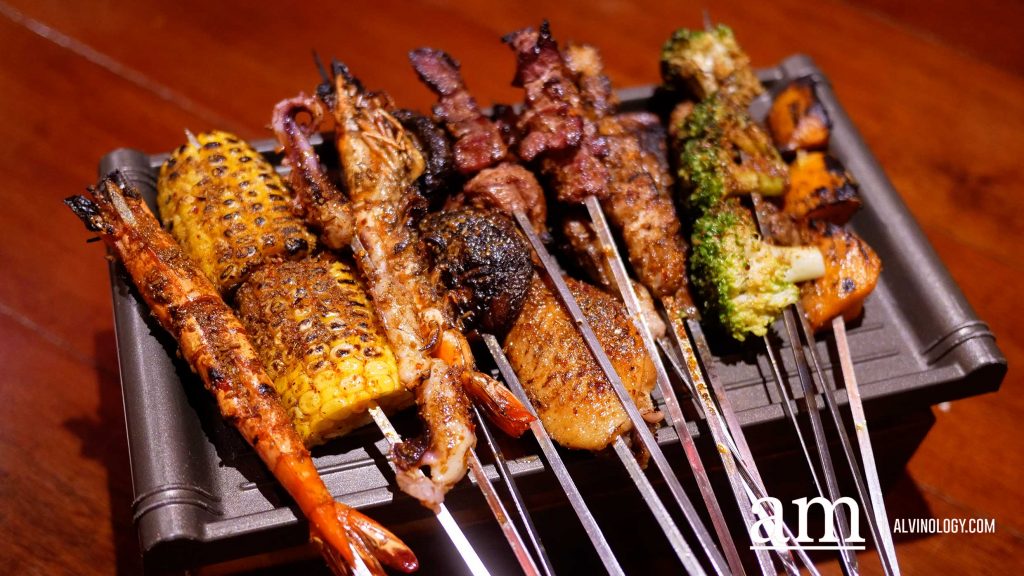 All the skewers are marinated with a special inhouse blend consisting of salt, white pepper powder, cooking wine and cumin powder.
Be spoilt for choice with offerings including chicken meat, pig stomach, pig intestine, premium beef cube, mutton leg meat, tentacles of squid and fresh prawns. Temper the meat indulgence with oyster mushrooms, sliced lotus root, broccoli and romaine lettuce.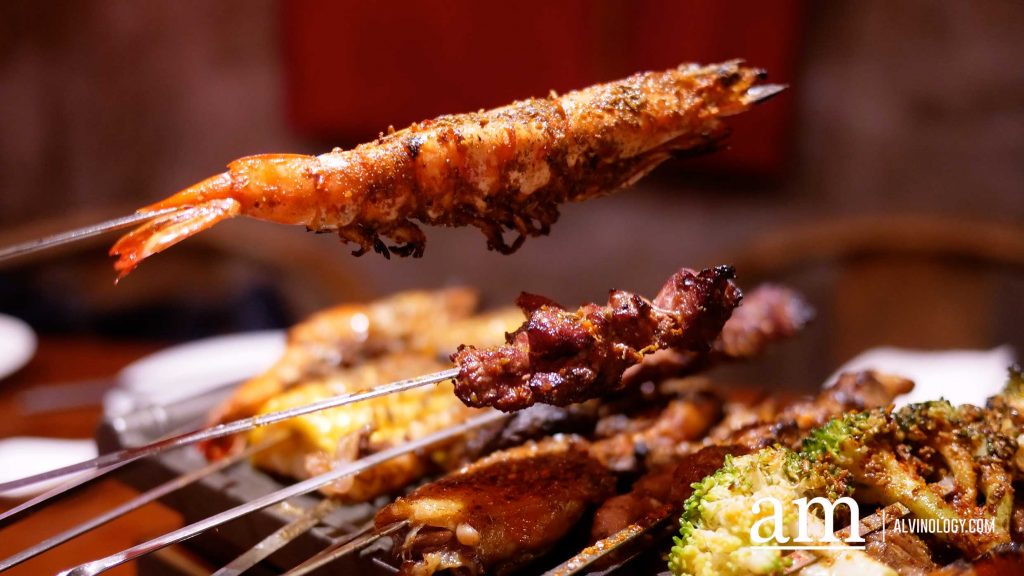 Grilled fresh prawns; tender flesh made yummier lightly charred and dusted with the Szechuan spices.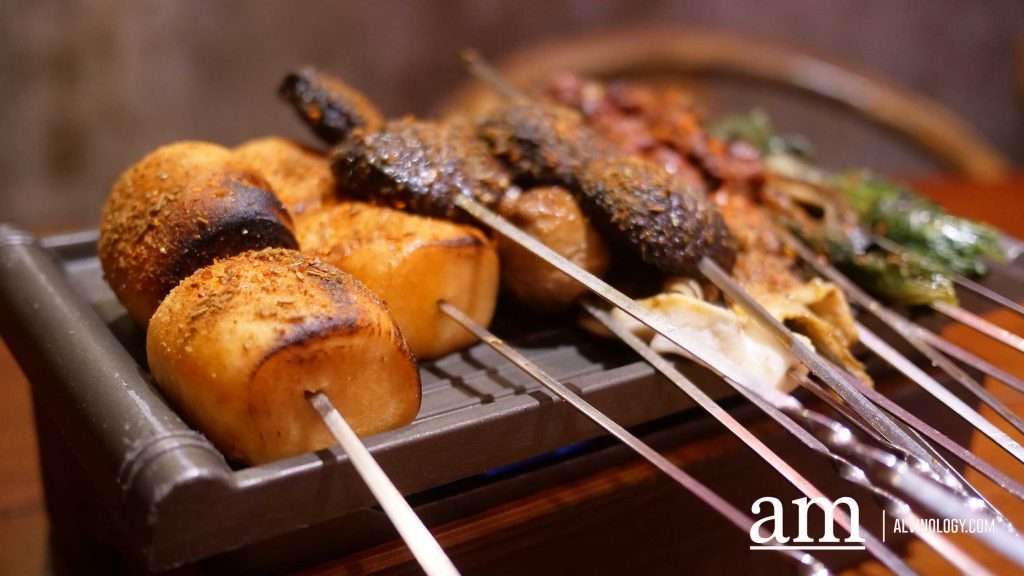 We tried the regular spiciness level and this already got us fanning our mouths at various points. We might have stuck our tongues out too had it not be for decorum considerations.
Overall, I would say the regular spicy level is acceptable for most Singaporeans used to spicy food- it will stretch your spicy tolerance a little, but that's the shiok part isn't it. Go for extra spicy if you are gung-ho enough!
Don't worry if there are friends who can't take spiciness – non-spicy seasoning is available on the menu too.
Try the Grilled Oysters ($7.00/2pcs) grilled with the restaurant's house-made chilli paste. The oysters were succulent and the chilli really packs a punch!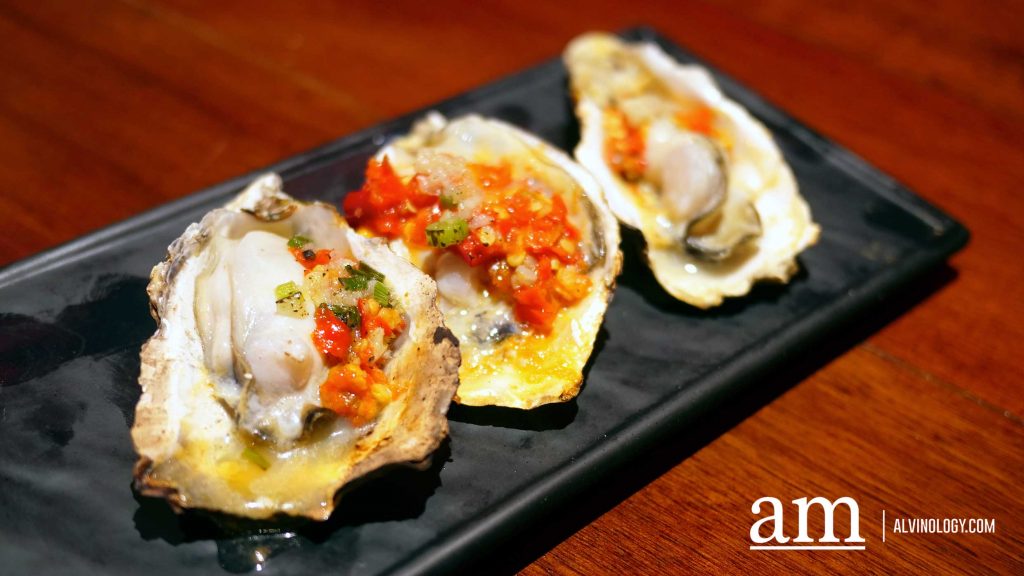 The restaurant also offers cooked dishes such as the Mala Xiao Long Xia with Moutai ($38.90). A generous amount of baby crawfish is stir-fried with a blend of aromatic mala spices.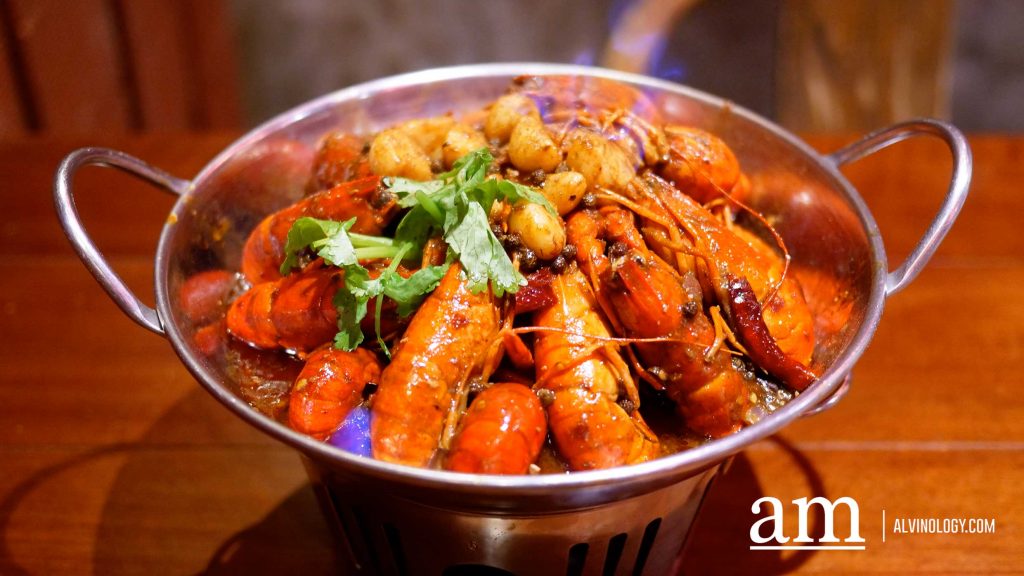 When served, a shot of Moutai is drizzled over the dish which is then flambéed for dramatic effect. Each crawfish is juicy and succulent, and steeped in the natural oils of the spices and infused with the taste of Moutai. Share this pot of crayfish with friends, deshelling them over drinks and catching up. Your fingers will smell of Moutai.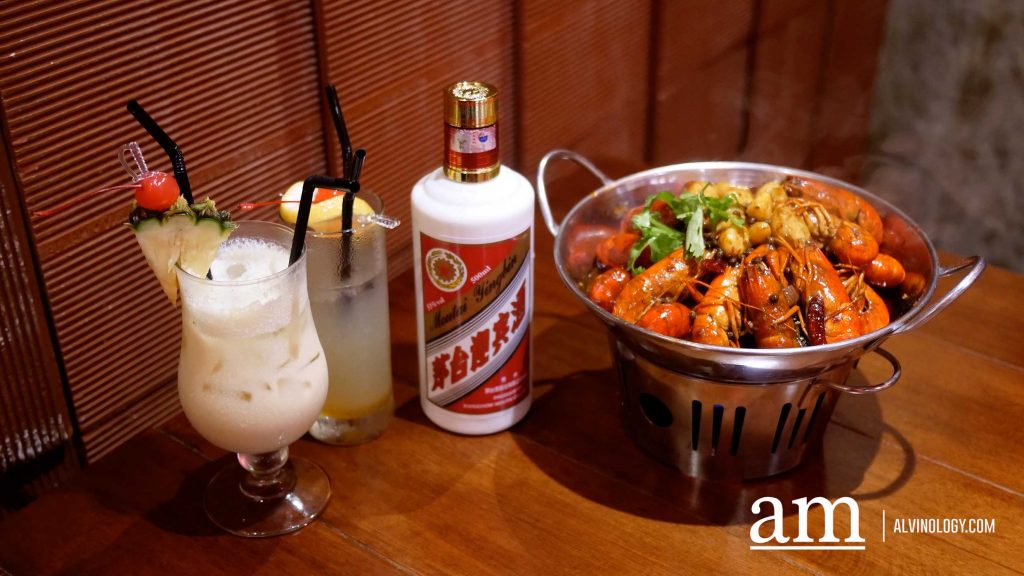 Enjoying skewers without alcohol would not be complete. Hutong offers two unique Moutai cocktails. A brand of baijiu, Maotai is a renowned Chinese liquor commonly served at state functions in China.
Delivering citrusy notes, the Moutai Punch ($12) is a heady concoction made with yuzu syrup, tonic water, lime juice and soda.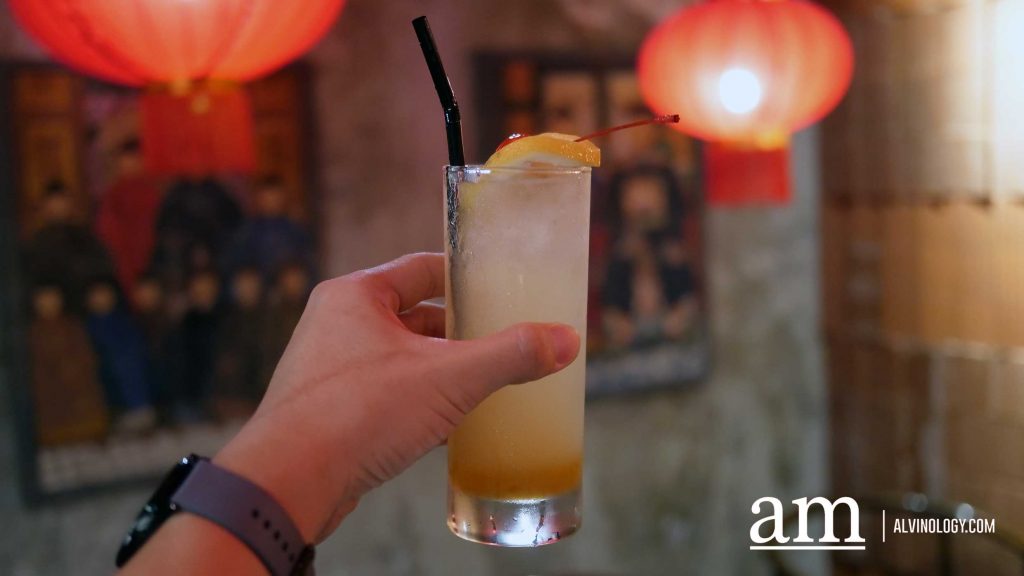 Sweet with sour undertones, the creamy Moutai Colada ($12) combines the flavours of Malibu rum, pineapple juice and coconut milk.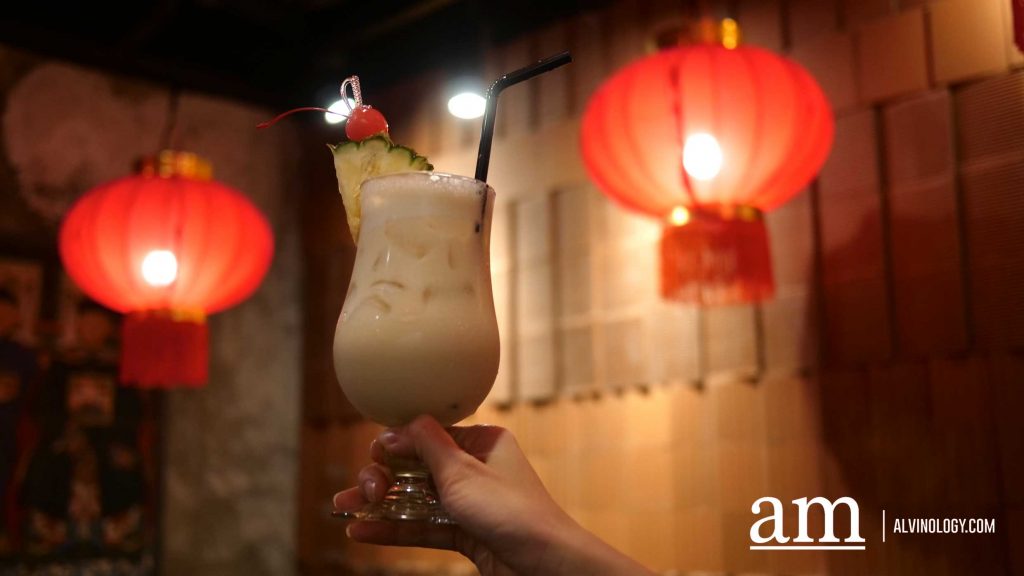 Story behind the new menu
Hutong- the restaurant takes its name from the narrow alleys of old Beijing and prides itself as a specialist of northern Chinese cuisine.
Now, if you are any familiar with China's geography, are you slightly confused? Why is a northern Chinese restaurant serving up Szechuan BBQ skewers? Szechuan is south-western China. Hutong's new menu is all Szechuan BBQ skewers and the Northern China dishes of old Beijing has been discontinued- this is part of Hutong's business refresh due to the pandemic to better capture diners' appetites!
Enjoy Szechuan, Japanese, Indonesian, Thai, Mexican cuisine- all under one roof !
If you are craving other types of cuisines, you will be glad to know that you can order across four other sister restaurants, all under the Katrina Group and within walking distance form each other at Clarke Quay: Japanese bar Tomo Izakaya, Indonesian restaurant Bayang, Thai restaurant RENNThai and Mexican bar Muchos.
What we tried from Bayang
Tender satay with peanut gravy that is sweet, Indonesian style.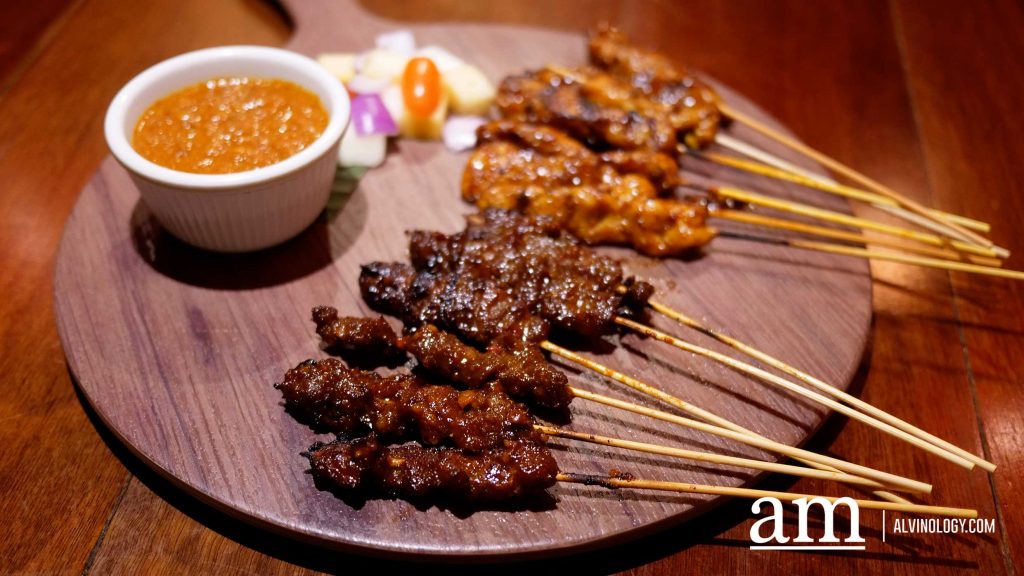 Succulent stingray with flavorful sambal paste, all the more oomph with lime zested over.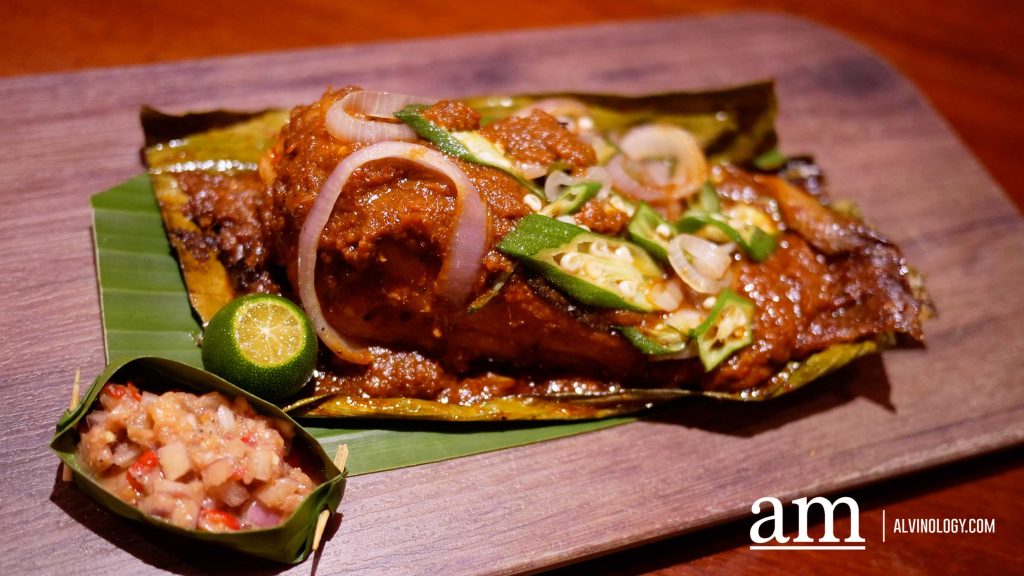 Promotion
Katrina Group has collaborated with The House Of Suntory to come out with 3 cocktail shots made with premium Japanese Craft Spirits. These shots are going for 6 at only $11.90.
For those who enjoy Japanese Whiskey, Vodka, Gin and Courvoisier VSOP! These liquor are available for purchase at $99++ per bottle at any of these restaurants; Tomo Izakaya, Hutong, Bayang, RENNThai and Muchos for a limited time only!
Location
3D River Valley Rd, #01-07 Block D, Singapore 179023
Reservation line: 6336 0212
Operating hours
Tue – Sun: 5pm to 11pm
Mon: Closed