I'm sharing a secret: there are things you need to collect when you travel on the newest EVA Air Hello Kitty Jet, and I don't just mean the air stewardess's mobile number.
Deep in my kiasu mind, there are stuff you should really try to kapo (Malay word for take) on board this 333-seater flight that plies the Singapore-Taipei route. I don't think you can peel off the Shining Star decal off the entire plane and put it in your carry-on luggage, because there're certainly smaller things in life that you can attempt to.
No. 01: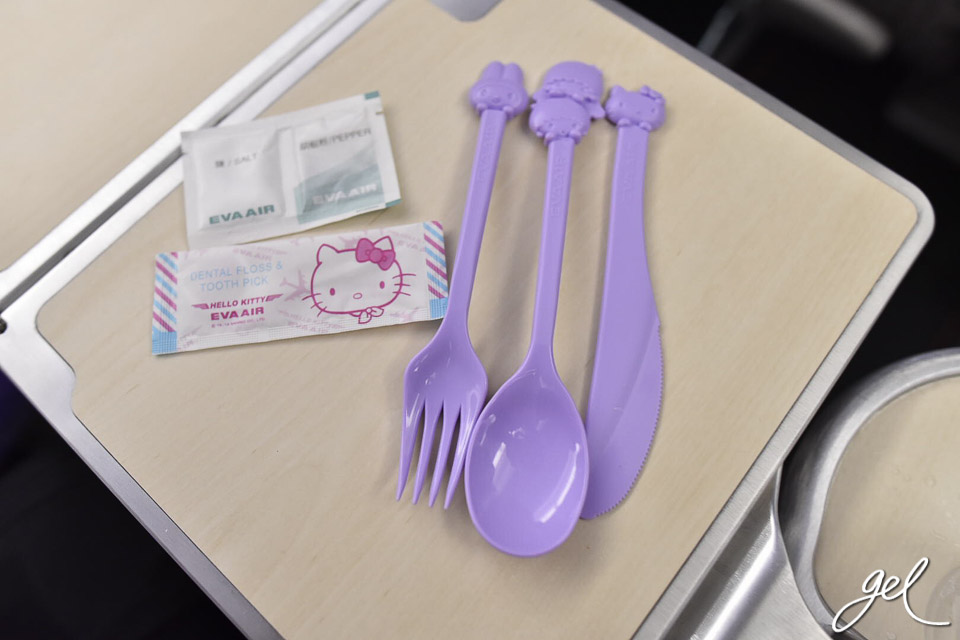 First time, you might want to grab the cutlery set. This ultra "kawaii" set consists of a fork, spoon, and knife, and features the key Sanrio characters: My Melody, Little Twin Stars, and not forgetting… Hello Kitty! The solid-purple cutlery comes standard with your in-flight meal on-board the full-service flight. Don't say I bo jio, because some people might just use the washroom for 10 minutes to wash off the gravy off their spoon…
No. 02: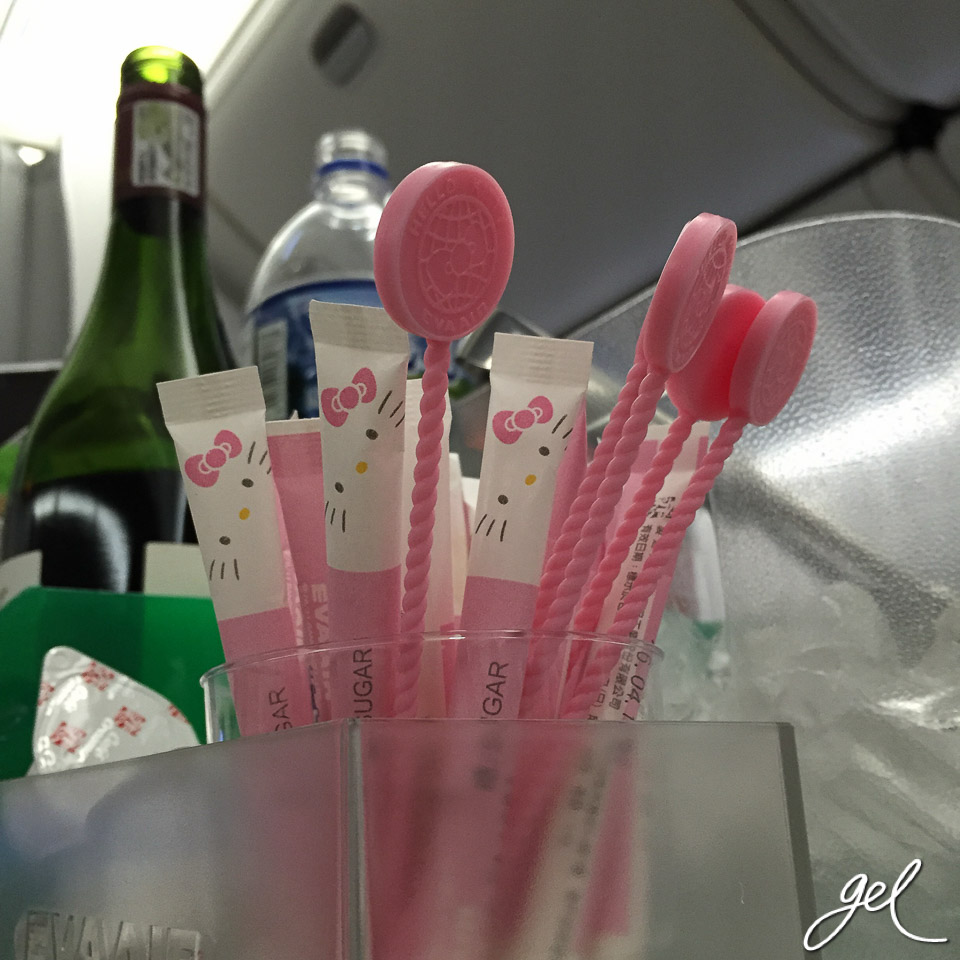 Coffee and tea… and sugar. So I found these sugar sachets staring at me several times throughout the flight. Yes, free-flow coffee and tea, to keep me awake while watching 50 Shades Of Grey available in the in-flight entertainment system.
No. 03: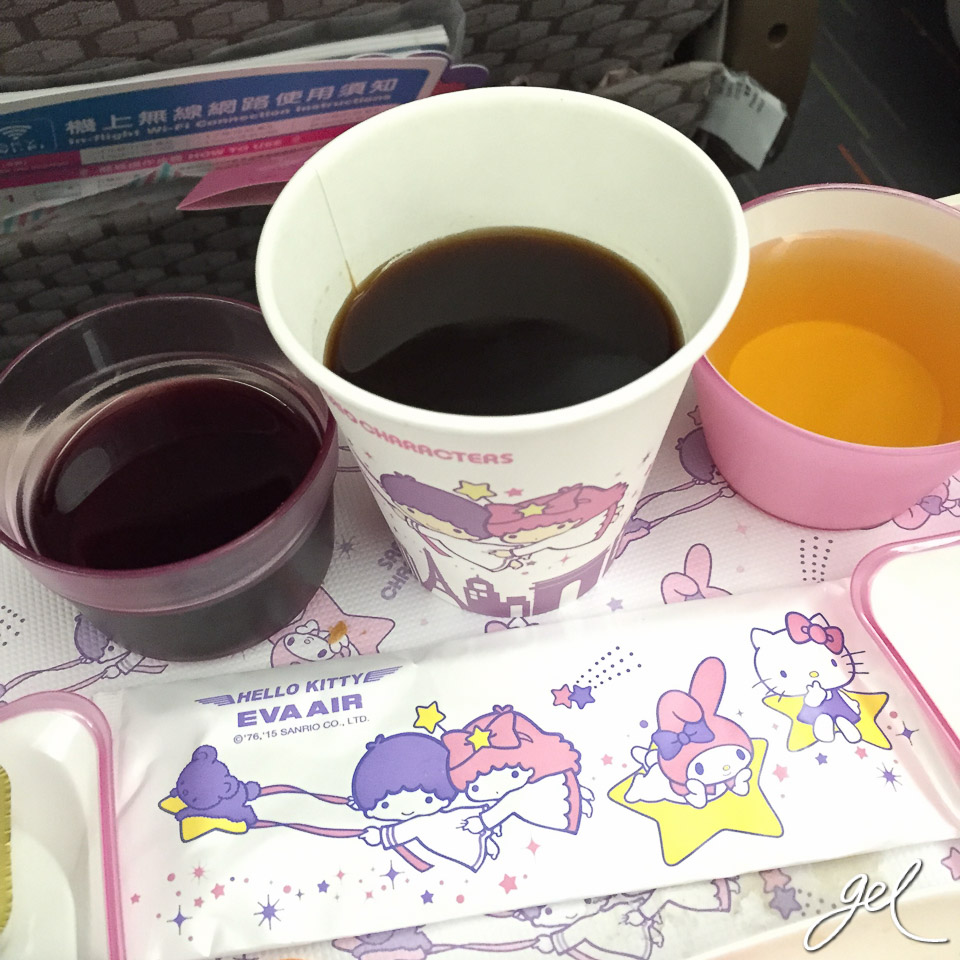 The focus here is actually the packet of wet tissue back at the bottom of the photo. It's sealed, and ultra adorable. Next to the some other bulkier items on this Souvenirs list, this packet of wet tissue is the most innocent to stow away without raising eyebrows from other passengers.
No. 04: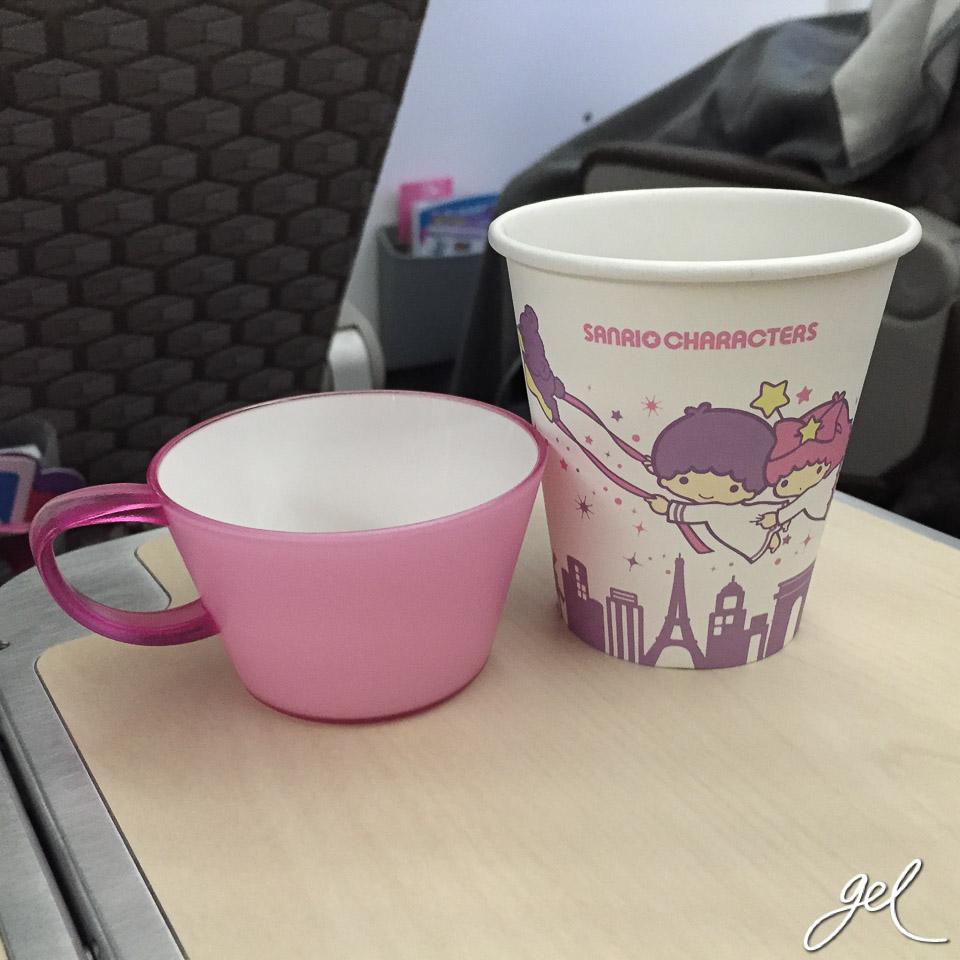 I used that disposable paper cup featuring the Little Twin Stars. There's black coffee inside, but who's gonna judge you if you're taking out your own trash right?
No. 05: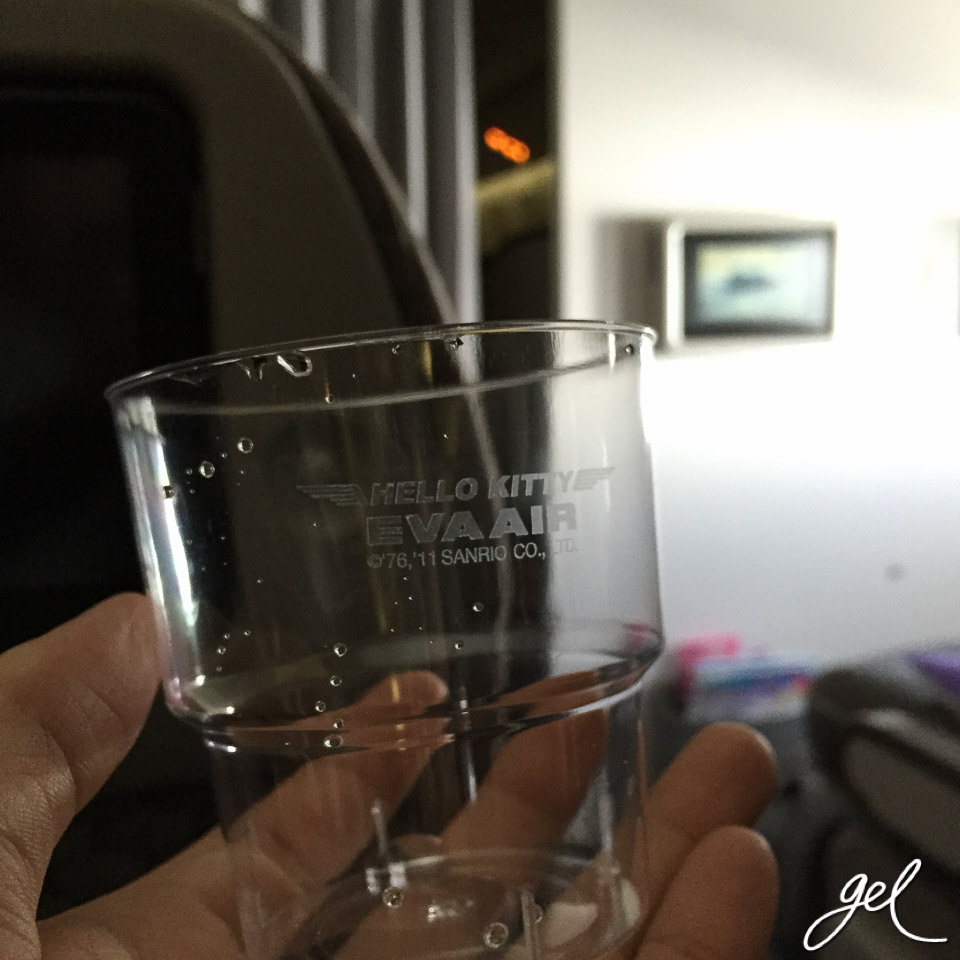 Disposable plastic cup. Legit logo printed on the cup. Was offered at least twice to each passenger. Need I say more?
No. 06: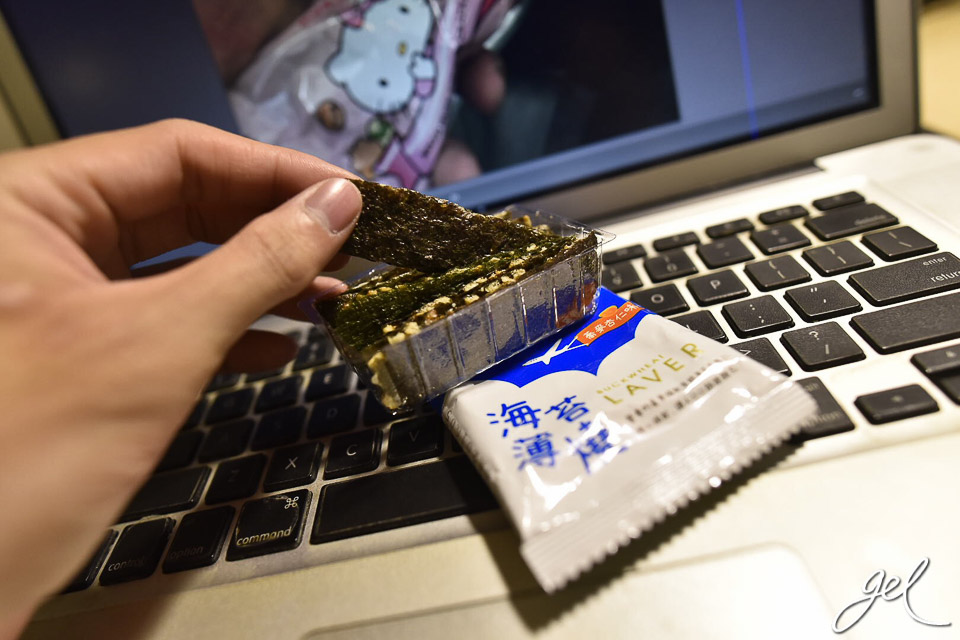 This Buckwheat Laver snack thingy is part of the in-flight meal, if luck decrees that it be on your Food & Drinks menu. Nobody ever said you had to finish every single items on the food tray if you're already full!
No. 07: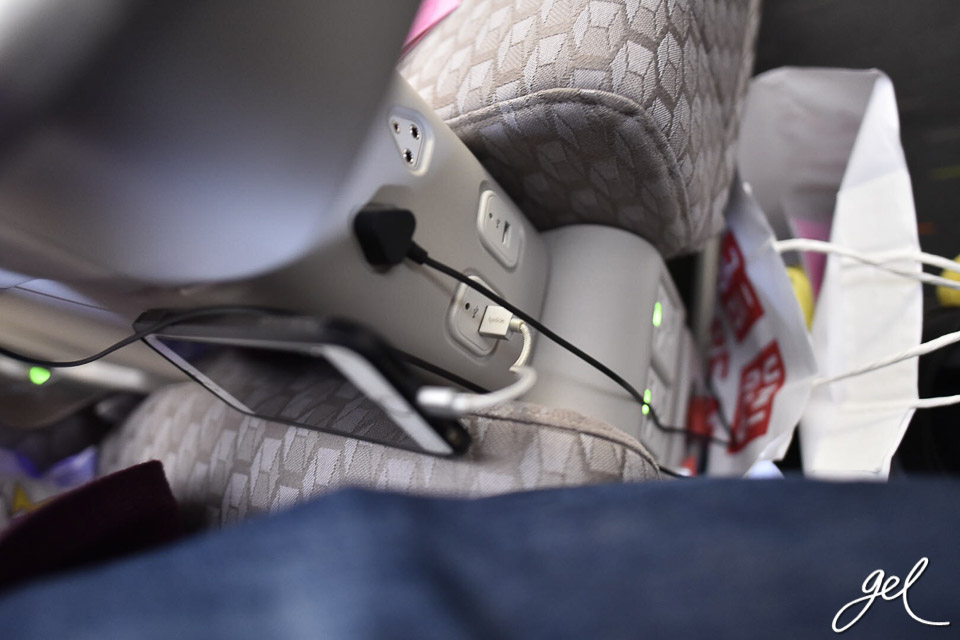 Please go ahead and kapo the free electricity made available to all guests who are Elite (read: premium economy) and Business Class travellers, and is usually located just under your arm rest for the Elite travellers. Just bring your own charging cable and you're all set (I used one to charge my iPhone throughout the whole flight).
No. 08: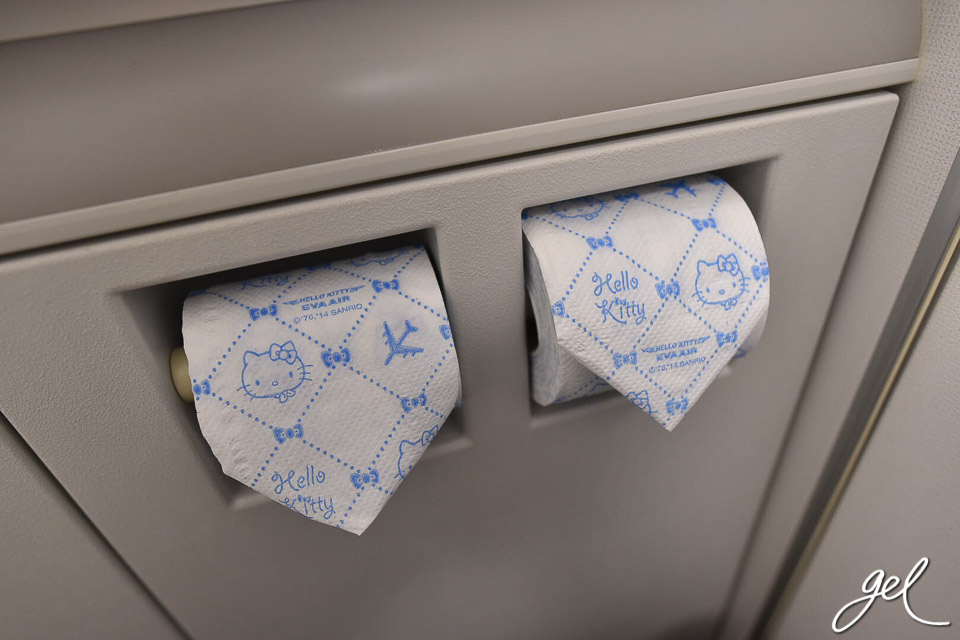 Toilet paper with Hello Kitty print. This is one of the easiest item to kapo while you make a trip to the washroom. C'mon, it'll be enough to just take 1 square, alright? Just make sure it didn't come with other "special gifts" left behind by other washroom users. You know what to do.
No. 09: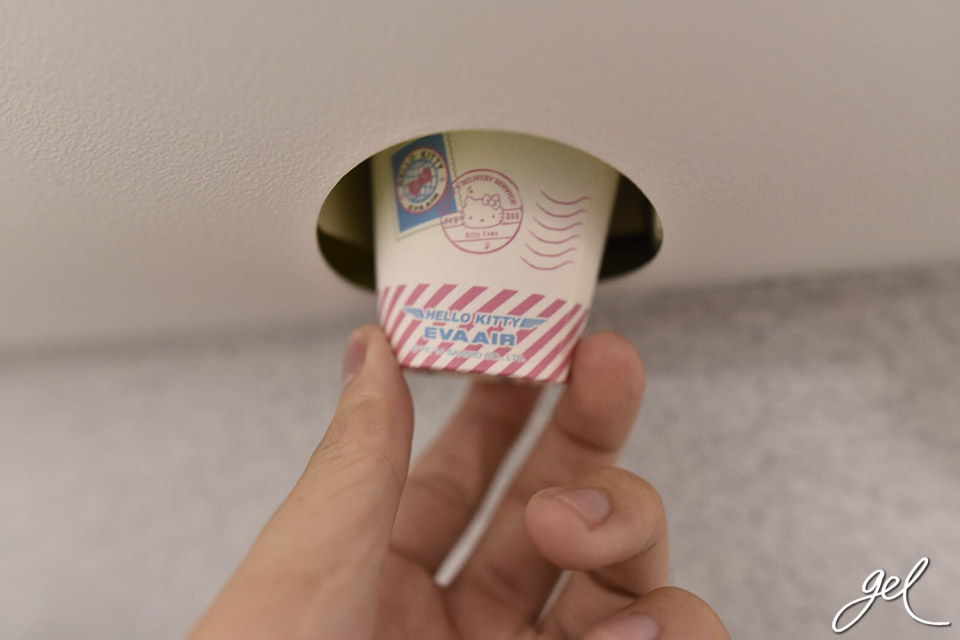 Disposable rinsing cup provided in the washroom. Try not to squash this one while hiding it in your jeans pocket or something?
No. 10: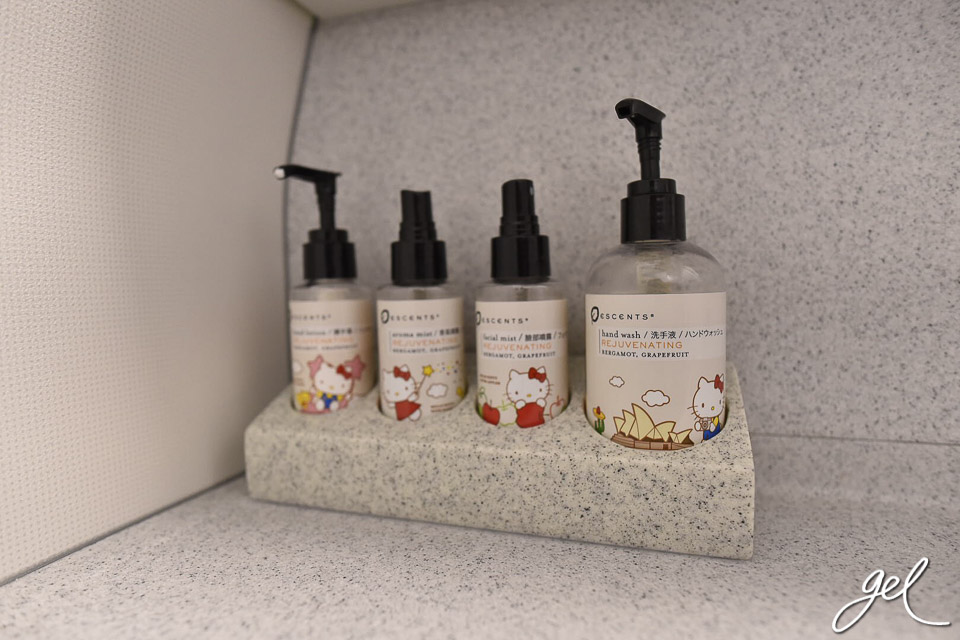 The focus here is the hand soap and facial mist spray. Look, do everybody else a favour and don't really take the whole bottle lah, ok? Just spray spray the facial mist on your face, will do. I sprayed it six times on my face, and ended up smelling like a citrus fruit basket when I reached my seat.
No. 11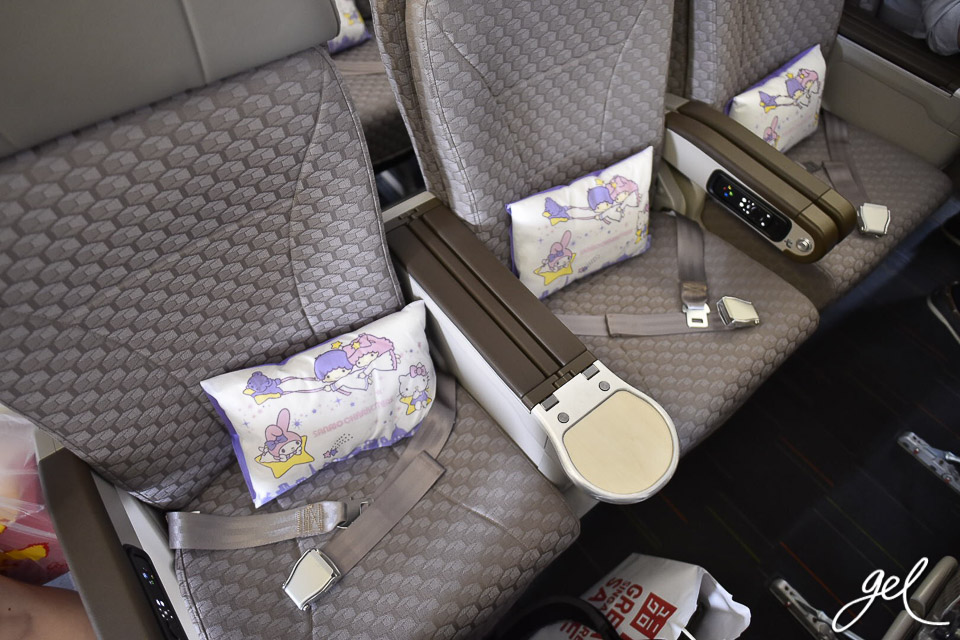 I'm not supposed to tell you this, but if you do ask nicely (not me, ask the flight attendant!), the squishy and soft in-flight pillow could be yours. I'm not joking; the evidence is here…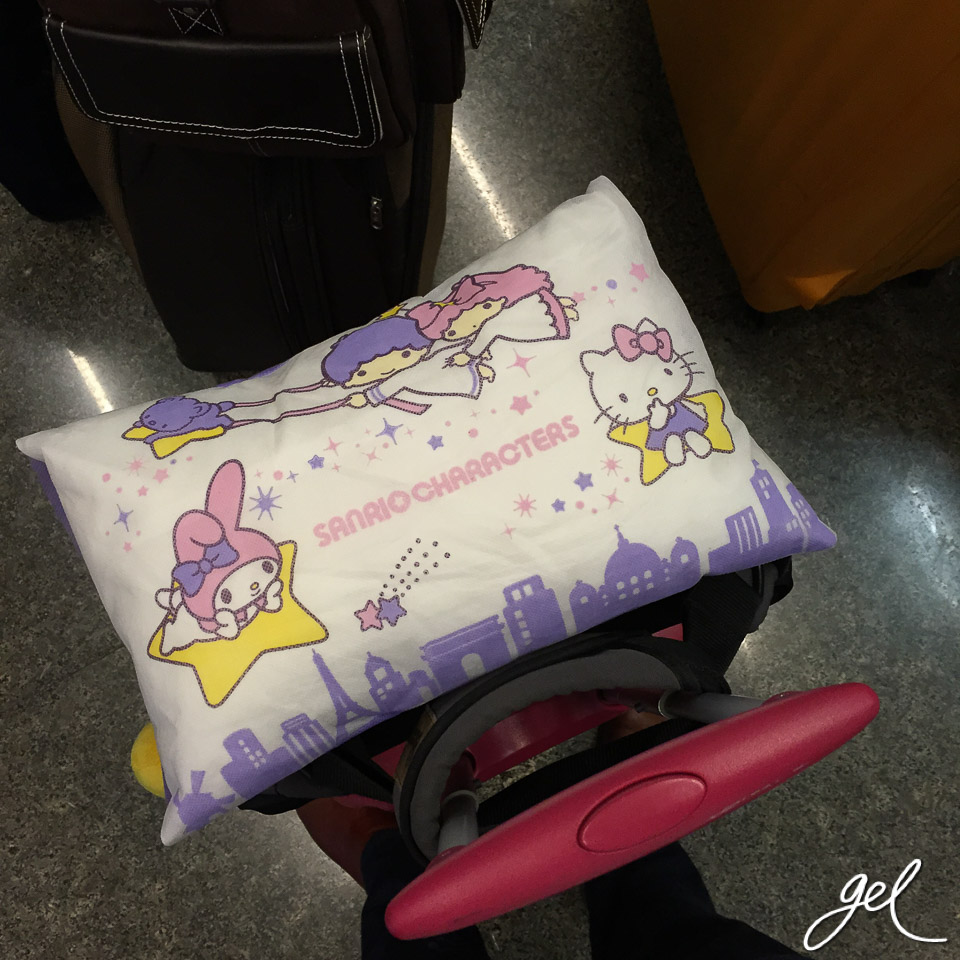 No. 12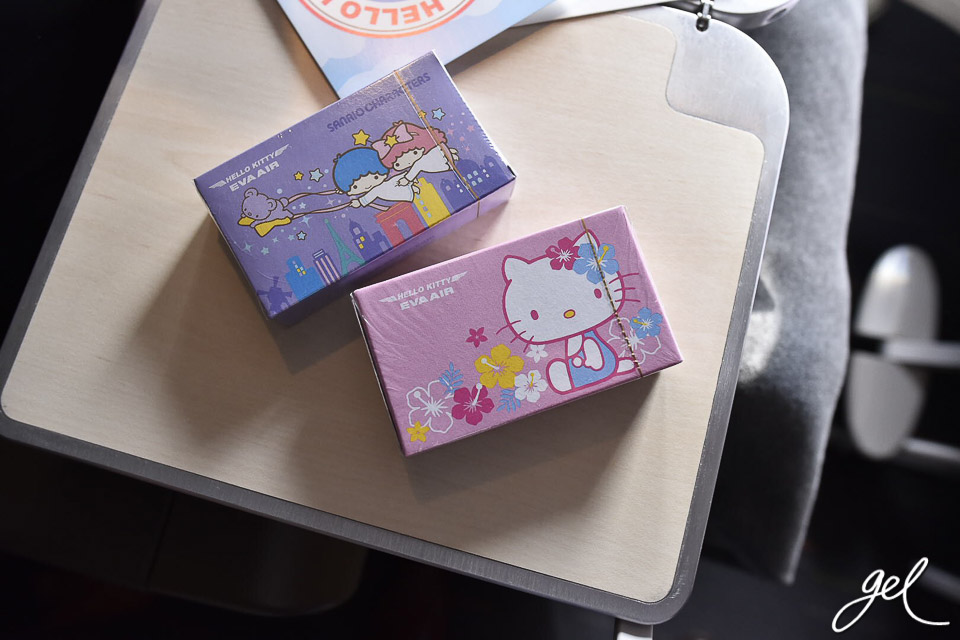 Playing cards. I'm told there're two designs available on the Shining Star Jet. Might be free. *ahem*
But… don't be kiasu and ask for two packets unless you are bagging one for me. Thanks.
No. 13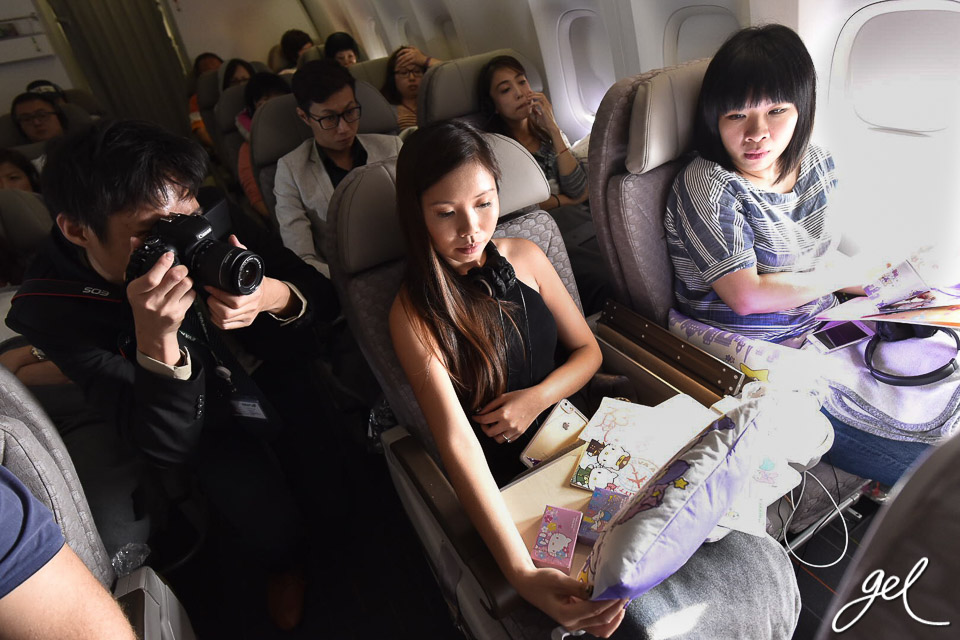 Go ahead and kapo photos of other travellers kapo-ing photos of other travellers, especially if they are good-looking folks.
Don't wait until fellow travellers start advancing towards you with their forks and knives hor. Use your own discretion and ask for permission first, ok?
No. 14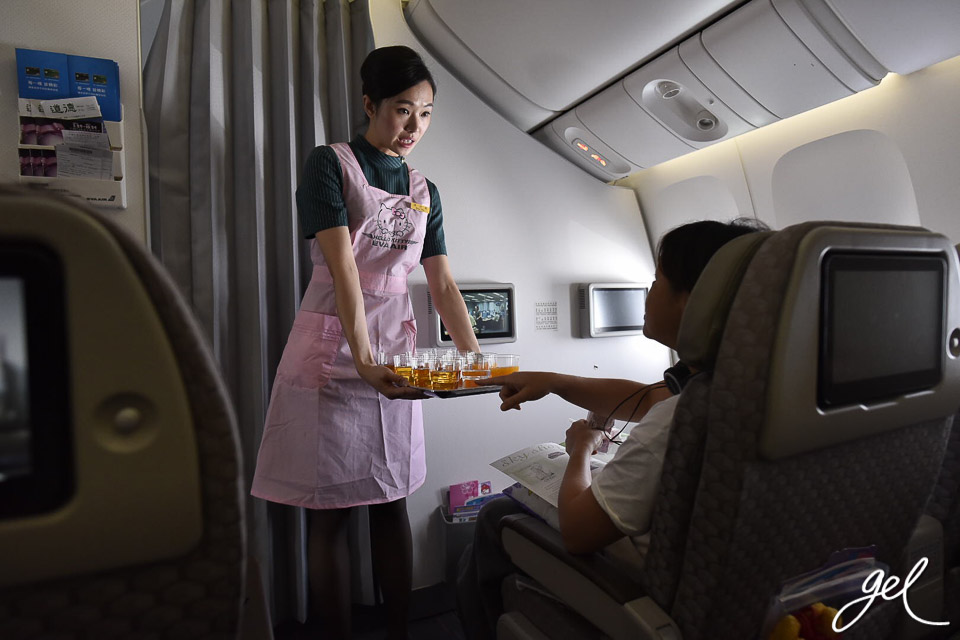 Good-mannered and efficient, the flight attendants are decked in standard EVA Air uniform. But, they donned a little something extra as well – matching Hello Kitty-motif apron, just for the Hello Kitty flight. Classy and cute all in one!
I do not, however, encourage you at all to attempt asking them for their aprons, which leads us to the last item on this list…
No. 15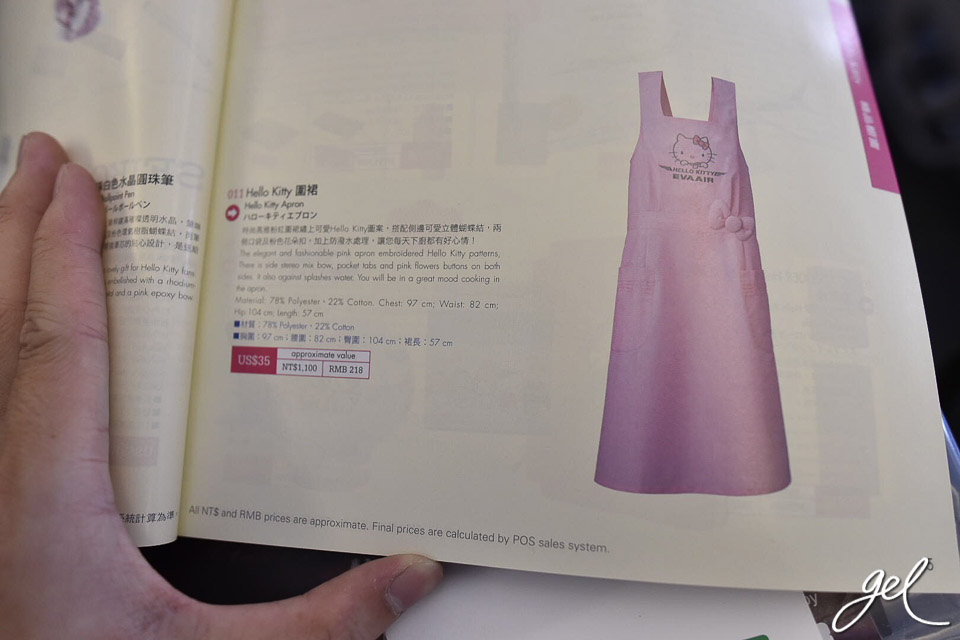 Ready-to-purchase Hello Kitty apron, available via the in-flight shopping experience. At only USD$35, this is one gift you can consider for any serious Sanrio or Hello Kitty collector.
As always, be extra courteous towards the airline staff, and it might just come back to you in kind.
Just remember the Golden Rule of Free Stuff: When in doubt, ask… and ask politely!
---
The EVA Air Hello Kitty Jet (Shining Star) flies from Singapore to Taipei, 3 times weekly, on Wednesday, Friday and Sunday.
Flights available: BR216 (Singapore to Taipei), BR215 (Taipei to Singapore).