East or West, which side is the best? This never-ending friendly rivalry in Singapore won't see a conclusion anytime soon.
But one thing's for sure, Easties have earned an additional point with the recent opening of 13 INCH- a skewers joint at Aranda Country Club (Downtown East).
We love the laid-back vibes and think it's a great location to just relax with family and friends. Skewers are great for a group meal, and the chillax ambience at 13 INCH is bound to make any gathering better.
The outdoor seating area features tables made of crates and low foldable chairs, evoking a camping feel which adds to the cosy charm of the place.
Whimsical paintings and decals referencing fairy tales and Alice in Wonderland decorate the place, backing up 13 INCH's proclamation on its website that it "seeks to be your rabbit hole to escape from the stresses and troubles of life!"
150 Varieties. 4 Styles. 13 Dips
At 13 INCH, your appetite is teased with 150 types of skewered delicacies (Lok Lok) made in four different countries' styles- Malaysia, China, Singapore, and Japan. Pair it with any of the house-made 13 yummy dips crafted using honey from their own farm!
Order 10 skewers and above and you'll be entitled to 3 honey-infused dips. Add-on will be at $1.50 per dip.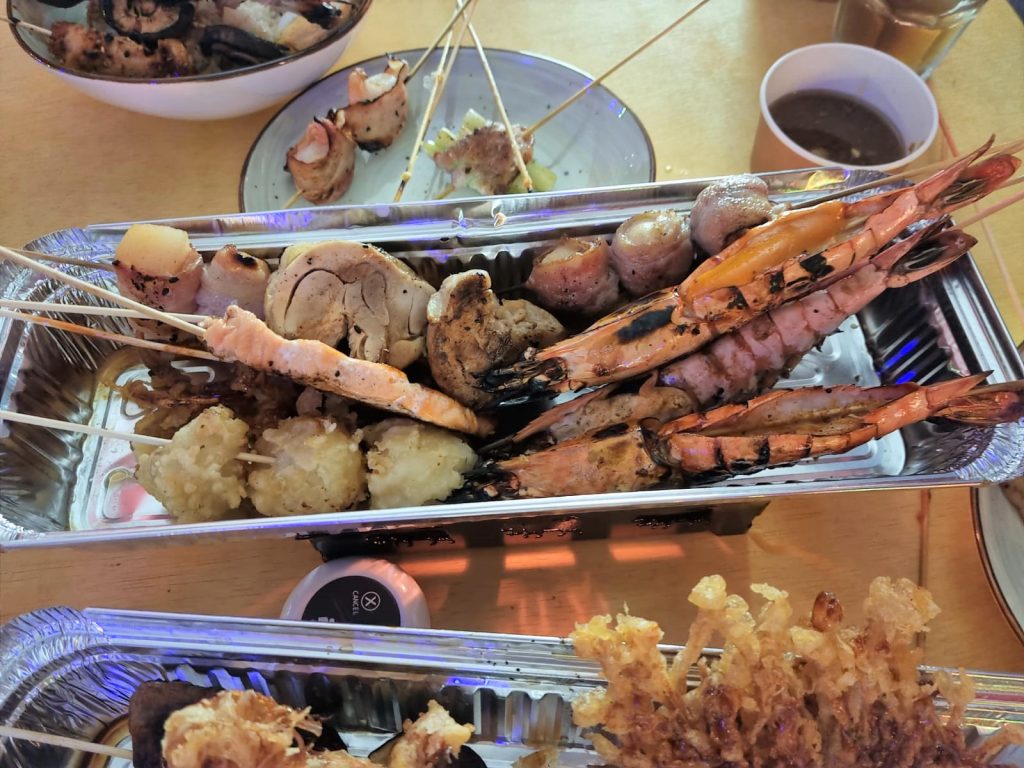 The skewers are sold individually starting from $1 and also in sharing platters starting from $10. You can look forward to unique varieties like Lychee Bacon, Soft Shell Crab, and Chicken Rice Balls.
Anyone finds the 13 Inch logo familiar? That's because 13 Inch is opened by the same people behind 13 honey, a honey brand stocked in supermarkets and department stores. So, you can also be assured that the honey used at 13 INCH is really LEGIT (and not some cheap sugared syrup)!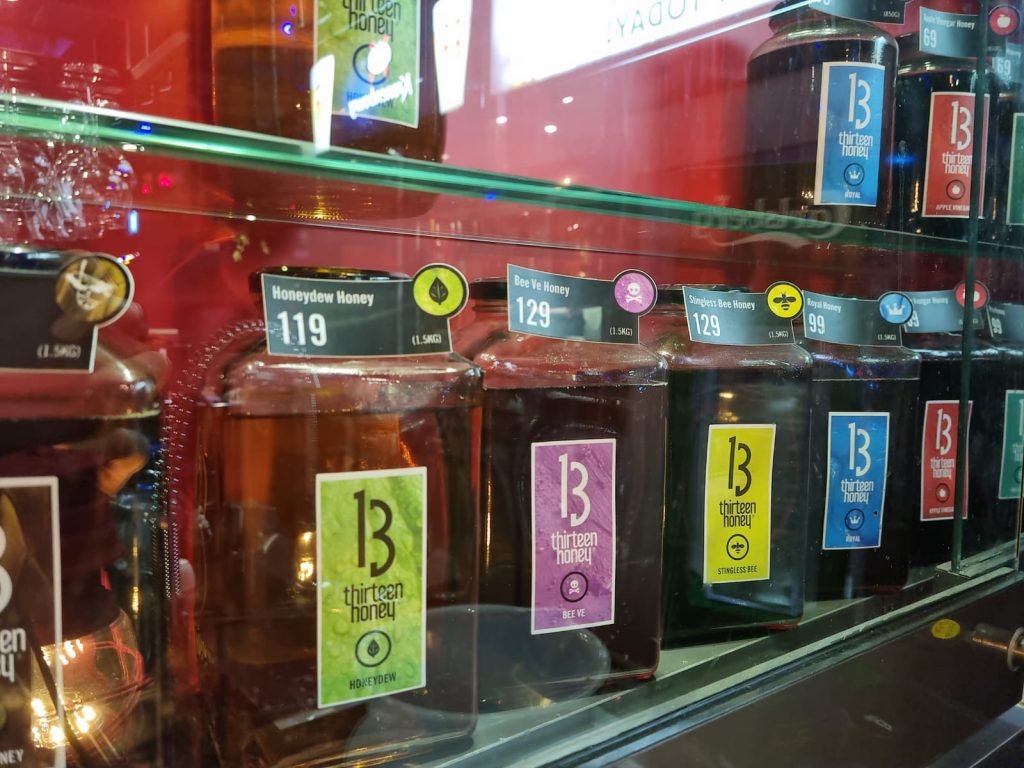 If you're someone who cannot get enough of carbs, Skewer bowls are available as well. Besides your skewers of choice, each rice bowl comes with a Japanese-style egg as well.
Deserving of special mention is the Hangover Lala soup, the flavourful broth is tasty till the very last drop, and just look at the generous serving of the fresh, plump clams. This mildly spicy soup is not only good for a hangover, we think it will be very comforting to slurp in the current chilly weather as well.
Other non-skewer offerings include fries, pasta, grilled waffle sandwiches to desserts like cake and tarts. There's bound to be something to satisfy everyone in the group!
Adults can enjoy beer towers, while the younger ones and teetotalers won't have to feel left out either- they can get a drink tower too! Drink towers add a fun factor to the meal and are Instagram-worthy too.
13 INCH lessens the sugar content of the drinks by using honey instead, hence the chestnut drink we ordered had a mild taste of honey and is also healthier.
Is 13 INCH Worth a try?
13 INCH's value proposition is in its wide variety of skewers, house-made dips using honey from its own farm, good selection of non-skewer items (useful for accommodating different tastes in a group), and its winning laid-back cosy vibes.
We recommend dining in at 13 INCH to enjoy the breezily chillax eastside atmosphere there. Nonetheless, island-wide delivery is available as well. You can order 13 INCH online here. The minimum order for delivery is $40. Free delivery for orders $80 and above.
13 INCH SG
Address: 60 Pasir Ris Drive 3, 13 Inch @ Aranda Country Club, Singapore 519497
Opening Hours: 11am-3am
Can't get enough of skewers? Here's another: