In what would seem to be a meteoric rise to celebrity status, Orchard Tower Murder suspect Natalie Siow Yu Zhen is now almost a household name in Singapore. Influencers could only dream of the reach she has and how enamored a lot of Singaporeans are with her story.
What is Natalie Siow Yu Zhen up to now?
According to her Instagram account, Natalie could easily pass as a top Singaporean influencer, and just like any of them, she has merchandise!
Her Instagram stories has featured some merchandise such as what looked like Apple-branded ear pieces called Airpods at a lower price than retail.
She revealed on one of her Instagram stories that the items she was selling was allegedly not genuine and that she was only being up front with the price because of what her followers were inquiring.
Did Natalie really look for a sugar daddy a few years ago?
She said that the devices she is selling are not authentic but are allegedly very good, and that she was willing to give people a 1-month warranty on her products. She said that she will exchange the product if it turns out to be defective. The "airpods" she is selling allegedly have the same functions such as "noise cancellation, tracking of device, change name of airpods." She said that they function the same as original Apple Airpods.
Natalie also threw some shade at other sellers, who would take advantage of how similar and well-made the unoriginal airpods were and marketed them as authentic devices from Apple. She advised people who wanted authentic products to go to the store itself.
She also set up an Instagram shop called Shop Mason. You can check it out below.
Looks like Natalie is done with any sort of life involving crime or deceit.
Who is Natalie Siow Yu Zhen?
The only girl in the 7-person lineup of accused in the Orchard Towers murder case, Natalie Siow Yu Zhen allegedly featured in one of the videos of the crime. A fight had broken up in the early hours of the morning at Orchard Towers, with a gang of people beating up 41-year-old Noel Satheesh Gobidass.
Natalie and her fanclub have a weird relationship–if you can call it that.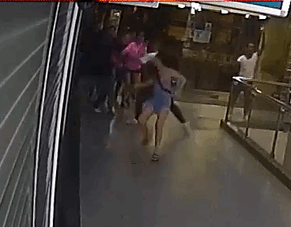 While previously charged with murder, her charges have been lowered but have increased in number. According to a previous report, Natalie has been charged with assault. She is no longer in danger of being given the death penalty if found guilty of her charges. She is, however, possibly up for a jail term of three years if convicted.
She was also charged with one count of consorting with a person who had an offensive weapon in his possession, and another of behaving in a disorderly manner.
She has since claimed trial over consorting with Tan Sen Yang, the 27-year-old who is still up for murder charges and who allegedly possessed the karambit knife that figured in the crime.
As for the other two charges, Natalie's lawyers have yet to say whether their client wants to plead guilty or to go to trial over them.
She expressed her desire to go to trial for that one charge on November 27, as court records showed that she was with Tan on that same morning that the victim, Gobidash, died after the violent encounter.
The victim died that same morning before 8:00 at Tan Tock Seng hospital.
She is set to be back in court for pre-trial on January 6, 2020.