Singapore's top YouTuber JianHao Tan currently has 3.3 million subscribers, but he won't be allowing his daughter to go online any time soon. Not that she has a choice—she hasn't been born yet.
Last month, JianHao, 26, released his long-awaited wedding video with his wife Debbie Soon, 22, after an elaborate proposal in March, a pregnancy announcement in April, and a wedding in May. It's been a whirlwind of activity for the newlyweds, but we recently managed to catch up with them and celebrity dog BunCha at their two-storey home in West Coast.
Debbie and JianHao shared that despite their strong presence on social media, they want their daughter to have a childhood free of technological distractions. It is precisely their high exposure to social media, they added, that lets them know "exactly what to avoid".
JianHao wants his daughter to have the childhood that he had, he shared. Despite his heavy social media presence, he spent plenty of time in the great outdoors as a child.
Growing up in Cambodia and Vietnam, JianHao and his sister would catch butterflies, play along the river, and make friends with local fishermen. Both he and Debbie want their children to have a similarly carefree and innocent childhood.
That said, fans can rest assured that they will still get to see the baby, as both feel that there's no reason to suddenly become private about their personal lives. As JianHao put it, "A lot of what we have now is because of the fans, so sharing with them is part of our joy and their joy as well."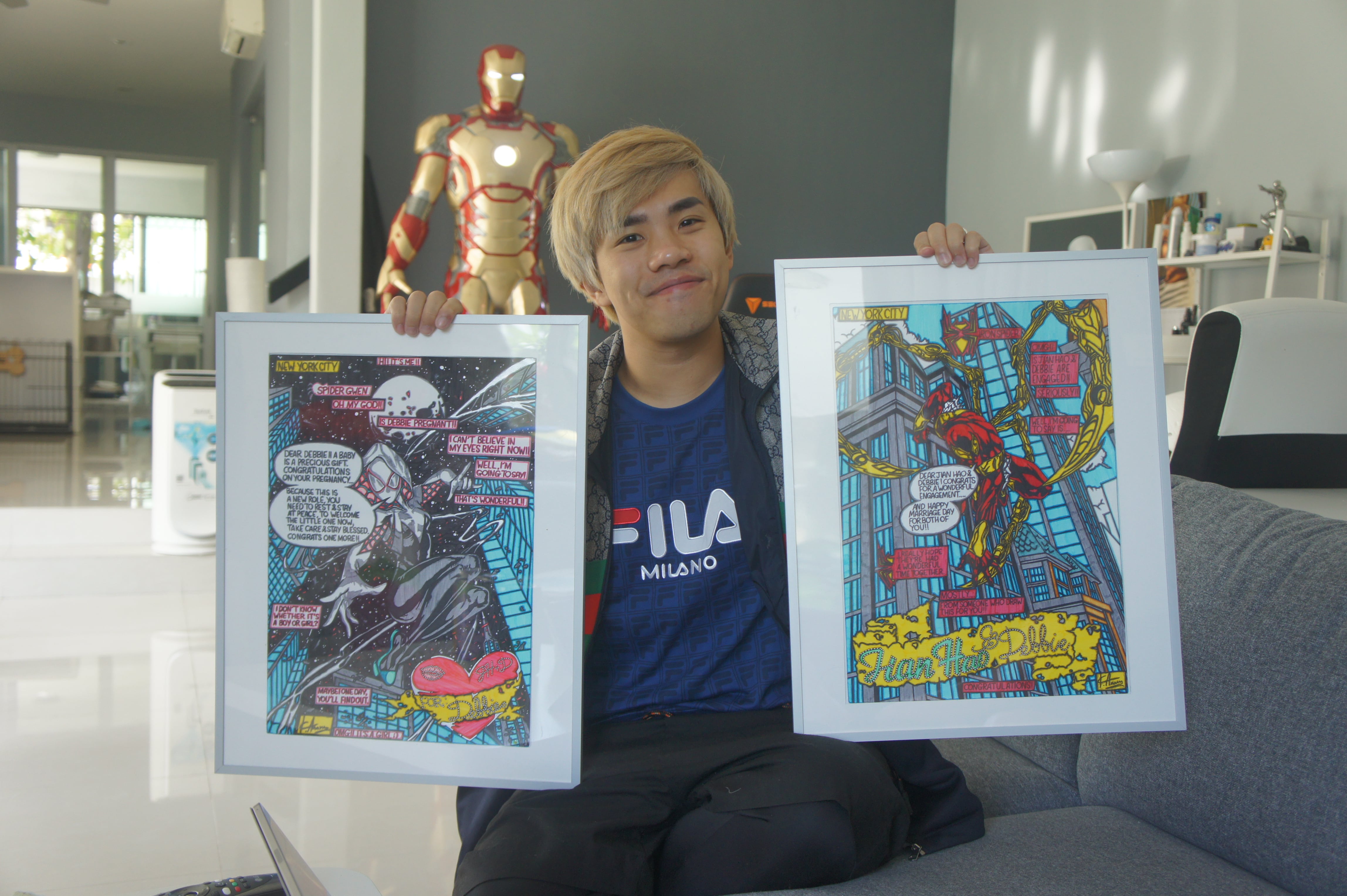 JianHao with fanart of him and Debbie based on Spider-Man and Spider-Gwen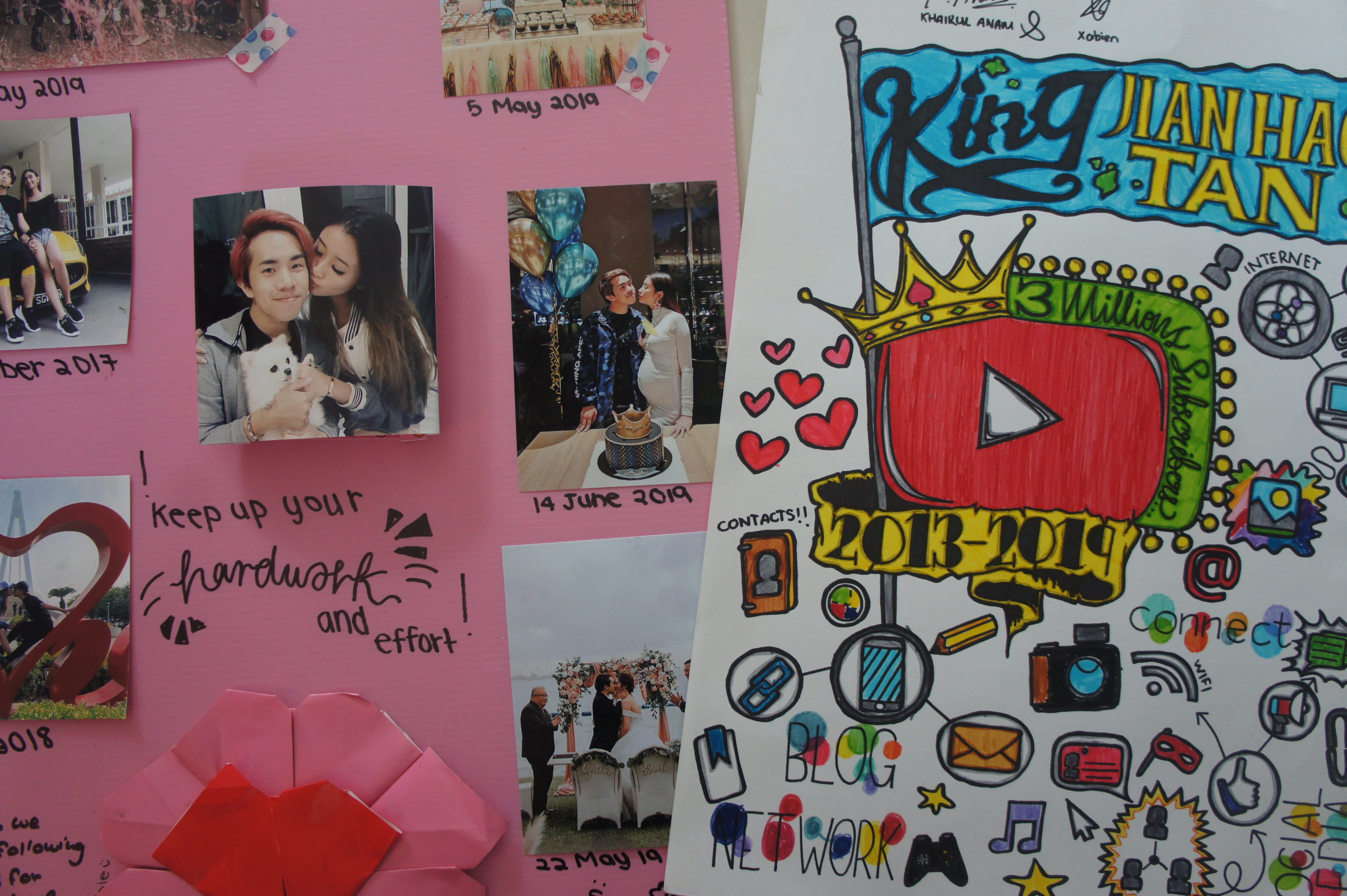 Gifts from fans for Debbie and JianHao
JianHao wants "two batches" of children
While Debbie is happy with two or three children, though, JianHao has much bigger goals.
"Eight is the number that we're going for," he announced. "We can have two batches, four first and four later."
Beside him, Debbie could only shake her head. "Let's just check back on this interview two years later."
Well, the couple is at least of one mind about the name of their first baby. They have a specific name in mind (it starts with an "S"), but agree that they will have to see the baby's face before confirming whether it suits her. They've already begun using the name to refer to her among close friends and family.
JianHao and Debbie's only regret
They've shared their proposal, pregnancy, gender reveal, and wedding, along with multiple Q&A sessions and a Ladies First series on the pregnancy journey. But not everything went online—we learnt that Debbie and JianHao actually started out with a very different idea for their wedding, which was held on 21 May at Shangri-La's Rasa Sentosa Resort & Spa.
With less than two months to plan, they initially wanted a small solemnisation ceremony. Somehow, things escalated, and they found themselves with 15 tables of guests instead of just two as originally planned.
Friends and contacts jumped in to help, but the couple still surprised themselves when they pulled it off. Their only regret? Not doing a full wedding and inviting as many friends as they wanted to right from the start.
As fans know, there is one more big wedding dinner happening next year. While they are still recovering from the stress of having just gone through this year's 'do, they are now confident of their abilities. They also intend to reserve a couple of tables for lucky fans to share in their special day.
However, the date for their second big day has yet to be set.
On planning weddings: have an after party!
For other couples planning their weddings, Debbie and JianHao recommend having an after party. They had one at their celebration at Shangri-La's Rasa Sentosa & Spa on 21 May this year. Along with the ballroom, they booked Barnacles by the Sea, a restaurant and bar in Rasa Sentosa itself, hired a DJ, and turned it into their very own club.
"My parents were dancing on the table," laughed JianHao. "At one point, everyone was on the table … And at any time it could've just collapsed."
Preparing for parenthood
Speaking of parents, Debbie is expected to give birth in about half a month's time, and at the time of the interview was busy preparing the nursery for the baby.
She initially wanted a safari theme, but changed her mind after finding out the baby's gender. However, she remained tight-lipped about the new theme, stating only that it wouldn't be "too princessy" as she doesn't want their daughter growing up with "princess syndrome"—referring to girls who are spoilt and have an undeserved sense of entitlement.
As for JianHao, he's "trying to clone [him]self" to make things easier. At the time, he had interviews lined up for new personal assistants—employees who will stand in for him at meetings and help to manage the office so that he can spend more time at home with his family. He said that he was looking into motorised robots like Double to stand in for himself at meetings and at home. That was one suggestion that Debbie couldn't stop laughing at.
"Imagine if the baby's crying, what're you going to do with the robot?" She teased. "The baby will never recognise you, she'll just recognise the robot."
Still, he's evidently very much present at home. Upon finding out that Debbie was pregnant, he immediately got a king-sized bed delivered the very next day so that she would be more comfortable.
He also bought her maternity pillows, makes sure she doesn't slip in the shower, and fetches her a glass of water every night. More important than any big romantic gesture, she said, is that "every day and every moment he tries to care for me".
And it goes both ways. When asked about traits they want their daughter to inherit from each other, JianHao said that he hopes she will be loving like Debbie, who's always taking care of him and their Pomeranian BunCha. For Debbie, she hopes that their daughter will love them just as much as JianHao loves his family.
Mummy Debbie 
As the first baby in their families and among their friends, they're sure that "S" will be very loved. And if the love BunCha gets is any indication, they're probably right. Throughout the interview, the excitable dog was taking turns to sit in everyone's laps, running up and down the living room, and getting treats.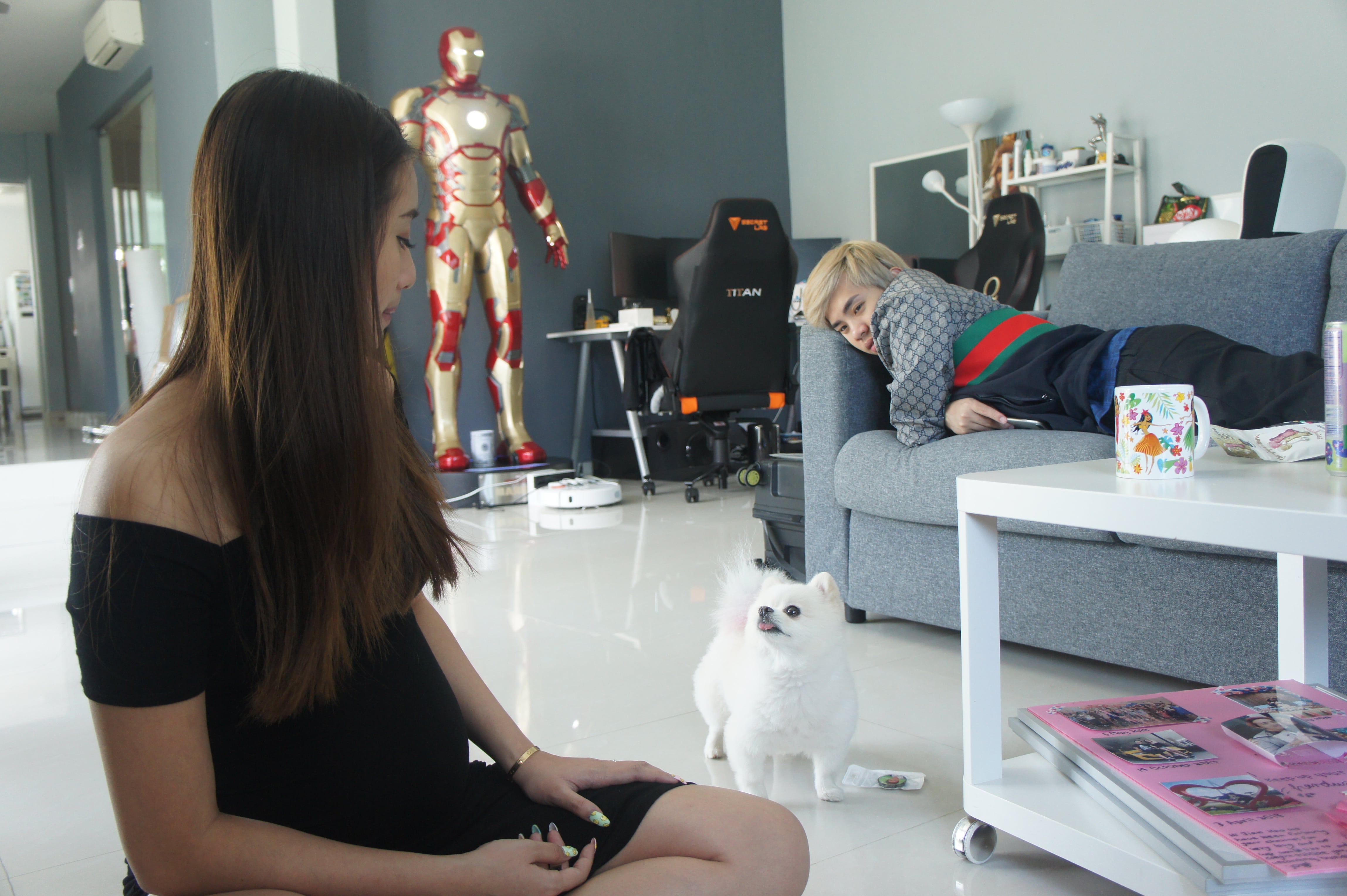 Debbie, BunCha, and JianHao
In fact, one of the projects they've been working on is a BunCha plushie. It has her signature sticking-out tongue and a rainbow tail just like what BunCha sported earlier this year.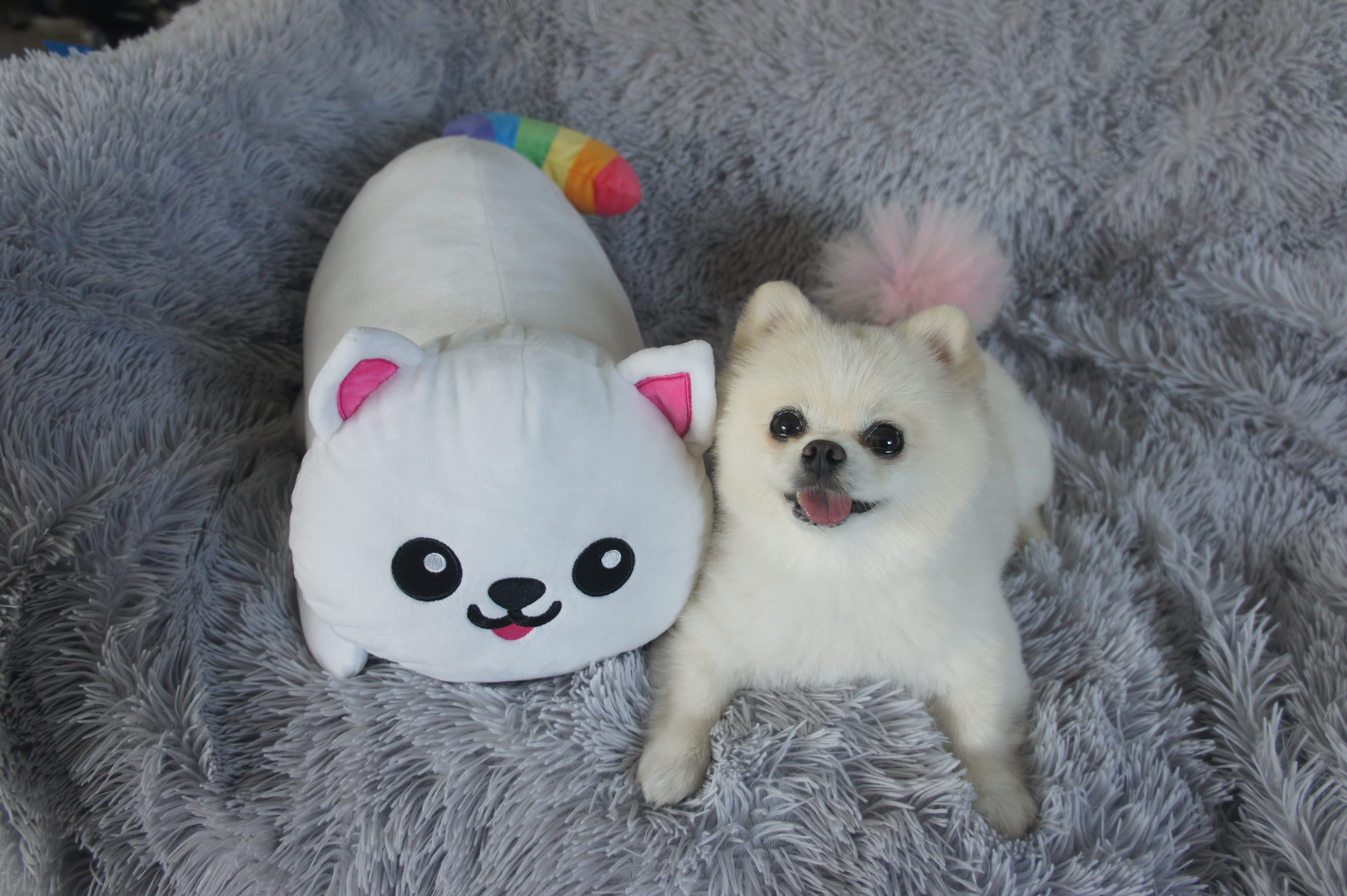 BunCha with her plushie self
Debbie also spent half an hour demonstrating all the different tricks BunCha can do, from standing and rolling over to jumping through her legs and playing treat-hiding games.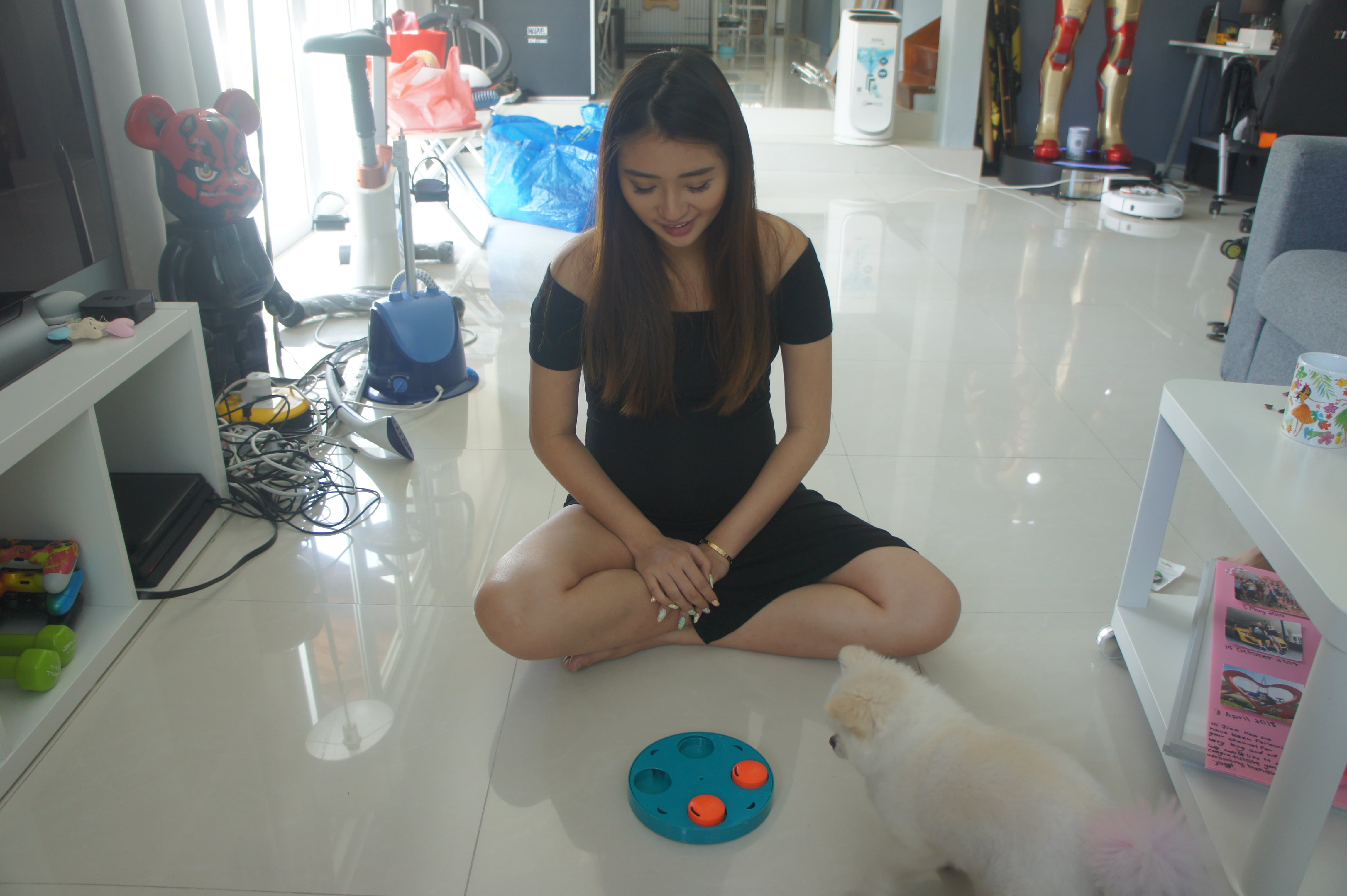 Debbie preparing a treat-hiding puzzle game for BunCha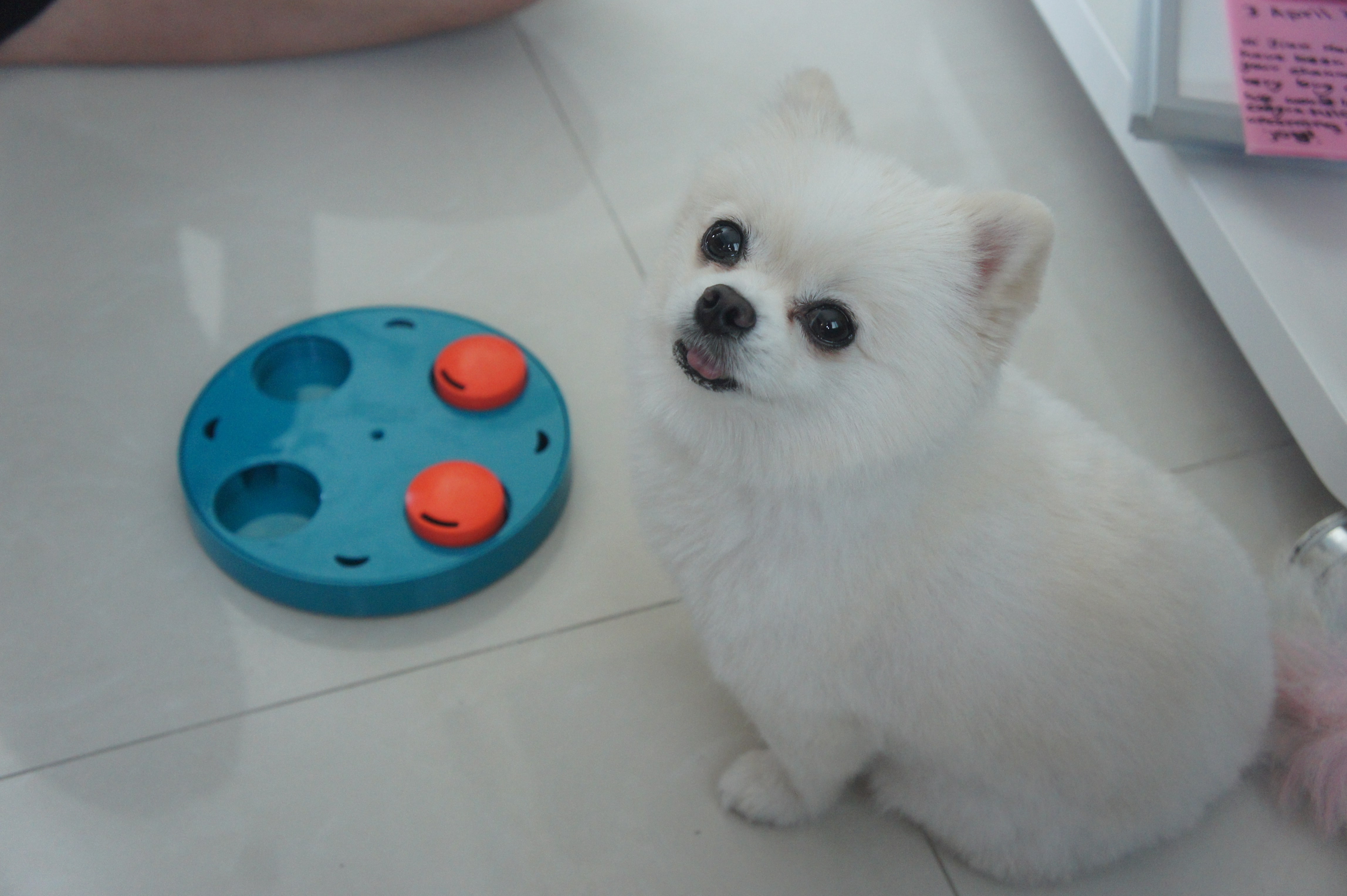 BunCha waiting for her treats
If she can apply this prowess to disciplining their daughter as well, we are sure she will get outstanding results. We wish them all the best, and we'll be looking out for BunCha's little sister real soon!