It is the start of a new year and this is usually the time when we start working on various bucket lists such as an exercise or diet regime, career goals, travel plans and more.
Appropriate rest and leisure is important to lead a happy and fulfilling life with work-life balance. Hence planning for your travels and holidays are equally important as setting career goals.
However, for most of us who are salaried employees, annual leaves may be limited. Hence it will be wise to plan early in order to maximise your leaves together with public holidays for travel.
The public holidays in 2016 are provided below by the Singapore Ministry of Manpower: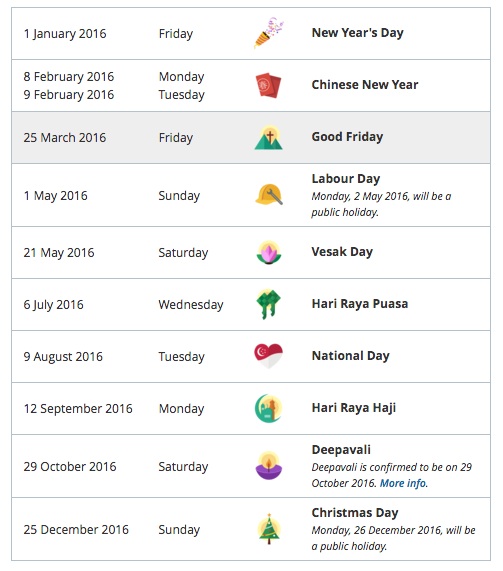 Here are five simple, but very useful tips on maximising your public holiday travel for 2016?
Tip 1
Optimise your work leave 
If you are planning for shorter trips, look for public holidays that are nearer to the weekends. Alternatively, for longer trips, look for public holidays that are in midweek.
For instance, for a short beach getaway to Bali or Phuket, I will make use of the Good Friday (25 Mar, Fri) or Labour Day (1 May, Sun) public holiday. Taking a day leave on Monday or Friday respectively will unlock a three-days holiday.
If I am planning a longer trip of say, 1o days in Japan, I will go for the Hari Raya Pusa (6 Jul, Wed) or National Day (9 Aug, Tues) public holiday week to optimise my overall annual leave balance.
Tip 2
Plan early and book flights and accommodations early to enjoy lower prices 
This is common sense. The earlier you plan and book everything, the longer time you will have to watch out for discounted airfares or accommodations.
A useful tool I subscribe to is the Skyscanner price alert function. In this way, I will be able to conveniently keep an eye on the price of my chosen flights and book them when they are the cheapest.
Alternatively, if you are comfortable with a particular airline or hotel group, visit their website frequently to check for deals or promotions. It would be helpful if you already have a schedule of all your travel dates for 2016 at hand so you can quickly grab any promotions when they are available.
Tip 3 
Avoid the crowd by choosing less common destinations
Singapore is such a crowded city that often when I travel, I want to go to places where there are less people. As public holiday travels can be peak periods for traveling, particularly for more international public holidays like New Year Day and Christmas, try to choose less common destinations for your public holiday travel to avoid crowd.
For instance, I will definitely avoid traveling to China during the Chinese New Year holiday or their Labour Day holiday so as not to get swamped by the 1.2 billion potential domestic travelers in the country itself. Instead, opt for countries like Turkey and Dubai which do not have Chinese New Year holiday and are less likely to draw large amount of Chinese New Year holiday travelers.
When traveling to popular countries like Thailand and Indonesia, instead of opting for the regular destinations of choice like Bangkok, Phuket and Bali, head for second-tier cities like Chiang Mai and Yogyakarta where it will definitely be less crowded. One recommendation from me is to visit the tiny state of Laos, which is often overlooked when touring Southeast Asia.
Tip 4
Rent a travel WiFi Router
If you have a panicky supervisor who will have problem with you being away during public holidays, renting a travel WiFi router when traveling will ensure you can be contactable if there are any work emergencies. This can help relief anxiety on both sides and ensure you get to go for the holiday you deserve.
Moreover, having WiFi when traveling is always a good thing. You will be able to make use of online maps for navigation as well as search for the best destinations to visit while on-the-go.
If you are traveling from out of Singapore, Changi Recommends offer a good deal for travel WiFi router rentals.
Tip 5
Buy the NTUC Income's Public Holiday travel plan to maximise savings and coverage
I am saving the best tip for last. Do you know that there is actually a travel insurance plan from NTUC Income designed specifically for people who plan travels around public holidays to maximise savings and coverage?
Prices start from just S$98 and covers your worldwide travels over the next 12 months from your policy start date. The coverage for each trip lasts up to 10 days, as long as one day in each trip falls on a gazetted public holiday in Singapore. Super awesome isn't it?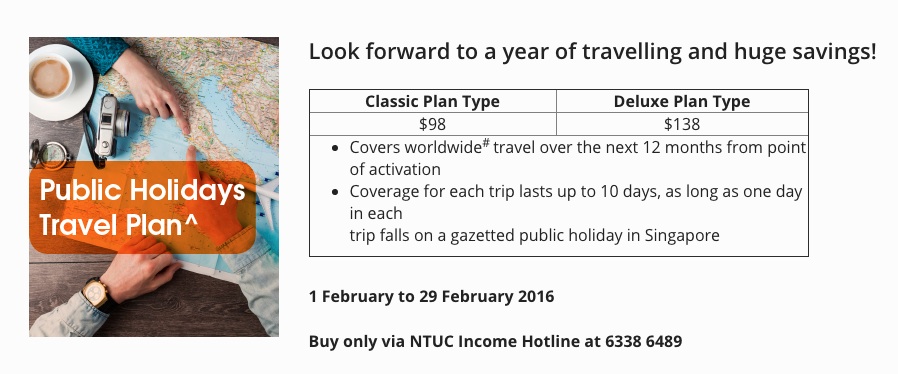 If all or many of your holiday travels are planned around public holidays, this is the travel insurance plan to get instead of getting a separate travel insurance each time you travel! So when you travel more, you save more too! More details are available via the official website.
That's it for my five quick tips! Have fun traveling in 2016! 🙂