This article was first published on ASIA 361 and written by Shannon Soh.
A new food trend is going on in Singapore — soft serve ice cream and frozen yoghurt shops are popping up across the island. One of them is Honey Creme, which has seen long queues snaking out of its flagship store at [email protected] since it opened in October last year. Originally a Taiwanese ice cream store, Honey Creme is known for its Korean-inspired soft serve ice cream with interesting local-inspired flavours.
Curious about what the hype is all about, I decided to check out Honey Creme and its famous soft-serve ice cream.
The Organic Cotton Candy Affogato (S$6.20) is a must-try for all coffee lovers. It is also probably the most Instagram-worthy of all the offerings at Honey Creme. Basically, it is a heavenly combination of soft serve ice cream coupled with organic cotton candy and a small cup of freshly brewed espresso. On pouring the espresso onto the soft serve, the cotton candy atop the ice cream literally melted into the cup. While the ice cream tasted like your ordinary vanilla soft serve, the sweet sensation and strong taste of coffee made it a delight.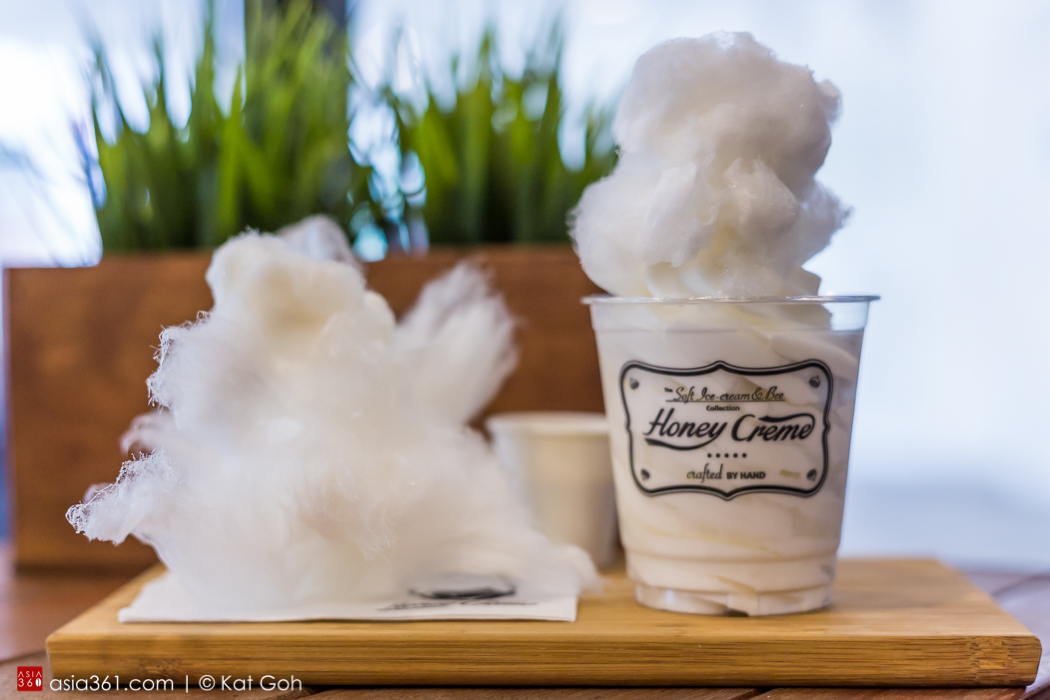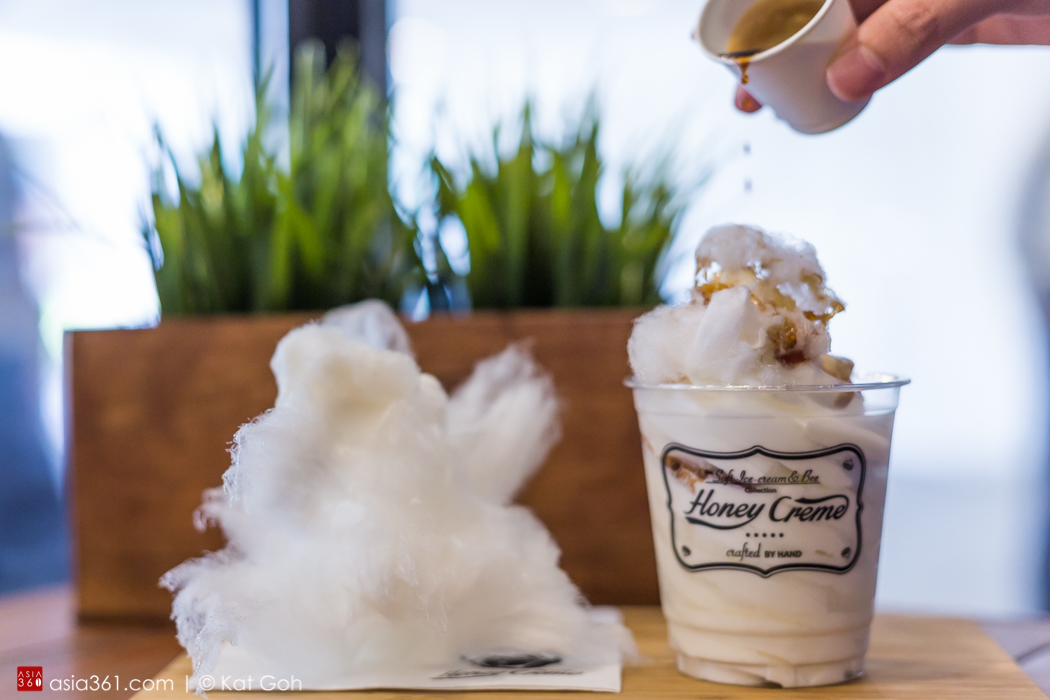 Another interesting signature item was the Honey Creme Alisan Milk Tea (S$5.50), which I learned is very popular among Honey Creme's custoners. As I don't particularly enjoy overly sweet desserts, I have to say this flavour was not for me. The Alisan milk tea ice cream, layered with Alisan tea jelly, cookie crumbs and honey-coated pearls combined together, tasted cloyingly sweet. However, if you are a lover of bubble milk tea, you would like this because the taste was reminiscent of bubble milk tea.  If Alisan tea may not be your kind of milk, you may wish to sample other locally inspired flavours like Teh-C and Teh Gah Dai.
In conjunction with the celebration of SG50 and Honey Creme's upcoming second outlet at JEM in July, two new flavours – Pandan Gula Melaka (S$6) and Cereal Milk (S$5.90) – will be introduced mid this year.
Available from 1 June, Pandan Gula Melaka was literally the best soft-serve ice cream I have ever tasted. Inspired by quintessential Singaporean desserts such as chendol, ice kachang and pandan chiffon cake, this soft serve reminded me of my childhood days. I liked how the soft-serve ice cream was more icy rather than milky and the subtle pandan flavour it carried. The crunchy puffy rice, chewy attap chee (palm seeds) and sprinkles of sweet and salty toasted Thai-imported coconut flakes  added different textures to the soft serve. A pipette of gula melaka syrup served on the side  allowed me to adjust the level of sweetness. These small additions made the Pandan Gula Melaka soft serve the perfect dessert for me.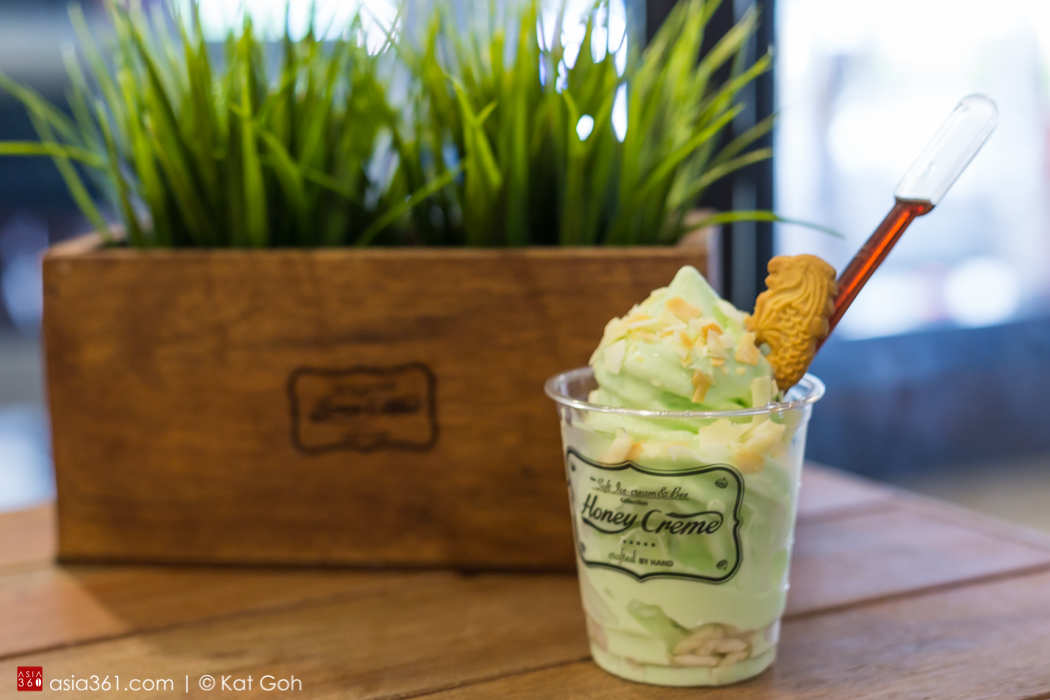 Another upcoming flavour is the Cereal Milk which will make its debut in July at the JEM outlet and in August at [email protected] While there are other signature flavours using the same vanilla soft serve, the Cereal Milk soft serve presents a sweet dessert twist on a breakfast staple. It comes served with generous layers of cereals, which have been toasted with salt, sugar and butter in the oven for 20 minutes.  The crunchy cereals complemented the creamy soft serve perfectly; its saltiness helped to enhance the sweetness of the dessert.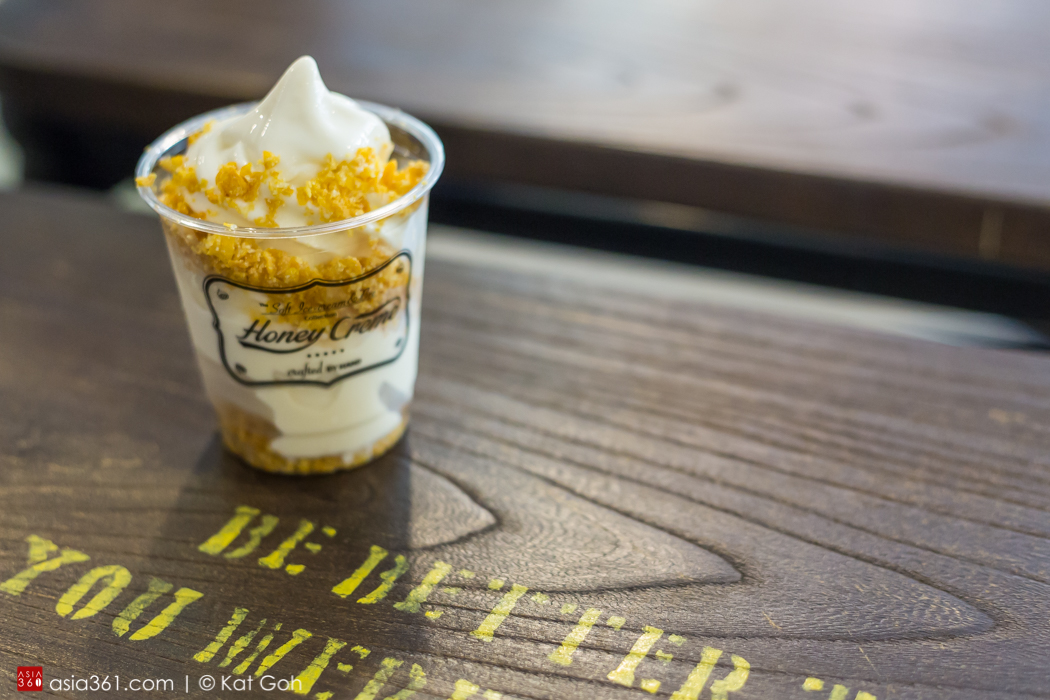 All of Honey Creme's soft serves and toppings are all made in-house with zero additives or preservatives. While I may not be rushing to go back to try the other signature flavours, you would definitely see me queuing for the Pandan Gula Melaka and Cereal Milk.
Honey Creme
314 Orchard Road
#01-37 [email protected]
Singapore 238895
Opening hours: Daily from 11 am to 10 pm (last order at 9.30pm).
A takeaway kiosk will be opened at JEM in mid-July 2015.