Come 5 April, thousands will take to Singapore's streets to run for a greener future.  The NTUC Income Run 350 has become a veritable fixture in Singapore's running calendar – and this year's fully-subscribed race just proves it.  Organised by Young NTUC, the youth wing of Singapore's National Trades Union Congress, Run 350 aims to raise awareness of the need to lower the world's carbon footprint.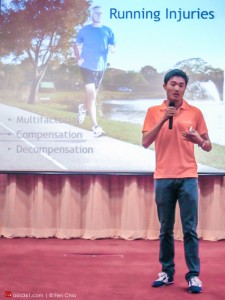 Recently, I was invited to Run 350's third and final pre-race running clinic, conducted by Singapore's most famous running siblings, Dr Mok Ying Ren and his sister Ying Rong. Dr Mok is not only Singapore's top marathoner and a double SEA Games Gold medallist, he is also a medical doctor.  Ying Rong's sporting career, while nascent, is no less illustrious – she has had multiple podium finishes in the Singapore marathon and is currently a physiotherapist in training.
You'll be hard-placed to find a running family which has married their work and sporting interests so well.  Both have amazingly self-coached to success, so they have a deeply personal understanding of the trials and tribulations of an athlete's journey.
Injuries Galore!
85% of  runners get injured at one time or another.  The running clinic focussed on strengthening exercises to help those who run regularly prevent from getting hurt, ie. pre-habilitation, or 'prehab'. The exercises were also useful rehabilitation for people like me, who already have chronic nagging injuries.
Some common problems which plague runners include knee pain, the number one affliction, followed by feet and ankle injuries.  There are others like shin splints, iliotibial band syndrome etc. This is why investing in the proper running footwear is a must, both for amateur and professional runners. Also, one reason as to why people get injured is due to over-training. Having a fitness tracker can help you train methodically and safely by tracking your progress and increasing it gradually over time. A triathlon watch on SpotTheWatch reviews can help you with this.   It's hard to determine the many factors behind injuries since everybody has a different body and running style. There are also intrinsic factors such as gender (watch it, ladies!).  Women have wider hips which place more stress on the knees, while an example of an extrinsic factor would be one's choice of shoes and insoles.
Common causes of injury and pain are weak glutes (weak shin muscles, the buttocks, tight foot muscles and poor balance.)  We were introduced to four methods to address these weaknesses – these are simple exercises which make use of commonly available low-cost props.
Strategy 1: Strengthen the Glutes with an Elastic Band
With the help of an enthusiastic volunteer, Ying Rong showed us how a simple theraband, an elastic band commonly available in sports stores with different resistance levels, could help strengthen one's butt muscles. Banding one's ankles together and raising one leg sideways at a time could help prevent one's knee from moving in, prevent excessive pronation and improves running efficiency.  Do three sets of 15 repetitions per leg, an undemanding task for even the super-frazzled executive to complete in the office, once a day, and results will show in due course.
Strategy 2: Strengthen the Calves with Calf Raisers
Next, we were taught how to strengthen our calves.  With the front half of both feet on an elevated surface, such as a simple kitchen stool, go up on tiptoe, then remove one foot and go down slowly on the other.  The time taken to go up and go down should be in the ratio of 1:3. For example, you could go on tiptoe for two seconds and lower yourself on one foot for six seconds.  Do 3 x 10 repetitions per leg while feeling the stretch in your calves.
I started off trembling violently when I tried this, but I was told I should improve in some days with stronger calves.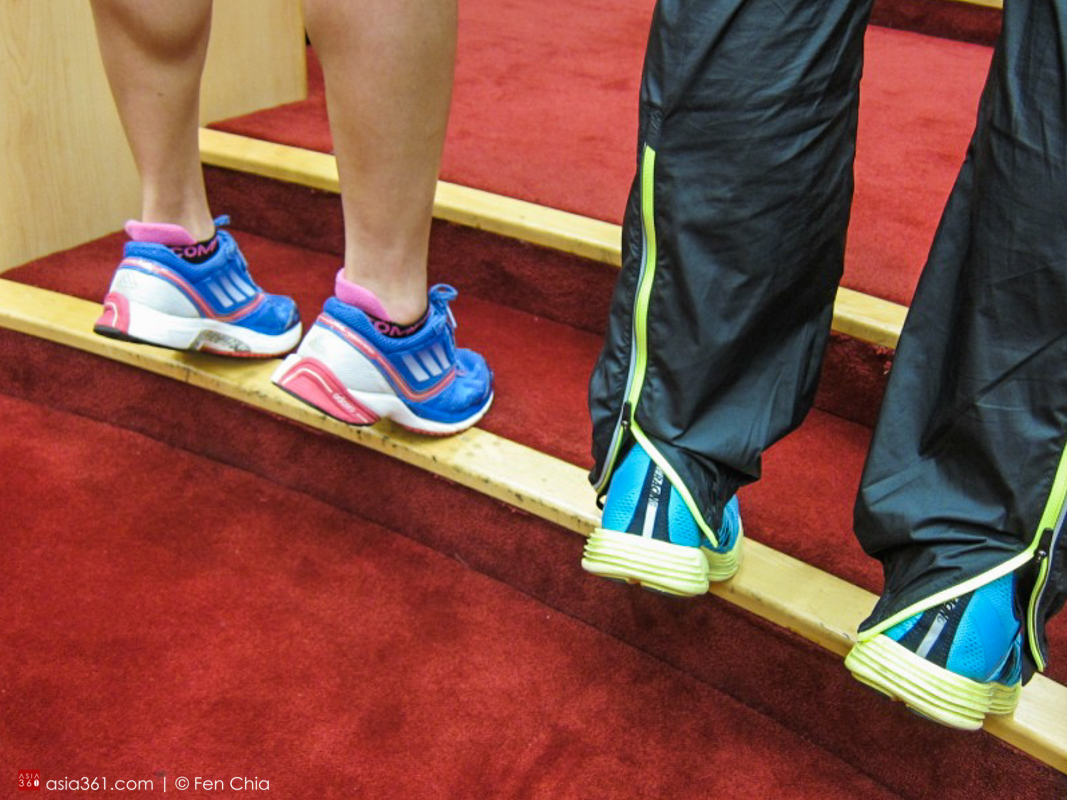 Strategy 3: Strengthen the Foot with a Massage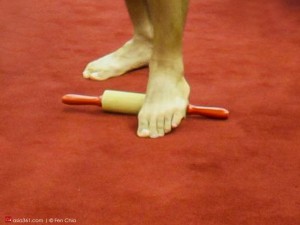 The next exercise was for the foot, which Dr Mok pointed out is ironically often ignored, even though it is the part of the body which takes the most impact striking the ground.  Runners sometime suffer from plantar fasciitis, an extremely painful condition affecting the heel and underside of the foot when the tissue at those areas gets inflamed.
We were told to examine the abductor allucis muscle, the fleshy arched part on the base of the foot which faces inwards.  Rub that part of the foot on a rolling pin or golf ball up and down for a minute before and after a run, and it will improve one's arch support, balance, weight shift and running efficiency.  This exercise even works for those with existing injury – but do be gentle.  The key thing to note is you should feel slight discomfort to work the affected area, but once you feel intense pain, you know you have gone too far.
Strategy 4: Skip your Woes Away!
The last tip of the day was also the most aerobic for those who need to work up a sweat but cannot run.  Not only does it pack a cardiovascular workout, it strengthens the muscles around the ankle and shin.  It teaches you neuromuscular coordination and how to land near your centre of gravity.  One minute a day can help improve all of these and promote a good posture.  Never underestimate the importance of a good posture – those with a really bad one find themselves unable to run for extended periods of time.
We ended off the session with a 5.5 km training run from the NTUC Centre to Marina Barrage and back, with a scenic route along Marina Promenade that passed by Singapore's iconic Marina Bay Sands convention centre (where I later had gelato to convince myself that I had to make up for the energy expended) and Gardens by the Bay.  This will form part of the 21.1 km route for Run 350.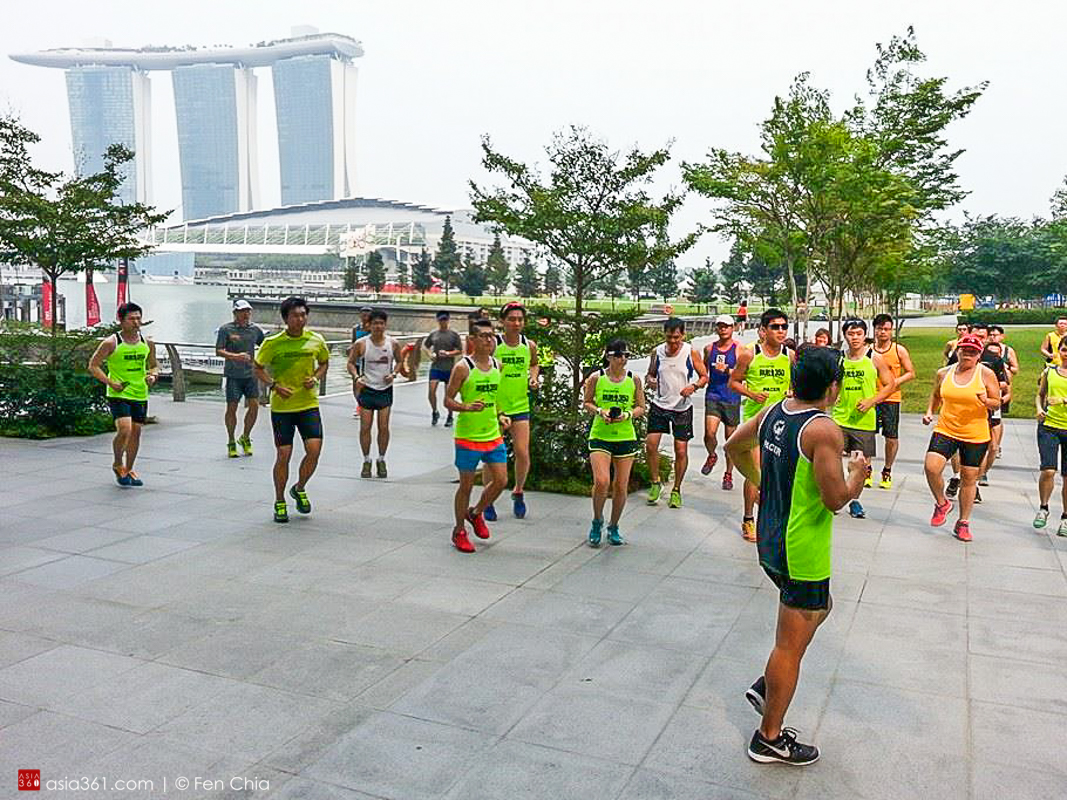 These four tips were useful to all of the participants. More importantly, I found that frequent travellers will find them simple to implement anywhere at minimal cost, even in the comfort of your hotel. Prior to this, I never knew about the exercises beyond the skipping rope. During the Q&A session, I learned studies have shown that runners who switch to forefoot running (the popular thing nowadays) tend to have less knee problems, but sometimes more ankle problems.  I also found out about the use of rigid tape and kinesiology tape to reduce pain and activate selected muscles.
Such sharing sessions by our top athletes could really save runners the pain of learning from personal experience.  To those taking part in Run 350 and other forthcoming runs, don't forget to prehab!
This article was first published on ASIA 361 and written by Fen Chia.