Traders Hotel, Kuala Lumpur, is a four star hotel which is perfectly situated within the Kuala Lumpur City Centre (KLCC). It is managed by the Shangri-La group and owned by Malaysia's global oil and gas giant company, Petronas.
It offers direct access to the Kuala Lumpur Convention Centre and is near to the iconic Petronas Twin Towers, Suria KLCC Shopping Mall and local tourist attractions, which are all surrounded by restaurants, bars, clubs and cafes. Perfect for travelers concerned with business, conventions, shopping or entertainment in the heart of Kuala Lumpur.
I love it that they have superb, strong FREE Wi-Fi connections throughout the entire hotel and in the rooms. I get uncomfortable when I am not connected to the Internet and staying at Traders was just perfect.
I stayed at a corner room in a mid-level floor. Check out the view from my room window:
Nice? Many of the other rooms in Traders offer similar views. Traders Hotel, Kuala Lumpur is one of the only hotel in the vicinity with such a spectacular city view of KLCC.
Here's a photo walk-through of the room I stayed in:
Traders Hotel, Kuala Lumpur has a famous SkyBar.
Perched on the 33rd floor, the SkyBar is a perennial favourite of KL's party folks. The SkyBar has won many awards, including being named "Best Malaysian Bar" by the 2007 Malaysia Tatler Society, as well as "Best Bar in Malaysia" and "Best Hotel Bar" by the readers of Expatriate Lifestyle's Best of Malaysia Awards for four consecutive years.
When I told some of my Singaporean friends that I was staying at Traders Hotel for this trip, the first thing they told me was that I have to visit the SkyBar!
SkyBar has seating for 280 and standing room for 320. Enquiries for private events for up to 150 people are welcome. It is open from 10:00am to 1:00am, Sunday to Thursday, and from 10:00am to 3:00am, Friday, Saturday and the evening before public holidays. For further information and reservations, please telephone the hotel on (60 3) 2332 9911 or send an e-mail to [email protected]
View of the SkyBar in the day:
There are 571 rooms and suites that feature complete 24-hour business services. The hotel offers private meeting rooms and offices. Serviced Offices within the hotel are also available for rental on an hourly, weekly or monthly basis.
As business travelers constitute a fair share of the guest mix at the hotel, there are all the necessary business facilities catering to the needs of this group of travelers:
If you are staying in one of the rooms on the executive floors on the upper floors, you will have complementary access to the Traders Club Lounge. The lounge is located on level 32 and is open from 6.30am to 11pm daily.
Check-in and check-out can be done on the club floor and there is free breakfast, afternoon tea and evening cocktails as well as free beverages throughout the day.
For dining, there is the all-day Gobo Chit-Chat which features a selection of international cuisines and Gobo Upstairs Lounge & Grill. I had buffet lunch at Gobo Chit-Chat and quite enjoyed the wide selection of cuisines: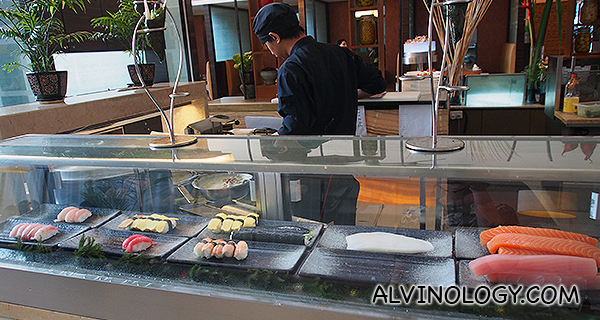 For more information and booking details, please visit the official Traders Hotel, Kuala Lumpur website.