Public blowjob and masturbation at Singapore beach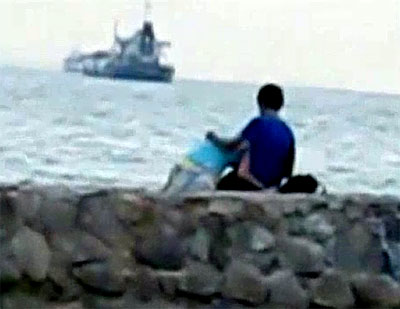 Other than Sun Tan and the unidentified gay couple who committed obscene acts at a HDB void deck, lift, corridor and a MRT train cabin, here comes another two young Singaporean exhibitionists who did it at a beach.
The video is available on youtube:
[youtube url="http://www.youtube.com/v/98JNo3OZ58Y&hl=en&fs=1″]
As it's only showing the back view, it's safe to watch at work. Can anyone identify the beach location? East Coast Park? Sentosa?
Technorati Tags: sun tan, sun tan singapore, public sex, public blowjob singapore, public masturbation singapore, singapore beach blowjob video, singapore beach masturbation video, singapore beach couple public sex, singapore beach obscene acts, east coast park sex video, sentosa sex video, singapore exhibitionists, singapore couple public sex, andy's blog, only u's blog, only u's blog & andy's blog, youtube east coast park sex, blow job at east coast park, hand job at east coast park, east coast park exhibitionists