Icekimo: Affordable Gourmet Ice Cream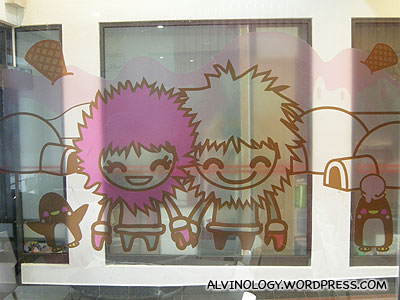 Gourmet hand-made ice cream is usually priced at around S$4 to S$5 a scoop. However, Icekimo's pricing is at S$2.80 per scoop; a relatively good bargain. They have quite a lot of interesting flavours such as D24 Durian, Teh Tarik and Horlick.
I like the kawaii icons that don their walls and display windows. They make the place look very cheery and young.
I will definitely visit the place again. It is near the food enclave at Upper Thomson Road where the Roti Prata House is also located. This makes it ideal to visit the area for a meal, followed by desert at Icekimo. 🙂
Address:
8 Sin Ming Road
#01-03 Sin Ming Centre
Tel: 6455 7585
Technorati Tags: sin ming road, icekimo, gourmet ice cream, singapore, horlick, d24, durian ice cream, teh tarik, singapore ice cream, kawaii ice cream, roti prata house, upper thomson road