The plant-based Impossible Pork finally lands in restaurants across Singapore. More than 120 restaurants outlets representing a multitude of cuisines will debut the product on their menu, reflective of Singapore's reputation as one of the most vibrant and discerning culinary cities in the world.
Impossible Pork is designed to satisfy pork-loving consumers on all the characteristics they love about pork: a mild savory flavor and balanced umami richness without being gamey or overpowering. It can be served in any ground meat dish including spring rolls, meatballs, dumplings, xiao long bao, shumai or tacos, and can be cooked in a steamer, oven, charbroiler, flat-top grill or sauté pan.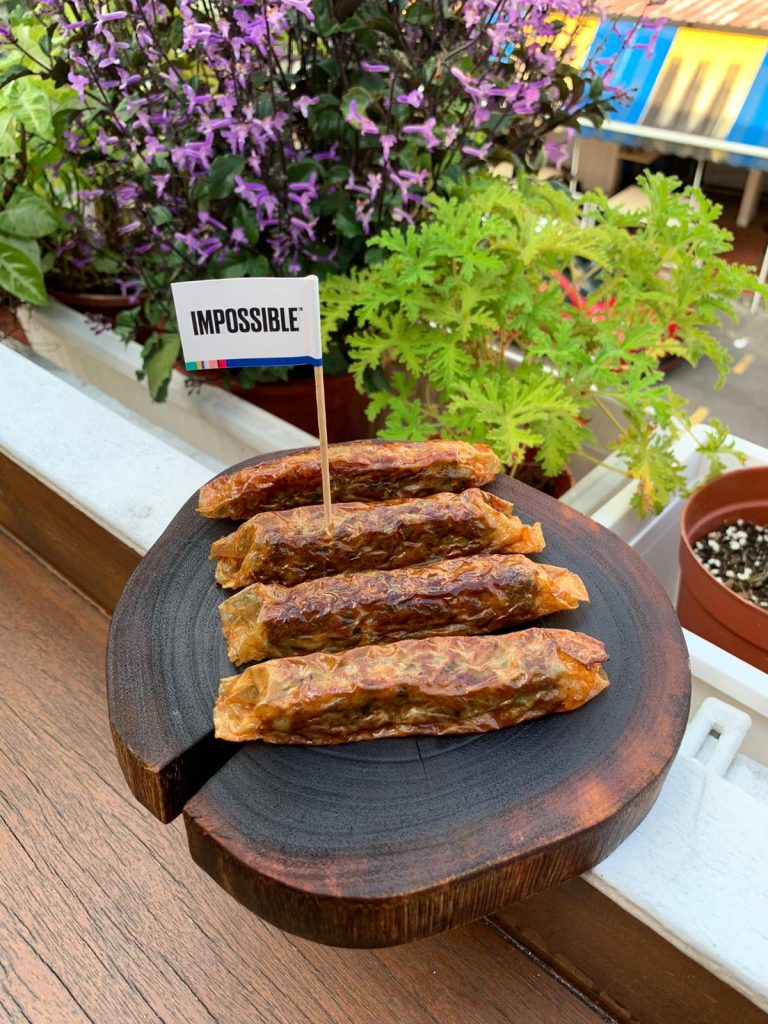 Because it is made from plants, Impossible Pork is far more sustainable than its animal counterpart. When compared with conventional pork from pigs, Impossible Pork uses 81% less water, 66% less land and generates 77% less greenhouse gas emissions based on ISO conforming Life Cycle Assessment.
Impossible Pork is certified gluten-free and contains no nitrates or animal hormones. A 4-ounce (113-gram) serving contains 37% fewer calories (220 vs. 350 calories), 59% less total fat (13 grams vs. 32 grams), 36% less saturated fat (7 grams vs. 11 grams) and more than double the iron of 70/30 U.S. Department of Agriculture ground pork from pigs. Impossible Pork contains 0 milligrams of cholesterol (7 grams saturated fat and 0 grams trans fat) per 4-ounce serving (113 grams).
You can indulge in this guilt-free diet in restaurant across the island including:
TungLok Group
Crispy Impossible Pork
Braised Beancurd with Minced Impossible Pork in Spicy Sauce
Claypot Rice with Minced Impossible Pork
Preserved Vegetables and Impossible Cracker
Tim Ho Wan
Steamed Impossible Pork Teochew Crystal Dumplings – will be available for free redemption with every minimum order of S$40 in a single receipt till 1 December.
Pan-fried Impossible Pork Pickled Mustard Greens Dumplings (2 December)
Steamed Impossible Pork Mushroom & Chives Buns (2 December)
Deep-fried Impossible Pork Sesame Balls (2 December)
Fragrance
Bak Kwa made with Impossible Pork – $12 for a 150g packet
Privé
Da Paolo Gastronomia
Mediterranean Impossible Pork Pie
Fans can also enjoy Impossible Pork in the comforting flavours of local delights, including New Ubin Seafood's Claypot Brinjal with Impossible Pork, Claypot Tofu with Impossible Pork and Mee Tai Bak with Impossible Pork, and Wok Fry French Beans with Impossible Pork and Homemade Beancurd with Impossible Pork and Crispy Shallots from popular tze char restaurant Keng Eng Kee Seafood.
For meat-lovers who prefer to dine at home, Impossible Foods is collaborating exclusively with Deliveroo to offer a 50% discount on all Impossible Pork orders at selected restaurants only on November 18.
Diners who order Impossible Pork menu items from Da Paolo, Empress, Fook Kin, Little Elephant, Privé, Mrs Pho, Tanuki Raw and Three Buns will also receive limited edition Impossible Pork Tote Bags, while stocks last.