UNIQLO Singapore announces a month-long online-offline celebration of the best of LifeWear, with a focus on its craftsmanship, innovation and sustainability, from 1 to 30 October 2021. Shoppers can look forward to a refreshed shopping experience both at its Orchard Central Flagship Store as well as online.
Fragrance Masterblend
For those who are looking to relax and unwind while designing an ultimate sanctuary at home will have the opportunity to create their own room mist by attending the masterclasses on 9 and 10 October in the store led by Scent by Six. They will also be welcomed into a sensory experience with an exclusive ambient scent created by Scent by Six just for the Orchard Central Flagship Store.
With a SGD100 minimum spend either at the Orchard Central Flagship Store or online between 8 and 21 October, shoppers can redeem a mini 3ml bottle Room Mist that will soothe one's senses, while stocks last.
Furoshiki Wrapping
For those who love a touch of cultural immersion while shopping, they can participate in the workshops exploring the art of Furoshiki (Japanese traditional folding cloth) led by Furoshikilah!, a Singaporean-Japanese fusion lifestyle concept by language school Janus Academy, on 16 and 17 October.
Upcycling Jeans
shoppers can also try their hand at upcycling their pre-loved jeans at workshops conducted by FIN Crafted Goods on 23 and 24 October, exemplifying the Japanese concept of 'mottainai' or 'waste nothing'. Participants will learn how to make coasters from their jeans to give it a new lease of life.
Embroidery by Isabel Lim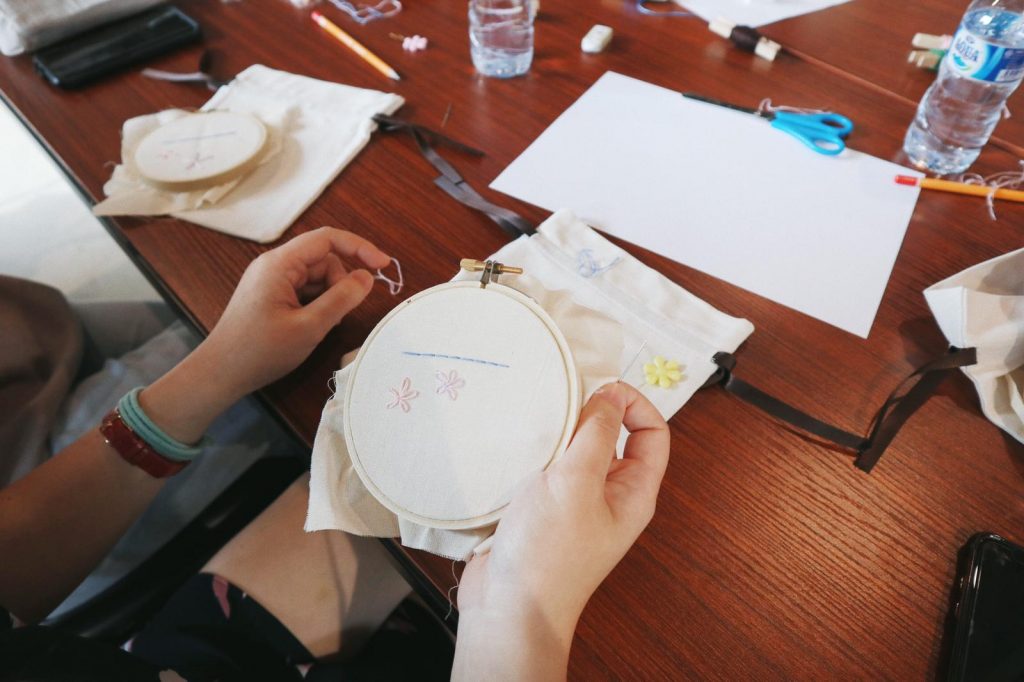 Embroidery artist Isabel Lim will lead craft workshops on 30 and 31 October that teach participants the art of customisation for some of UNIQLO's products such as the AIRism mask, cut-and-sewn t-shirts and Jeans.
All workshops are by invitation only to customers who have shopped at the Orchard Central Flagship Store in 2021.
Alchemist
UNIQLO app members with a same-day receipt of at least SGD60 can take a coffee break at the Orchard Central Flagship Store across the five weekends in October (1-5 PM). They can receive a complimentary custom coffee blend by Alchemist for UNIQLO, with four available flavours – white, black, mocha and chocolate, or choose to bring home a Drip Coffee pack instead.
The Nursery
plant parents will be pleased to visit the pop-up nursery cart by The Nursery at the Orchard Central Flagship Store:
Monday to Friday (5-9 PM)
Saturday and Sunday (10 AM – 12 PM)
With a minimum spend of SGD60, shoppers can redeem a small potted plant on weekdays from 4 October onwards (5-9 PM), while stocks last. With the plants set up in store, interested shoppers can also scan the QR code to view and purchase the plants online to hone their green fingers.
Online-to-Offline Shopping Experience
UNIQLO Singapore has just launched its same-day Click & Collect service for its UNIQLO Town stores – consisting of UNIQLO Orchard Central Flagship, ION Orchard and Plaza Singapura stores on its website and app.
This is in addition to other online-only special features, which includes extra sizes from XS to 3XL, exclusive products and limited offers, and ongoing special coupons such as a SGD5 welcome voucher for all new shoppers as well as the SGD5 birthday voucher.
For customers who are excitedly anticipating a soon-to-be-released item or even those who are not ready for a purchase decision yet, they can simply add the desired item to their online wishlist. This allows for easy purchase when the item becomes available or goes on sale. They can even check for in-store product availability online before heading out.
For a truly online-to-offline experience, UNIQLO offers Pay in Store, which enables shoppers to pay at a preferred UNIQLO SG store within two hours for their online purchases. This service provides an additional convenience to customers when they are unable to find their sizes or desired product in store, as they can simply scan the item barcode in-store and make an immediate purchase online.
Pay in Store also provides accessibility, especially for customers who enjoy online shopping but might not have an online payment option, while allowing them to still enjoy the online exclusive sizes (XS-3XL) and novelty items.
UNIQLO Masterpieces
With all the new experiences and promotions, shoppers will be delighted to take a closer look at some of UNIQLO's Masterpieces as they explore more wardrobe essentials.
This includes the Soft Touch Crew Neck Long Sleeve T-shirt that took UNIQLO about eight years to finish the artisanal masterpiece and achieve the softest-feeling fabric, with 100% cotton knitted with fine yarn.
The other masterpiece to note is the 3D Knit Cotton Volume Long Sleeve Sweater, which is made with specialised knitting machines that calculate the knit one stitch at a time, make corrections, and produce a shape based on the ideal silhouette.
UNIQLO Weekly Livestream
Those who are keen to style these pieces as well as other masterpiece features such as non-iron fabric, and the ultra-stretch Jeans can tune in to the weekly UNIQLO livestream every Thursday at 8 PM on Instagram between 30 September and 21 October.
Look out for styling tips for the simple-made-better collection. Weekly themes range from products that combine form and function, to casual work styles and everyday wear. Tune in to be the first to know the latest discounts on UNIQLO favourites, and stand a chance to win app coupons and prizes.
Shoppers at the UNIQLO Town stores, beyond the Orchard Central Flagship Store, as well as online shoppers can also stand a chance to get hold of a bento box with a purchase of at least SGD80 between 8 and 21 October, while stocks last.