Singapore's resident giant pandas, Kai Kai and Jia Jia, entered their seventh breeding season in April this year.
Throughout, Wildlife Reserves Singapore (WRS)'s panda care team worked closely with China Conservation and Research Center for Giant Panda (CCRCGP), who advised performing artificial insemination on Jia Jia when natural mating did not occur, to improve her chances of implantation before the fertile window closed.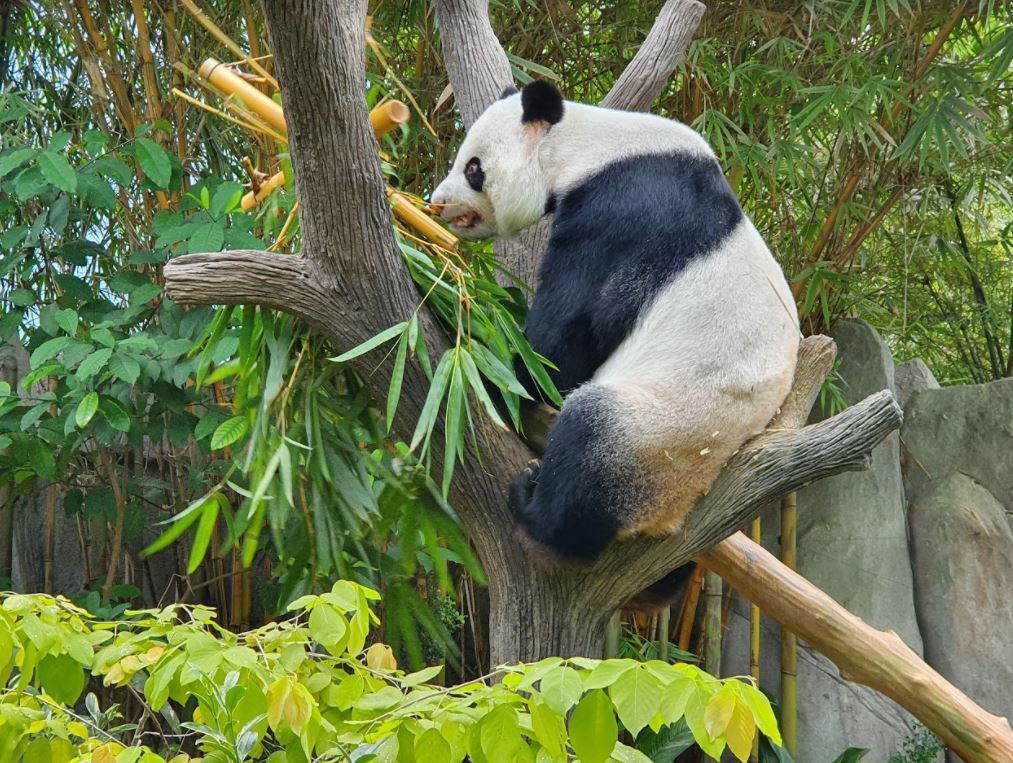 6 September 2012
Four-year-old Kai Kai and three-year-old Jia Jia arrive in Singapore from Chengdu, China, as sub-adults. They settle in well in the custom-designed and climate-controlled exhibit at River Safari. Both are healthy and exhibit normal panda behaviours.
2012 to 2013
The pandas are closely monitored for behavioural, hormonal and physical changes for estrus, which would indicate breeding readiness. They are also conditioned for husbandry checks from end-2012. This includes hind leg strengthening exercises for Kai Kai, implemented through positive reinforcement training.
2014
Jia Jia and Kai Kai's genitalia are measured and monitored for swelling. In November 2014, photoperiod and temperature are manipulated to simulate seasonal changes – which have been noted to promote sexual maturation – as Jia Jia has yet to show signs of estrus.
2015
The year of Jia Jia's first estrus cycle. Seven-year-old Kai Kai starts bleating and scentmarking to attract Jia Jia, then six years old. They are brought together to mate and natural mating (NM) occurs. Electroejaculation (EJ) and artificial insemination (AI) are also completed by the WRS veterinary team. Jia Jia is conditioned for abdominal ultrasounds and milking prior to parturition.
An expert from CCRCGP is present during the parturition period.
2016
The panda care team starts exposing Kai Kai to panda mating videos ahead of the breeding season. Natural Mating, Electroejaculation, and ArtificiaI Insemination occur, with AI completed twice. A nest box, to house the cub in the event of a successful pregnancy, is provided and Jia Jia is conditioned in it for cub retrieval.
2017
Natural Mating, Electroejaculation, and ArtificiaI Insemination occur. A nest box is provided once again and Jia Jia is conditioned for two methods of cub retrieval. Jia Jia is also conditioned for urine collection, an important evaluative marker on whether there is a successful pregnancy.
2018
In 2018, focus is placed on artificial insemination to make the most of Jia Jia's short fertile period. No natural mating occurs. The panda care team also starts 24-hour shifts for monitoring and urine collection.
2019
Both pandas start supplements to boost their reproductive capacity. Artificial insemination is conducted twice by an expert from the CCRCGP and no natural mating occurs. Following the breeding season, members of WRS's panda care team visit the CCRCGP in China to learn about parturition and neonatal care, as part of continuing preparation for any future pregnancies.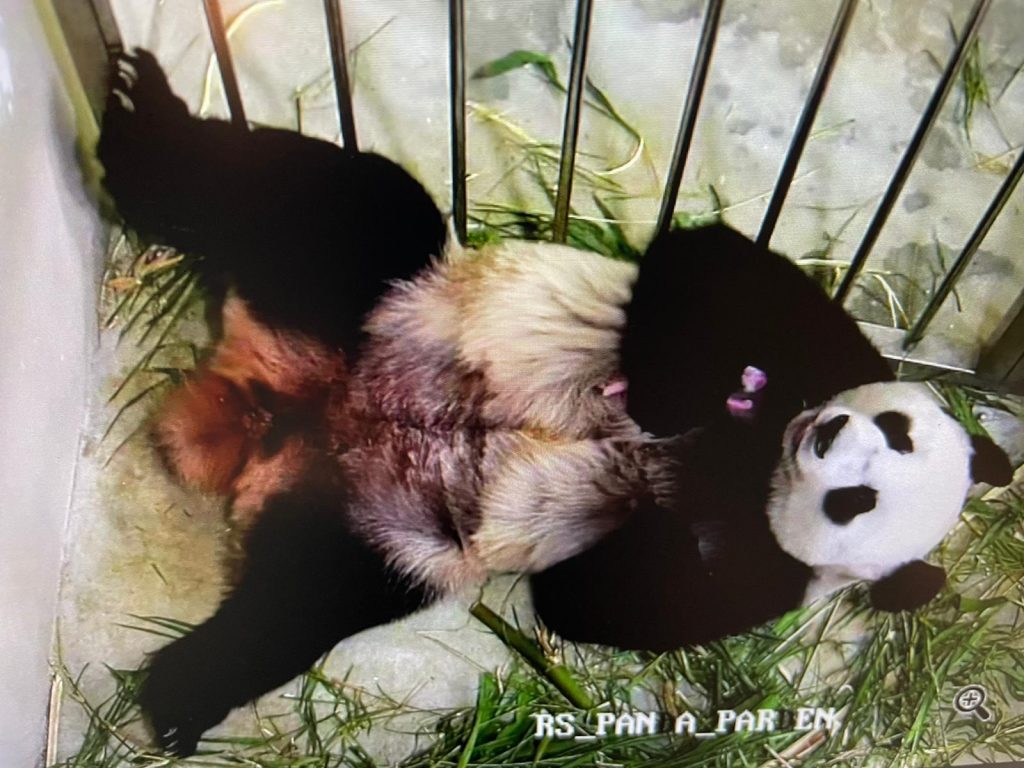 2020
Focus is placed on natural mating, with positive developments in reproductive behaviours such as mounting, lordosis and attempting intromission observed during the majority of the mixings.
2021
Focus is placed on natural mating once again, with guidance from natural mating experts from CCRCGP. When natural mating is unsuccessful, artificial insemination is attempted with frozen semen on 24 April 2021, leading to pregnancy and the eventual birth.
A strong heartbeat was detected on 10 August. The pregnancy was confirmed following another ultrasound on 12 August and Jia Jia's keepers started round-the-clock monitoring. Jia Jia gave birth at 7:50 AM on 14 August.
The focus of Jia Jia's care team is to support her as she nurses and bonds with her cub. Based on the Chinese experts' data on the general growth and weight in cubs, Jia Jia's first born would be an estimated 380 grams.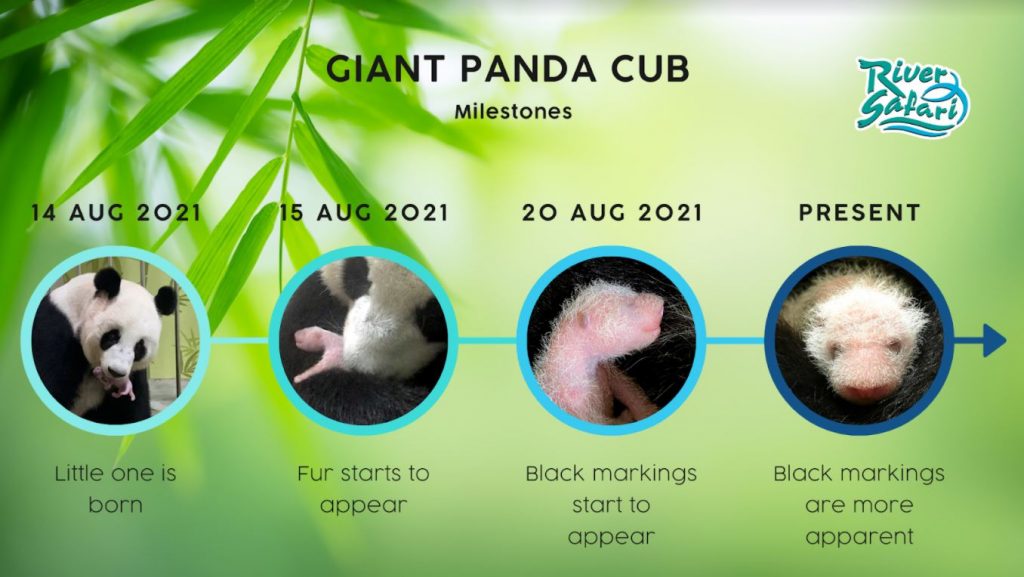 From today (26 August 2021), members of the public can observe Jia Jia (and possibly catch a rare glimpse of her cub in the mother's protective embrace) via a panda cam being screened at the Giant Panda Forest. Proud father Kai Kai and the red pandas continue to be at Panda Forest.
Panda Sneak Peek is an hour-long video that will broadcast on WRS's YouTube channel each day, so members of the public can tune in to observe the cub's progress and the precious moments between Jia Jia and her cub.