Update: Sushiro has stopped the customised platters when the Singapore government lifted dining-in restrictions. Sushiro restaurants are now open for dine-in across Singapore and offer a range of ala carte and platter options for sushi.
Love sushi?
While dine-in at F&B establishments has resumed for up to 2 person for now, if you are looking to enjoy a sushi meal with your family or a larger group at home, consider ordering it from Sushiro Singapore using their limited time, build-your-own takeaway sushi platter option.
You get to customise and choose every piece of sushi you want in your platter versus the standard fixed platter most other sushi delivery services offer. I find this perfect for special occasions or family gatherings whereby you want your sushi platter to be a little more premium in quality and variety, yet without having to burn a big hole in your pockets.
Choices are as below with the prices indicated:
You can see that beyond sushis, you can also choose drinks, dessert and a selection of ala carte items as well. What is great about this is that it gives a more customised takeaway experience than being forced to just accept whatever sushi is included in a fixed platter.
Just for this period, Sushiro is also offering Oishisushi and Chirashi options as limited time specials:
Over the weekend, Asher and I customised our orders as below for self-collection at the Sushiro outlet at Waterway Point:
Triple Salmon
Triple Aburi Shrimp
Bluefin Fatty Tuna
Broiled Soy Bluefin Fatty Tuna
Torched Soy Sauce Jumbo Scallop
Steamed Scallop
Broiled Ginger Salmon Belly
Salmon Belly
Salmon with Basil Cheese
Shrimp with Avocado
Cucumber Roll
Shrimp Tempura
Grilled Eel
Crab Chirashi
Shrimp & Ikura Chirashi
The items come beautifully packed and presented when we collected them at Sushiro. Asher and I can't wait to dig in to our sushi lunch once we got home.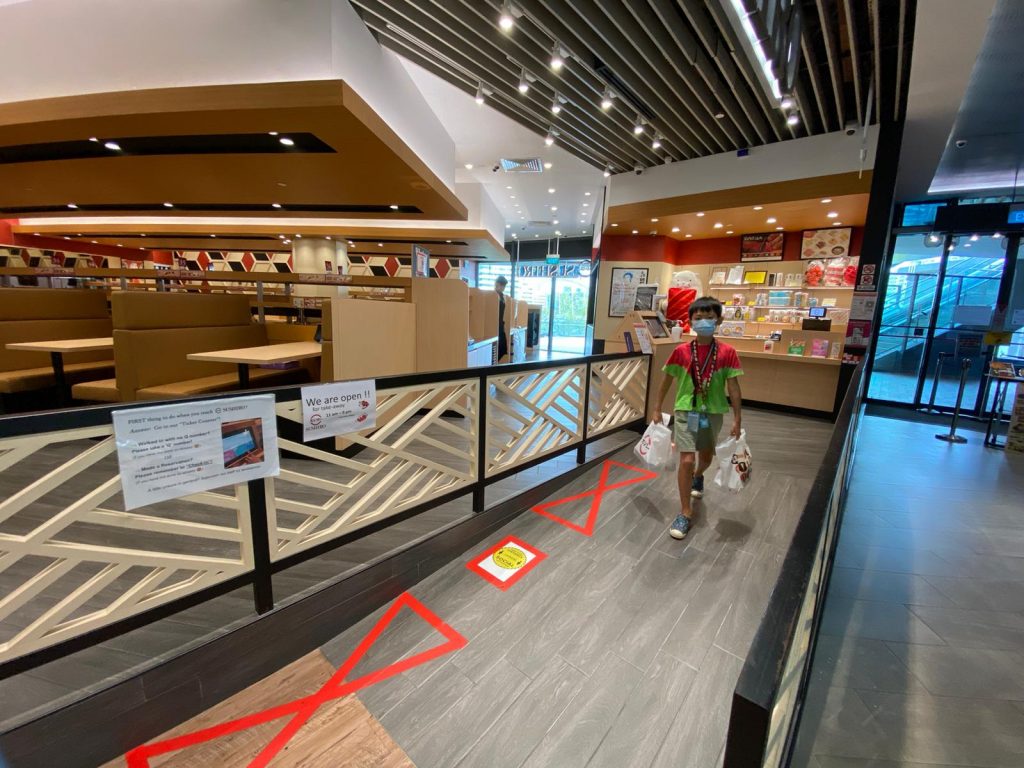 This build-your-own platter option is current available for self-collection takeaway at the following Sushiro outlets:
Founded over 30 years ago, Sushiro is the top Kaiten Sushi chain in Japan and is well-known for their affordable, tasty sushi. Sushiro currently operates the following outlets in Singapore:
Sushiro Tiong Bahru Plaza (Tel 6970 2293)11am-9pm (Last order 8:30pm) daily::::::::::::::
Sushiro Isetan Scotts (Tel: 6514 0390)11am-9pm (Last order 8:30pm) daily::::::::::::::
Sushiro Causeway Point (Tel: 6908 5605)11am-9pm (Last order 8:30pm) daily::::::::::::::
Sushiro Bedok Mall (Tel: 6970 2568)11am-9pm (Last order 8:30pm) daily::::::::::::::
Sushiro Waterway Point (Tel: 6970 6885)11am-9pm (Last order 8:30pm) daily::::::::::::::
Sushiro Suntec City (Tel: 6970 6610)11am-9pm (Last order 8:30pm) daily::::::::::::::
Sushiro Lot One (Tel: 6513 3583)11am-9pm (Last order 8:30pm) daily::::::::::::::
Sushiro Parkway Parade (Tel: 6970 5070)11am-9pm (Last order 8:30pm) daily::::::::::::::
Sushiro Petit Great World (Tel: 6908 6848)11am-9pm (While Stocks Last) daily::::::::::::::