While we can't travel physically now due to the pandemic, our tastebuds can still go on a worldwide adventure by savouring cuisines from around the world.
Popular global pizza chain, PizzaExpress seeks to take us on such a journey by launching a series of new pizzas featured in their Around the World menu in Singapore.
We tried two, the Hamburger Pizza representing USA and the Okonomiyaki Pizza representing Japan: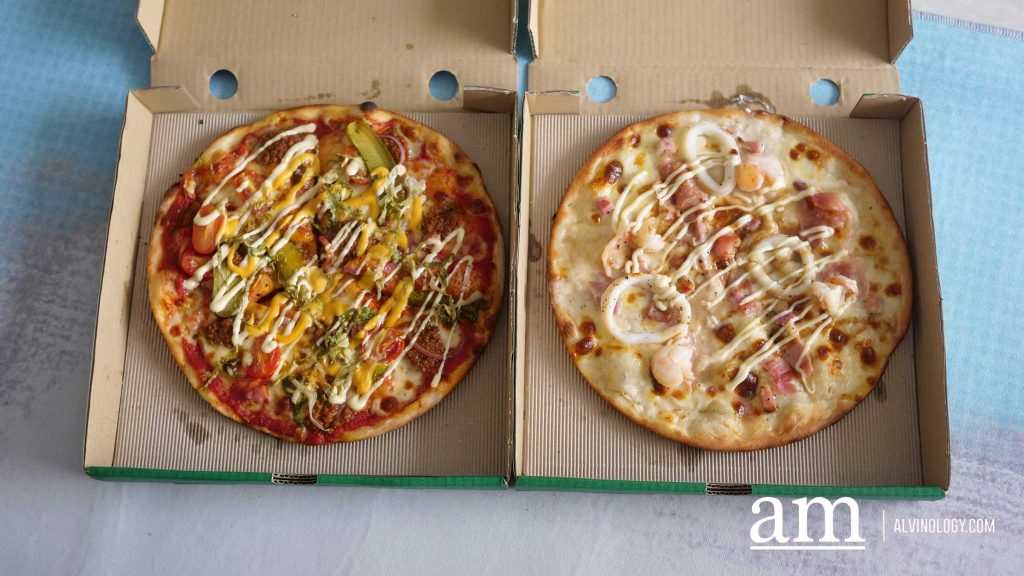 These pizzas are now available for takeaway at all three of their outlets; islandwide delivery on https://pizzaexpresssg.oddle.me; as well as area delivery on GrabFood, FoodPanda and Deliveroo.
The two that I tried, love them and would order again for second helpings. They do taste like what they are described – a pizza that taste like a hamburger and another that taste like an okonomiyaki. For this alone, you have to try them for the novelty.
Other than these two, there is also a Chili Beef Pizza representing Mexico and a Etna Pizza representing Italy. Details are as below.
Go Around The World with PizzaExpress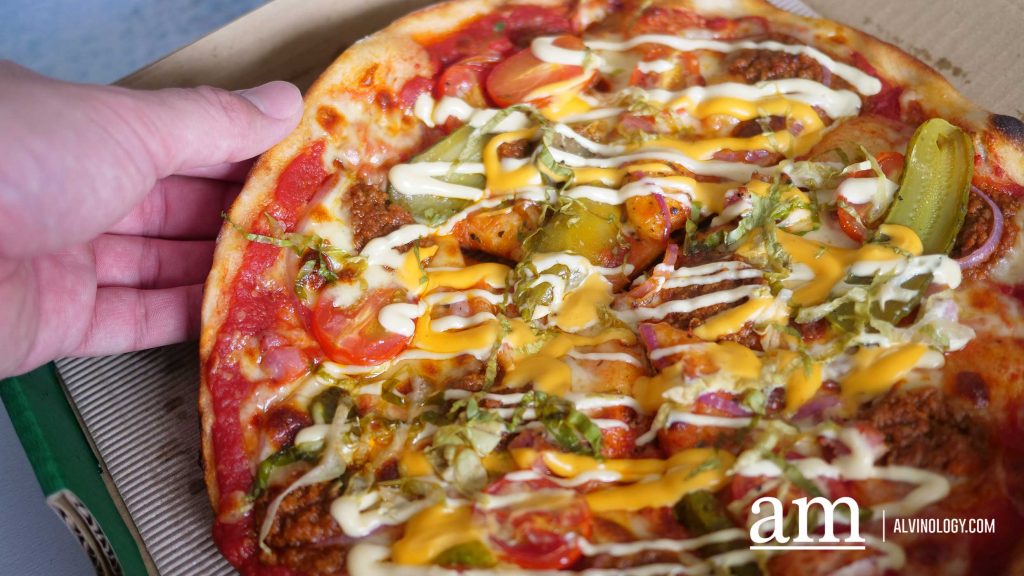 USA
From the Land of the Free and Home of the Brave, the United States of America, PizzaExpress premieres the Hamburger Pizza ($26), a homage to the classic cheeseburger staple of Americans. Pizza dough is baked with all the classic hamburger ingredients of passata and mozzarella cheese, minced beef, pancetta, gherkin, Spanish red onion, cherry tomatoes and romaine lettuce. It is then topped with oregano, black pepper, garlic oil, mustard mayo and cheddar cheese sauce for a pizza that will confuse you with how much like a hamburger it tastes.
Mexico
PizzaExpress then goes a little further South to Mexico and presents you the Chilli Beef Pizza ($26). Pizza dough is dressed up with passata and mozzarella cheese, chilli con carne, jalapeno, Spanish red onion, grilled peppers, kidney beans and cherry tomatoes for an iteration of a deconstructed burrito. Additions of oregano, black pepper, garlic oil, cilantro and crushed nacho chips complete the Mexican flavour profile.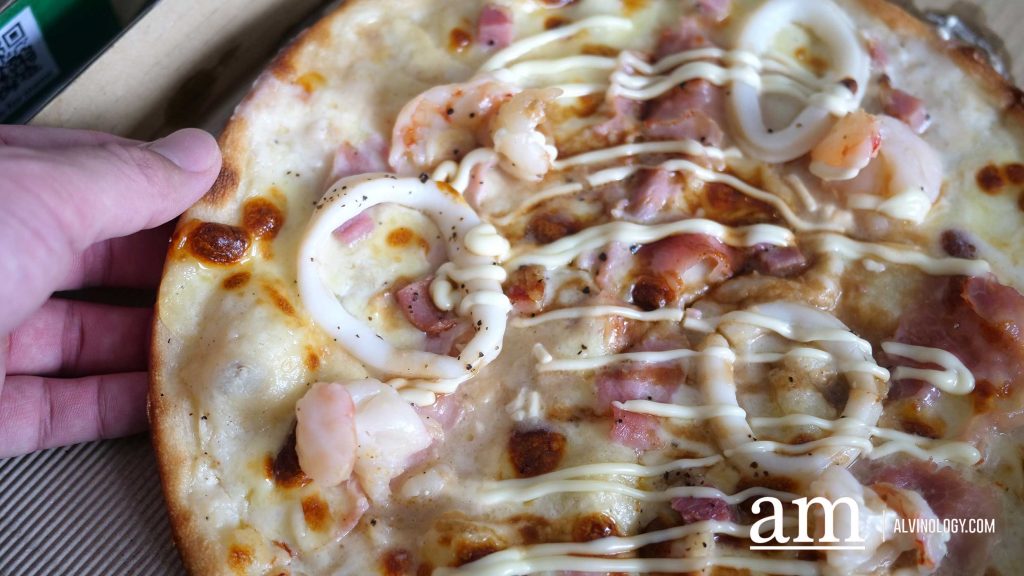 Japan
Looking to the East, PizzaExpress brings the Okonomiyaki Pizza ($26) that borrows its inspiration from the famed street food of Japan. Pizza dough gets a dressing of bechamel sauce and mozzarella cheese, topped with cooked ham, pancetta, tiger prawns and squid rings for a seafood surprise just like one would find in every bite of Okonomiyaki. Garlic oil, seaweed, bonito flakes, Takoyaki sauce and Japanese mayo complete the deal.
Italy
Classics are also retained on the menu, like the Etna Pizza ($26), a traditional Italian favourite. The savoury mix of N'duja sausage, sweet peppadew peppers and pancetta, finished off with a sprinkling of parmesan makes it an iconic crowd favourite that will never get old.
All 'Around The World' pizzas, priced at $26 each, are 11-inch Classic pizzas which boasts the 1965 original Neapolitan pizza base with a thick and chewy crust.
Launch Promotions
To commemorate the launch of the new flavours, PizzaExpress is running a few launch promotions from 18 May to 13 June 2021.
PizzaExpress is giving away a FREE Classic 11-inch USA Hamburger Pizza [NEW FLAVOUR] worth $26 with every $60 spent on delivery (excluding Bundles category).  To enjoy the deal, simply order via https://pizzaexpresssg.oddle.me.
Enjoy 15% OFF your total bill when you takeaway from any of their three PizzaExpress outlets located at Duo Galleria, Scotts Square, Holland Village.
Enjoy 15% OFF your total bill when you opt for self-pick up. Simply order via https://pizzaexpresssg.oddle.me and key in the promo code "15OFFSPU" at check out.