First Wave Agency and Hasbro have launched Monopoly Explore! SG, an exciting Monopoly digital experience that allows players to explore Singapore on their electronic gadgets.
Monopoly Explore! SG is exclusively available to download from now till 30 April. During this time, players can explore the facets of Singapore, meet artisanal makers, discover products, and even win real rewards, such as discount vouchers from partners, and a Grand Cash Prize of SG $8,000!
Promo codes for Staycation deals on Traveloka
Monopoly Explore! SG reinvents the classic board game by introducing tiles in categories that represent four uniquely Singaporean experiences – Foods, Goods, Faces and Spaces. Even the tokens are locally themed, allowing players to choose from pieces such as a durian fruit, an HDB void deck table, and orchids.
The Monopoly Explore! SG mobile app will use its own in-game Monopoly$ currency, so players can acquire tiles and explore uniquely Singaporean experiences to win exciting rewards till the end of April.
Players can invite friends to play and explore Singapore's cultural spaces such as Little India, National Museum of Singapore, Arts House and more. Roll the dice to land on a tile, and make your move by choosing to acquire the tile to unlock more exclusive content like informative videos and fun games. Learn more about the museum's treasures, or take a quiz about Singapore's iconic landmark to level up and increase your chances of winning prizes!
Acquiring The Good Tile will give you an opportunity to be a good samaritan and donate to local non-profit organisations such as The Food Bank Singapore.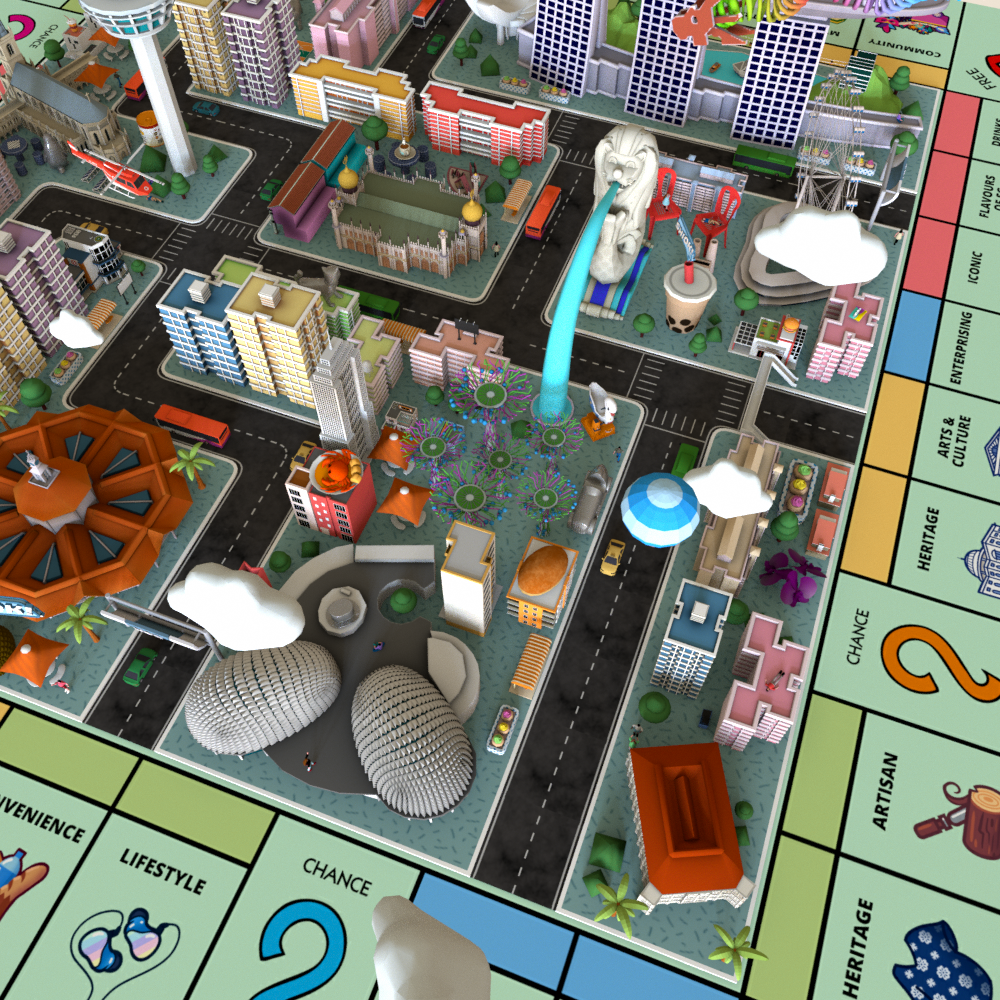 There are also fun and interactive mini-games to look forward to, such as the foodpanda City Delivery, where players get to deliver food orders around the city, or The Perfect Toast Box Kopi, where players get to concoct the perfect brew of local coffee.
Players can unlock content and activities to achieve different levels and increase chances of winning real rewards such as a weekly SG$150 worth of cash and prizes, and the Grand Prize worth SG $8,000. Monopoly Explore! SG can be downloaded from now on Google Play Store and on App Store for iPhone and iPad. It is available during a promotional period till 30 April 2021.