While the woman who allegedly used fabricated emails to try to get free business class upgrades shares the same name as Instagram influencer Jacqueline Ng, they aren't the same person. Searching simply for "Jacqueline Ng influencer" on the web actually brings up search results that range from the high-profile  Chinese celebrity to your ordinary Jacqueline Ng.
But some netizens have started commenting on and verbally abusing the young influencer from Malaysia, thinking that she asked Cathay Pacific for an upgrade using fake emails from their marketing head. She may share the same name, but the influencer isn't the same woman.
Who is Jacqueline Ng?
The Jacqueline Ng who has been mistaken as the woman accused of fraud may be much younger, as she is in her early 20's, while the older, alleged fraudster has been working for quite some time in large companies.
As opposed to the Jacqueline Ng who used two letters allegedly sent by Cathay Pacific, the real influencer Jacqueline Ng is still in school, and has recently celebrated her 22nd birthday.
The woman who used allegedly fraudulent emails is older, and has been banned from using Cathay Pacific for life. She has also taken down all of her social media accounts, including a previously-available LinkedIn account that showed her work history. She had also requested Alvinology to take down the article pertaining to her case.
What did netizens say to her?
According to one of her Instagram posts, a commenter asked if she was the person who used her "social network" to get a free business class upgrade.
This commenter clearly took the time to look for a Jacqueline Ng who had enough followers online to be called an "influencer" and wrongly accused her of the fraud.
This Jacqueline answered the comment, and said that she received more comments and messages along the same vein, and had begun to delete them. She addressed this comment, though, and everyone who had the same sentiment.
 For those who would like to clarify this situation, I would suggest you to call/e-mail Cathay Pacific and request for the real identity or citizenship of "Jacqueline Ng" mentioned in the news that you'd read. I am 100% certain that you will be told that you've made a mistake. Deleting some of your comments earlier was not because I was guilty, but because I was dumbfounded of the whole situation and comments that are flooding in. Being silence was because I'm not sure about the authenticity of the news and to avoid the unnecessary discussion on this topic which I know I'm not even involved in. I declare that I HAVE NOT and WILL NOT make such a request. Thanks for reading this & I hope you have a nice day.
Other commenters also came to her defense, pointing people in the right direction and offering up more details regarding the Jacqueline Ng who won a prestigious award in Canada in 2008, according to an article by Elliot Advocacy. The website of the consumer rights' group published the story first, including the emails that the Jacqueline Ng who allegedly faked letters guaranteeing an upgrade used.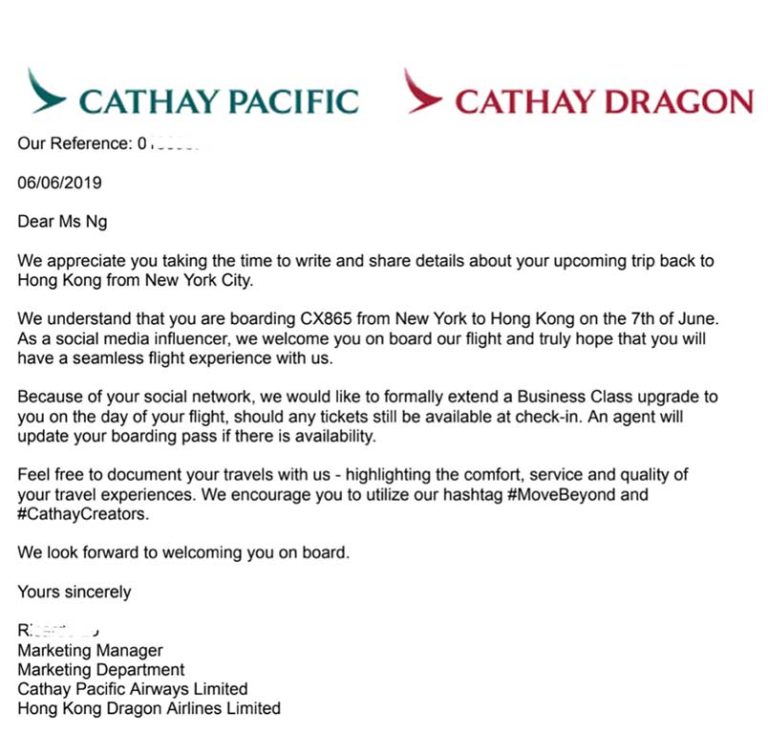 What happened to the Jacqueline Ng who got banned from Cathay Pacific for life?
A woman named who had allegedly presented an email from the marketing head of Cathay Dragon guaranteeing her a business class upgrade from her purchased Premium Economy ticket on two occasions on her roundtrip flight from New York to Hong Kong. According to our previous report, she was simply denied the upgrade during the first time she presented the email, but on the return flight, a representative from the airline served her a letter that barred her from ever flying with the airline because the letter she presented was fraudulent.
She was forced to book a different flight just to get home, and she asked a consumer rights' group, Elliott Advocacy, to help her get a refund on the flight she wasn't allowed on. Cathay Pacific, however, asked her to present proof that she did not fake the emails she used to request the upgrade. She was unable to produce any supporting documents, but she said that her request for a refund did not relate to what the airline was asking for.
You can read about her reasons as to why she deserved a refund here, which include the fact that she previously worked for Swire Resources, Cathay Pacific's parent company.