When facing a mounting pile of dirty laundry, don't you ever wish you could just snap your fingers and have them all sort themselves out?
Someone must have been reading our thoughts because we now have Laundryheap, an on-demand laundry and dry cleaning service that offers collection and delivery, all within 24 hours.
"Book today, wear tomorrow"
Just book a slot and service you require on their website or mobile app. Easy-peasy.
Services by Laundryheap
The minimum order on Laundryheap is $40. All orders come with free delivery.
This is for your everyday laundry. Items are washed at 30°C and tumble dried. $30 per load of 6 kg.
Dry Cleaning & Ironed laundry
This is for individual cleaning. Items are washed or dry cleaned as appropriate, ironed & delivered on hangers. From $2.50 per item.
This is for items that are usually larger and require a different cleaning process. From $2.50 per item.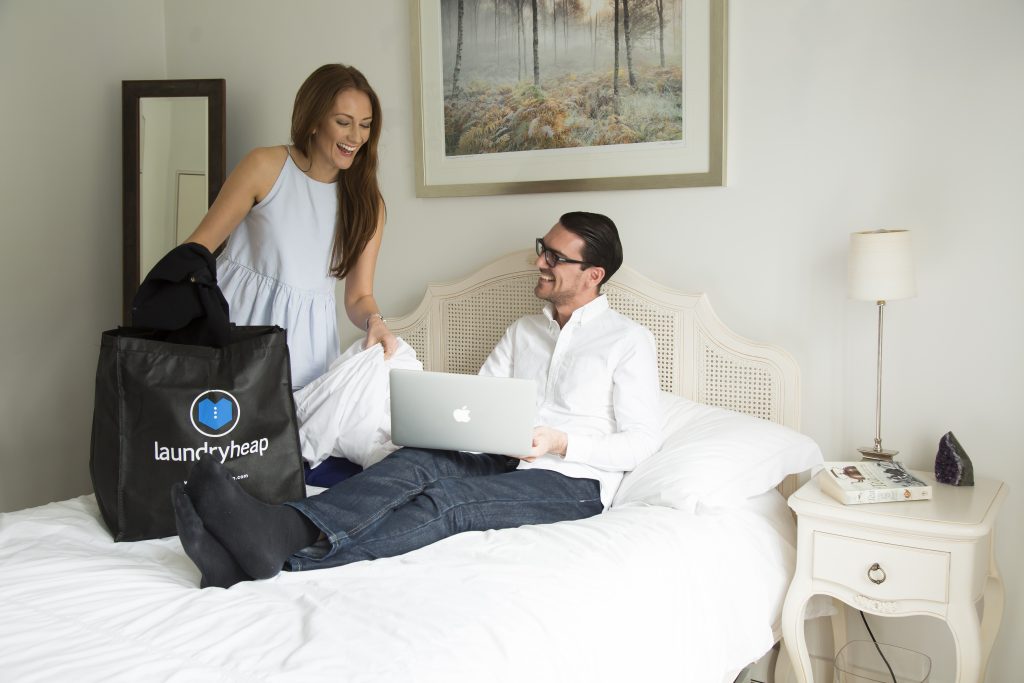 We can imagine how Laundryheap is a godsend for busy professionals and work-from-home warriors. We can focus better on what matters by cutting the clutter, and streamlining domestic duties. Why not just pay a reasonable price for convenience, and use our time for higher-value activities like quality time with family, hobbies and leisure pursuits.
Sometimes, for a special event, we might need a dress or suit dry-cleaned, pronto. It can be a hassle, or downright impossible to make time to bring the suit or dress down to the dry cleaners, and arrange to pick it up again. Here's where the fast turnaround provided by Laundryheap will come in very useful. 
Thoughtful features built into Laundryheap's services
Laundryheap provides contactless delivery. This offers peace of mind during Covid-19 times. Laundryheap also keeps you updated every step of the way. You can track your driver as they're en route to your address and contact them by text or phone.
Save more with a gift card
Here's a tip– save money with a Laundryheap gift card. If you think Laundryheap's services can benefit you, it will be a good idea to get a laundryheap gift card. This is because you get more value- buy a $50 gift card, and you will get $10 free. Buy a $100 gift card, and get $25 free. Now that's a #MoneyHack!
Laundryheap is global
Established in 2014, Laundryheap is a leading, on-demand laundry and dry cleaning service, with free collection and delivery, within 24 hours.
Laundryheap is available in London, Birmingham, Manchester, Coventry, Amsterdam, Rotterdam, The Hague, Doha, Kuwait City, Dublin, Abu Dhabi, Dubai, Sharjah, Boston, New York City, San Fransico, San Jose, Copenhagen, Stockholm, and Manama, and now, Singapore!
You can expect the same reliable and standardized service with Laundryheap across all the different locations. This will come in useful when travelling resumes.
Check out Laundryheap's Instagram and Facebook page.