Japan recently cancelled their cherry blossom festivals due to Covid-19, but that doesn't mean that the sakura won't be blooming. The cherry blossom forecast in Tokyo was originally around March 27, but it seems that the season has already started – almost two weeks earlier than expected!
Fortunately, you won't have to miss the stunning beauty of these blooms should you still decide to push through with your travel plans. (Do note though, that you would be subject to a 14-day stay-at-home notice on your return to Singapore.)
If you feel up to it, there are many off-the-beaten-path, self-guided tours that you can go on to admire these transient blooms and immerse yourself in an unforgettable experience. Here are some of the most breathtaking ones you can check out.
Oita is located on the island of Kyushu, where steaming hot springs filled with minerals abound. Although Oita might seem a bit out of the way, a lot of flights come in everyday from major cities of Honshu. The Oita Prefecture showcases how beautiful the Japanese countryside is. Known for their wide varieties of food, its ancient vibe will give you a cultural and historical look into Japan.
Oita is most famous for its large concentration of onsen in different varieties: from clear to murky and from pungent to fizzy. Onsen are known to be relaxing and therapeutic and are an attraction in itself, the cherry blossoms aside. If you love relaxing in soothing hot springs, this is definitely the cherry blossom tour you need to try. It is highly recommended to stay at a Japanese inn with an onsen for an even more relaxing experience.
The most noteworthy place to visit in Oita during this time is Isshinji Temple, which is a 10-minute walk away from Tennoji Station, Midosuji Line, Tanimachi Line, and Ebisucho Subway Station. The temple can be found in a valley full of cherry blossoms and which is surrounded by mountains. The place is often called a "sea of cherry blossom clouds" and its beauty is absolutely breathtaking.
At Shidaka Lake, you can also ride an animal-shaped paddle boats, see real swans, and spot cherry blossoms by the lake. If you love amusement parks, visit Kijima Kogen, where you will get the added bonus of seeing some cherry blossoms in the parking lot. You can also take the Kintetsu Beppu Ropeway so see cherry blossoms from above. If you'd rather walk, there are various cherry blossom parks in Oita, including Minamitateishi Park, Oita Castle Ruins Park, Uenogaoka Bochi Park, and Heiwashimin Park.
Tokaido is considered to be the best of Japan's ancient highways with Tokaido tours spanning Tokyo, Nagoya, and Kyoto for an unforgettable historical and cultural experience of Japan. Tokaido is famous for the super-fast bullet train it is named after, but not a lot of people actually experience the calmer side of it. The Tokaido tour is explored on foot and on public transportation. On the Walk Japan tour, for instance, the meet up is in Tokyo. Your bags will be sent on each morning so you can walk with smaller backpacks during the tour.
During the Edo Period, this trail was a main route that connected Edo (Tokyo today) to Kyoto (where the emperor resided). Both samurai and locals took this trail to Kyoto and beyond. You can experience this rich past by walking down the trail yourself and enjoying cherry blossoms in the process. Nowadays, there are rows of cherry blossom trees almost everywhere: in parks, around castle moats, and along the rivers.
An hour away from Osaka Kansai Airport, Gotenyama has a bunch of blooming cherry blossoms with the entire mountain wrapped in an unforgettable pale pink colour. From the Sakura Suspension Bridge, you'll be able to see the Izu Peninsula direction and the Suruga Bay across from the cherry blossoms as well.
The Shikoku Pilgrimage tour follows in the footsteps of Kukai, the founder of the Singon Buddhist faith along Shikoku's 88-temple pilgrimage. Since it is connected to a spiritual figure of Japan, it is considered a more spiritual tour. While the entire pilgrimage would normally take around two months and over a thousand kilometers, this tour will give you a good insight on the overall journey with the trail connecting 88 Buddhist temples.
The Shikoku Pilgrimage tour will take you through the four provinces of Shikoku, and is considered a meditative path to nirvana with each temple along the way having a special spiritual representation to Buddhism. Here, you can look forward to remote forest trails, stunning mountainous countryside, and quiet lanes with various temples and onsen. You will also find one of the biggest cherry trees in this particular region with pastel pink blooms: its name is Kira no Edo-higan-zakura, a 400-year-old national monument.
Other great spots to see cherry blossoms on the Shikoku Pilgrimage tour are Jizoji Temple, Tatsueji Temple, and Kumadaniji Temple, where you will be in awe of the cherry blossoms in full bloom. In the Tokushima Prefecture, you can also find Matsushima Senbonzakura, where you will find a thousand cherry blossom trees with cows grazing among them.
The Izu Peninsula is considered to be a unique geological area because of its distinctly different climate and landscape similar to a sub-tropical island. The place has several volcanoes and is generally a geological treasure trove that everyone is sure to enjoy exploring. In certain areas, you'll even be able to see cherry trees against a stunning view of Mt. Fuji. The onsen Ginnoyu Kaikan also has stunning trees surrounding it.
Izu Peninsula is less than an hour away from the Tokyo and Shinjuku stations, and offers the earliest opportunities to see large amounts of cherry trees near Tokyo. The Kawazuzakura have already started opening in February and are systematically planted throughout the city, mostly along Kawazu River. The original 60-year-old Kawazuzakura tree is located just a short walk away from the river and it is definitely a sight to see up close.
Take a bus to the Aono River, which also has hundreds of cherry trees lining its banks, giving it the name "one thousand sakura of the Aono River". Along the riverbank, you'll find a promenade covered by cherry trees like a flowering archway. You can also enjoy the cherry blossoms by riding a rickshaw along the river. At night, the trees at bridge light up and reflect the river's surface for a breathtaking view.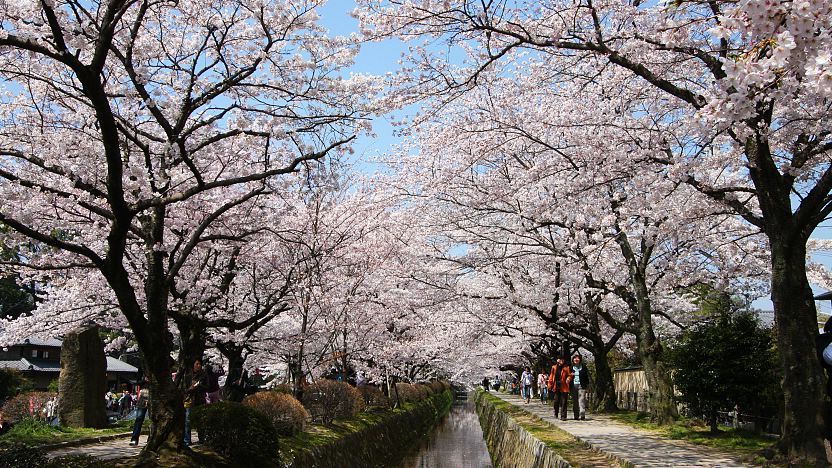 Immerse yourself in the history and culture of Japan through a Kyoto tour full of shrines and temples. Probably the best spot to view cherry blossoms in Kyoto would be Ryoan-ji Temple, Japan's most famous rock garden, where the trees are in full bloom.
Other great places to view cherry trees in Kyoto include Maruyama Park, the Kyoto Imperial Palace, Ninna-ji Temple, Heian Shrine, Kiyomizu-dera, Gion, and Nijo Castle. Daigo-ji Temple also boasts of thousands of cherry blossoms in all of their breathtaking beauty. You can also take a cable car at Mt. Hiei for a stunning view of cherry blossoms from above.
Another stunning spot for cherry blossoms is the Philosopher's Path. The Philosopher's Path is a stone-paved walking trail near Ginkakuji Temple that takes about half an hour to complete. Here, the trees pop with so much colour that it has easily become Kyoto's most popular spot for cherry blossom viewing. Hundreds of cherry trees bloom here to create a pink tunnel you are sure to enjoy. There are a lot of temples and shrines for you to visit nearby, as well.
Do you know anyone travelling to Japan despite the government's latest travel advisory? If you've decided to postpone your sakura-viewing plans until next year – don't worry, bookmark this article so you can refer to it again when you need to.
Unless otherwise stated, all photos are provided by Walk Japan.