Even as various experts and think tanks have declared that the era of the influencer is over, we can't help but think that 23-year-old Natalie Siow Yu Zhen is one of the best poised women to snatch away the crown of Singaporean influencer Xiaxue.
Did Natalie Siow try to find a sugar daddy?
While Xiaxue has to say something to create controversy, Natalie simply has to post something and all her fans and even the people who think she doesn't deserve to be out on bail will be looking.
But will she be able to "influence" people to buy what she uses? To do what she does? She allegedly assaulted 31-year-old Noel Satheesh Gobidass along with her six other co-accused in the Orchard Tower murder case, with three of them still facing murder charges.
What is a karambit knife and how was it used in the Orchard Tower murder?
Would brands even want to be associated with a beautiful, free, Natalie Siow Yu Zhen, when she is only on remand from prison?
Natalie Siow Yu Zhen's Instagram account
Her Facebook account is still under a privacy setting, but her Instagram account has been set to public, where she shared her first photo after being freed from prison.
Sporting a shorter hair-do, she can be seen in a car, and her post did not have a caption. She's received a lot of support from her followers, which currently number just a little over 7,000 as of publishing.
According to social media auditing site Social Blade, the day Natalie appeared in traditional media after her charges were downgraded to assault showed that she got more than a thousand followers in one day.
She's steadily gaining followers everyday despite not posting anything after her recent new hairdo photo.
What's a day in the life of Natalie Siow?
Still, her statistics are nothing compared to Xiaxue or Naomi Neo, who command hundreds of thousands of followers and fans. But what sets Natalie apart is that she has a very compelling story. Whatever the outcome of the case, no one is forgetting her name and her face any time soon.
Her unofficial fan club on popular Singaporean message board Eat-Drink-Man-Woman is more than 300 pages long, and will no doubt get updated as her case moves forward to the next hearing.
Who is Natalie Siow Yu Zhen?
One of the seven youths accused in the violent and viral murder of 31-year-old Noel Satheesh Gobidass, Natalie's previous murder charge was reduced to assault after spending a few months in jail, with only three remaining prisoners still facing a possible death sentence.
A viral video showed a group of people ganging up on the victim on the first floor of Orchard Towers Mall. Gobidass fled to the top of the escalator on the second floor, where he was attended to by medical responders.
He died later from his wounds at Tan Tock Seng Hospital. Here is a clip of the event, which shows a woman with long hair jumping back into the fray to beat up the victim: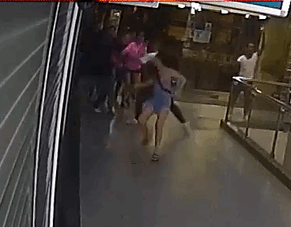 After being arrested, Natalie and her cohorts were brought back to the scene of the crime.
She's set to return to court today, October 25.