Where should you go on holiday the next time you have a long weekend?
How about Perth?
It's only a five-hour flight away from Singapore, and budget carriers do offer some mad bargains during sales. Located at the far west coast of Australia, Perth is less crowded than Sydney, Gold Coast or Melbourne, yet bursting with life with its rich landscape and sun-soaked attractions. CNN travel calls Perth one of the coolest cities in the Southern Hemisphere. There's much to see and do – from night walking tours, beach-hopping, whale-watching, hot air ballooning, wine tasting and of course, food-tripping (take your pick from 1,400 food and beverage stalls all-year long!)
Planning won't take much of your time, either. You can make your own itinerary in one sitting, guided by Perth's cool list of attractions and travel must-tries. Check some of them out below:
1. Experience nature and wildlife at Rottnest Island
Rottnest Island, about 45 minutes away from the north of Perth by ferry, is home to what are known as the happiest animals on earth. They are called quokkas and you can easily spot them roaming freely in their habitat in Rottnest Island. Quokkas are marsupials who appear to have a smiling face. You can book an overnight accommodation to enjoy every spot of Rottnest Island or take up a bicycling tour package. It takes around three hours to cover the entire island on bicycle. The Cathedral Rocks is a favorite stop at Rottnest, featuring friendly sea lions that won't mind showing off their charm for your IG story. After touring around, swim in the beautiful beaches and go snorkelling!
2. Go on a romantic hot air balloon ride in Avon Valley
Sunrises are particularly enchanting, especially when you catch them from the vast, western sky of Australia from a hot air balloon. Avon Valley National Park is the best spot for this once-in-a-lifetime experience, overlooking an undisrupted view of Perth's rolling hills, lush green fields, farms, and meandering streams. Be mesmerized as the sun slowly sheds light on a magical landscape. A champagne breakfast is served for you and your beloved as you alight. The whole experience – launching, sunrise watching, landing, and breakfast – takes only around four to five hours to complete, leaving you with ample time to cover at least one more attraction before the sun sets.
3. For relaxation: Stroll through Kings Park and Botanic Gardens
Kings Park and Botanic Gardens is a 400-hectare land showcasing Western Australia's unique biodiversity and historical roots. It features more than 3,000 species of the region's flora and is home to a 750-year old boab tree. No wonder it is one of the largest inner city parks in the world and an attraction you shouldn't miss! You can stroll around through different trails, learn about European and Nyungar (an aboriginal Australian community which inhabits southwestern Australia) history, join guided tours, or rove at your own leisure. However you start and end your exploration, you'll get a scenic view of the surrounding rivers, city skyline, and mountain ranges embracing the park's immaculate gardens and bushland.
Thrill-seekers can climb the DNA Tower nearby. It is a 15-m high staircase offering the highest viewing point in King's Park and where you can enjoy a breathtaking view of the Indian Ocean, especially on clear days.
4. Explore King Street, Fremantle Market for some local favourites and Rockingham Market for a shopping spree
There are plenty of options for the budget-friendly and budget-plenty shoppers. The iconic King's Street is a must-visit for tourists, even if you're just window-shopping. It houses 19th century buildings, quaint alleys and cafés and shopping centers selling designer brands and jewelry.
If you fancy something more endorsed by the locals, go to nooks like Mount Lawley, Leederville, Subiaco, Claremont and Fremantle, which are known for quality yet affordable finds. They have everything under one roof: vintage pieces, homewares, quirky gifts, affordable designer label clothes, antiques, arts and crafts.
On Sundays, schedule a visit at Rockingham Market and buy some homemade artisanal crafts and local produce. You need to wake up early on a Sunday to visit, however. Rockingham Market is widely visited during spring/summer and there are more than 100 sellers. It opens every Sunday, at 7am, and closes at 12 noon.
5. Attend food festivals or choose among 1,400 options on a normal day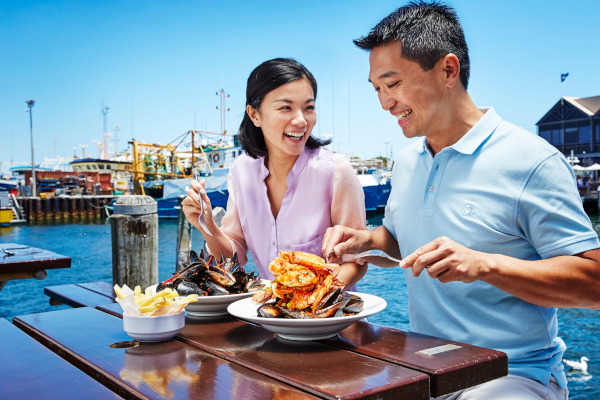 You will be spoilt for choice when it comes to food options in Perth. Plan ahead for the annual Eat Drink Perth Festival (held in March and April), showcasing Perth's finest food and beverage selections at 70 city-wide venues. Around the same months, explore the Night Noodles Market which sets the stage for Asia's best-tasting signature dishes, including hawker noodles and local desserts. Not booking within March or April? Don't worry! Perth's renowned gourmet restaurants are happy to serve you with great food, 365 days a year. Try the signature beef from Neil Perry's Rockpool Bar and Grill, or go rooftop dining at Wildflower while indulging on a precision-cooked local lamb. Get hooked on fiery Thai cuisine at Long Chim and try the best Japanese-Australian fusion dishes at Red Cabbage Food and Wine.
Take our suggestions or make your own bucket list with friends. Either way, you'll be surprised at how much you can actually see, do, eat, and buy on your weekend vacation at Perth!  For ideas to help plan your weekend trip to Perth and beyond, log on to https://www.westernaustralia.com/sg.
Bookmark alerts for budget-friendly flights bound to Perth right now and seal your dream vacay!