It's an exciting week for Shopee, with their brand new regional headquarters just unveiled on Tuesday and their biggest shopping event of the year starting at midnight today. According to App Annie, the e-commerce platform is currently the number one shopping app in Southeast Asia by average monthly active users, 'Total Time in App', and total downloads in the second quarter of 2019.
We got to check out the new office and catch up on all the deals you can get during Shopee's biggest-ever 9.9 Super Shopping Day, which reaches its peak tomorrow. Read on to find out more!
Shopee's new home
Located at Kent Ridge, the Shopee Building spans 244,000 square feet and stands at six storeys tall.
Shopee Building
This new office aims to accommodate Shopee's rapid growth as well as to foster greater connectivity, collaboration, and community. In addition to the open-concept offices and regular meeting rooms, there are tons of open discussion spaces and common areas all across the different floors. They are also providing new computers and equipment to all employees. The old tech equipment was taken by an electronics recycling company.
Glass meeting rooms to encourage transparency
Flexible working spaces
Collaborative open spaces
Marketing Studio where Shopee Live and Shopee Quiz sessions are filmed
Employees are free to work wherever they wish, including the cafeteria with a capacity of up to 1,000 pax. This is where they can also enjoy free breakfasts and dinners.
Shopee Cafeteria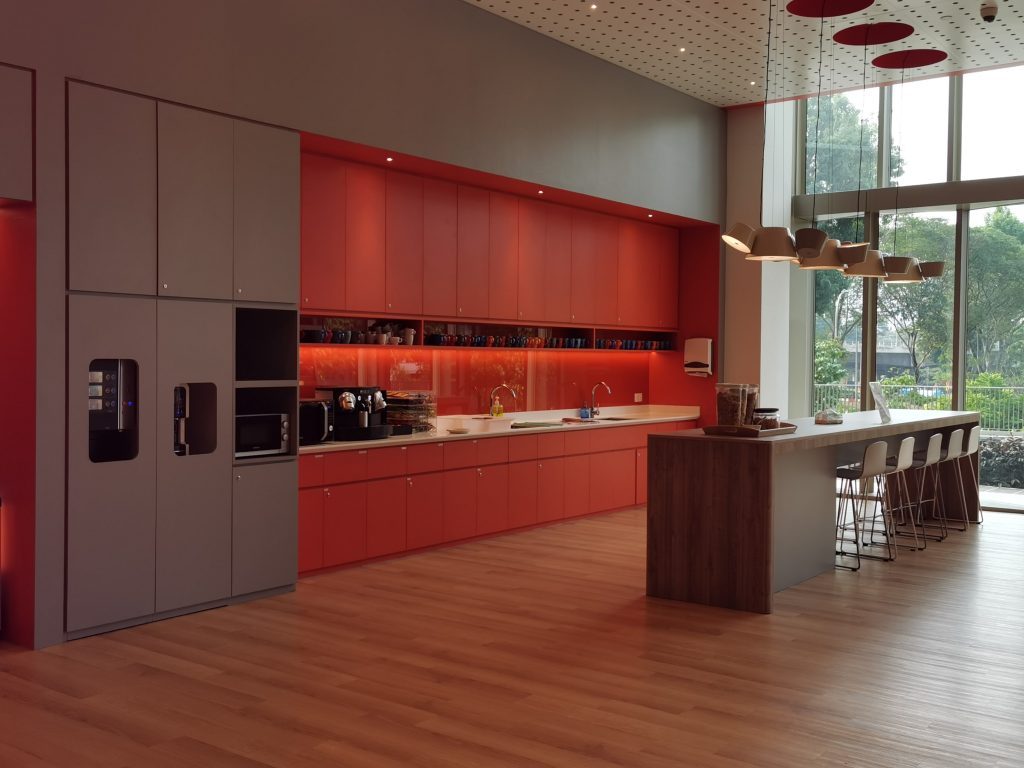 Shopee Cafeteria
There are also perks such as nap pods and tea and snack points on each level.
8 nap pods on every level
2 tea and snack points on every level
On the first floor, which is entirely devoted to leisure spaces, there's a fitness zone, a fun zone, and a massage room with an in-house masseuse.
Fitness Zone
Fun Zone with pool tables
Fun Zone with foosball tables and ping pong table
Massage Room
Shopee has carefully designed their new home with not only employee welfare and productivity in mind, but also environmental sustainability. Using non-toxic paint, energy-saving technology, and eco-friendly schemes, the building has been recognised by the Building & Construction Authority as an energy-efficient and sustainable building with the Green Mark Platinum Award.
They also provide a wide range of internal programmes for employees, including regional training and development, interest clubs, volunteering, and wellness programmes like K-pop fitness and yoga. With these benefits and amenities, Shopee hopes to nurture tech talent, develop the entrepreneurial ecosystem, and create job opportunities in Singapore. Look at their openings here!
9.9 Super Shopping Day: The last stretch!
The 9.9 Super Shopping Day has been running since 22 August, but if you haven't yet gotten the chance to enjoy the promotions, don't worry. There's still one day left, and it's the best one yet!
The official countdown to 9.9 begins today at 9.30pm with a sneak peek at tomorrow's deals and an exclusive Cristiano Ronaldo Q&A video on Shopee LIVE. 100% cashback vouchers, $1,800 worth of giveaways and $399 Shopee Vouchers will be up for grabs.
Cristiano Ronaldo as Shopee's 9.9 Super Shopping Day ambassador
Ronaldo, as Shopee's latest brand ambassador, starred in their newest 9.9 television commercial and was previously on Shopee LIVE answering questions as well. Plus, fans can stand to win a jersey signed by the superstar athlete here—the giveaway ends 9 September, 23.59pm.
Here's all you can expect on Shopee tomorrow:
10% Cashback no minimum spend, including 10% all-day cashback voucher & 20% flash cashback vouchers, featuring cashback collections and recommended cashback items.
2-hour brands flash sale with Laneige, Etude House, FILA, JBL, Calvin Klein and more holding insane discounts at up to 70% off: 12am – 2am, 10pm – 12am.
9 exclusive $9.90 Lucky Brand Boxes will be released at 12am, where users can purchase & stand to win grand prizes including a $500 Chope voucher, JBL SB 250 Sound Bar and more.
Stand to win amazing prizes like iPhone XS Max, MacBook Air, AirPods, 49" Samsung TV and more with $1 Big Prizes from 9 September, 12pm, to 10 September, 11.59am. Earn 100 Shopee Coins with each listing purchased.
Under $2.99 Crazy Deals with FREE Shipping which will be refreshed at 12pm, 6pm, 10pm.
Buy 1 get 1 free, featuring items from across all categories.
9.9 exclusives, including limited edition LINE Friends EZ-Charms which will be launched exclusively on Shopee on 9 September, 12am.
3 Shopee Catch sessions: 9am, 1pm, 9pm.
9 Shopee Shake sessions, where users can shake & win up to 900,000 Shopee Coins Pool and also stand a chance to win over $1,000 in special prizes: 

12am, 8am, 10am, 12pm, 2pm, 4pm, 6pm, 10pm.

Hourly upsized flash deals of up to 90% off best-sellers like Apple AirPods 2, Dibea Cordless Vacuum Cleaner G12, 1-for-1 Hollin Bubble Tea and more.
Until 8 September, Citibank Cardmembers can enjoy $5 off with minimum spend of $50. On 9 September, it's $10 off with minimum spend of $80.
Stand to win a HP Special Gift Set worth S$268.90 in the final 9.9 Shopee Quiz session on 9 September, 9pm, which will also feature an upsized coin pool.
On 9 September alone, Shopee is also giving away vouchers, JBL wireless earphones, Dibea vacuum cleaners, IRVINS Snacks, Yves Rocher Bundles and more. Follow them on Facebook, Instagram, and the Shopee app to stay up to date, and set your alarms for the flash deals and sales.
Today's Shopee Quiz takes place at 9pm with a chance to win a Kellogg's Brand Box worth S$100. Get your Shopee Coins and gear up for the countdown at 9.30pm afterwards for your last chance to enjoy these amazing 9.9 deals!
Also, check out our giveaway post for more details on the limited edition LINE Friends EZ-Charms and stand to win a complete set, pictured below.
Shopee 9.9 Exclusive LINE Friends EZ-Charms (L–R): Brown, Choco, Cony
May your luck prevail in the sales tomorrow!