Hello Kitty Land Tokyo, also known as Sanrio Puroland has created a new scary and cute programme for Halloween 2019. Following the great success of last year's event, Japan's most loved theme park has opted to continue the collaboration with Obaken, the country's leading horror production company.
From 13 September to 31 October 2019, Hello Kitty Land Tokyo presents its new Puro Halloween Party "Kawaii Masquerade" ("kawaii" meaning "cute" in Japanese). As in previous years, visitors can enjoy two separate event styles, the Kawaii Masquerade at daytime and a scarier nighttime version.
Daytime Event
Lady Kitty House changes to a beautiful dollhouse with special photo spots. At the Wisdom tree, visitors can meet and greet some of their favourite characters, dressed in Halloween costumes. They may even get a big hug from their most-loved characters during "Hug time".
In line with the event, a new Halloween menu offers a great variety of dishes coloured in black and purple, such as Cinnamon's black Halloween Ramen or PomPomPurin's Masquerade doughnuts with pumpkin cream.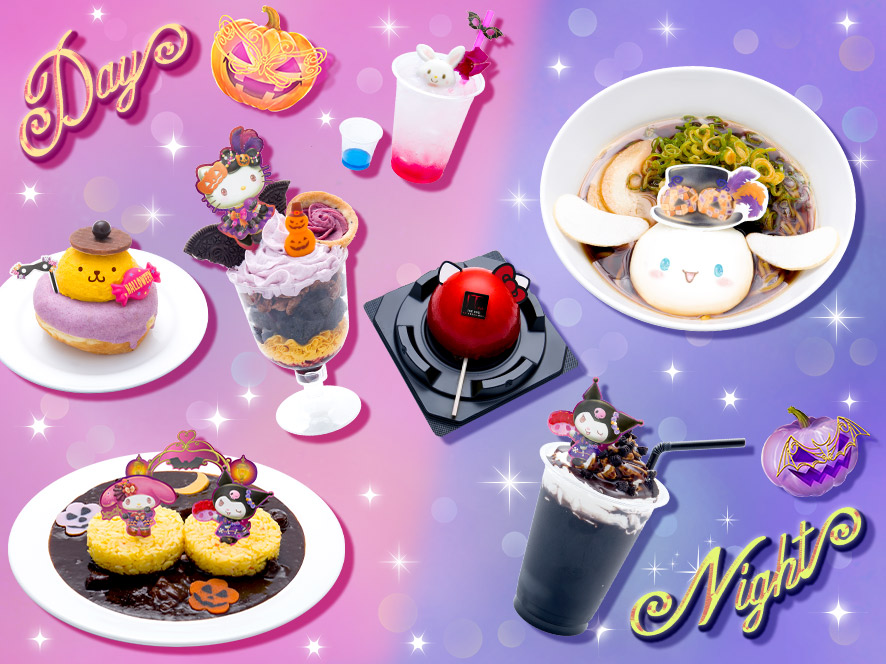 Nighttime Event
At the Halloween parade, visitors can join leading Hello Kitty Land characters including Hello Kitty, Cinnamoroll, My Melody, Kuromi, Wish me mell and PomPomPurin who will dance and parade in Halloween outfits. At weekends Lady Kitty House will turn into the "Horror Doll House" which opens only 1 hour before closing time.
The scariest part of the Halloween event is the "Ghost Pierrot Masquerade" at the Discovery Theatre, showing a play created in collaboration with Obaken, a well-known Japanese horror production and life events company.
Visitors will be directly involved and can be sure to get a thrill out of the event with many unexpected and creepy turns. That event is open only to over-10-year-olds.