The Singapore Science Festival is back for its 19th year. Jointly organised by the Agency for Science, Technology and Research (A*STAR) and Science Centre Singapore, the two-week-long festival that takes place from 30 August to 14 September, is a national event that celebrates Science, Technology, Engineering and Mathematics (STEM).
The scientific achievements we celebrate are often complex and not always easy to comprehend. This is why the annual Singapore Science Festival (SSF) aims to present a more relatable perspective on science and showcase the role it plays not just in the distant future but in present everyday life. From understanding how milk gets from the cow to the carton to learning how rubber bands stretch, science is everywhere!
Exploding watermelons and setting new records with slime
Headlining this year's festival is a partnership with local digital artist Eugene Soh from Dude who has been commissioned to create a piece of digital art in the form of an augmented reality game. Translating a classic science experiment, users will be tasked to explode the most number of watermelons with rubber bands in a limited time. Visit science.dude.sg or scan the QR code here to try it!
Rehashing old favourites
SSF 2019 will kick off with The Science Buskers Festival on 30 and 31 August at Plaza Singapura, a fun show-and-tell with students sharing their love of science. With 721 participants from 58 schools, SSF 2019 will host the largest number of buskers to date, a testament to the continued growth and impact of SSF.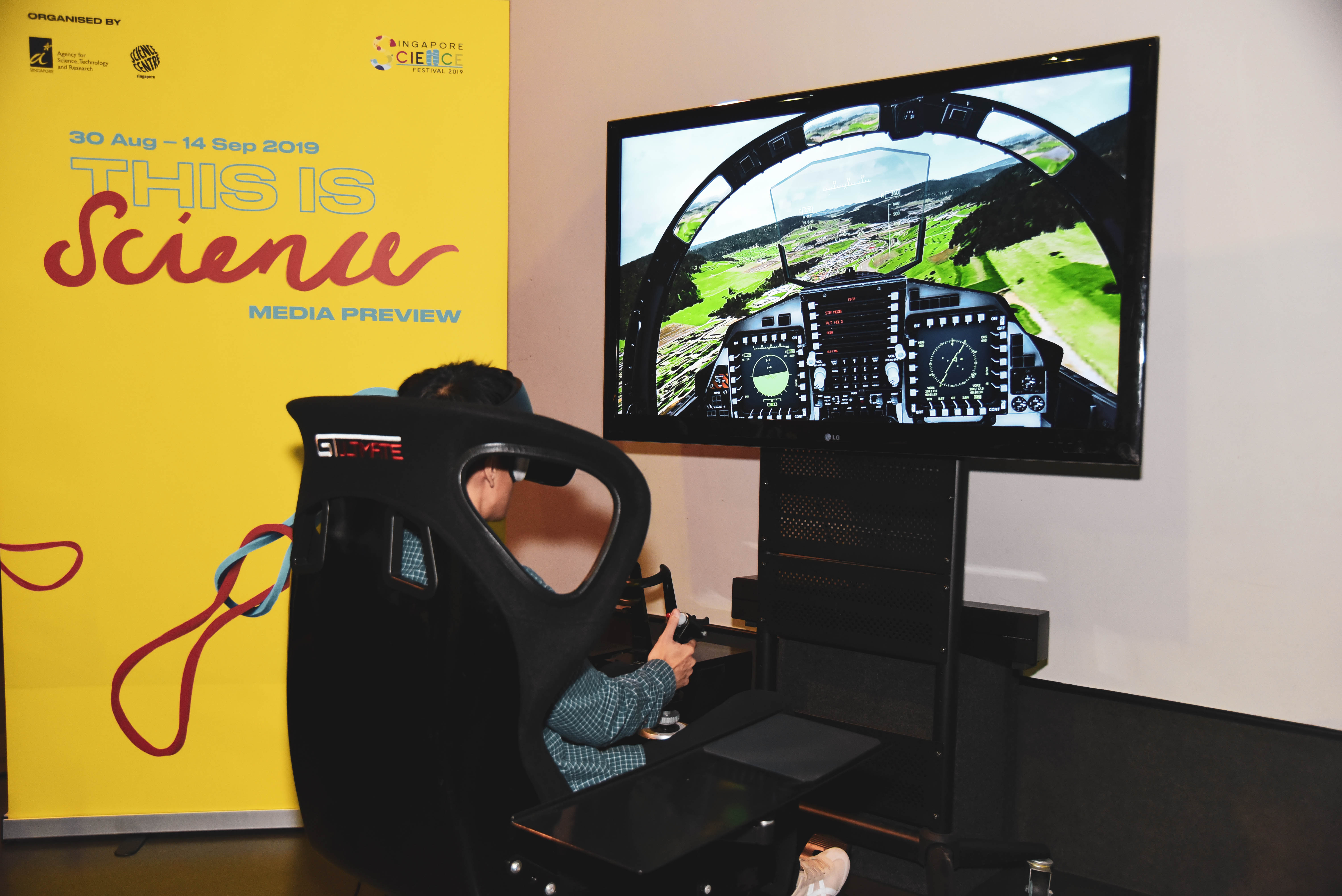 The public can also look forward to the National Science Challenge, which will air Tuesdays at 7:30 PM from 20 August to 24 September on Channel 5. Back for its 16th season, the challenge this year will pit students from 43 secondary schools against each other and test their knowledge on all things science.
Other festival highlights to watch out for include:
"Incredible Edibles, The Chemistry of Cookies" by Kate Mulcahy – learn more about the role each ingredient plays and be amazed by the chemical transformations that take place while baking.
Science Shows @ SSF – be amazed by the Special Science Show by Royal Institution from the United Kingdom and a session with Jason Latimer, a famed American musician, where he shares his inspirational works combining science and magic.
Star Lecture 2019 – British author and geneticist Dr Adam Rutherford draws comparisons with other animals, our ancestors and each other to answer the age-old question, Who am I?.
2D Stack Art, Tangram & Packaging Workshop – Create visually appealing 3D art from simple 2D structures or become a packaging whizz at these hands-on workshops.
SSF 2019 Satellite Workshops – Uncover all the fascinating ways science drives everyday life in this mini-workshop series conducted by industry professionals.
DinoQuest – a multisensory blockbuster experience that transports guests millions of years back to the Cretaceous period.
Future Makers Guided Tour (The Tensegrity Challenge) – Marvel at complex engineering feats and innovations at this exclusive guided tour of Future Makers, the latest exhibition at Science Centre.
Amoozing Milk & Unbeli-bubble – Inspired by the theme of this year's festival "This is Science", take part in engaging hands-on activities that investigate the science behind milk and soap bubbles.
This is Science: Exhibit Hunt –Take part in this one-of-a-kind exhibit hunt at the Science Centre and redeem a token upon completion.
The Inflatable Organ Experience – Learn more about the vital role these organs play and how you can better protect them.
Snow Science Festival @ Snow City – Get caught in Snow City's snow blizzard or witness first-hand the magic created by snow and science.
More information about the Singapore Science Festival 2019, additional activities and workshops can be found here.