Located on the 2nd floor at International Plaza, ethan men is a Singaporean-owned, home-grown retailer that offers affordable custom tailoring to discerning male consumers.
The brand was first launched four years ago by partners, Victor Lim and Daniel Tan, both 33. They initially launched their custom tailor business without a physical store and would do house visits. ethan men then opened their first shop in Chinatown three years ago and shifted to their new location at International Plaza in 2017 to better serve their growing customer base in the CBD area.
The brand prides itself on four core principles – 1) being relationship-driven, 2) valuing simplicity, 3) running their own factory for production and 4) being sustainability-conscious.
Relationship-driven
This is clear from the moment you step into the shop. The service is highly personable and this accounts for a high volume of repeat customers.
"We find that there is a gap in the service standard in Singapore and we hope to be able to bridge that gap at ethan men by going the extra mile for our customers when we can," shared Daniel.
He added that more than 50% of their orders each month are from repeat customers – a strong testimonial to the brand loyalty they enjoy.
Alvin Hong, HR manager, 34, a regular customer of ethan men who obviously knows the owners well, said, "I really like the excellent customer service by Daniel and Victor. They are always approachable and deliver top-notch products. Choosing ethan men means you'll have no surprises but every moment of delight."
For a made-to-measure tailoring experience, walk-in customers are presented with more than a hundred fabric choices for their tailored shirt or suit. You will be spoilt for choice. There are also many different designs to choose from for the build of your shirt, suit or pants – from the cuff designs to the collars for the shirts and the lapels and lining for the suits. You can pick the buttons you want.
A consultant will patiently walk you through the whole selection process and make recommendations when you ask for it. Prices are fixed and there are no hidden costs, so there is no hard-selling here to pressure you to buy more or top up.
Simplicity
ethan men prides themselves on the simple shop layout and the services they provide to give customers a hassle-free tailoring experience. The fuss-free approach entails cost-savings that are passed on to the customers.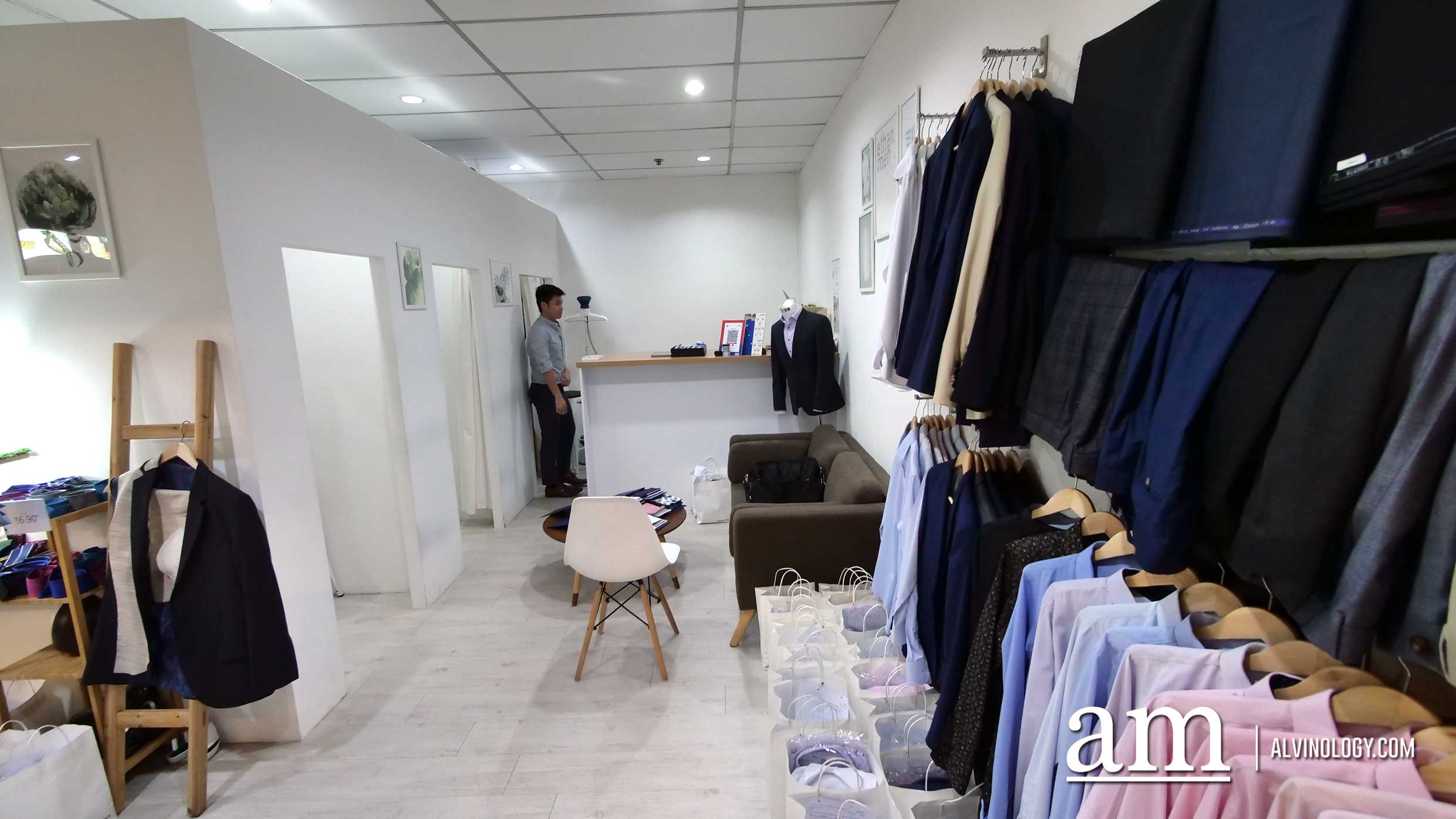 Prices are not the cheapest here, but that's okay as it is not their proposition to compete on a low price model. What differentiates ethan men from their competitors is the value they provide for the higher quality of workmanship, service and material at a reasonable price.
Think along the line of QB House for haircuts. ethan men follows the same concept closely: value and convenience for customers are top priorities.
There is no hard-selling here or pressure to buy and that's why customers love them and remain loyal.
Regular customer Nelson Chua, a 40-year-old lawyer: "ethan men combines good value with style and practicality. You can tell there is attention to detail in the workmanship, and I am always happy with their friendly and professional service."
Own Factory Production
Another reason why ethan men is able to control quality and provide a reasonable pricing is because they own their factory production.
High quality materials are ordered in bulk so that they can get better prices from their suppliers. Their small details speak volumes of their focus on quality and craftsmanship.
For instance, the Hesla shoulder pads used in their suits is multi-ply, compared to cheaper alternatives that may be single or two-ply.
The Japanese lining used in their shirt collars has an extra trimming to ensure that it stays in shape better than most regular linings that are used.
These two are both examples which are not immediately obvious to the customer as they are details which are not visible from the exterior of the finished shirt or suit, but ethan men prides themselves for providing the best quality, right up to such nitty gritties.
Sustainability-conscious
The founders of ethan men are sustainability-conscious individuals and will try to minimise plastic usage whenever possible. Their tailored shirts, suits and pants come packed in recyclable paper bags and the core belief is to reduce wastage whenever possible when it comes to material cost. This again helps to pass on more savings to the customers.
Getting the best deal at ethan men
At the end of the day, for any retail business to remain competitive, price always matters. ethan men understands this and seeks to provide the best value for their customers.
The pricing is very transparent and visible at a glance from the charts below:
Our recommendation is to take up the "3 pieces or more" bundle purchase for a larger discount.
If you intend to get a suit from them, order the shirts and pants together as they will be available at the bundle sale prices without the need for a three-piece minimum purchase.
This slideshow requires JavaScript.
Getting to ethan men
Address: 10 Anson Road, #02-96 International Plaza S079903
Contact details: 8778 0079 or [email protected]
Follow our guide below to locate the shop in International Plaza on the second floor:
This slideshow requires JavaScript.
Special Promo Code
In a special partnership with ethan men, simply quote "ALVINOLOGY" when you visit ethan men and enjoy 10% off ALL full suit packages (jacket & pants set).
Terms and conditions apply:
valid from 1 August 2019 to 30 September 2019 only
valid only with valid promo code during appointment booking
not valid with other ongoing promotion
valid on original prices only
ethan men LLP reserves the rights to terminate or amend any of the T&C during the promotion period at its own discretion
other terms and conditions apply
Happy shopping!