It's been a while since April Fool's Day but we're still reeling from these deceptive – yet blatantly brilliant – pranks pulled off.
From finding out there is a Paris Hilton Institute of Plastic Pollution Solutions (PHIPPS) to the release of Durian Blackcurrant Ribena, getting punk'd takes on a whole new level. Here's a recap of what're some of the most hilarious hoaxes we can't get over for this year.
Paris Hilton
Source: Nanodrop. 
Paris Hilton is simply one to make waves wherever she goes. The multi-hyphenate now stands before us with the panacea to all plastic pollution issues – Nano Drop. It's even endorsed by a professor Ron Naaman, from Weizmann Institute.
It sounds so uh-may-zing we want a sip of that super-hydrating water in the tiniest bottle ever.
Now, where do we buy this elixir?
Well, this "greatest invention since drinking" is not for sale as it turned out to be a marketing campaign for SodaStream. Nonetheless, we get the point the Israeli beverage company is driving across.
Ribena
Patience is gold. Finally, a durian dream come true – Singaporeans do love their durians.
This prank is so brilliant it'll go down in history as one of the punchiest.
Snapchat
An eye for an eye or a filter for a story? Snapchat released their April Fool's filter that seems like a replica of the Instagram post template. Is it us or has this something to do with Instagram having Instagram Stories now?
Pornhub 
Now the whole world knows what you're doing in your downtime.
Pornhub punk'd its users with this pop-up:
"Thanks for sharing. Pornhub now has automatic video sharing to your social media accounts.""No need to manually share your video to your friends and family ever again because this new revolutionary sharing feature does it for you! Automatically!"
Only after clicking upon the reverse tab would you laugh it off as then you'd have realised it's a April Fool's prank. Surprise, surprise.
IKEA
Physical play is so passe for kids. We need to get on with time and start living digital – that's exactly what IKEA Singapore did. The team introduced tablets into the kids playground, Småland, as far as its Facebook page goes.
Thankfully, it's just a ploy to garner attention for the furniture brand because we can't imagine a world where kids no longer go outdoor for anything.
Hu by Hulu 
Introducing Hu by Hulu, the abbreviated version of Hulu is so short you waste no time immersing yourself in your favourite drama.
Apparently, Hulu, an American subscription video was also onto the April Fool's train with this ludicrous teaser for their new service, "Hu".
Google Chrome 
We wonder if you'd use a Chromebook Groupie Stick to take a selfie with your buddies. It's a Chromebook after all on that selfie stick and doesn't take you long to realise that this is a prank.
Emirates 
As much as we would love for that to be true, it's not in the cards just yet.
Virgin Australia
Today we are excited to unleash our new Virgin Australia Canine Crew in a world first initiative. pic.twitter.com/d1GCIbd3qG

— Virgin Australia (@VirginAustralia) March 31, 2017
This move is a breath of fresh air and like April Fool's Day, it's not meant to be taken seriously.
Subway Ice Cream Cones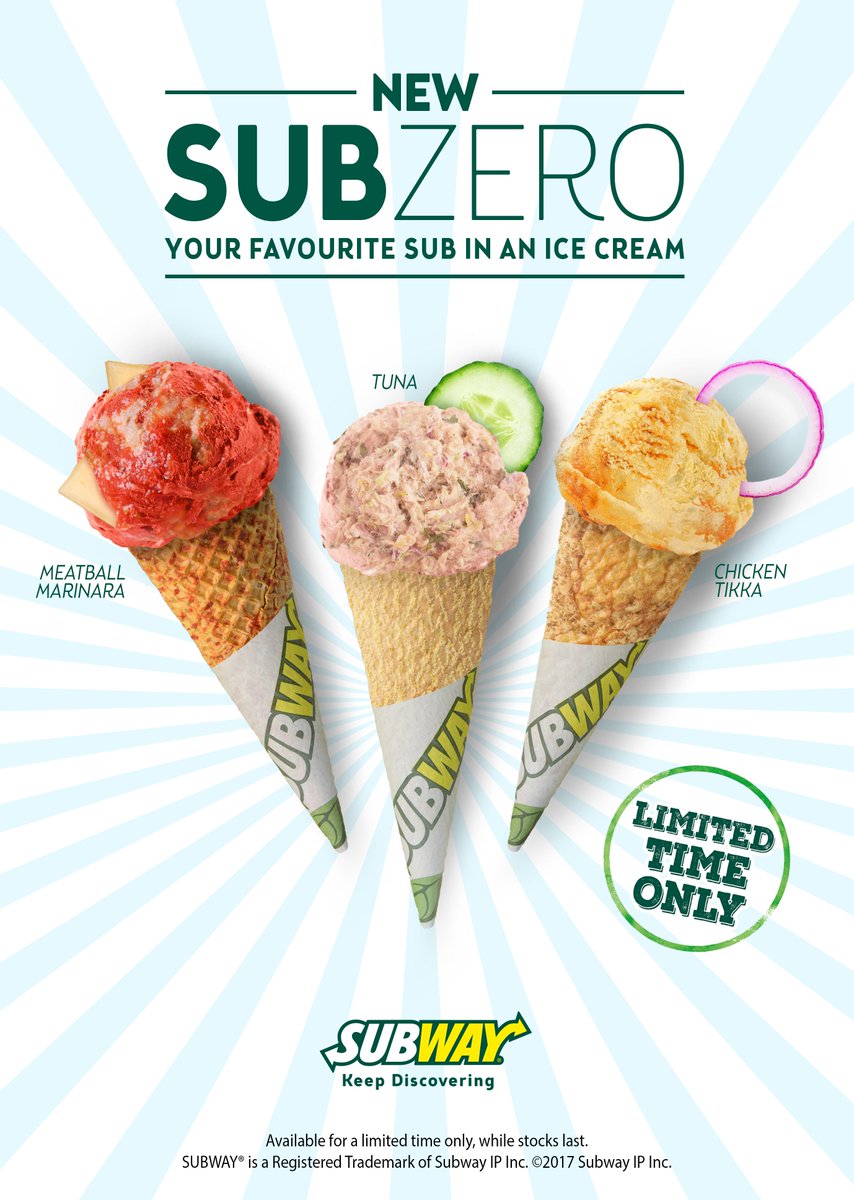 Everyone is making the most out of their marketing bucks, even on April Fool's Day. Subway is one of them. How could you miss their Subway sandwich-flavoured ice cream cones?
This is marketing done right as we simply can't take our eyes off it.
Krispy Kreme 
PEOPLE OF THE UK! We have an important announcement regarding the name of our brand. #KremetoCream pic.twitter.com/3yNND7VdZU

— Krispy Kreme UK (@krispykremeUK) March 30, 2017
You'd think Krispy Kreme is easy to pronounce but it's often mispronounced as Krispy Cream. The doughnut company in UK then decided to make everyone's lives easier by changing its name.
Is it a coincidence the announcement was made near 1st April? Nah, it was meant to be a joke, which gave us some good laughs.
Every time April Fool's Day comes around, you can be sure of being entertained by the bag of tricks many brands have.