I am sure this is an interesting lifehack for frequent travelers – how can you check your flight schedule while you are overseas without internet access?
Calling the hotel reception may be too much of an hassle. What if you cannot find access to internet nearby? How do know if your flight might have gotten cancelled or delayed?
The good folks at Changi Recommends came up with a simple, but clever solution – a FREE Changi Airport Flight Watch service!
To use it, just go the Changi Recommends website and key in your details on this box on the right-hand-side: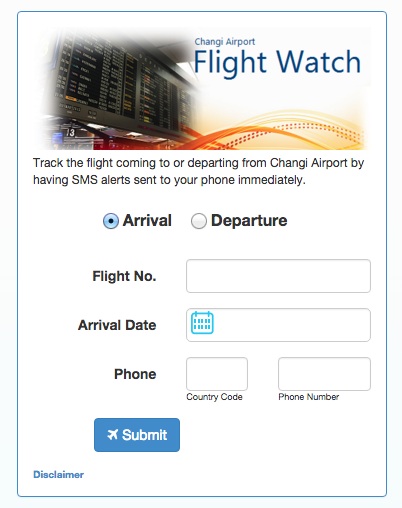 The service tracks all flights coming to or departing from Changi Airport by having SMS alerts sent to your phone immediately.
There you have it. A simple, internet-free way of getting your flight updates sent to you via SMS.
Useful isn't it?
Thank you Changi Recommends for this free service. It will certainly come in handy for my travels. 🙂