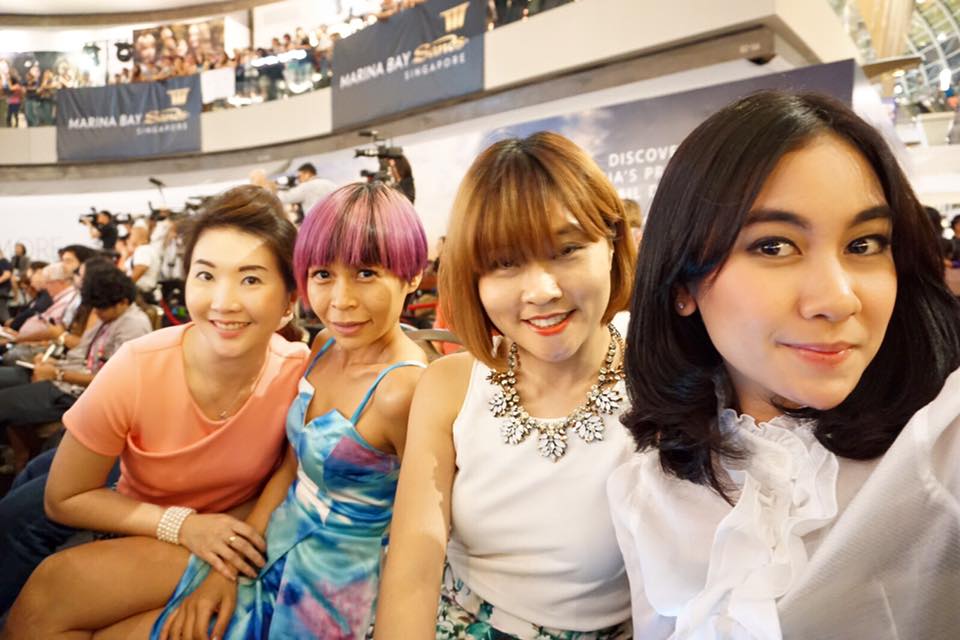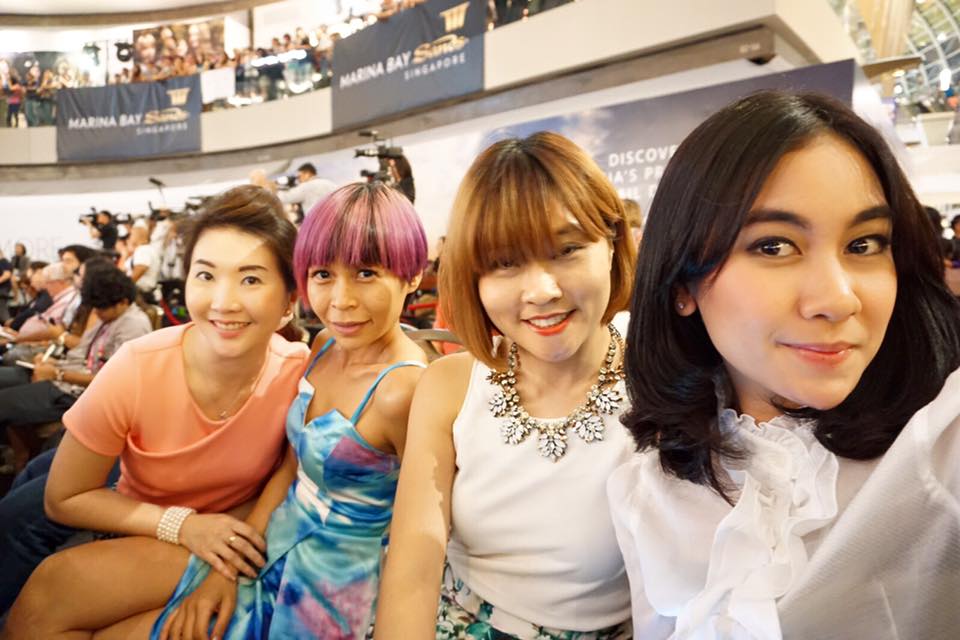 If you have been tracking the #WTAfinals hashtag on Instagram over the opening weekend of the finals in Singapore, you would have seen photos of this particular girl being listed first among the top posts. Her posts beat photos of world number 3 women's tennis player Maria Sharapova and world number 1 in women's tennis doubles Sania Mirza.
The mystery girl to most people outside of Indonesia is 25-year-old singer-actress Anisa Rahma Adi (@anisarahmaadi). The Bandung-born started in showbiz as part of popular girl group Cherrybelle, and left the band in 2013 to pursue her college studies. She is currently in a vocal group with two of her sisters called Milova, and has three movies coming out in the next six months.
I was lucky to meet her and got to watch the match between Maria Sharapova and Agnieszka Radwanska last Sunday (Oct 25).
On Sunday, an #OOTD (outfit of the day) shot with her and the editors-in-chief of PLUMP magazine, Danah (@thedanahsoars) and Stacy Gutierrez (@anastazcia) out ranked that of several tennis players' posts which have been trending for days, accumulating 'likes' over a longer time than Anisa's. The next day, another of her #OOTD shot beat the wefie Sharapova took with her fans after she won Sunday's match.
Anisa Rahma was in Singapore over the weekend to catch the singles match together with other bloggers and media from Indonesia, Malaysia, Singapore and the Philippines. They were hosted by migme where I work, and she also brought a fan along with her to share the experience.
From the moment she landed in Singapore, her star power was apparent when our group kept getting stopped as her fans from Indonesia waylaid us to grab a picture with her.
She has almost 700,000 fans on Instagram. Known as InsomNisa, her fans are some of the most fervent. They 'like' and 'regram' her posts, copying captions and hashtags. Within hours of posting, she gets thousands of 'likes', averaging on 10,000 per post.
Anisa Rahma is part of the new wave of younger celebrities who are social media savvy and have a fan army who are equally active and influential. At events, her phone's app drawer will be filled with various social media apps open, and she methodically posts individually on each platform.
"On social media, I post of my activities, my performance schedules of television, movie or soap operas. So my fans can can always get updates from me," Anisa shared.
She said that she has a fanbase in each major city in Indonesia. "I always take care of them through the admin of the official InsomNisa fanbase in Jakarta."
A search on Google brings up several InsomNisa accounts on various social media platforms.
Two weeks ago, they organized a meet and greet session in Jakarta, and invite her to perform and take photos with her fans. Her wish is to be able to have more fan meet and greet events in other major cities such as Yogyakarta, Surabaya, Bandung, Solo, and Medan.
It is her earnest and down-to-earth nature that made her a hit with her fans who are mostly children and teenagers.
After interacting with her over the weekend, I can clearly understand why she is so popular. She is always smiley and polite, obliging to just about everyone from a fan in the street to members of the media to our bus driver. How can you not like a celebrity who is always so nice?
"I usually post something useful for others, such as quotes, about caring for the environment, latest info about anything, and my daily activities so that everyone who sees it can be happy," she added.
You can view more of her travel photos on her migme profile @anisarahmaadi.