Do you know that most of the mooncakes we order during the Mid-autumn Festival comes from the same few suppliers? Mooncake production is extremely labour-intensive and it will be a crazy task trying to mass produce so much during such a short period of time. It keeps prices affordable too.
Conrad Centennial Singapore's awarding-winning Chinese restaurant, Golden Peony, is one of those that still produces their signature Sweet Potato Mooncake in Crispy Filo Pastry entirely in-house. Granted it is not really the traditional baked mooncake, it is very tasty and personally, I will prefer it anytime.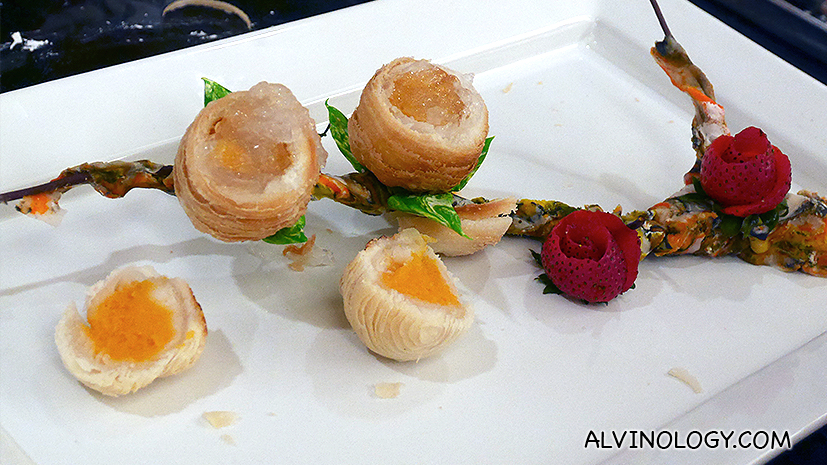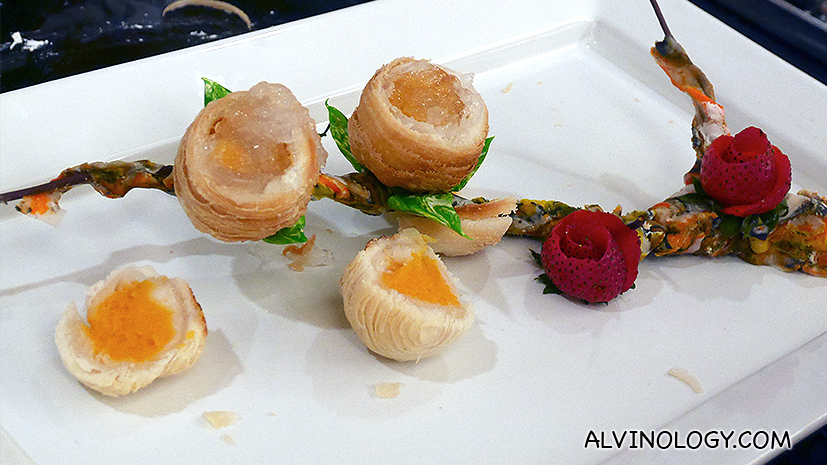 How is this signatureSweet Potato Mooncake in Crispy Filo Pastry produced?
I had the good fortune to be invited to a demonstration session by Golden Peony's pastry chefs.
Ingredients: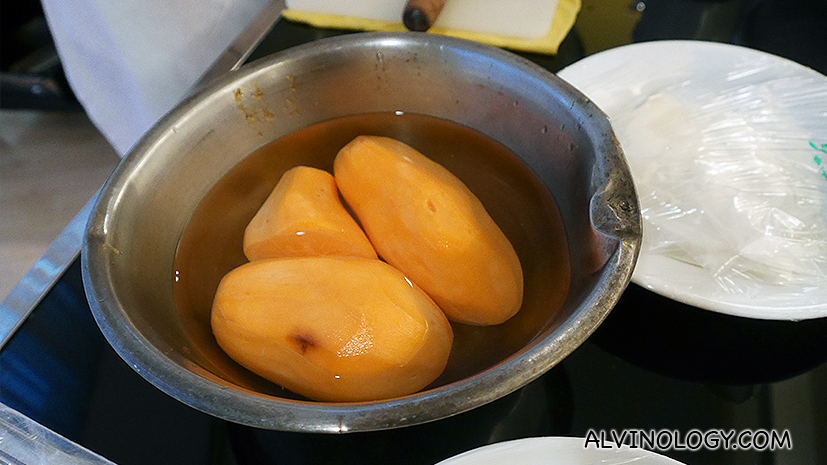 Ingredients for Filling
– 600 grams Sweet Potato
– 150 grams Coarse Sugar
– 1– grams Oil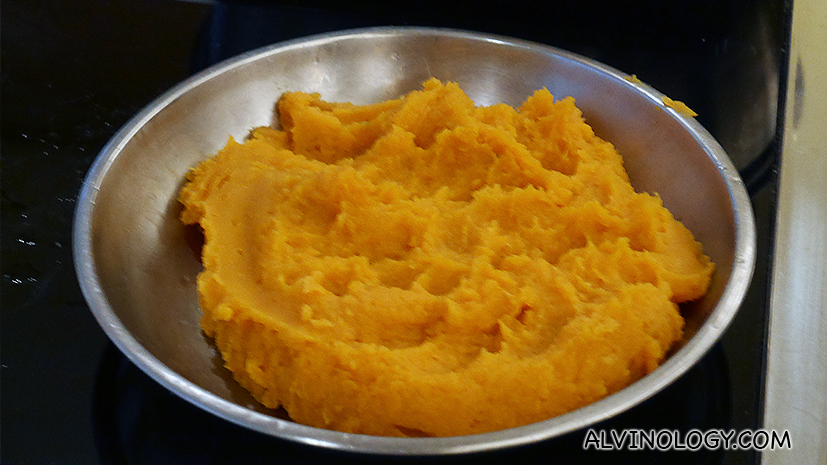 Ingredients for Skin (1)
– 600 grams Flour
– 150 grams Wheat Flour
– 2 tablespoons Sugar
– Small quantity Water
Ingredients for Skin (2)
– 600 grams Flour
0 250 grams Oil
Step 1 – Filling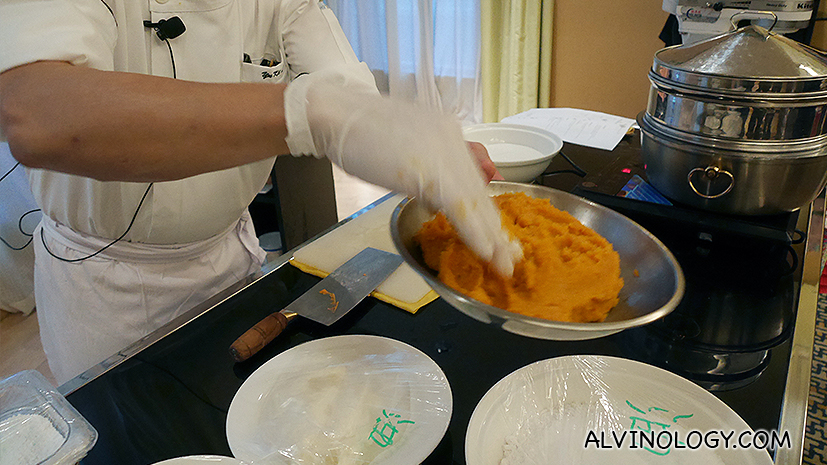 Remove skin on the sweet potato, wash and cut into slices. Then steam the sweet potato slices till soft.
Step 2 – Skin (1)
Mix the flour, wheat four and sugar evenly. Add water then knead until the mixture is soft.
Step 3 – Skin (2)
Mix the flour and oil together. Knead until the mixture is soft.
Step 4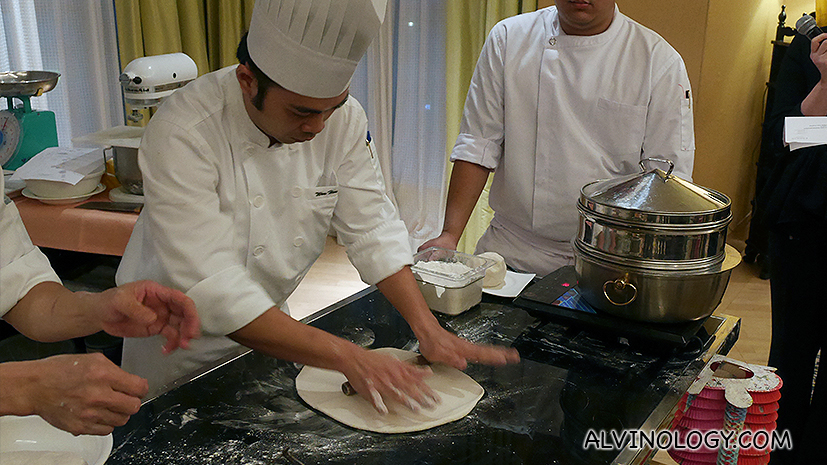 Flatten Skin (1) and Skin (2) mixtures together using a wooden rolling pin. Then roll it up and flatten again. Repeat the process until both mixtures are blended together.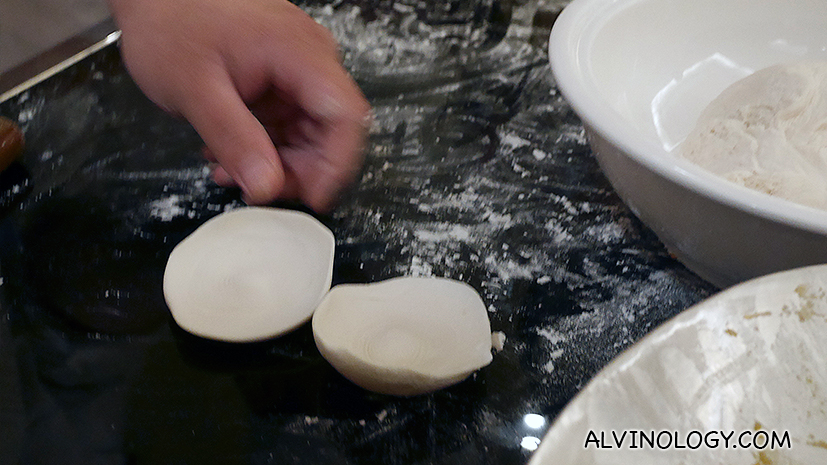 Step 5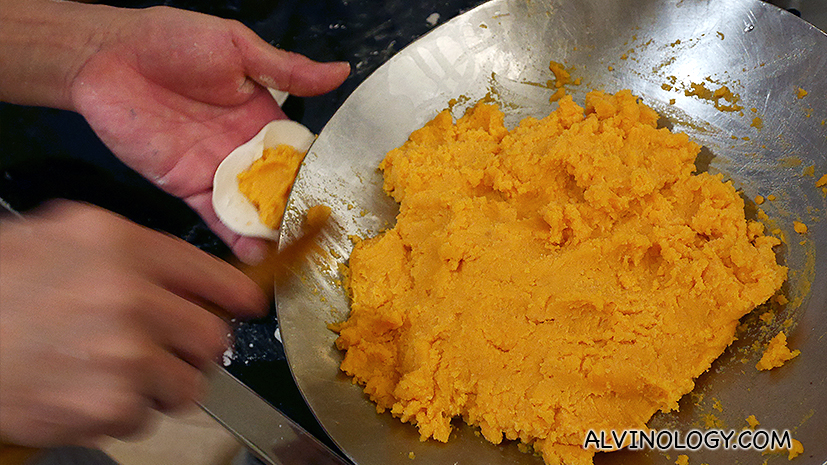 Wrap the sweet potato paste with layered skin and refrigerate for 15 minutes.
Step 6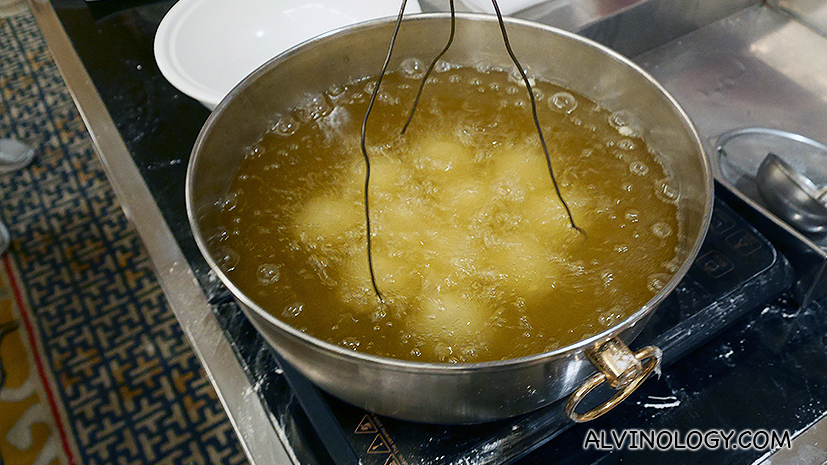 Deep-fry the sweet potato pastry at 180 degrees till golden and serve.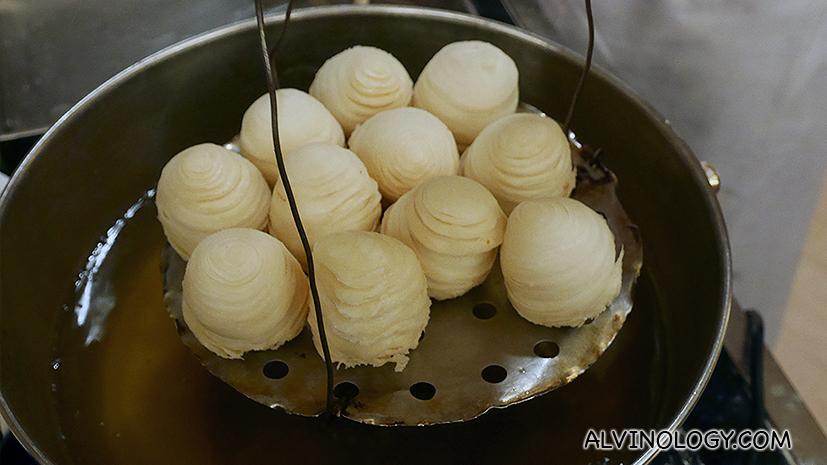 Step 7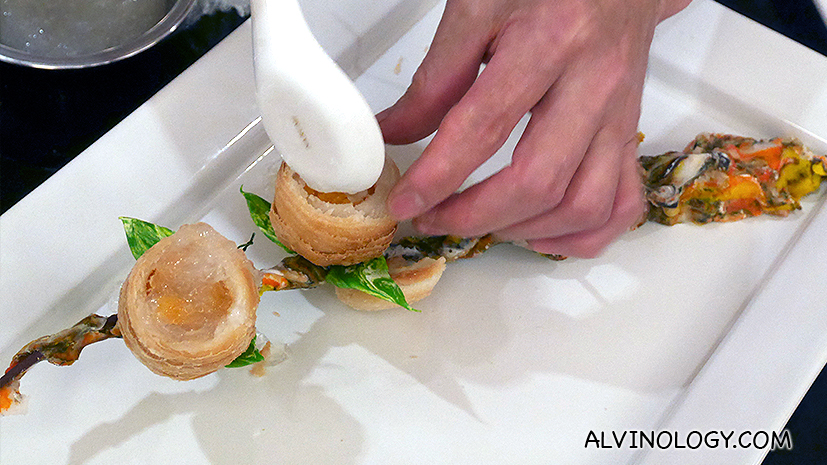 Plating.
Yes, it's just 7 steps!
Don't be misled to think it's easy to prepare. Watching the chef in action, a lot of the steps require years of practice and the dexterity of an experienced pastry chef to execute with precision.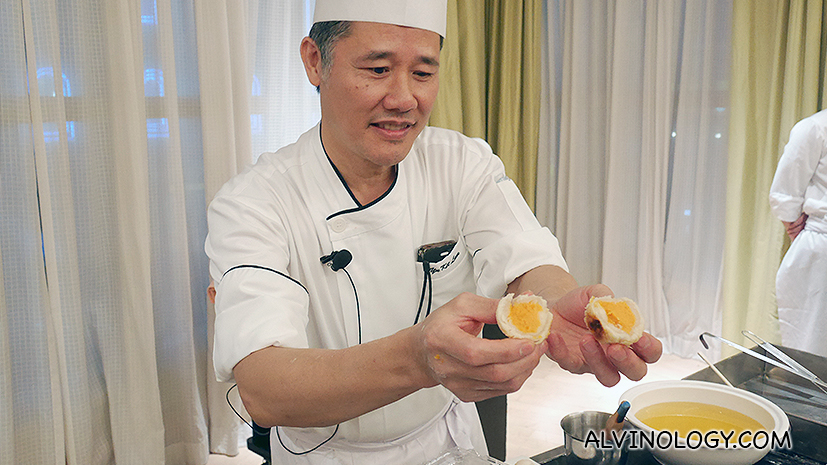 For me, I will rather buy mine off the shelves!
Golden Peony's Sweet Potato Mooncake in Crispy Filo Pastry comes presented in a luxurious deep red faux leather box with subtle floral imprint for the Mid-autumn Festival.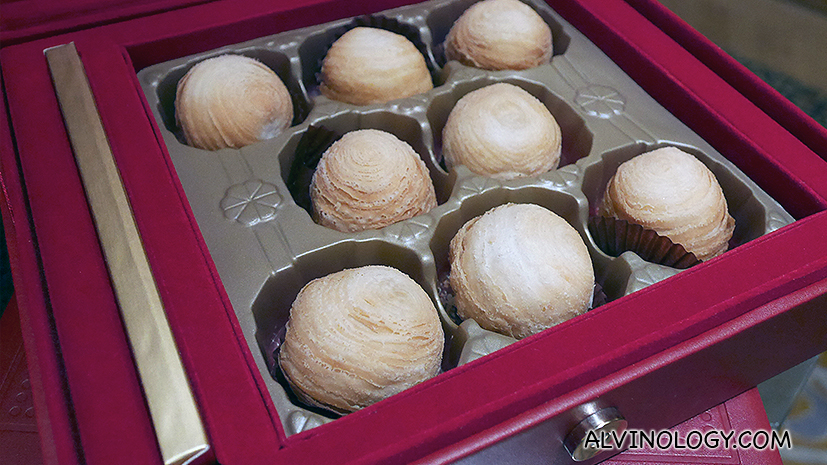 Other perennial mooncakes on offer include a selection of traditional baked mooncakes as well as popular mini snowskin favourites such as Green Tea with Melon Seed, Mango with Nata de Coco, White Lotus with Cookies and Cream Cheese, and Chestnut with Red Bean.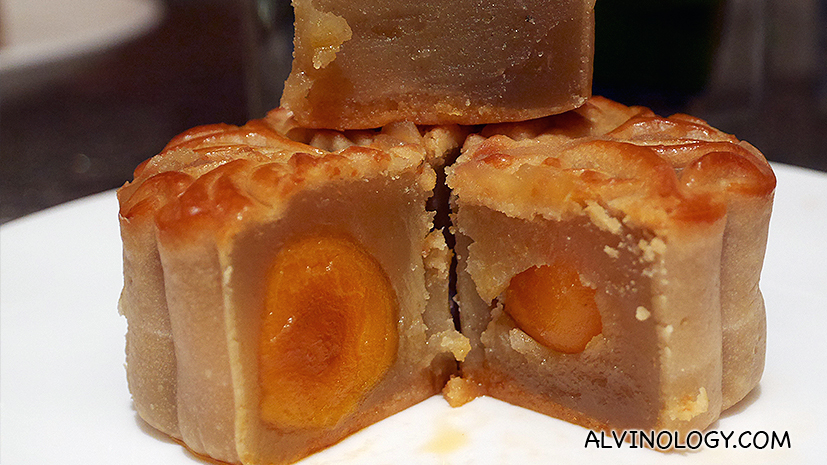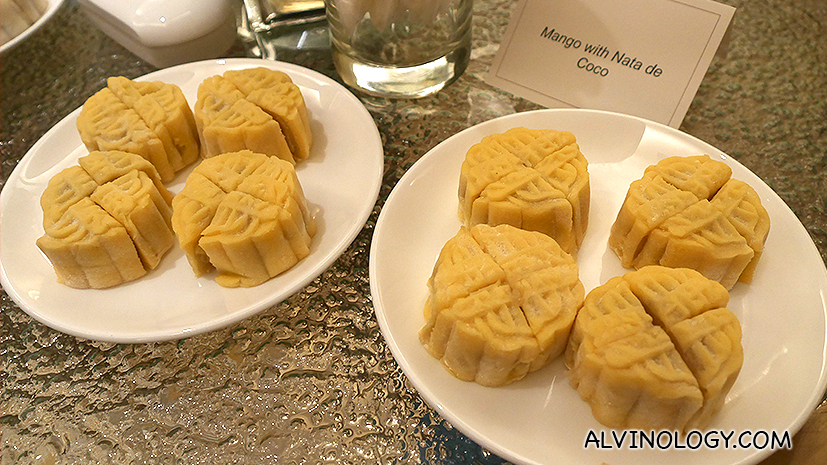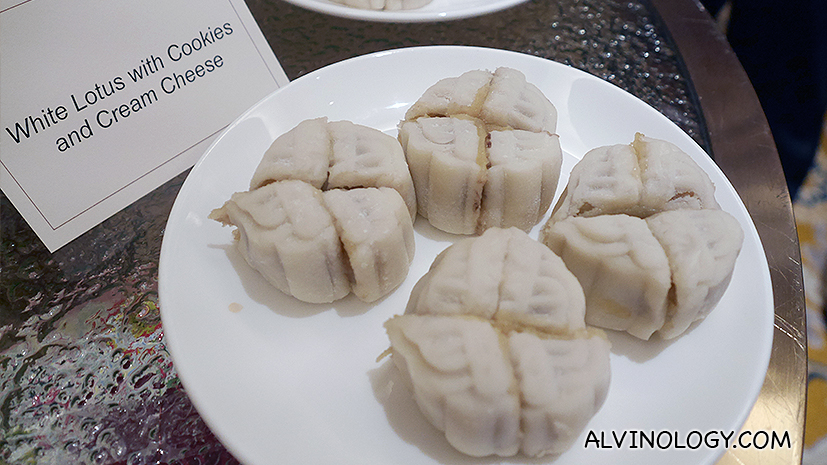 Golden Peony mooncakes are available for sale at The Terrace in Conrad Centennial Singapore from 31 August to 27 September, 10am to 8pm, as well as at the following outlets:
Ngee Ann City, B2 Takashimaya Square, 27 August to 27 September, 10am to 10pm
TANGS VivoCity, Central Court level 1, 1 September to 27 September, 10am to 10pm
Millenia Walk, North Galleria, 7 September to 27 September, 11am to 8pm