This article was written by Vanessa Chan of ASIA 361.
The one thing that struck me about Equilibrium is the meticulous attention to detail. From the plating to the interior décor, everything was tastefully done and aesthetically pleasing. I confess that initially my heart was not fully into this tasting because I just had pasta the other day that I considered a waste of stomach space. The memory of that meal made me quite reluctant to have Italian food again so soon.
This just goes to show that all of us have to eat our words at some point, and eat I did.
Tucked away at the end of the Galleria section in the new Capitol Piazza, Equilibrium is quiet and airy, with beautiful natural light spilling onto the tables. Just the place for a quiet lunch or after dinner drinks if you prefer a more subdued environment as opposed to the bustle of the usual watering holes.
Opened by the people behind the successful and popular Supply & Demand at Orchardgateway, Equilibrium was conceived by the team's admiration of the amalgamation of flavours and tastes in the bacaros of Venice. Dishes here focus on variety and are served tapas style in small portions.
First up we had some drinks. The Earl ($9) is a sweet citrus infused tea with a sprig of rosemary and cubes of Earl Grey jelly. I found this drink much too sugary and the cubes of jelly were too big to be sucked up by the straw. Alvin really liked it however and finished up his drink.
One novel thing about Equilibrium is their extensive tea selection which they also incorporate into their cocktails. The Sencha Apple's ($17) presentation is a nod to this and was served to us in a teapot with a slice of dehydrated apple in a little cup. The bitterness of vodka in this drink was tempered by the sweetness of honey with the flavour of sencha emerging in the aftertaste and lingering on the palate.
The Smoky Nectar ($18) is an incredibly fun drink, with fluffy pink cotton candy perched on top of the glass. This raspberry cocktail wasn't terribly sweet despite its saccharine appearance. The smoked hickory wood flavour came in strongly and worked well with the Bulleit bourbon, St George spiced pear liqueur and raspberry nectar tea. Equilibrium also has a bespoke bar. You're welcome to approach the friendly bartenders with your requests and they will be more than happy to handcraft your poison to your liking.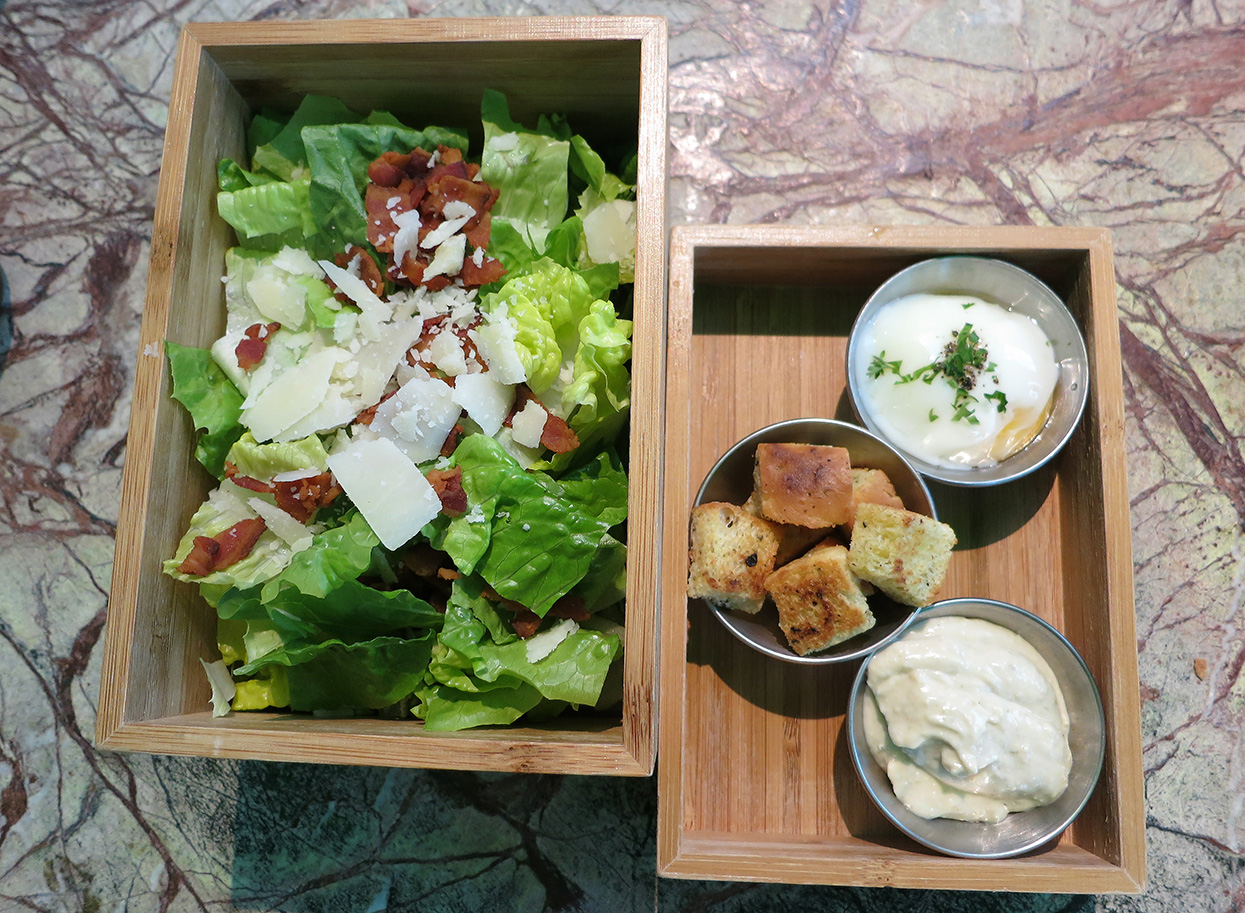 For starters we had a Caesar with Salmon salad ($15). Funny, I didn't get any smoked salmon slices with my portion. I contented myself with the abundant crispy bacon bits and sous vide egg. While pleasant, this salad wasn't remarkable or memorable.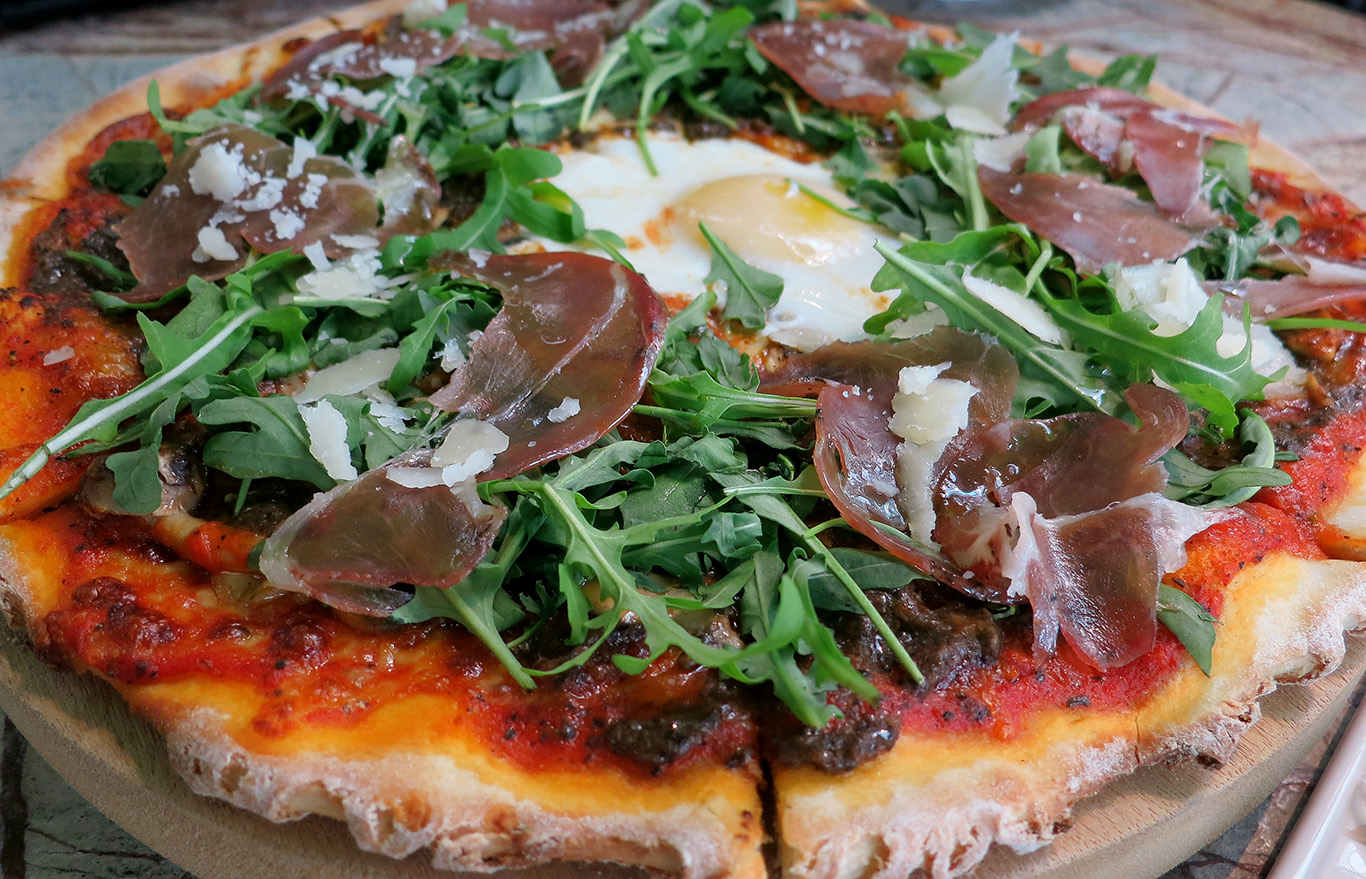 The At Dusk pizza ($27) features slivers of Italian coppa ham, truffle paste and rucola leaves. The thin crust was hand-rolled, not even using a pin because that would result in a pizza that is too even and remove all the air pockets. Now that's dedication!
We took the pizza back with us to share with our colleagues as there was still quite a bit left over. Those that got to try it let out appreciative exclamations in-between mouthfuls. One colleague was so taken by it that he sneaked the entire box under his desk to savour at his leisure. Perhaps this little anecdote paints a clearer picture of just how good it was!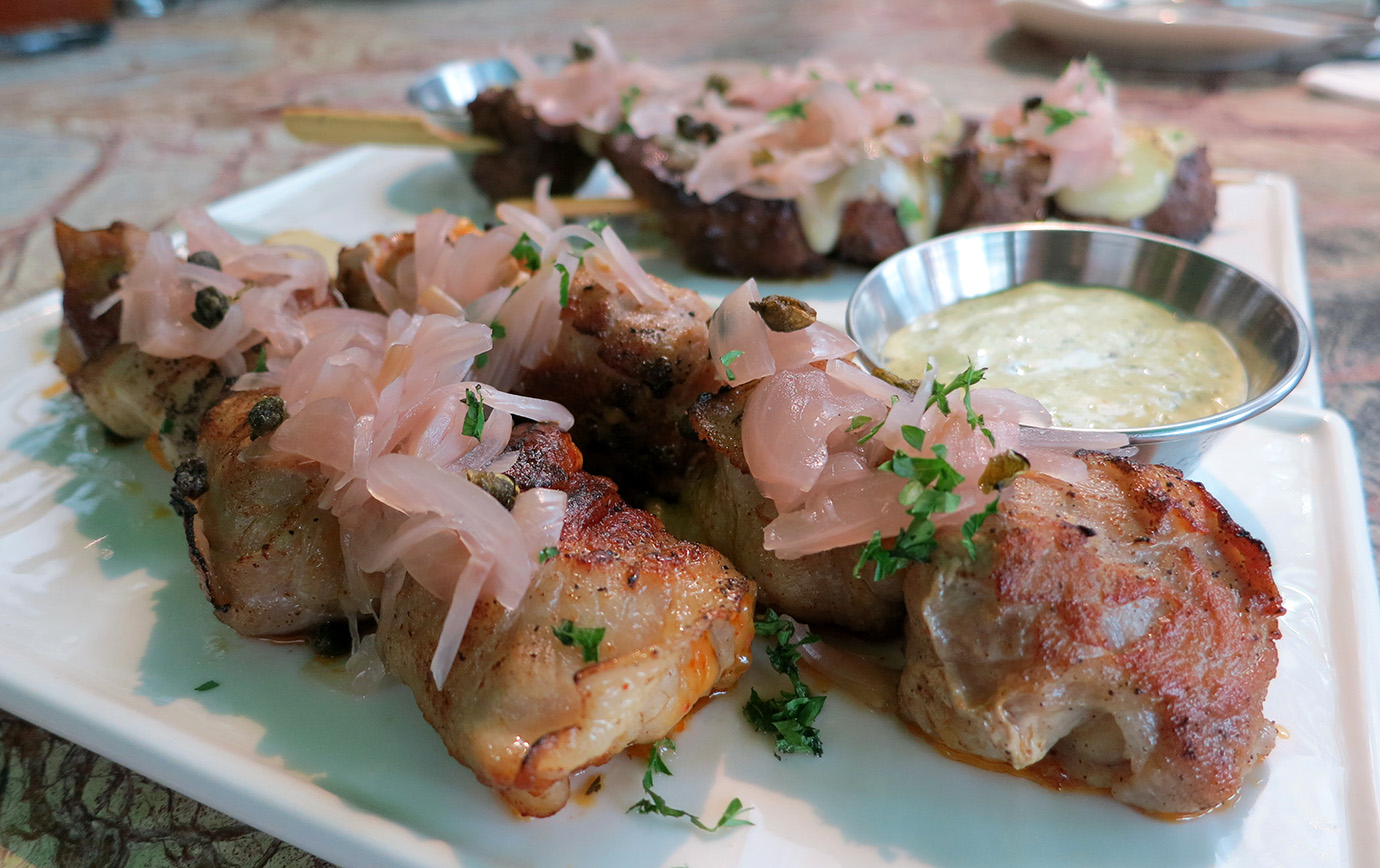 The La Bombette ($9.50 per skewer, minimum order of two) and Grilled Beef ($11.50 per skewer, minimum order of two) were among my favourite dishes. The La Bombette is aptly named. Those pieces of pork belly, grated parmesan, oregano and chilli flakes veritably exploded with umami flavour and were terribly addictive. They also came with a spicy garlic lemon dip but I felt that they were already perfect on their own and ignored the dip. The La Bombette is currently not available anywhere else and is unique to Equilibrium.
The Grilled Beef skewers, while mellower in flavour were still utterly enjoyable. They were covered with a layer of melted Fontina cheese and onions. The insides of the beef were seared to pink perfection and yielded easily to the knife, releasing their juices as I cut into them.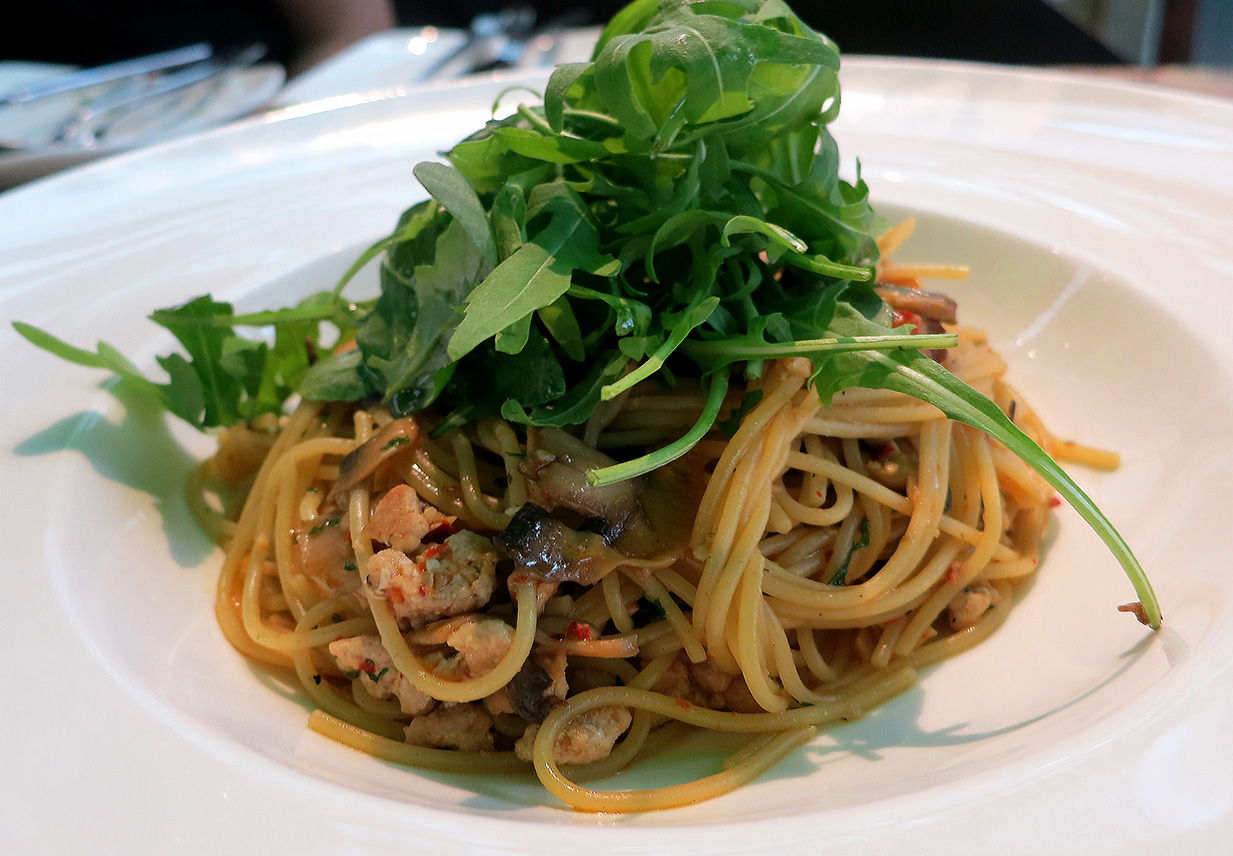 Though I'm partial to pastas with creamy or tomato based sauces, the Pork and Mushroom Aglio Olio ($19) astounded me. Meant as a tribute to chef Samdy's beloved grandmother who owned a coffeshop and inspired by his formative years there, this pasta is essentially an atas version of bak chor mee. With rucola leaves standing in for lettuce, white vinegar instead of black vinegar and topped with a generous amount of garlic, it's easy to recognize elements of the local dish that acted as his muse. I was so fond of this dish I was tempted to finish up the plate that we were supposed to be sharing. I don't think I'll ever be able to eat bak chor mee without thinking of chef Samdy's version!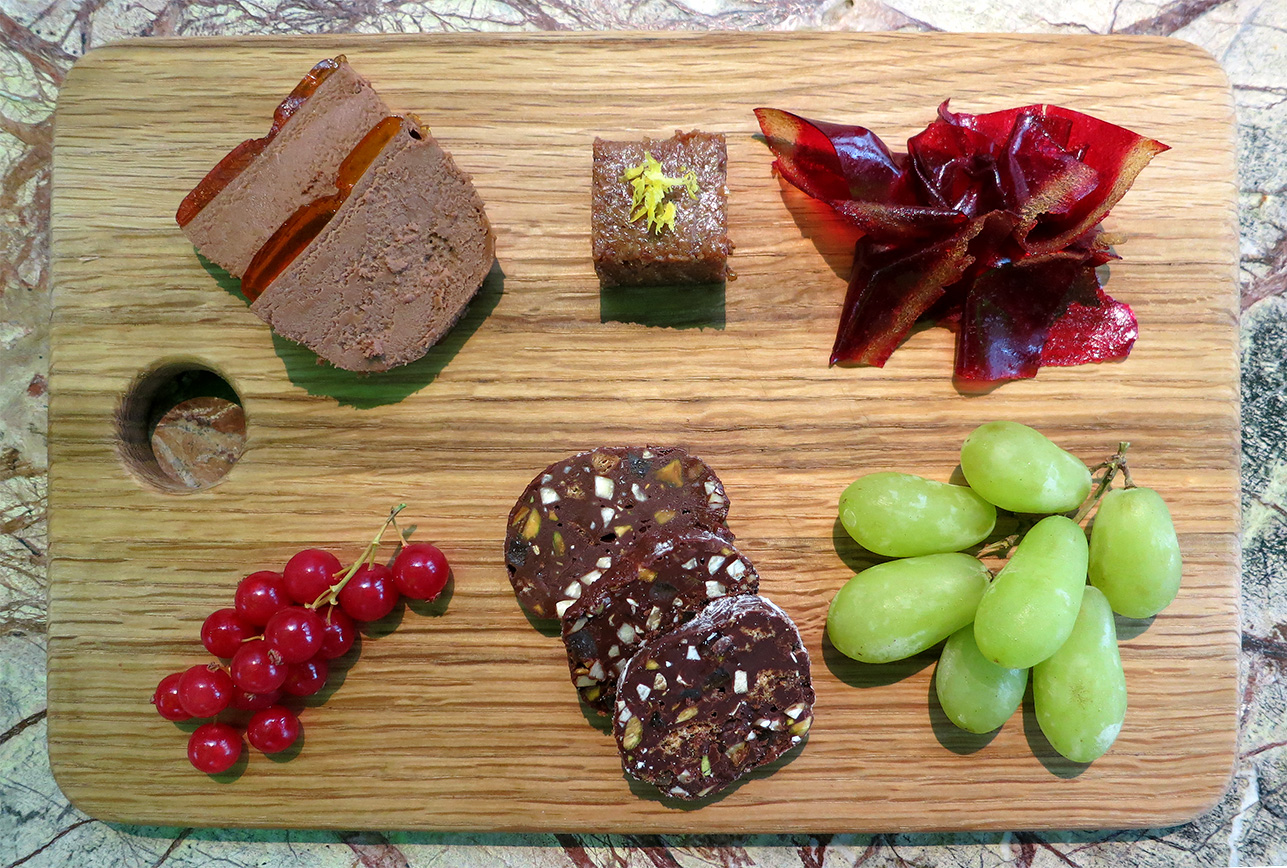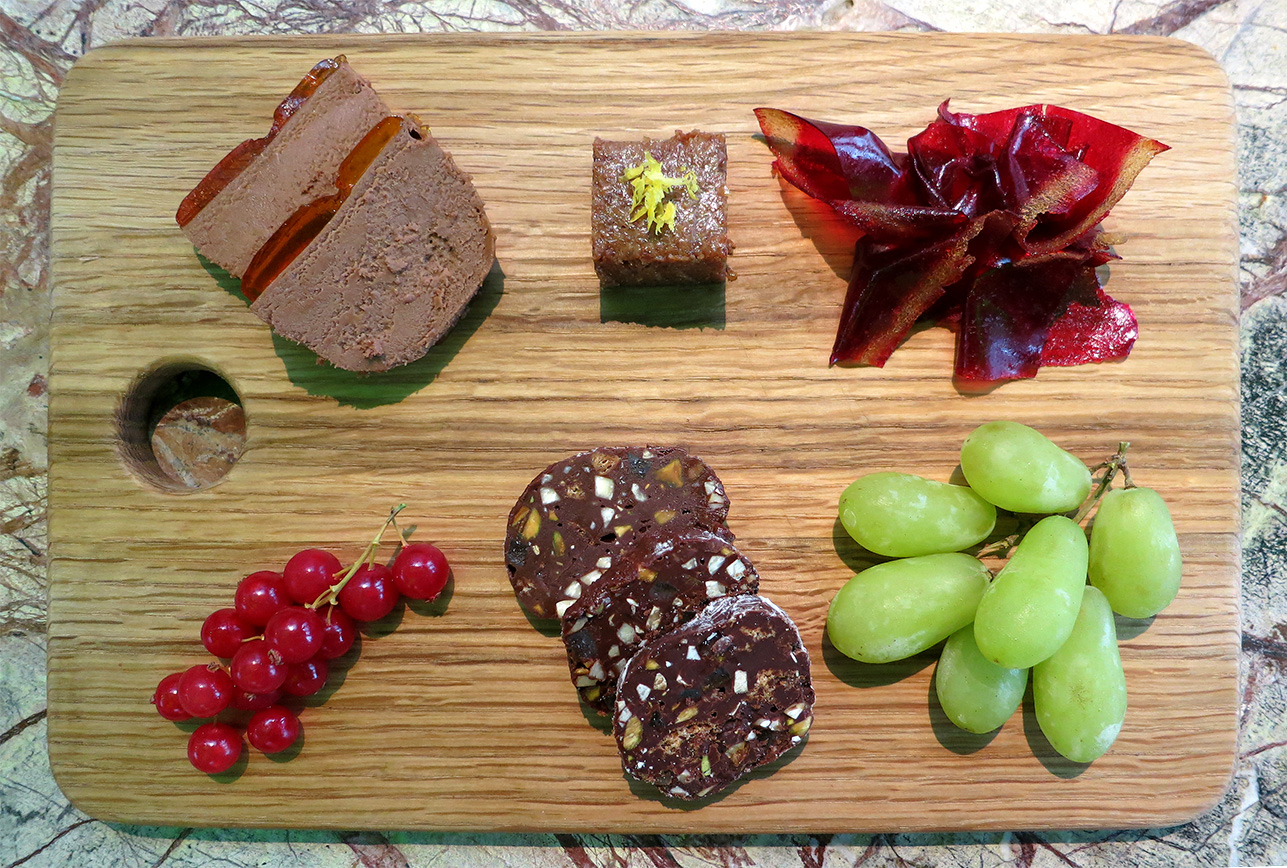 It was plain to see that the desserts were thoughtfully put together and meant to challenge your perception of how food ought to taste. The Deli Dolce ($21) came to us in the form of a charcuterie board with sweet treats disguised as savoury items. With fruit leathers masquerading as jamón ham, ice cream as pâté and chocolate as salami among other surprises, chef Belinda's creativity and travel gleaned inspiration is clearly showcased here.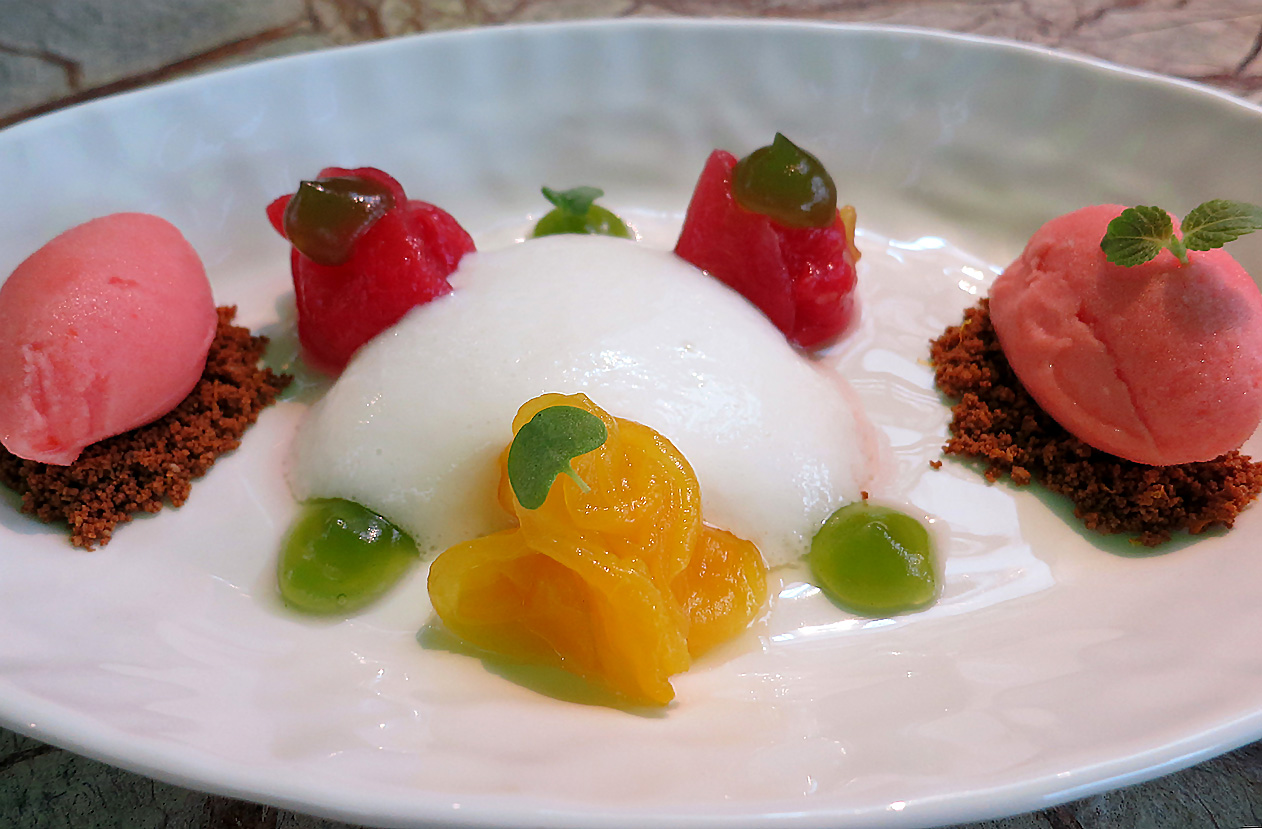 Try the Watermelon Carpaccio if you're looking for something refreshing to end your meal. The watermelon was compressed so that it resembled sashimi in form and texture. How did they accomplish this? Magic? Sorcery?! I prefer food that has stronger flavours so I found this a touch too light for my taste. The milk cheese foam was suitably savoury though and I eagerly spooned it up. However, I don't think I would want to have either of these desserts again. Nothing was majorly wrong with them but after the novelty wears off there's nothing really there that would have me craving them and neither quite quelled my ravenous appetite for sweets.
At the end of the lunch, satisfied and feeling the onset of a food coma, I can confidently say that Equilibrium was one of the better meals I've had lately. I'll be back for the skewers, pizza and the aglio olio.
Equilibrium Modern Italian Bacaro & Ristorante
Capitol Piazza, 15 Stamford Road #01-86 Galleria Singapore 178906 (City Hall MRT)
Tel: +65 63844069
Opening Hours: 11:30am – 2:30pm, 6:00pm – 12:00am Daily
https://www.facebook.com/equilibriumsg