Havana Night at Capella Singapore
This article was first posted on ASIA 361.
The weekend is all about winding down. This is why Bob's Bar at Capella Singapore on Sentosa Island is the perfect place to lounge around and relax on a Friday night after a long work week.
Every Friday night, Bob's Bar turns into a vibrant and lively affair with Havana Night – an evening of live music, freshly grilled Cuban marinated meats and handcrafted cocktails. It is hard not to get into a relaxed mood at Bob's Bar. With the plush daybeds, sea breeze and lush green surroundings, one cannot help but feel as if they are at some tropical Caribbean resort on a holiday.
Chefs are at hand at an outdoor BBQ station, dishing out plates of delectable barbequed meat and seafood. You can't miss it – the aroma of the food sizzling on the grill will lure you to the station.
We tried the Havana Platter for Two (S$50), which includes a selection of the best from the grill. The platter includes Beef Short-Ribs, Mini Lamb Ribs, Chicken Skewer, Pork jowl and BBQ prawns. It is also served with a mango rum pepper salsa, grilled pineapple slices, an Ensaladade de Paps (Cuban potato salad) and a tangy Jamaican Jerk sauce for dipping.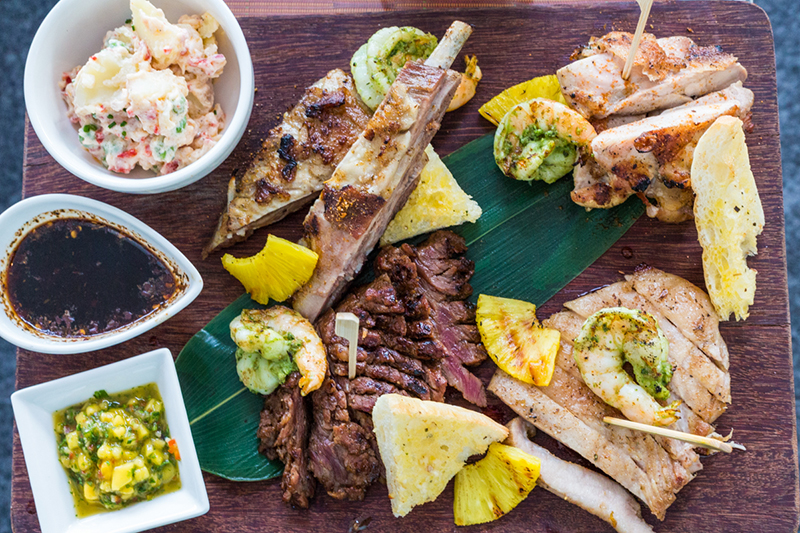 On first look, the platter may not look like much but it turned out to be just right for two persons. Barbequed meat tends to be on the dry side, but everything on Havana Platter is anything but. They were all succulent and tender.
Of particular mention was the pork jowl. Marinated in salt brine with garlic, rosemary, thyme and peppercorn, the pork is then cooked sous-vide for 10 hours, resulting in absolute juicy tenderness. The health-conscious may balk at the amount of fatty meat on the pork, but the succulent meat tasted like pure heaven in my mouth.
Executive Chef David Senia uses the same marinade for the lamb, but cooks it for five hours instead. Folks who usually avoid lamb because of its gamey taste will not find that in Chef Senia's version.
A languorous evening at Bob's Bar would not be complete with cocktails and music of course. The Bob's Fresh-Pressed Mojito (S$26) is a cocktail made with Plantation 3 Stars White Rum, fresh-pressed sugarcane, lime juice and fresh mint. I don't usually like to drink, but this refreshing cocktail had me asking for seconds. It's a choice that is befitting the Caribbean mood that Bob's Bar tries to recreate.
The live band, called Mexi Band, churned out easy-on-the-ear bossa nova tunes. Lounging on the plush daybeds, we sipped our cocktails, ate our chocolate-dipped Bob's Churros (S$14) and basked in the music.
What a lovely way to start the weekend.
Havana Night happens every Friday night from 6.30 pm to 10 pm.
Bob's Bar
1 The Knolls
Capella Singapore, Sentosa
Singapore 098297
Tel: +65 6591 5047
Email: [email protected]