Koh Grill & Sushi Bar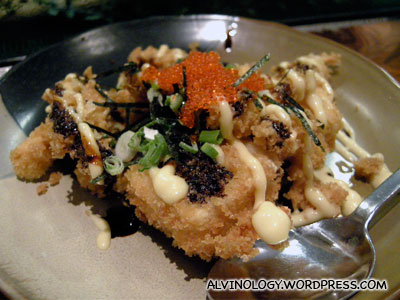 Located in Wisma Atria, Food Republic, this little sushi bar is a gem for quality Japanese food at great values. Rachel and I accidentally stumbled upon the place while looking for an affordable place to have dinner in Orchard Road, beyond the usual belt of expensive restaurants.
The owner of the bar is a youngish looking guy named Patrick Koh who looks no older than 30 years old. He is also the chef and all the sushi served are hand-made by him. We find him a very jovial and friendly person who will joke with the bar patrons and make relevant dish recommendations without appearing pushy.
Here are pictures of three of the dishes we ordered:
There's no service charge on the final bill, but the pesky 7 percent GST still applies. Next time you have a sudden sushi craving; instead of heading down to crappy Sakae Sushi or other budget Japanese restaurant chains offering machine-made sushi, do give Koh Grill & Sushi Bar a try. 🙂
Address: 435 Orchard Road, #04-21 Wisma Atria
Operating Hours: Daily: 11.30am – 10.30pm
Tel: 9180 3805
Technorati Tags: koh grill & sushi bar, patrick koh, singapore sushi, budget sushi, value japanese food, sakae sushi, wisma atria, food republic