After trying out this product for a month, I am proud to say that: I can finally sit back and relax with this self-cleaning robot vacuum. Best of all, I no longer inhale flyaway dust when emptying the robot vacuum!
Ejecting dust from a vacuum cleaner has always been a big pet peeve of mine. No matter how carefully or gently I do it, there will always be some scattering of fine dust in the air, irritating my eyes, nose, and mood. (I have an extremely sensitive nose and am allergic to dust mite.)
Sometimes I'd even have to vacuum again as some of the hair or dust gets accidentally spilled. Do you face the same problem?
Introducing the Samsung Jet Bot+ with Clean Station™! After vacuuming, this robot vacuum will automatically return to its docking station, called the Clean Station™, to empty its bin with no leakage of dust at all.
The whole vacuuming process runs almost entirely on its own, I barely have to lift a finger.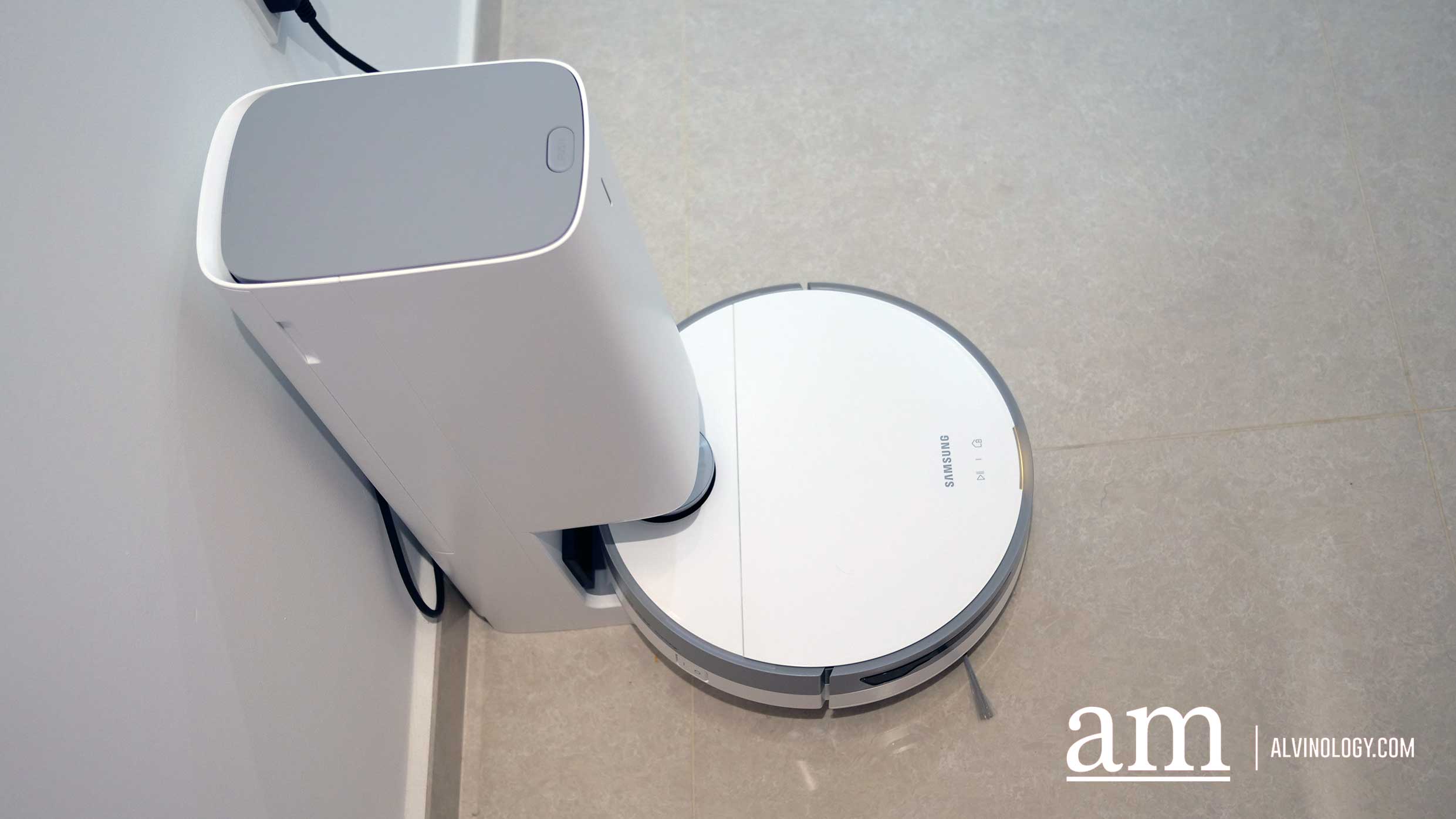 Setting up
Setting up only involves 3 simple steps. All you have to do is unwrap the packaging to peel off the protective plastic stickers, plug in the Clean Station™ to a power point, then dock the Jet Bot+ at the Clean Station™ for it to start charging.
Here is a rundown of the key features of the Samsung Jet Bot+ with Clean Station™:
Samsung SmartThings app
Once charged, you can pair the Jet Bot+ with the Samsung SmartThings app to unlock a whole host of functions such as Select and Go, which allows you to select specific areas for the Jet Bot+ to clean. You can mark out No-go Zones to prevent it from entering and set up cleaning schedules for the vacuum, or even choose whether you want your Jet Bot+ to have a male or female voice. Not to forget, the SmartThings App also allows you to monitor and control the Jet Bot+ remotely anytime, anywhere.
Due to the nature of my work, I am out a lot, and it is really convenient that I can still program my Jet Bot+ to automate cleaning when I'm out, so I can come home to a clean floor. Best of all, I can control it remotely to check on the progress and also switch it off if I need to.
I am also using the SmartThings App to monitor and control a slew of my other home appliances like my Samsung QuickDrive Front Load Washer and Heatpump Dryer. Everything is consolidated in one place for a smart home maintenance – it's like a robot butler!
Self-emptying into its Clean Station™
No need to manually empty the vacuum and breathe in microscopic dust anymore!
Once cleaning is completed, the Jet Bot+ automatically returns to dock itself at the Clean Station™. There, its cargo of dirt, dust, and hair will be emptied automatically the Clean Station, which has a Multi-layered Filtration System that traps 99.999% of fine dust[1] into a dust bag.
Each dust bag can last around 1-3 months[2]. You'll know it's time to replace the dust bag when the light on the Clean Station™ turns red. Not forgetting the automatic dust disposal feature, which makes it hygienic as you will hardly come into contact with the dust collected within the bag.
Each purchase of the Samsung Jet Bot+ with Clean Station™ comes with two disposal dust bags, lasting you up to 6 months. After which, you can also purchase the Dust Bag for Jet Bot+ at 5 pieces for $30 from the Samsung Online Store.
LiDAR Sensor
Jet Bot uses LiDAR ("light detection and ranging") Sensor technology, which is also used in some self-driving cars. It scans the room to gather distance information for precise mapping, even in dim light conditions, and avoids bumping into obstacles.
The Jet Bot easily gets on and off my carpet. It also maneuvers under the sofa well, saving me the need to bend down if I were to do it manually.
Efficient Brush for a better clean
The High-Efficiency Brush cleans carpets and hard floors more effectively as it is made of soft woven textile and anti-static silver threads so it can reach deep into crevices to remove fine dust and dirt.
Have you ever had to untangle stubborn clumps of hair tangled around broom bristles? Glad to share that I don't have to face this unpleasant task as the Jet Bot uses a soft roller brush instead of the more common bristle brush used by other robots in the market. In addition, the soft roller brush also comes with a Self-Cleaning Grinder which breaks down hairs and pet fur into smaller pieces to prevent them from jamming the brush.
Low maintenance & Easy-to-Clean
Maintaining the Jet Bot is simple and hygienic with its detachable and fully washable parts such as the High-Efficiency Brush, dustbin, and filters. They can all be safely removed and washed to keep the robot fresh and clean in tip-top condition.
Availability and pricing
Samsung Jet Bot+ is available on the Samsung Online Store and major consumer electronics and IT stores. Samsung Jet Bot can be purchased with or without Clean Station™, with a recommended retail price of $1,099 and $899 respectively.
Using the Jet Bot+ has saved me a lot of time, I just let it run in the background while I am outside or doing my own things at home. Before using the Jet Bot+, I would feel the need to mop the floor about twice a week. However, since I started using the Jet Bot+, the floor stays grime-free longer and I just have to mop it around once a week.
I would also recommend getting it with the Clean Station™, as that is the biggest draw for me – no need to manually empty the dust bag and hence no more problem of inhaling flyaway dust!
---
[1] Based on internal testing, using Max mode, in accordance with the IEC62885-2 Cl. 5.11 standard. Results may vary depending on the actual home conditions.
[2] May vary depending on the amount of dust in actual home environments.