The million-dollar question for every new homeowner: Which washing machine and/or dryer should I purchase?
I recently moved into a new place and was looking for a good washing machine equipped with smart laundry solutions. With so many washing machines out there in the market, it can be confusing to decide which to choose.
My criteria was very straightforward- must be easy to use, water and energy efficient, and stylish. With this in mind, I looked around the market. Eventually, I was convinced by what Samsung had to offer.
I am now using the Samsung QuickDrive 9.5 Kg, Front Load Washer, 4 Ticks (WW95T) and the Samsung Heatpump Dryer, 9kg, Energy Rating 5 Ticks (DV90T). They are part of Samsung's new QuickDrive washer and dryer line-up launched in 2021.
The 9 to 9.5kg load is perfect for a small family like mine, yet with sufficient capacity to wash and dry larger laundry items like bedsheets and quilt covers. Being a tech geek, the smart home and AI features also drew me to these two models.
It's also my first time using a dryer. Why did I get a dryer when Singapore is hot enough to air-dry clothes most days?
Two words- convenience and space. Convenience – no need to hang clothes one by one to dry. Space – no need to share the precious space on my balcony with a bulky drying rack to hang the clothes.
Here's my experience so far and the seven reasons why I picked Samsung. Hopefully, this will be useful as you consider which washing machine or dryer to get.
1. Save water and energy with the Q-Drum technology
With sustainability becoming a major concern among consumers these days, I would like my washer and dryer to be energy and water efficient. Samsung's QuickDrive washers and Heatpump dryers addressed that as they are certified to operate at the greatest levels of water and energy efficiency.
QuickDrive washers earned a 4-tick rating under PUB's Water Efficiency Labelling Scheme, while the Heatpump Dryer received a five-tick rating under NEA's Mandatory Energy Labelling Scheme and Minimum Energy Performance Standards.
In addition, thanks to Q-Drum technology, washing time is easily reduced by up to 50% and energy consumption by up to 20%. If I'm in a rush, I will utilise the Super Speed cycle to complete the laundry in approximately 39 minutes.
For dryers, I would recommend to choose an energy-efficient one that has a higher number of ticks on its energy level.
With 5-ticks, the Samsung Heatpump Dryer can save you about $147 in annual electricity bills (based on electricity cost of $0.27 per kWh of electricity, used 3 times per week) compared to a typical 1-tick clothes dryer. This is all thanks to Heatpump technology of using a "refrigerant" rather than electricity to generate heated air. Additionally, heated air is also recycled to avoid energy wastage. Heatpump dryers are known to be the most energy-efficient compared to other dryers and are gentler on clothes too.
Although I may pay more upfront, getting a five-ticks model lowers my monthly electricity bill and saves me more over the long term, plus I am also doing my part for a greener earth.
2. Smart wash cycle with powerful AI functions
With four built-in sensors, the Samsung QuickDrive's AI Wash Cycle performs all the thinking for my family. It can determine the optimal amount of water, detergent, and rinses our laundry depending on dirt level and the weight of our clothing. How amazing!
It does not end there. The stylish AI Control Panel display on the machine also learns and remembers our most frequently used wash cycles and settings. This eliminates the need to memorise previous selections and reselect everything all over again when we do our laundry.
This is an extremely useful feature for laundry idiots like myself who don't know how to navigate through all the different wash cycles available – such as those tailored for bedding, delicates, towels and synthetics, on top of basic cycles.
In fact, the AI features make laundry so easy that even my 10-year-old son, Asher, can now do the laundry himself!
If you prefer to choose the wash or dry mode yourself, there are several options to choose from:
3. Has Wi-Fi Smart Controls
The geek in me loves being able to program and control my washer and dryer using my mobile devices and Google Nest Hub.
By syncing up the washer and dryer with the SmartThings app and the Google Home app, I can control both of their settings such as scheduling my wash, and monitoring my machine's condition from my mobile phone, anytime, anywhere, even when I am on-the-go.
I can even use voice activation on my Google Nest to control them.
How nifty is that!
I like my laundry fresh when I open my washing machine door after a wash. With the app control, I am able to program the wash to start only about two hours before I knock off from work so that the wash cycles will be completed, and ready to be transferred into the dryer once I'm home.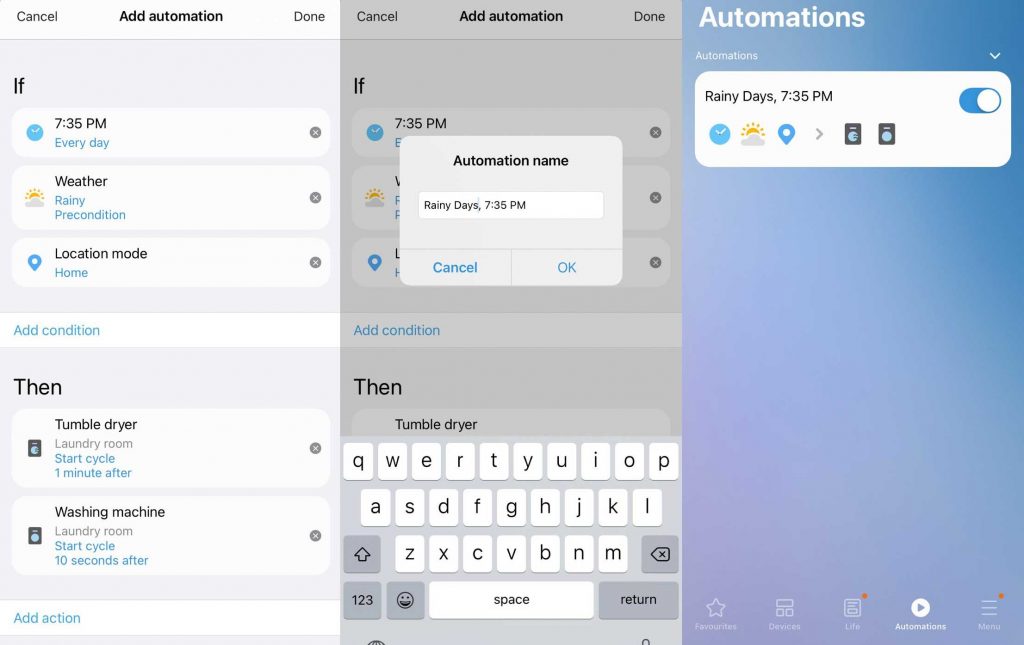 Thanks to the Auto-Cycle Link function, I'll be able to move my clothing to the dryer without having to fuss with the settings too. The washer and dryer are in-sync, allowing the dryer to automatically recommend a suitable cycle.
4. User-friendly design and sleek minimalist aesthetics
The washing machine and dryer are both similar in design, which makes for a matching and aesthetically-pleasing duo. Both feature a turn-knob for choosing the type of washing or drying cycle suitable for each laundry load, and a sleek metallic touch-screen pad to turn on and off the machines. Oh, I almost forgot to mention this- the machine is "bilingual" in English and Mandarin too. Super intuitive to use!
A cute design is how the machine will greet me with a "Hello!" on its screen whenever I switch it on. Also, an upbeat tune will be played whenever a load is completed.
Both are compact in size, measuring W600 x H850 x D600 mm. They will fit easily into any home, even newer Build-to-Order (BTO) flats which typically have smaller service yards. If you are getting both the washer and the dryer, you can stack them together to optimise space.
5. Pre-load a month's worth of detergent and softener
I like how convenient the Auto Detergent Dispenser function is. I just pour up to a month's worth of detergent and softener into the dispenser, and the washer will automatically dispense the right amount for each wash cycle. This takes away the trouble of having to pour out detergent and softener each time. Who hasn't been annoyed by accidentally pouring too much or spilling the detergent onto the floor or on their hands? I know I have.
6. Add remaining clothing any time
Who hasn't started a load of laundry only to realise that you have forgotten to add in a piece of clothing? Again, I know I have. Hence I appreciate the AddWash Door – I can throw in forgotten items or rinse-only materials if needed even when the machine is already in use. This saves me water and electricity because I don't have to start another cycle for the forgotten item(s). It also saves my mood because I won't get annoyed by my scatterbrain.
7. Sanitising clothes for peace of mind
Keeping the best for last. One of my favourite features is the Hygiene Steam. It releases steam from the bottom of the washer drum to saturate every laundry item. This helps to remove ingrained grime and up to 99.9% of bacteria[1] and allergens[2].
Given the recent heightened awareness on hygiene and cleanliness due to the Covid-19 global pandemic, I like having my laundry as sanitised as possible.
Overall thoughts
A washing machine and dryer are definitely long-term investments that I definitely want to use for a decade or more (the washer comes with an 11-year warranty for the motor! And the dryer comes with a 2-year warranty!). The best thing about opting for more premium models is the water and electricity savings you get down the road, and the peace of mind knowing short of handwashing each item individually, my clothes are well taken care of by the machines to maximise their longevity.
Promo code
The Samsung QuickDrive, 9.5 Kg, Front Load, 4 Ticks (WW95T) costs $1,399, and the Samsung Heatpump Dryer, 9kg, Energy Rating 5 Ticks (DV90T) costs $1,699.
From now till 24 July, use promo code QUICKDRIVEAL5 to get 5% off QuickDrive washers and Heatpump dryers from the Samsung Online Store. You can key in the code on the check-out page. While stocks last!
---
[1] Based on the Intertek test report for the Hygiene steam course. Removes 99.9% of certain bacteria, including Staphylococcus aureus and Escherichia coli. Individual results may vary.
[2] Based on The British Allergy Foundation (BAF) test report for the Hygiene Steam course. Removes allergens derived from house dust mites.