Doing last-minute shopping for a stay-home Christmas feast?
Check out this Christmas feast guide, compiled with deals and promotions from Cold Storage, Giant and NTUC Fairprice.
Cold Storage
Feast Better Together with Cold Storage
For your stay-home feast, Cold Storage has a range of food options that you can order home for self-preparation. Start preparing impressive feasts with show-stopping dinner centrepieces such as the Butterball Roasted Turkey, Whole Gammon Bone-In Ham, and Ribeye Roast Beef.
Whipping up family recipes? Choose from a variety of the freshest meats and seafood to start your culinary adventures. Create seafood sensations with Fine de Claire Oysters and Fresh Boston Lobsters or satisfy your meat cravings with Angus Grass-Fed Beef Tomahawk steaks.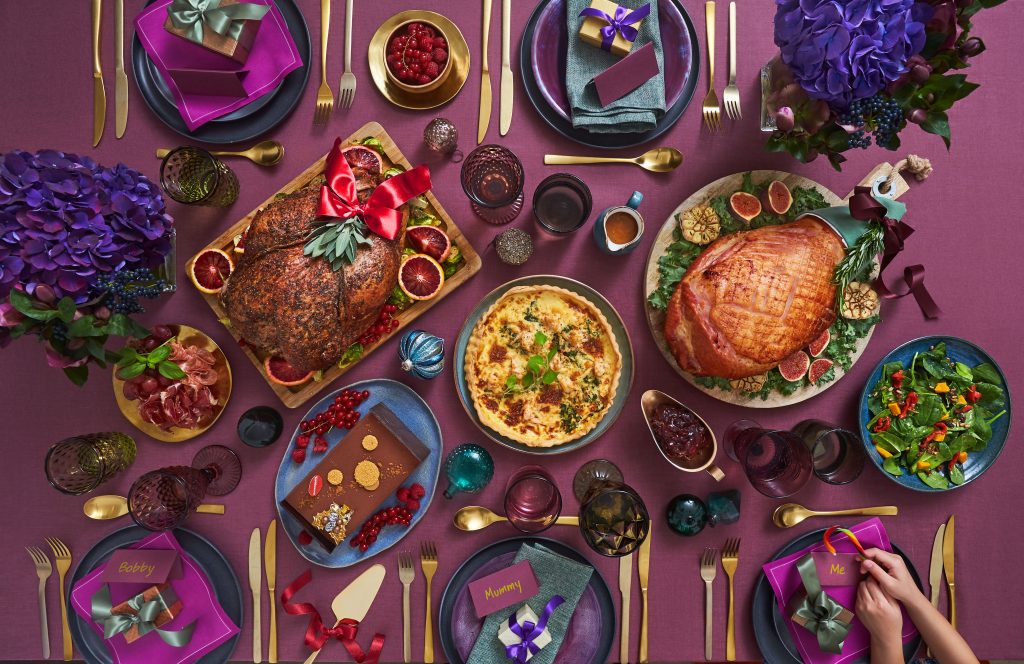 This festive season is the perfect opportunity to bring together people from all walks of life and diets. Halal, vegetarian, or just health conscious, choose from all-inclusive wholesome selections in Cold Storage Christmas Food & Gift Guide. Look out for an array of halal dishes ranging from the Roasted Rosemary Bone-In Lamb Leg and Rosemary Roasted Chicken with Chestnut Stuffing. Indulge in guilt-free dishes with the IMPOSSIBLE Mushroom Pot Pies with White Cream Sauce, Vegan Truffle Chocolate Cake, and much more.
In addition, Cold Storage is giving us all the compliments of the season, with their complementary sides. Be enticed by an assortment of entrees that include Beef Ragout with Mushrooms, Red Wine Sauce & Mashed Potatoes, Signature Salmon Coulibiac and Creamy Mashed Potatoes with Truffle Infusion. Hit the sweet spot, and complete your meals with classics like the Christmas Chewy Chocolate Log Cake and Ultimate Christmas Rum Fruitcake.
In need of gift ideas this Christmas? Dive into the temptation of sweets and treats with the Meadows Belgian Chocolate Seashells and the Elizabeth Shaw Milk & Dark Chocolate Biscuit selection.
Indulge in the decadent Ferrero Rocher Ice Cream or dig into fruit cake selections by Whittings Christmas and St. Remy, as well as the Waitrose Gluten Free Mince Pies.
UOB Cardmembers can enjoy even more savings this year-end at Cold Storage. Spend a minimum of $60 and $80 to receive $5 and $10 return vouchers respectively at Cold Storage, CS Fresh, Market Place, Jasons and Jasons Deli, while stocks last.
Browse the Cold Storage Christmas Food & Gift Guide here.
Giant
Little Joys, Giant Celebrations With Giant
Value retailer Giant launches its "Little Joys, Giant Celebrations" Christmas campaign to make a Giant difference to your festive celebrations with mouth-watering offerings to meet all your festive grocery shopping needs.
As part of the celebrations, Giant is presenting Singapore's tallest supermarket Christmas wishing tree at the Giant Tampines Hypermarket, inviting customers to make a 'wish' for the season. In the spirit of Christmas, for every wish submitted Giant and UOB will be donating $2 to Children's Wishing Well, a non-profit organisation supporting children and youth from low-income families nationwide.
Giant's ange of festive menu items this year ranges from whole turkeys, Banjo Shoulder Bone-In Hams, Spanish Iberico Jumbo Pork Ribs to Ribeye Roast Beefs and an assortment of delicious entrees.
For those looking to order a ready feast, Giant has curated a Hearty Holiday feast that serves 6-8 pax at only $90. This feast includes Rosemary Roast Chicken with Chestnut Stuffing (2.2kg), Honey Turkey Ham (2kg), Smoked Garlic Chicken Sausages (200g), Ribeye Roast Beef with Italian Herbs (800g) and Brown Sauce (300ml).
Looking to decorate your house with a new Christmas tree? Giant have you covered in all sizes ranging from mini 30cm ones to ones as large as 210cm. Giant is also also carrying an assortment of wrapping paper and plush toys to accommodate for any last-minute Christmas gift ideas.
The full Giant Deals and Feast catalogue can be viewed here.
List of Giant stores where you can order your Christmas deals and feast.
NTUC FairPrice
A Precious Christmas To Share With NTUC FairPrice
This year, NTUC FairPrice has rolled out an exceptional range of festive offerings, seeking to provide a one-stop Christmas grocery shopping experience for customers.
Besides the must-have offerings such as roast turkey and honey baked ham, there are over 10 halal options, as well as more than five plant-based "meat" offerings to cater for various dietary needs. Some highlights include:
FairPrice Supermarkets & Xtra Hypermarkets


Classic Combo ($82.00)

The Traditional Roast Turkey is left overnight to achieve a thorough brine and then seasoned evenly with a house blend of aromatic spice rub. Then, into the oven it goes for 6-8 hours of slow roasting to achieve the perfect crispy skin, juicy and tender meat. As if that is not enough, it comes with fragrant chestnut stuffing, as well as a sweet-tart cranberry sauce for dipping.

The German Pork Knuckle is marinated for 24 hours, allowing the aromatic spice blend to permeate every inch of the meat. It is then roasted in the oven to achieve a crispy, lightly charred, and savoury crust. The meat slides off the bone. Accompany it with the gourmet sauce, which packs an umami kick.

The Honey Baked Ham is a must-have item at any Christmas party. Sweet tasting and perfumed with the aroma of honey, it offers a refreshing bite of indulgence.
Free Range

5kg Gammon Ham (Bone In, before roasting) ($85.40): Looking to impress loved ones with your fine culinary skills? Experiment with different flavour pairings for this gammon ham — the classic honey glaze does not disappoint or go with a soy-ginger marinade for an Asian twist.

1.8kg Honey Baked Ham ($24.80): The mouth-watering ham is pre-sliced for fuss-free individual servings that also makes for a gorgeous centrepiece for any charcuterie board.

Sausage Platter ($33.90): Enjoy a trio of German pork sausage, pork cheesy sausage and Italian pork sausage with this platter!
Meatless Grandeur

Growthwell Plant-based Seafood Chowder Gratin 1KG ($29.90): Delicious plant-based prawn and squid made from Konjac, baked with a creamy and cheesy sauce for a rich and indulgent Christmas dish.

Impossible Plant-based Lasagne 1KG ($39.90): A traditional beef lasagne made with meat-free beef that is good for you and even better for the planet!

Impossible Plant-based Beef Quiche 550G ($39.90): This hearty quiche is filled with savoury plant-based beef and egg. Delicious, nutritious, and best of all, with a taste and mouthfeel just like the real deal!
Supreme Delight Set ($38.00)

Truffle Pork Ribs 1.2KG (before roasting): The ribs are marinated overnight, before being coated with a special sauce and barbecued to a smoky finish.

Helix Pork Sausage +-450G: The flavourful pork sausage, juicy with every bite, is coiled into a helix for a beautiful presentation.
Gourmet Deluxe set ($69.90)

Sous Vide Stuffed Chicken Breast with Gourmet Sauce (6pcs) 200g/pcs before cooking: Fork-tender chicken breast seasoned with mild spices, then paired with a hearty chicken chipolata stuffing and gourmet sauce that will excite your palate.

Christmas Spiced Rub Roast Chicken with Gourmet Sauce 1.4kg before roasting: The whole chicken is hand-rubbed with a special spice blend, then roasted to golden-brown perfection.

Mac & Cheese 1kg: This all-time favourite dish is a hit amongst both children and adults alike. The combination of cheeses, layered in the dish as well as melted into a rich and creamy sauce, is sure to bring utter bliss to turophiles.
Festive Gifting (Available at FairPrice Xtra Hypermarkets)

Rolife DIY – Music Box For My Dear / Christmas Town ($29.90) What better way to spread the festive cheer than with the tinkling sounds of joyous music, a harmony that warms the heart accompanied by an exquisitely charming wooden music box that makes for a wonderful showpiece.

Mini blocks – Christmas House Music Box / Christmas Tree Music Box ($29.90) Build a magical Christmas wonderland at home together with the little ones! A highly interactive Mini Blocks like no other, covered with beautiful ornaments and decorations.
FairPrice Finest
Christmas Extravagance

Swiss Butchery Christmas Set A ($148.00): It is the most wonderful holiday of the year and time of happiness towards everyone! Swiss Butchery delights with a Christmas feast for two or a hearty fiesta for the whole family. Fill the table with a tender and flavourful Roasted Whole Turkey (4 – 4.5kg before roasting), Pork Chestnut Stuffing 500g, Honey Baked Ham 800g, Spicy Italian Pork Sausage 120g x 5pcs with a twist of our festive Cranberry Sauce 300g.

Swiss Butchery Christmas Set B ($58.00): An exceptional feast by Swiss Butchery, one of Singapore's pioneering butchers since 1995. Ring in the Christmas festivities on a high with two classic 1kg (raw weight) birds marinated with a delightful honey glaze, the smoky goodness of Honey Baked Ham 800g, and Spicy Italian Pork Sausages 120g x 5pcs that serves 4 – 5 persons.

Udders Cookie Crumble Pie ($79.00/$99.00 per bundle): Ho ho ho! Indulge in Udders' signature Cookies & Cream ice cream on top of a hand-made chocolate cookie crust and decorated with extra festive toppings. Pie-fect for the jolly Christmas season!

Arden & Amici Classic Panettone ($9.90): A beautiful Italian baked treat that is never anything less than a delight to eat! Italian Panettone made with luscious butter and baked using an age-old traditional recipe using a mother dough that has been lovingly nurtured for generations.

Undercover Crispy Quinoa Dark Chocolate & Peppermint ($5.85): A limited-edition treat, these gluten-free and allergen-friendly snacks support guilt-free holiday munchies, especially as the treats are lower in calories and sugar. The premium chocolate products are also created for those with food sensitivities, as they are made without wheat, peanuts, tree nuts, eggs, soybeans, fish, shellfish, sesame, and poppy seeds.

Serious Popcorn Maple & Cinnamon 100g ($4.45): Sugar and spice and all things nice, discover the new Serious Maple and Cinnamon popcorn. The iconic popcorn uses organic and non-GMO corn drizzled with organic maple syrup (the good-for-you, sweetener) and dusted with cinnamon, cardamom & nutmeg, for a hint of festive spice. Meet your perfect stocking stuffer for the silly season!

Beerenberg Cranberry Sauce 175g ($4.15): A time-honoured traditional sauce often served with succulent roast poultry not just for the upcoming festivities, but all year-round with a taste that stands the test of time.
The full NTUC FairPrice Christmas catalogue can be viewed here.