Shopee closes out the year with its annual 12.12 Birthday Sale, the most joyful year-end celebration in the region. This year, 12.12 is set to bring a smile to users as they shop from the widest variety of products to reward themselves and their loved ones during the happiest time of the year.
Users can look forward to $200,000 total worth of prizes to win every 2 hours on 12 December (prizes includes $12,120 Cash, PS5, $120 off no min. spend Shopee Vouchers & more), $60 cashback all day and Daily Midnight 50% Off Flash Deals.
Key highlights to look forward to from now till 12 December include:
Daily Midnight 50% Off Flash Deals (30 Nov to 15 Dec)
Grab 50% off daily deals on brands such as OSIM, Logitech, Sulwhasoo, LEGO. Do not miss out on these Midnight Flash Deals happening from 30 Nov to 15 Dec, 12am to 2am only.
#ShopeeGivesBack x Shopee Farm (1 – 25 Dec)
The season of giving is upon us and in that same spirit, the 2nd edition of #ShopeeGivesBack x Shopee Farm is back!
Users can spend 10 coins to plant a seed on Shopee Farm and water the plant until it reaches harvest stage to win prizes:
Shopee coin or Shopee category vouchers
$50 Shopee vouchers x 20 winners
12.12 Birthday Sale (12 Dec)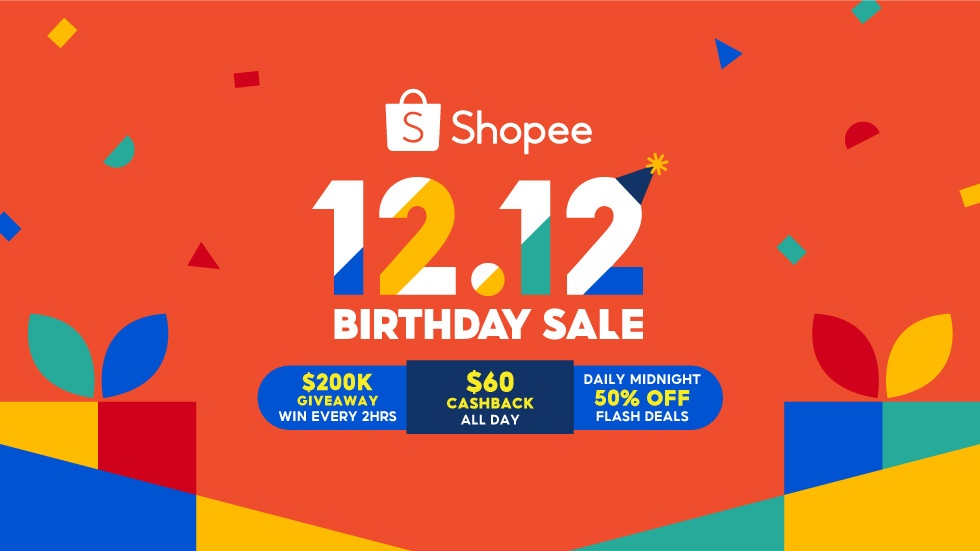 $200,000 worth of prizes on 12 Dec, released every 2 hours. Shop every 2 hours to get 1 chance per $1 spent to win each prize. Prizes include:
$12,120 Cash
PS5
$120 off no min. spend Shopee Vouchers & more
Get $60 Cashback All Day for everyone:
Unlimited and available all day, guaranteed for all users on 12 Dec (1 use per voucher)
Stack with shop vouchers for bigger savings
Crazy Flash Sale (12 Dec)
33 Refreshes only on 12 December. Key timings to take note of:
12am: Midnight Rush Hour
1am: Rush Hour
10am, 1pm & 6pm: $0.10 Flash Deals Relay (refreshed every 10 mins)
12pm: Lunchtime Rush Hour
2pm: Bubble Tea Rush Hour
5pm: Christmas Gifting Hour
8pm: Happy Booze O'Clock
11pm: Last Chance Rush Hour
12.12 Super Big Brand Discounts (12 Dec)
Shop from over 2,000 deals on big brand discounts on 12 Dec, up to 80% off.
$12 Super Deals:
Limited quantity attractive products to be sold at $12 only!
New deals released at 12am, 12pm, 4pm, 8pm
Set your reminders from 30 Nov on the Big Brand Discounts' page now
Big Brand Discounts x Citibank Vouchers – $10 off min. spend $150 vouchers released on 12 December.
24-Hour Non-Stop Brands Flash Sale (12 Dec)
Enjoy up to 90% off over 350 authentic brands on Shopee Mall. Featuring brands such as Dyson, Xiaomi, Pampers & more!
Mega Tech Expo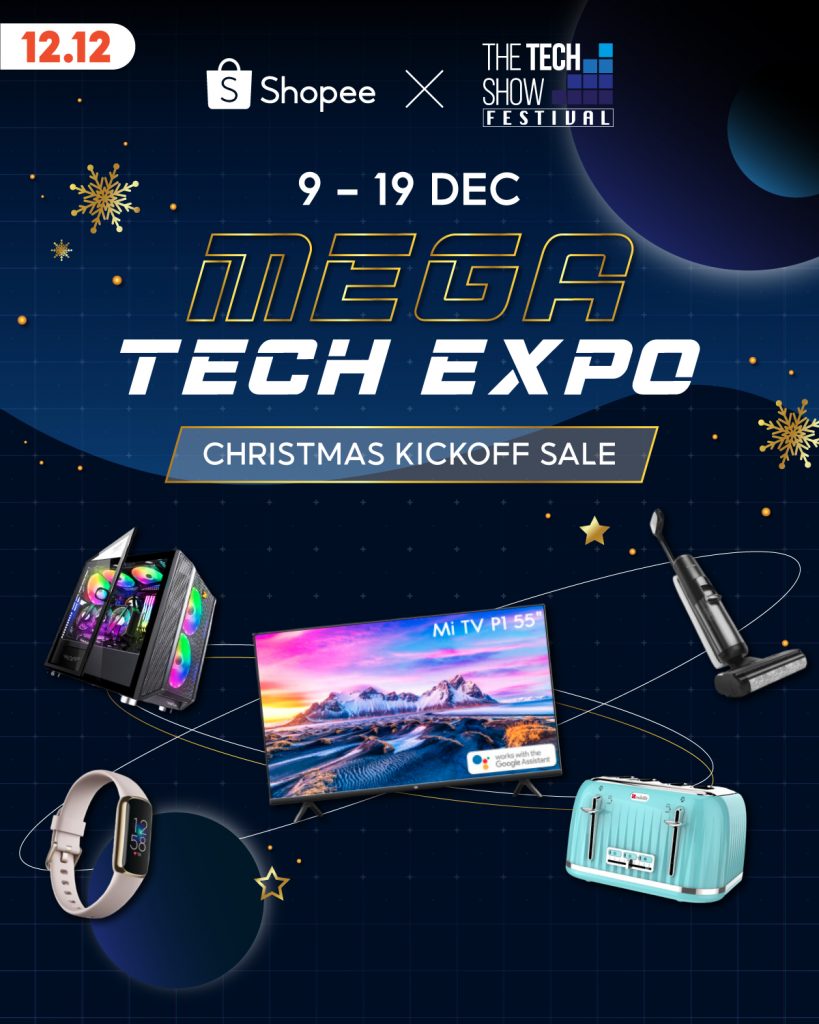 Daily Slashed Prices – Enjoy upsized discounts on 100% authentic electronics products from popular brands such as Samsung, POCO, Logitech, Microsoft and many more
Limited Time Super Deals – Enjoy big savings of over 30% off on selected electronics
$1,000 worth of vouchers up for grabs – Claim up to $100 off flash vouchers at 12am, 10am, 12pm, 6pm & 10pm. Check-in daily to stand a chance to win a $20 no min. spend voucher.
$0.10 Mega Surprises – Stand a chance to win electronics prizes worth over $300 daily with only $0.10!
See more details of the Mega Tech Expo here.
Best Deals on New Moon & Kinohimitsu (12 Dec)
New Moon:
Stand a chance to win a FREE 2D1N Staycation with Andaz Singapore worth $390
Claim up to 70% off + $12 off voucher only on 12 Dec!
Featured products: Abalone in Brine, Premium Braised Whole Abalone, Bird's Nest with Collagen Strips, Bird Nest with White Fungus
Kinohimitsu:
Shop Kinohimitsu's Abalone launch on Shopee with exclusive prices
Claim up to 75% off + $35 off voucher and enjoy 1-for-1 deals on best-sellers
Featured products: Essence of Chicken with American Ginseng & Cordyceps, Collagen Diamond, Abalone in Braised Sauce, Detox Enzyme
Luxe Beauty Sale (12 Dec)
Exclusive vouchers worth $10 and $12 for all users and Beautyholics members. On selected mall stores such as Laneige, Sulwhasoo, Skin Inc, FOREO, Kosé, ELEMIS and many more!
Stack this voucher with their shop voucher for extra savings!
12.12 It's a Brand Box Party! (12 Dec)
Up to 90% off best-selling brand boxes at $12, $30, and more! Check out limited editions and gift sets perfect for the festive season, such as from Samsung x Star Wars, Skin Inc, Foreo x Logitech, WHO.A.U, and more.
Buy any 2 brand boxes and get a chance to win a private Skyline Cruise experience worth $1,618.
Shopee Supermarket Grocery Bash (12 Dec)
Up to 82% off on year-end deals, best prices guaranteed!
Upsized vouchers – Claim 18% cashback vouchers released at 12am, 12pm, 6pm & 10pm
$0.99 Galore – Snatch themed $0.99 hot deals refreshed at 12am, 8am, 12pm, 6pm & 10pm
20% OFF Bundles Relay – Shop your bulky & heavy items from the convenience of your home! Refreshed 12am, 8am, 12pm, 6pm & 10pm
Members Exclusives – Join Shopee Supermarket Membership for free to enjoy exclusive prizes & giveaways! Earn points as you spend and be rewarded!
Global Food Fair – All-day food fair from your favourite destinations (Korea, Japan, Taiwan, China & more!)
12.12 ShopeePay Brands (30 Nov to 15 Dec)
Enjoy up to 99% off from these 12.12 ShopeePay Brands!
Exclusive Plat+ partners ($3 OFF): Milksha, Fragrance, Haagen Dazs, Yi Fang Bubble Tea, Mustafa, Jollibean, Xing Fu Tang
Plat ($2 OFF): ARTEA, Boost, Wingstop, Udders, Wingstop, I love Taimei, Tuk Tuk Cha, and Canadian Pizza
Gold ($1.50 OFF): Ramburger, BreadTalk, Toast Box, Thye Moh Chan, Old Chang Kee and more
Silver ($1.25 OFF): Play Gelato, Potato Corner, Sunlife and more!
New Merchants: Little Caesars Pizza ($2 OFF), Yi Fang BBT ($3 OFF).
12.12 ShopeePay Rewards (30 Nov to 12 Dec)
Top-up a minimum of $8 to your ShopeePay wallet with PayNow or transfer a minimum of $8 to win upsized prizes worth up to $4,000.
ShopeePay x Shopee Birthday Bash (1 – 12 Dec)
Look out for ShopeePay missions in Shopee Birthday Bash, and complete the missions to level up your Birthday buddy!
12.12 ShopeePay Sale (10 Dec)
$0.01 Scan & Pay Vouchers from top merchants like Fragrance, Jollibean, Boost Juice and Wingstop
Thematic Crazy Flash Sale at different timings throughout the day (12am, 9am, 12pm, 3pm, 6pm, 10pm)
Upsized $4 OFF New Buyer Exclusive Scan & Pay Vouchers – Look out for Category Scan & Pay Vouchers where users can expect to find vouchers to offset their total payment at popular brands for Bubble Tea, Bakery and Fei Siong Group!
ShopeePay Flash Cashback Vouchers, 20% (capped at $10), released at 12pm and 6pm
Over 50% off deals, Flash Sale
Hero bestselling scan & pay vouchers from top merchants restocked at 12pm & 6pm
12.12 Upsized ShopeePay Rewards (10 & 12 Dec)
Stand to win bonus ShopeePay Scan & Pay vouchers when you top-up min. $8 with PayNow or transfer min. $8 only on 10 Dec (ShopeePay Sale) & 12 Dec (Birthday Sale). 100 lucky winners will be selected at random and notified via push notifications.
12.12 Birthday Sale (12 Dec)
$0.01 Scan & Pay Vouchers from top merchants like Häagen-Dazs, Milksha, Toast Box and Canadian Pizza
Thematic Crazy Flash Sale at different timings throughout the day (12am, 8am, 12pm, 2pm, 6pm, 10pm)
Upsized $4 OFF New Buyer Exclusive Scan & Pay Vouchers at top merchants Nam Kee Pau, Boost Juice and Bengawan Solo
Over 50% off deals, Flash Sale
12.12 exclusive items
ShopeePay Upsized PayNow Rewards – Receive 1 Shopee coin with every $2 top-up to your ShopeePay wallet using PayNow
#ShopeeGivesBack
From 1 Dec – 25 Dec, donate to Garden City Fund and be the top 100 donors to win $12 Shopee vouchers. Plant a Shopee Giving Tree on Shopee Farm to donate or donate directly to Garden City Fund on Shopee.
Visit the 6 Shopee Giving Trees at Singapore Botanic Gardens from 4 Dec – 2 Jan!
Made With Passion – Win $100 Shopee vouchers
From 25 Nov – 25 Dec, spend on participating Made With Passion brands on Shopee and be one of the 50 lucky winners to win $100 Shopee vouchers each. Get 1 chance with every $1 spent, and 2X chances on 12.12. New Shopee users get 12X chances on their first purchase.
Pick an array of specially curated gifts and enjoy 20%-50% off. Gift the doob Bean Bags to friends and see their eyes light up, or opt for intrinsic accessories from SK Jewellery and RISIS for that special someone.
Catch your favorite brands in action via Shopee's livestreams and win exciting vouchers and hampers giveaway worth more than $200.
Tiger Brokers – Win Free Apple Shares Everyday
From 29 Nov – 31 Dec, catch the falling Christmas icon, earn points and redeem more than $240k worth of prizes on Tiger Brokers. Prizes include free Apple shares, 20% off Disney, Apple and Twitter shares vouchers and $5 Shopee vouchers.
Bata Singapore
Spend $50 in-store at selected Bata outlets to get a limited edition Shopee x Bata umbrella and a gift card.
SPC – Spot & Win 12.12
Spend $50 on SPC fuel from 22 Oct – 12 Dec and receive your Shopee x SPC decal at SPC stations. Head down to SPC stations on 12 Dec and get spotted! The lucky 15 winners spotted with the decal stuck on their car will walk away with $100 Shopee vouchers and $100 SPC vouchers.
Check Shopee's IGS on 12 Dec for hints on which SPC station we'll be at for the spotting.
Plus, stand to win a month's worth of SPC fuel with just 1 Shopee coin on Shopee Coins Rewards from 15 and 16 Dec.
Shopee x EZ-Link – Redeem over $100k worth of Shopee vouchers on the EZ-Link app
From 1 Sep – 15 Jan 2022, users can exchange their EZ-Link in-app points for Shopee vouchers AND/OR for a lucky draw ticket to win $50 Shopee vouchers. 9 winners will be picked.
Bank Partners
Enjoy up to $20 off on 12 December with UOB, Citibank, DBS, DBS PayLah!, HSBC, ICBC, Maybank, OCBC, OCBC FRANK and Standard Chartered Bank. Checkout with your Visa Card and get an additional $2 off. Start claiming the vouchers from 7 December, and utilise them on 12 December.
UOB One Card – Enjoy up to 10% rebate on Shopee as well as up to $6 off Shopee Supermarket products. Apply for a UOB One Card now and get $100 Shopee Vouchers.
What's more, check out the following card promotions for further savings:
Get $10 off on Big Brand Discount items with your Citibank Card
Get $15 off on selected items with your HSBC Visa Platinum Card, only for Mum's Club members
Get up to $20 off in the Beauty category with your Standard Chartered MasterCard
Get $10 off on Shopee Mall items with your UOB Lady's Card
Additional key deals available during 12.12 Birthday Sale on 12 December:
Nintendo Switch OLED Console White/Neon Bundle (Local Warranty) – $539.00
Razer BlackWidow – Mechanical Gaming Keyboard – $93.00
Mayer 3L Air Fryer MMAF3000 Shopee Exclusive – $48.00
SK-II Pitera™ Essentials Facial Treatment Essence – $159.00-$268.00
Fresh HY 4-in-1 Laundry Capsules 60pcs x 2 Boxes – $29.80
LA MER The Eye Concentrate (15ml) – $194.40
BRAND'S Essence of Chicken Original – $41.60
Drypers Drypantz Carton – $36.95
For more information about Shopee 12.12 Birthday Sale, visit here.