Singapore Discovery Centre (SDC) finally unveils the launch of Sandbox, the refreshed Lower Gallery experience at its Permanent Exhibits Gallery. The centre first began its rejuvenation plans in 2019 with a centre-wide refresh of its attractions to enhance its appeal to youths and families.
Admission to this exhibition is FREE for Singaporeans and Permanent Residents (PR). For foreigners, it is priced affordably too! It costs just $10 for adults, and $8 for children.
Embracing an immersive, engaging story-telling approach, SDC embarked on a major overhaul of its two-storey Permanent Exhibits Gallery (PEG).
With the mySDC app, visitors can engage in an engaging AR experience with gamification elements, and by scanning the QR codes at various points as they walk through the gallery.
New features have also been recently introduced to the app, including experiencing SDC's evolution over the past 25 years with an interactive wall feature and the function to take fun snapshots with customised avatars.
Through the Lens of Time
Through the Lens of Time highlights the sharp need to defend and protect the country and its future, setting the context of why and how we must defend what is uniquely Singaporean and ours.
The Beginnings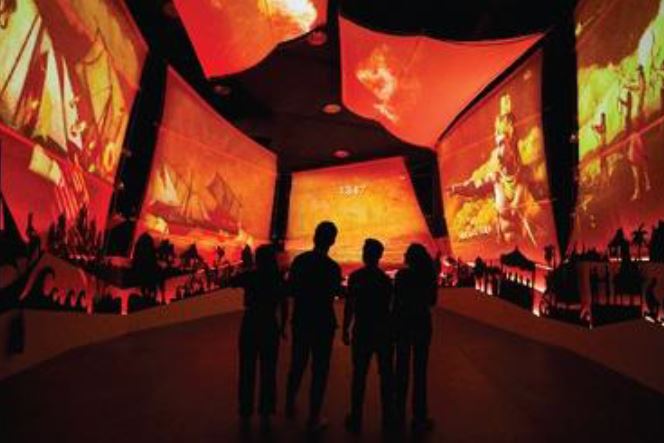 Upon entering the gallery, get transported back in time and be treated to an epic multimedia experience that traces the history of early Singapore through a new lens. Set sail on the visual journey from our beginnings as a thriving maritime emporium to a British colonial port.
The Turning Point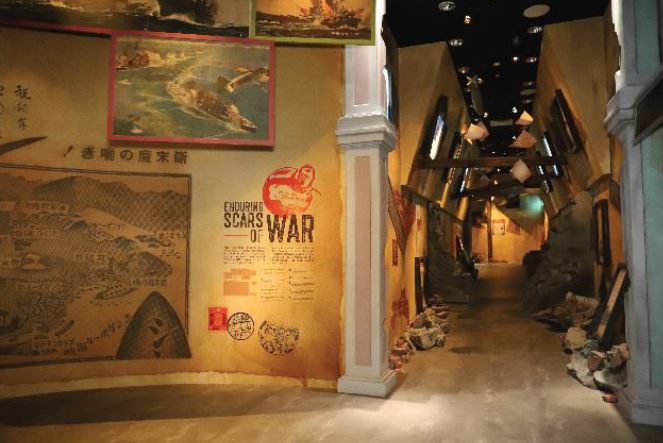 A section on life in Singapore during WWII provides a glimpse into stories of courage and resilience amid the overwhelming hardships of war.
Against All Odds
A larger-than-life installation of the Merdeka Fist sets the stage for Singapore's tumultuous post-war years and the challenges we had to overcome on our road to independence.
Building Our Foundations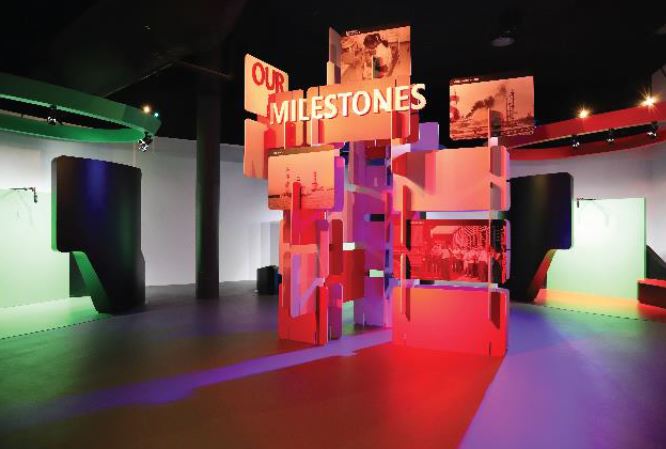 Revisiting the milestones in Singapore's developmental years, take on the role of a reporter to discover how Singapore forged ahead to build its economy and make its mark on the global stage.
Particles of Change
See how we each have the power to make an imprint in our own way through this digital interactive.
Shifting Sands
Glimpse into how you can shape, discover, experiment and make an imprint on our present and future in this short film.
L1: Strength of Our Nation
Find out what it takes to remain resilient with the foresight and resolve to face the future. Through multi-sensory stories and immersive interactives, visitors can learn more about how Singaporeans from all walks of life contribute to the nation's defence in their own capacity.
Why Me? (Introduction Video)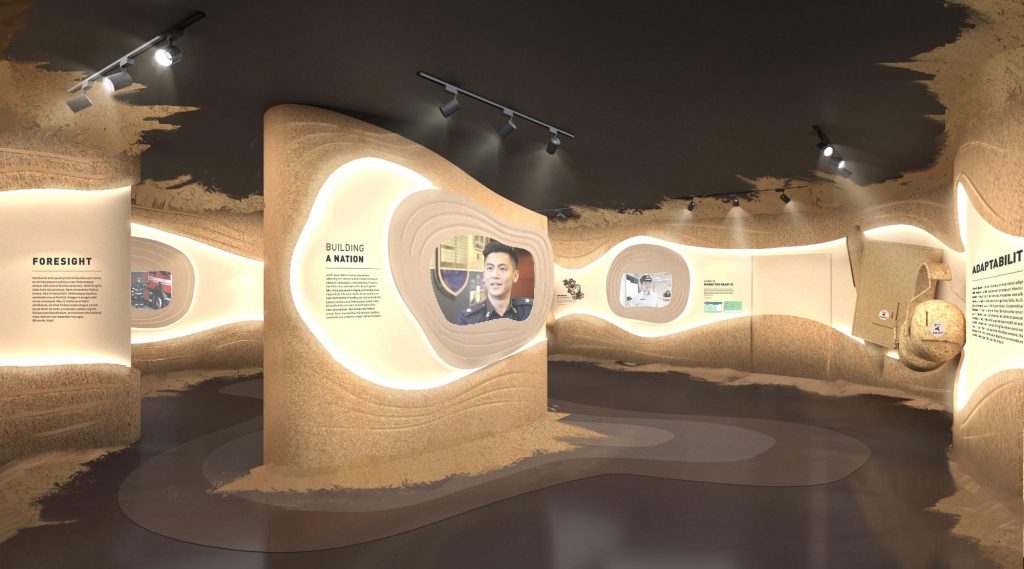 In this short film, look through the perspective of a Singaporean youth and find out why he and all Singaporeans matter in Singapore's defence and security efforts.
Bedrock of Our Nation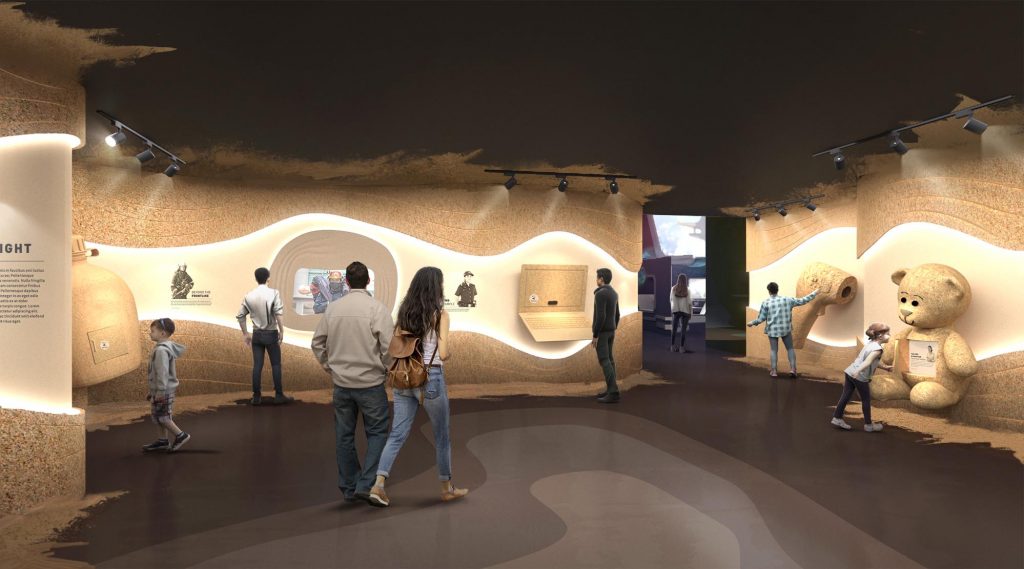 Discover 30 multi-sensory stories and explore how resilience, adaptability and foresight are crucial as our nation stays vigilant in our fight against evolving threats.
Situation Room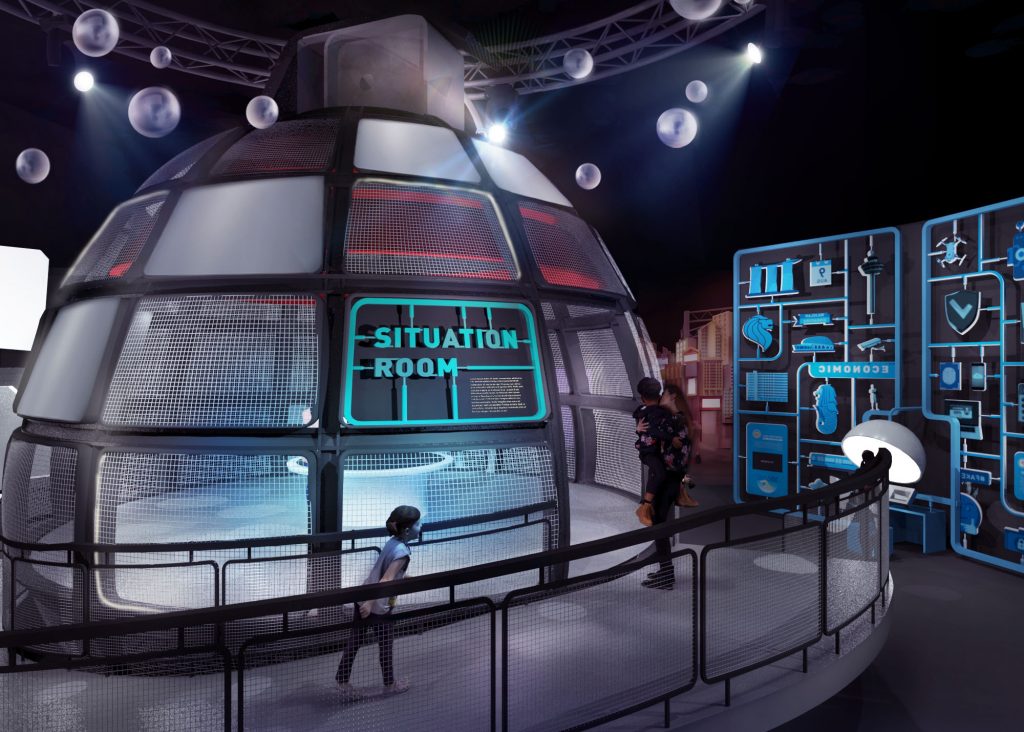 In this situation-based interactive game, be part of a team of key decision-makers and devise strategies to counter complex threats, like geo-strategic conflicts, as well as virus and disaster outbreaks.
Training Days
Discover more about how Singapore strengthens its defence on land, in the air and at sea through video pods that showcase the Singapore Armed Forces' training sessions.
A New Way to Defend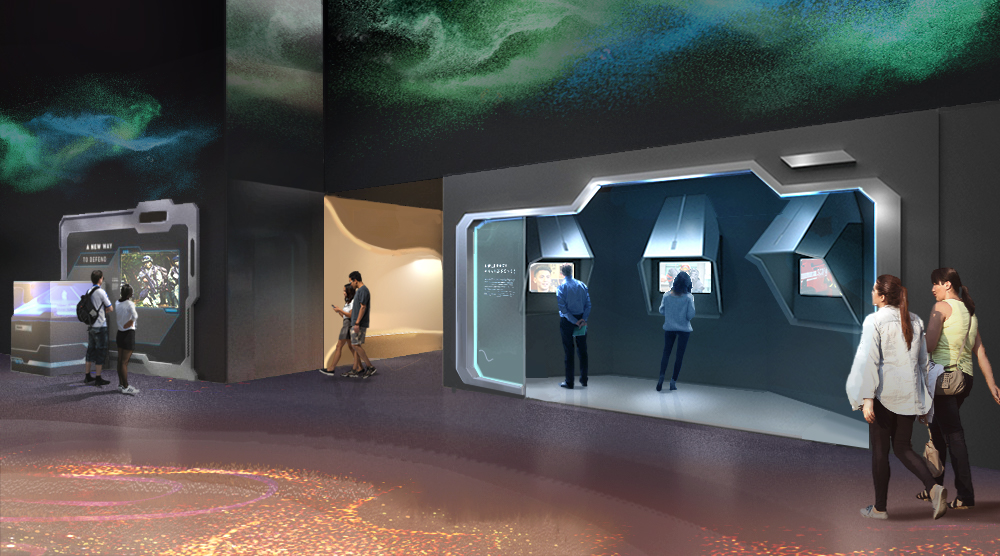 Find out about technological innovations that strengthen Singapore's defence capabilities and empower our soldiers to keep our homeland safe through this hologram presentation.
Battlefield Command
Enter a futuristic battle command centre and work collaboratively in a co-op simulation game to defend against threats from land, air, and sea!
Crisis!
Experience a hybrid threat within an immersive environment, where you step into the shoes of an individual, a community volunteer and a task force leader. Take a stand and make a difference with your choices!
L2: Our People, Our Home
With a deeper understanding of our security landscape, continue to explore issues close to our hearts as the gallery delves into shared values and common spaces that bind us, define us, and inspire us, as Singaporeans and as a nation.
The Ties that Bind (introduction video)
Through a short film, witness how our nation has traversed toil and time to become the multicultural society we know today. Peek through the windows of a community and see how they overcome differences and embrace their diversity.
Bedrock of Our Nation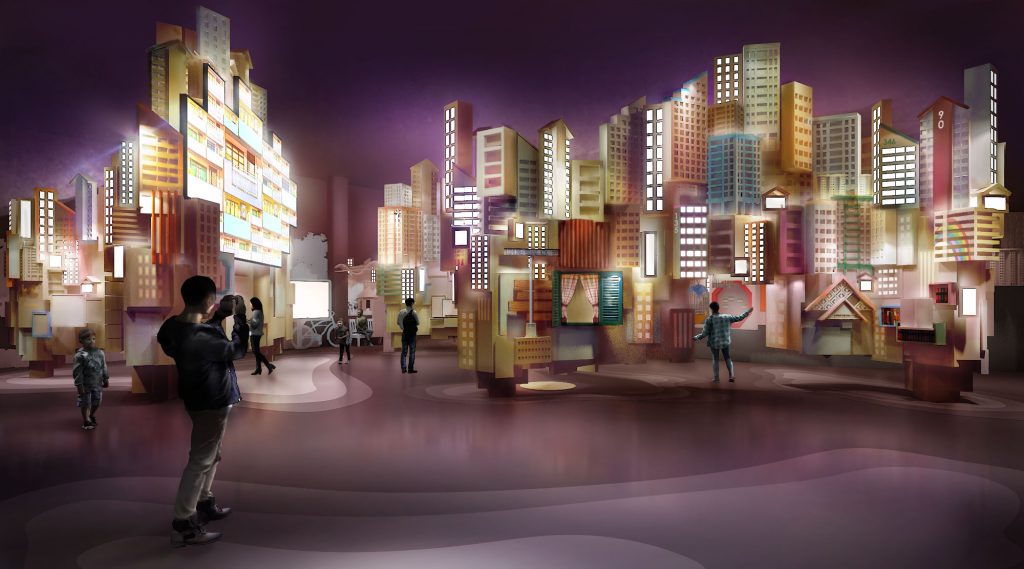 Reminiscent of the warmth of home, seek out and explore the unique and vibrant spaces that make up Singapore's social fabric. Stories that are close to our hearts are highlighted, fostering a deeper appreciation of what binds us, defines us, and inspires us as one people and one nation.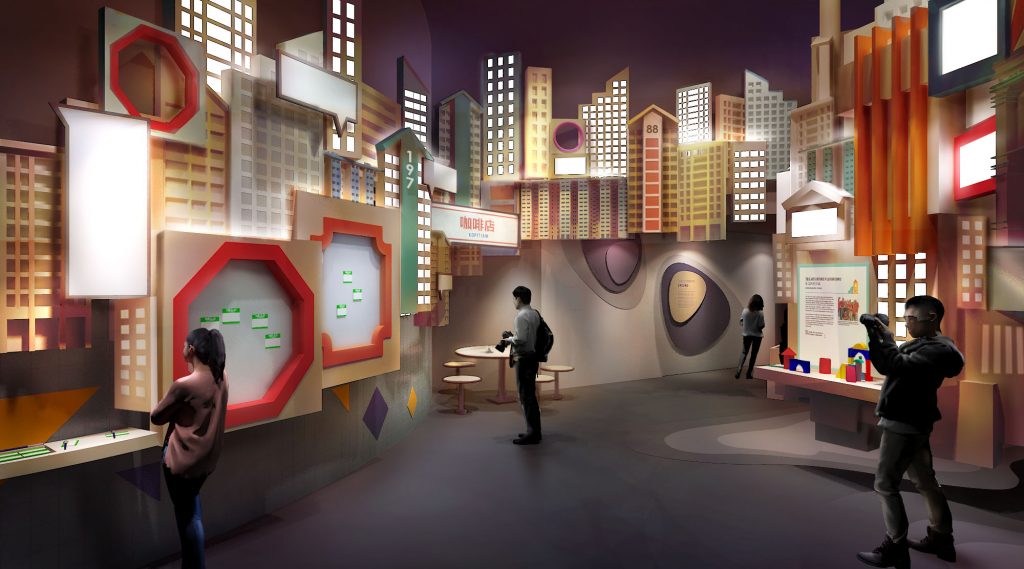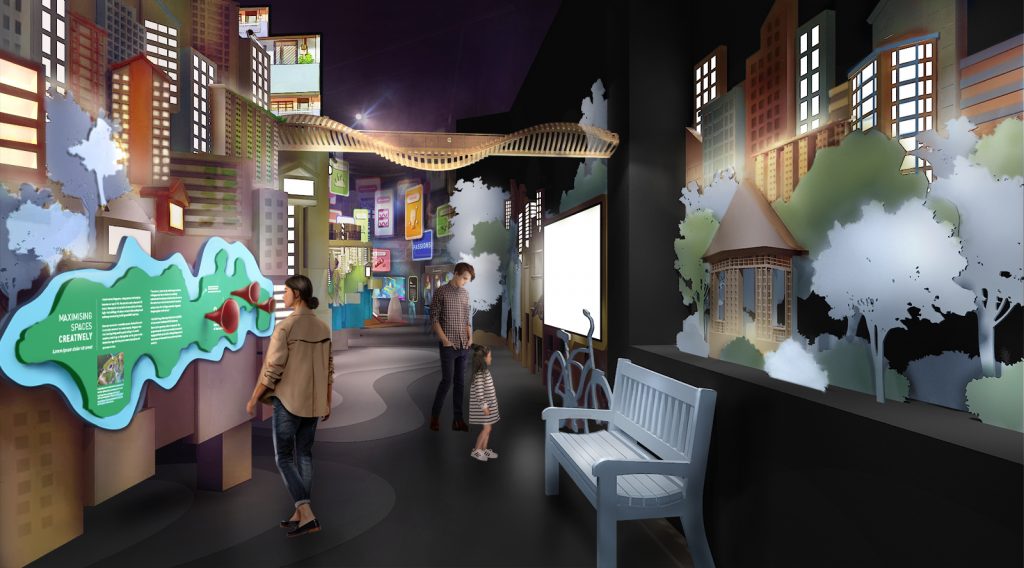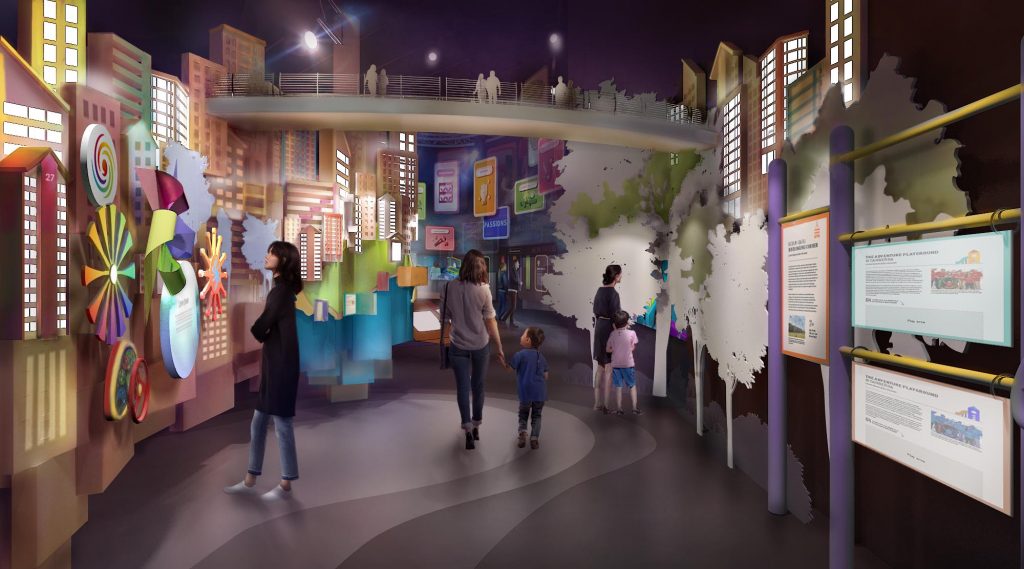 Through citizen stories, archival materials, tactile and digital interactives, we foster a deeper understanding and appreciation of our rich social tapestry that makes us a vibrant and strong nation.
L3: Onward to Our Future
Celebrate our people's enterprising spirit and resilience, and explore how they adapt to the challenges and opportunities that the future will bring.
Spirit of Enterprise
Through this short film, journey through time to see how Singapore has braved adversities and defied the odds to emerge as a key player in our current global economy.
Bedrock of Our Nation
Through a series of engaging, tactile interactives, learn how our people are constantly reinventing with an enterprising spirit, as they adopt new technologies and forge new paths in their respective industries.
Trends!
Chart Singapore's path to a resilient future in a creative and sustainable manner by playing this larger-than-life game that highlights the themes of megatrends and sustainability.
Archetype Me
Which enterprising Singaporean personalities are like you and who are the people that inspire you? Interact with this exhibit and discover which enterprising traits you share with Singapore's entrepreneurs, enterprises, and start-up founders.
Archetype SG
Find out what version of Singapore's future makes the most sense to you through a tactile interactive that reveals different future scenarios.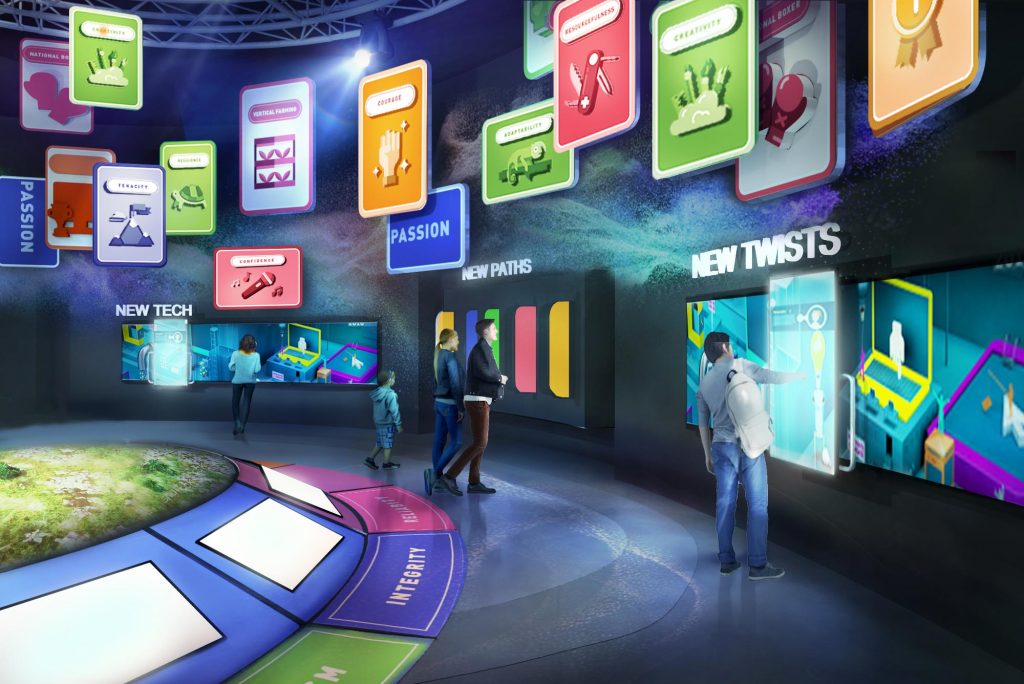 Featuring boldly coloured hanging installations and an engaging large-scale quiz game, this section celebrates Singapore's entrepreneurs and our enterprising spirit through a series of tactile and digital interactives.
L4: Fast Forward + L5: The Interchange
Visitors are invited to contemplate and contribute to the ideal future for Singapore as they engage with their fellow Singaporeans in the digital interactives and discussion spaces in this section.
Wall of Wonders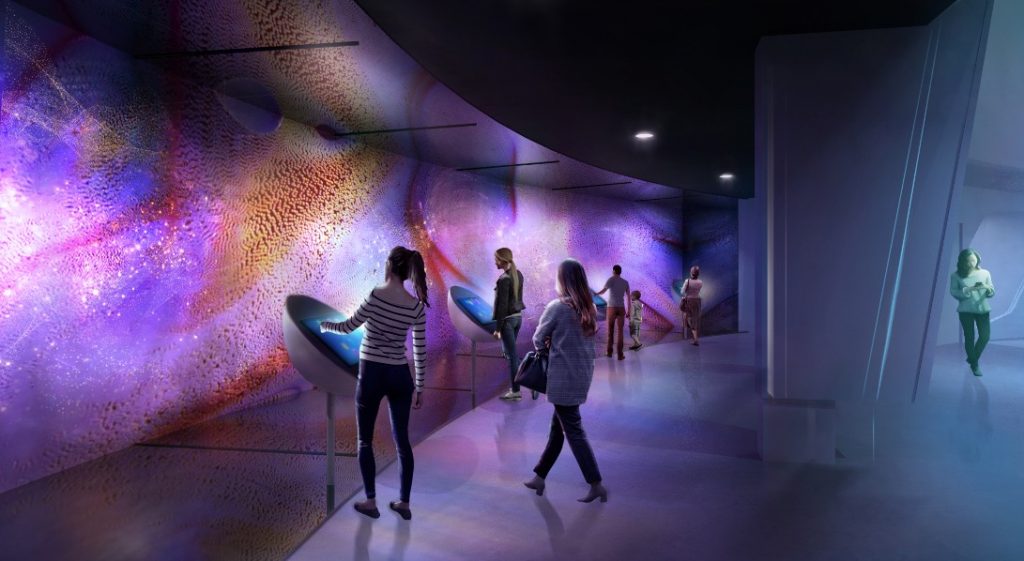 Create your own digital sand art by selecting the desired attributes of the Singapore you hope to see in the future!
SDCity
Create an avatar in this 3D animated game projected on a spectacular glowing globe and become a part of a growing community. Shape your own version of Singapore and build a healthy living environment based on key social, economic, and environmental metrics.
X-Lab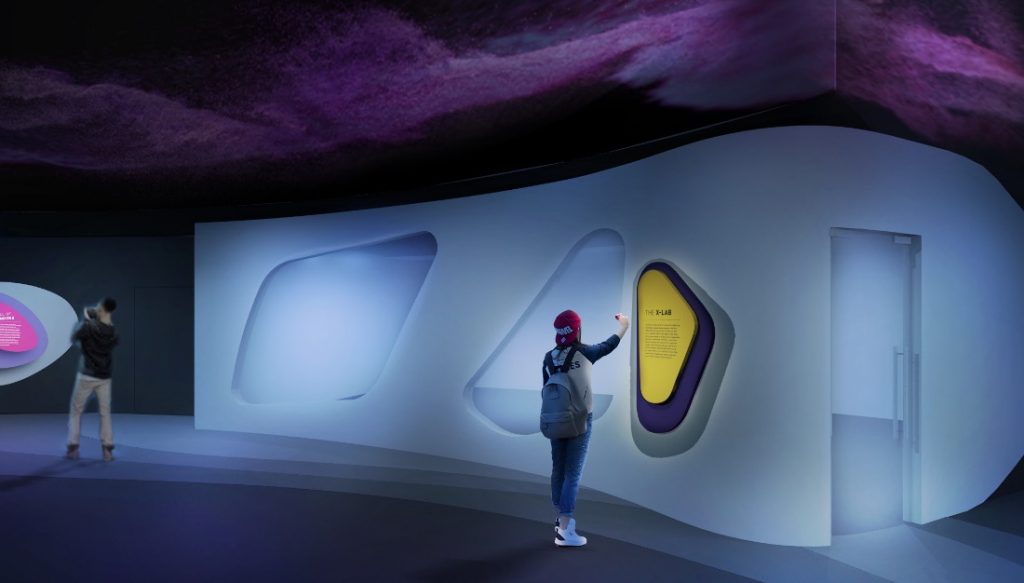 Peer into this space that provides an exciting platform to promote innovation and entrepreneurship. Explore new ideas, collaborate on meaningful projects, and contribute to Singapore's future with like-minded individuals.
Through strategic tie-ups with industry and educational partners, Singapore Institute of Technology (SIT) and Lauretta.io will be the first to pilot this X-Lab showcase. Showcasing an experiential concept space, this will allow visitors to understand the concept behind the technology with showcases such as mBot coding, D.I.Y. 3D hologram, Lauretta's analytical technology and SIT's student project creation of D.I.Y. AR goggles.
Finding Common Ground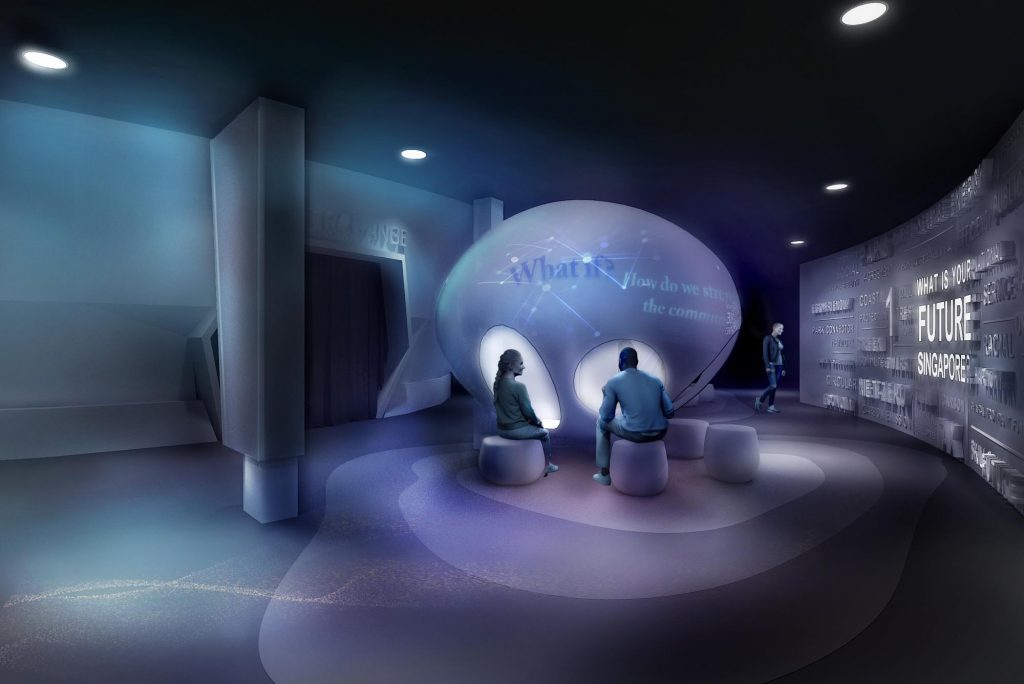 Become a part of an engaging discussion by participating in quick-fire round discussions on four thought-provoking topics.
Representing a culmination of everyone's ideas, an immersive, interactive, combining sand particles with infinity mirrors presents a perfect photo opportunity for visitors before they leave the gallery.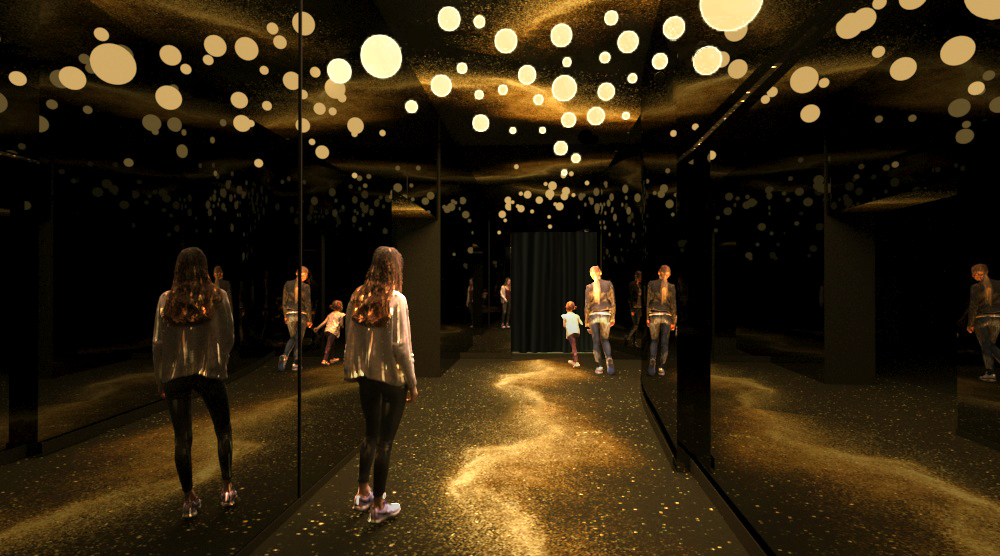 Note: All visitors will be required to be fully vaccinated and adhere strictly to the prevailing safe management measures to enjoy the various attractions.
Location
Singapore Discovery Centre
510 Upper Jurong Rd, Singapore 638365
See here for directions.