Wind-swept fringe, sun-kissed skin, and a huge dose of vitamin sea. If you are looking for a unique family- bonding activity, how about a staycation at sea, aka a sailcation?
Discover Sailing Asia has just launched 2D1N Sailcation experience to Pulau Ubin and we had the opportunity to preview the experience. As it is pet-friendly, we decided to bring our Maltipoo, Titi on his first holiday!
Here's the lowdown of our 2D1N adventure! There's a discount code below if you are interested to book it.
Day One
We started our mini sailing adventure from the SAF Yacht Club. Upon arrival, we were greeted warmly by the fresh smell of the sea and the enthusiasm of the friendly crew.
Our home for the next 1.5 days is Megan, an Oceanis 45 sailing boat compactly-built with three private cabins, two bathrooms, a living area, and a kitchenette.
There is air-conditioning inside the yacht, which would be switched on at night. Each of the three cabins also comes equipped with a small fan for those who prefer a more environmentally-friendly option. We stayed in the master cabin, which is the biggest room with its own bathroom.
To our delight, the mattress had just the right level of firmness and felt new (no dreaded sagging in the middle!), probably because the yacht is new at only around three years old. There are also reading lights on both sides of the bed.
From SAF Yacht Club, it would be a nearly 2-hour journey to Pulau Ubin. En route, we enjoyed the changing sceneries; we sailed past Pasir Gudang, Coney island, waterfront HDBs (such lucky homeowners!), and kelongs while enjoying the balmy wind in our faces.
Compared to the usual way of getting to Pulau Ubin which is a 15-minute bumboat ride with loud whirling engines, this experience of sailing leisurely on a yacht powered by the wind was thoroughly novel and enjoyable in its own right.
The friendly crew taught us how to hoist up the mainsail and let us try our hands at steering the boat. Here is Skipper Rafi'e pointing the direction to sail towards.
Titi was really perked up and curious and kept sniffing the air.
Activities at Pulau Ubin
Nearing Pulau Ubin, we switched to a smaller boat as the water near Pulau Ubin is too shallow for the yacht to dock.
The program at Pulau Ubin is free and easy. As it started to drizzle and our stomachs were growling, we headed for lunch first.
We patronized Sin Lam Huat eating house run by a pair of Pulau Ubin sisters. Tucking into the warm and hearty fare while watching the drizzling rain, we were thoroughly seduced by the charms of the idyllic island life.
It was still drizzling after lunch. Luckily we met an uncle known as the 'Boar Whisperer' of Ubin. He has a special skill of whistling to summon his wild boar friends. We hopped into his eye-catching purple van and went in search of his four-legged pals.
Due to the heavy rain, the wild boars did not appear. Nonetheless, it was still a fun ride as we were entertained by tales of the island and cold jokes from the friendly uncle.
Soon it was late afternoon, time to head back to our waiting yacht!
Stand up Paddling, Kayaking and BBQ dinner!
We sailed to Ketam Channel (Ketam is Malay for crabs), a mangrove area in Pulau Ubin about 30-40 minutes away. This is where we will continue with activities like stand-up paddling and kayaking and moor for the night.
Oh what a beautiful oasis it was. But to manage expectations and in the spirit of full disclosure, the occasional flotsam (from our neighboring country) may be spotted.
Nearing dusk, the crew started preparing a sumptuous BBQ dinner on the yacht for us.
Squid, dory fillet marinated in herbs garlic and butter, heaps of satay, whole potatoes and more. Everything just tasted extra delicious in the beautiful surroundings.
Titi is typically a timid but calm dog. Initially, on the boat, he was rather cautious and refused even his all-time favorite fruit, apple. However, by dinner time, he had settled in very nicely, ate his dinner (a sign of him being comfortable), and even yearned for our table scraps.
At night, it started drizzling again. The pitter-patter of the raindrops was like a soothing lullaby lulling us into sleep. Luckily or unluckily (depending on your preference), the water at Ketam Channel is very calm, so there was no rocking cradle effect.
Day Two
It was a magical feeling waking up to cool crisp air and the serene scenery. Here I managed to capture the first hints of pink rising across the early morning sky.
The early dog catches the worm. Can you spot Titi?
We spent the next hour watching the changing colours of the sky and the beautiful reflections in the water. See how quickly the light changes from this series of pictures taken from the same spot: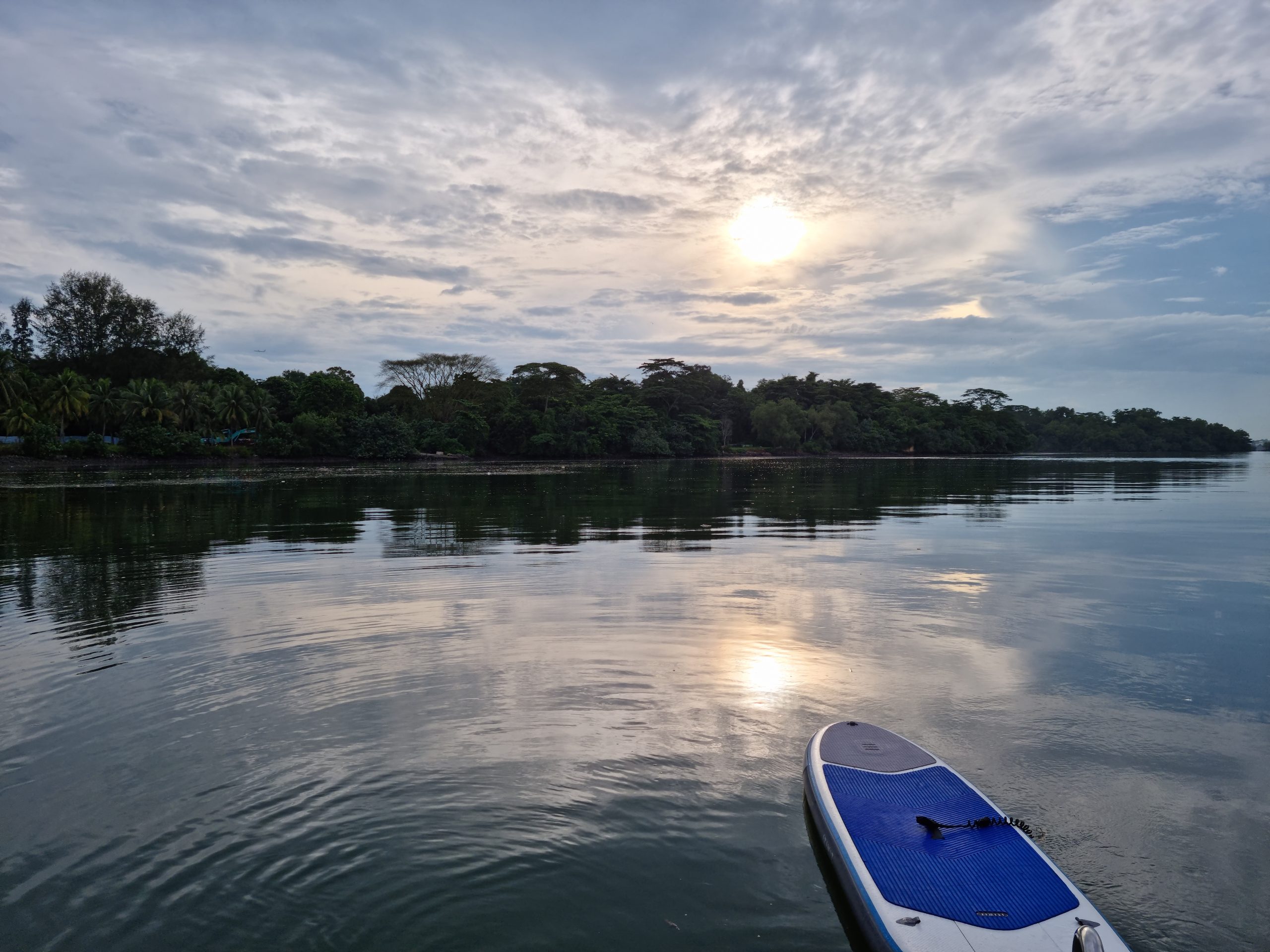 Breakfast was a simple affair of cereal, milk, and juices.
At around 8am, we started our return journey to mainland Singapore. With two hours to go before returning to the mainland (and the daily grind), I parked myself at the bow of the yacht to inhale as much sea breeze and soak up as much sunshine as possible.
And how could I not record more moments of Titi on his very first sea adventure! Sharing a few pictures from my camera roll, dog lovers will understand!
All in all, it was a really novel and refreshing 2D1N escapade! This is definitely a fun and unique staycation idea for quality time with good company.
Tips: Bring sunblock, sunglasses, and your own toiletries (towels are provided on board). Don't forget your wet attire for water activities!
Details + Promo code
Pulau Ubin Sailcation [2D1N] by Discover Sailing Asia
Details
Meeting Location: SAF Yacht Club (43 Admiralty Road West, Sembawang, Singapore 759962). There is free parking at SAF Yacht club.
Time: 12pm to 10am (the next day)
Given Covid-19 safe distancing guidelines, the number of guests allowed on board is currently at two, or up to five if everyone is from the same household. For the latest information, refer to the Discover Sailing Asia website.
The cost per boat starts at SGD1,805. Bringing your furry friend on board? Top up a $100 cleaning fee.
Promo code
Use code AM10 for 10% off Pulau Ubin Sailcation [2D1N]!
This promo code is valid for use from 19- 26 November 2021, for redemption on any dates between 19 November 2021 to 28 February 2022. Book on Discover Sailing Asia.