Starbucks Singapore welcomes back all things merry and bright with returning holiday favorites, new treats, and Christmas merchandise – a perfect way to round up the year with your family and loved ones.
Indulge in the richness and sweet aroma of returning favorites Toffee Nut Crunch Latte, Peppermint Mocha and Gingerbread Latte or treat your tastebuds to the all-new Toffee Nut Crunch Cold Brew, available at all outlets islandwide from 3 November onwards.
Toffee Nut Crunch Cold Brew: $7.20 (Tall, Iced)
Toffee Nut Crunch Nitro Cold Brew: $8.30 (Tall, Iced)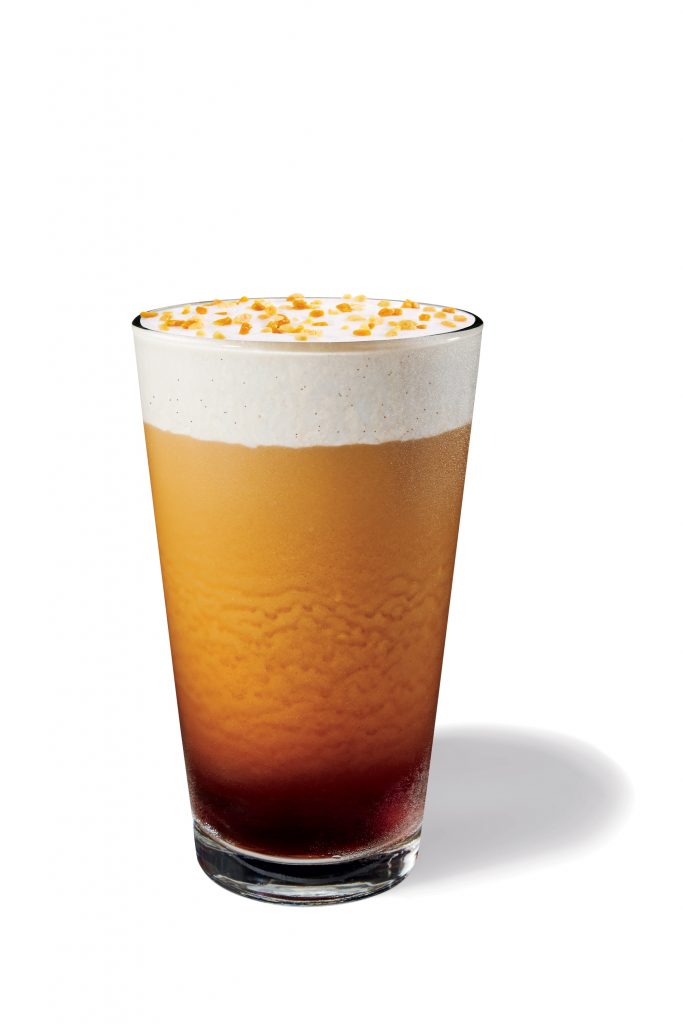 Toffee Nut Crunch Latte
$7.60 (Tall, Hot / Iced)
$8.20 (Tall, Frappuccino)
Peppermint Mocha
$7.60 (Tall, Hot / Iced)
$8.20 (Tall, Frappuccino)
Gingerbread Latte
$7.60 (Tall, Hot / Iced)
$8.20 (Tall, Frappuccino)
To top off the celebrations, you can now order your festive favorites in a four-cup Coffee Traveller Set at $30.40 in-stores.
Traveller Set and Dessert Box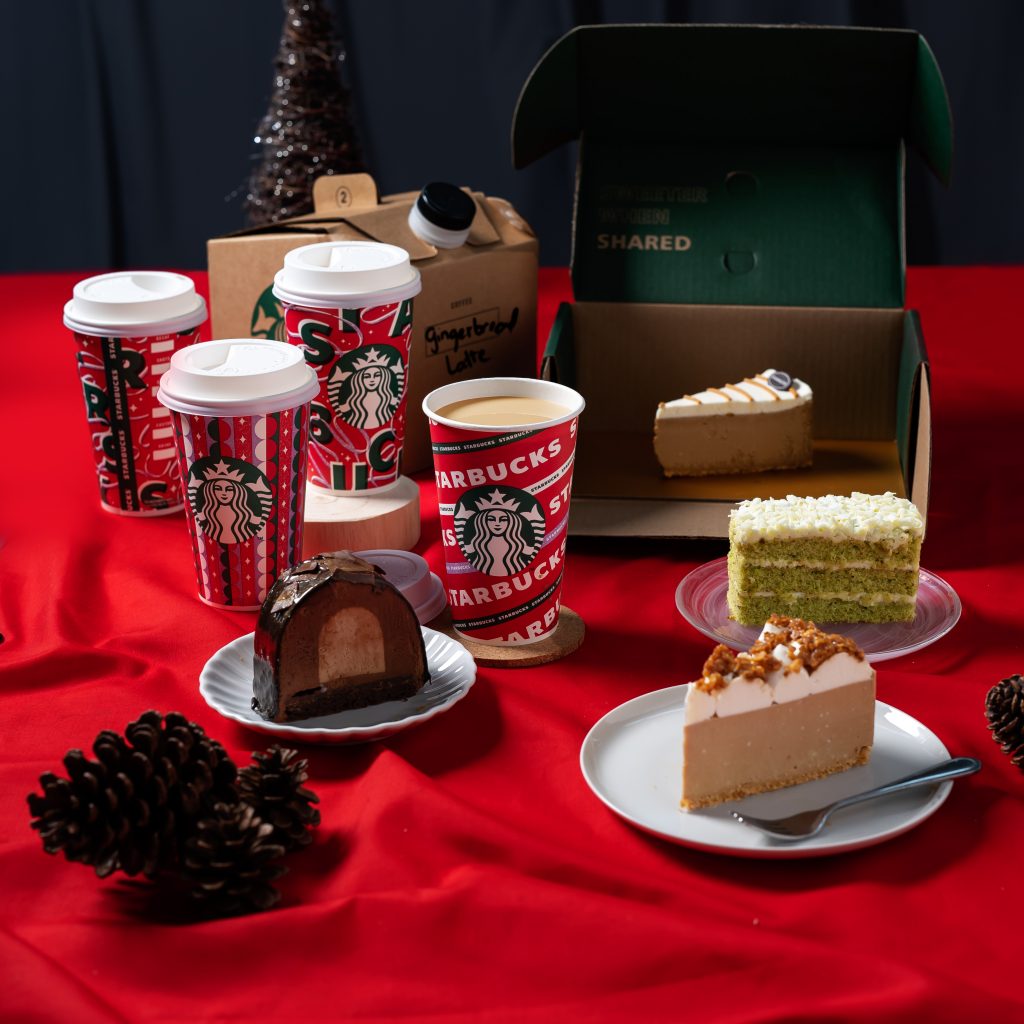 Traveller Set and Starbucks Cookie Box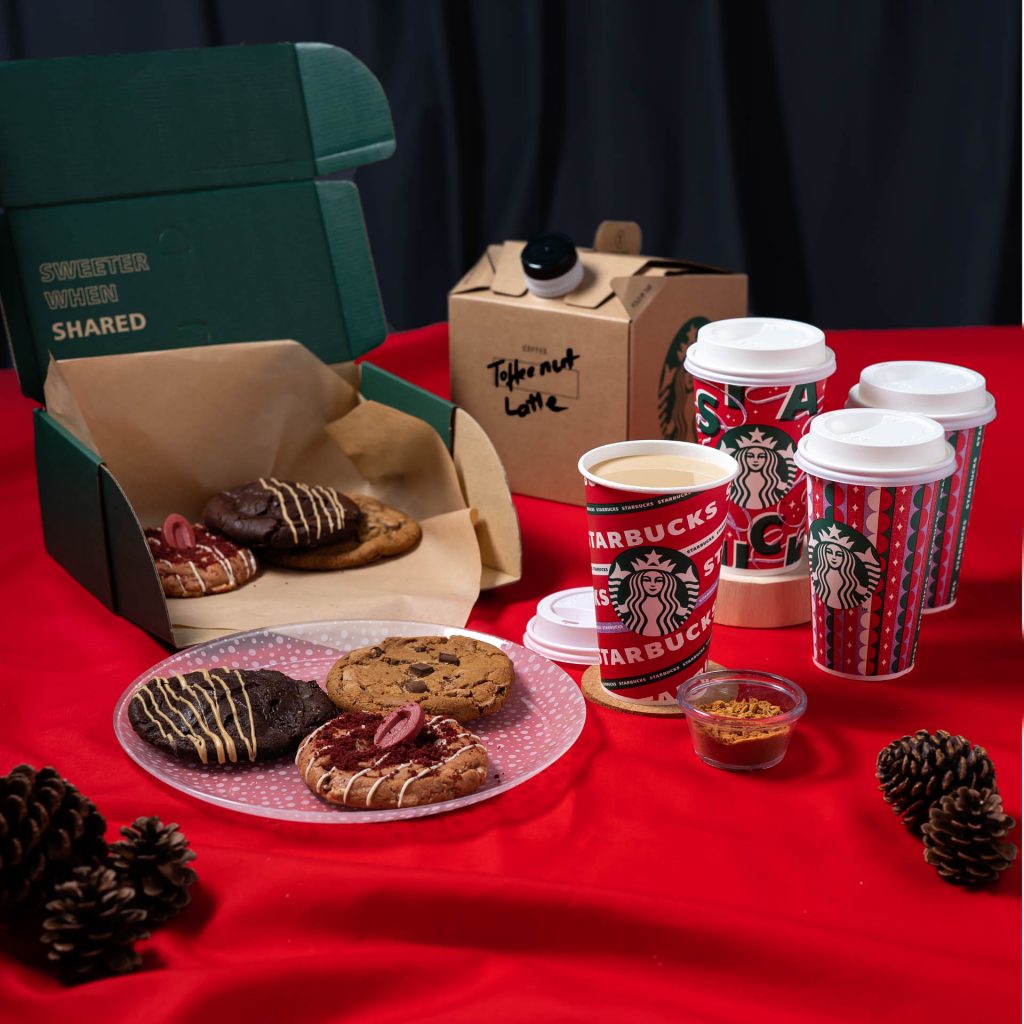 Each Mini Coffee Traveller serves four Tall-sized cups, which are great for small get-togethers. Available hot only: Toffee Nut Crunch Latte, Peppermint Mocha and Gingerbread Latte.
Cheese lovers are in for a treat as Starbucks introduces two delicious new pies!
The Black Pepper Chicken Mac & Cheese Pie is made with a buttery crust filled with chunks of black pepper chicken, macaroni, and creamy cheese, topped with toasty breadcrumbs and more cheese.
Triple Cheese, Mushroom & Turkey Bacon Pie is stuffed with an indulgent mix of mushroom, turkey bacon, mozzarella, red cheddar and parmesan.
Dessert lovers are not forgotten, as Starbucks newest dessert, Green Tea Chocolate Ganache Tart, has a delectable chocolate cookie tart base filled with delicious green tea and chocolate ganache, complete with a chocolate topper.
The new Salted Caramel Dark Chocolate Tart features layers of salted caramel and dark chocolate ganache filled in a buttery cookie base, a delightful dessert that will simply melt in your mouth!
Looking to feast on these delicious treats with your loved ones? The Starbucks Dessert Boxes allow you to mix-and-match your favorite classics or select from our new holiday selection of:
Chocolate Praline Cake
Salted Caramel Macchiato Cheesecake
Black Tea, Caramel and Hazelnut Crunch Cheesecake
Vanilla Pistachio Cake
Enjoy these treats and beverages in-store, or order ahead on our revamped Mobile Order & Pay (MO&P) at your convenience. Selected items are also available via delivery through Deliveroo, foodpanda, and GrabFood.
Back for another season is the well-loved Christmas Blends, chalked full of magical flavors for you to enjoy at the comfort of your own home.
Starbucks Christmas Blend
Starbucks Christmas Blend Espresso Roast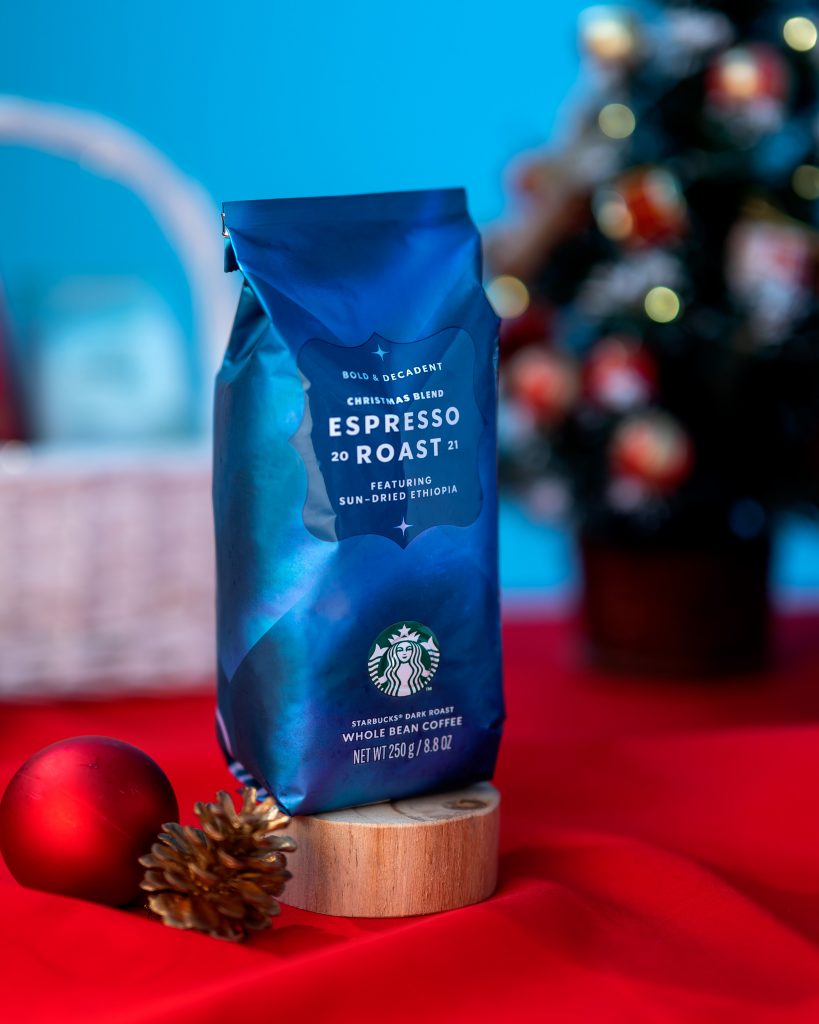 Starbucks Christmas Blonde Roast
The Starbucks Reserve range is also serving bold new flavors this season. Encapsulating the flavors of the season in a big, punchy way is the Reserve Christmas 2021, made from perfectly aged Sumatran beans for a full-bodied coffee from the Aceh region of Indonesia.
Peru El Guayacan
Tanzania Kanji Lalji Estate
Signed-Sealed-Delivered Christmas Collection
Ignite the spirit of giving by pampering your loved ones with gifts that celebrate all things merry and bright. Keep your eyes peeled on the perfect gift for your loved one as Starbucks will be bringing you new and exciting merchandise weekly launches over the next two months.
Complete your Starbucks cold cups with our special Christmas Edition Color Changing Straw, which will trigger a color change with a cold beverage below 5 degrees Celsius.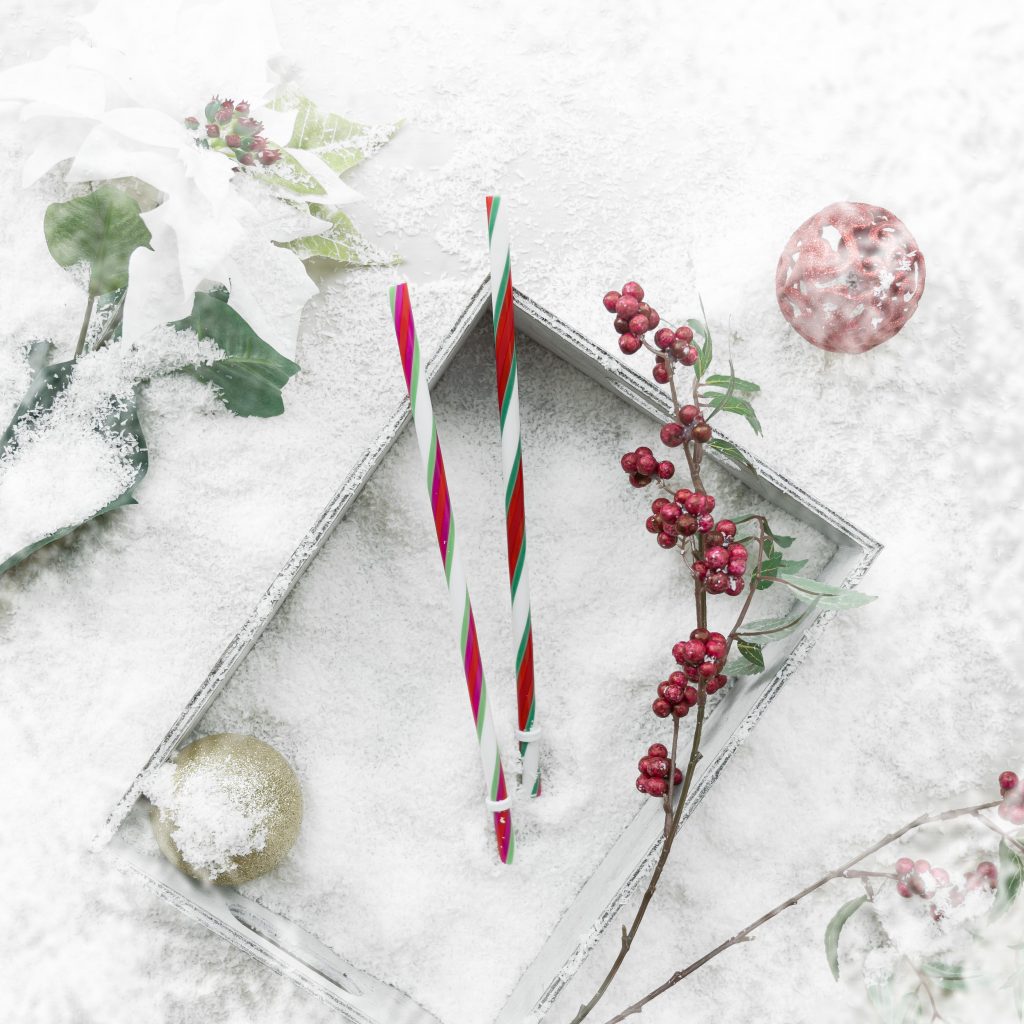 Available at $2.90 each with any purchase in-store, the special promotion is part of our continuous efforts to inspire customers to adopt a sustainable lifestyle and reduce the use of one-time plastic straws.
Starbucks Gift-of-the-Week
Kickstarting the myriad of surprises on 3 November are the Starbucks Color Changing Reusable Hot Cups.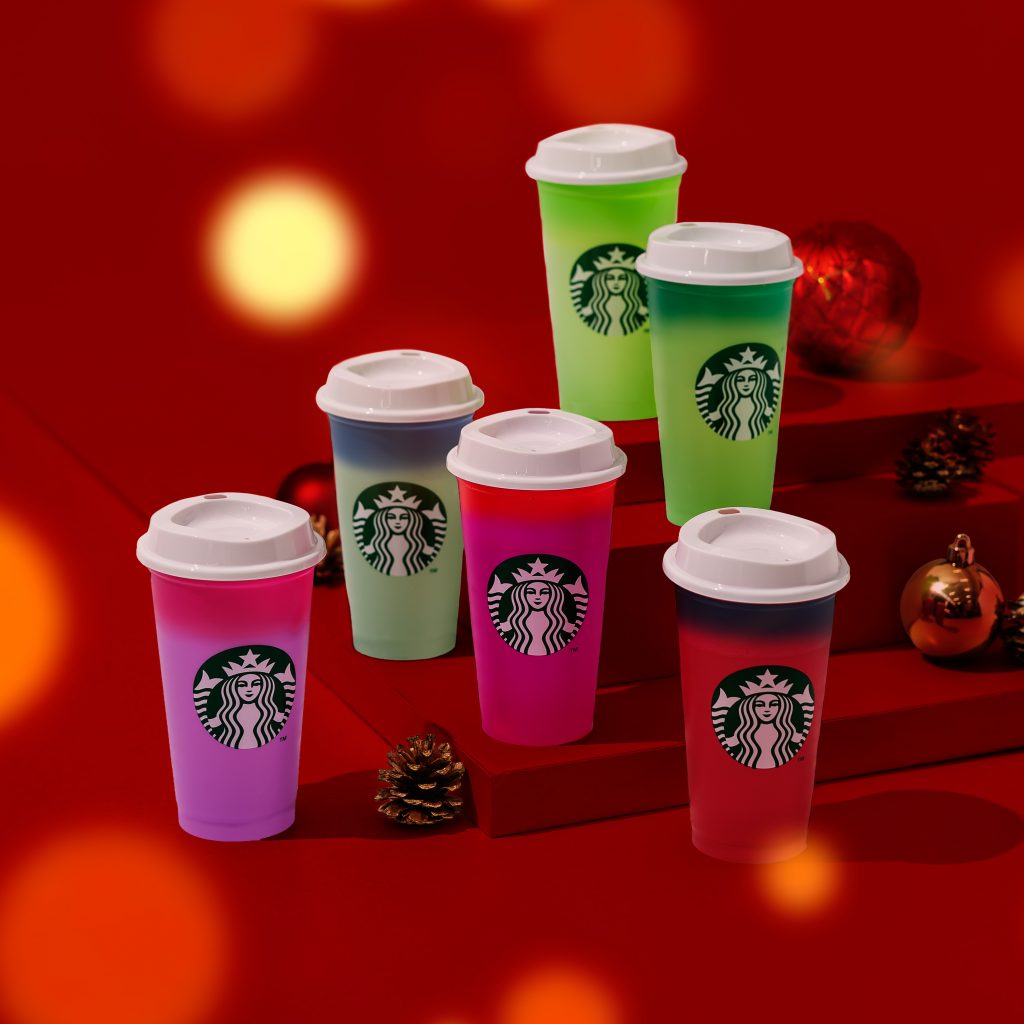 That's not all, look out for upcoming weeks where you can expect classic everyday coffee run accessories, bright and cheerful beach essentials, and more!
Fans of the Starbucks Studded Cold Cups, keep a look out for the return of these beautiful cups, complete with festive designs to ring in the Christmas season.
Available as a set of 6 color-changing reusable cups, the magical color change is triggered when cups are filled with a hot beverage.
Selected items will be available in stores, and same day from 12 PM on LazMall and ShopeeMall.
Starbucks Rewards
Still not sure what your loved ones may fancy? Why not consider gifting them a Starbucks Card, so that your loved ones can enjoy their favorite cup of cuppa any time they want. You may choose to purchase a physical card, complete with new holiday card designs released weekly, or via the option of an eGift card.
Starbucks Rewards members are also in for a treat this season, with exciting promotional line-ups, exclusive Christmas promotions and more!